Health Impact News Editor Comments
On February 10, 2015, there was a Congressional hearing "on the link between recent outbreaks of diseases such as measles, and some parents' decision not to vaccinate their children."
Representing the government's view on this subject was Dr. Anne Schuchat of the CDC. You can watch the entire 2-hour hearing on CSPAN here.
Or if you want the abridged summary, watch this short video clip:
This was not a Congressional Hearing where both sides of the vaccine debate were presented. Only one side was presented, the government and pharmaceutical side.
Can we trust the CDC when they say, "vaccines don't cause autism"? Are we to be impressed with Dr. Anne Schuchat and find her more credible because she is wearing a military uniform?
Why didn't Congress address both sides of the vaccine debate? Why wasn't Dr. William Thompson of the CDC also present to answer questions?
Dr. Thompson stated last year that one of the CDC studies that supposedly proved that "vaccines don't cause autism" had data withheld that showed that the MMR vaccine did in fact increase the risk of autism among African-American boys. He was a co-author of the study. (See: CDC Whistleblower Dr. Thompson: "I've Stopped Lying" – Willing to Testify on Vaccine Fraud)
Why hasn't Dr. William Thompson of the CDC been invited to testify to Congress yet??
Is the statement "vaccines don't cause autism" even a scientifically possible statement? Can it be proven that in every single case where autism is diagnosed, that it is impossible for vaccines to have had any causative effect?
Interestingly, other government officials have actually contradicted Dr. Schuchat's testimony and admitted that vaccines can be linked to autism in some cases:
There are currently about 150 cases of measles in the U.S., but the government's own statistics put the number of children diagnosed with autism at about one out of every fifty children in the United States, and increasing. That would be approximately 1.5 million children based on current U.S. census statistics.
Where is the real epidemic?
As we have previously reported, the CDC purchases over $4.5 billion worth of vaccines from pharmaceutical companies every year, and they have a tremendous conflict of interest in overseeing vaccine safety (See: Homeland Security Stockpiling Billions of Dollars of Experimental Vaccines.)
Parents of Vaccine Damaged Children Speak out on CDC Fraud
This past summer, right after Dr. William Thompson became a CDC Whistleblower and the mainstream media was still proclaiming the mantra "vaccines don't cause autism", the Autism Media YouTube channel created a page called: "Hear this Well: Breaking the Silence on Vaccine Violence," and encouraged parents of vaccine damaged children diagnosed with autism to upload their videos to this page. Over 250 videos were uploaded, such as these:
The U.S. Government and State governments all across the U.S. want to take away your right to refuse vaccines. Will your voice be heard?
To find out if your state is proposing legislation to take away your right to informed choice when it comes to vaccines, register for the NVIC Advocacy Portal here.
See Also:
Dr. Andrew Moulden: Every Vaccine Produces Harm
Canadian physician Dr. Andrew Moulden provided clear scientific evidence to prove that every dose of vaccine given to a child or an adult produces harm. The truth that he uncovered was rejected by the conventional medical system and the pharmaceutical industry. Nevertheless, his warning and his message to America remains as a solid legacy of the man who stood up against big pharma and their program to vaccinate every person on the Earth.
Dr. Moulden died unexpectedly in November of 2013 at age 49.
Because of the strong opposition from big pharma concerning Dr. Moulden's research, we became concerned that the name of this brilliant researcher and his life's work had nearly been deleted from the internet. His reputation was being disparaged, and his message of warning and hope was being distorted and buried without a tombstone. This book summarizes his teaching and is a must-read for everyone who wants to learn the "other-side" of the vaccine debate that the mainstream media routinely censors.
Read Dr. Andrew Moulden: Every Vaccine Produces Harm on your mobile device or computer by ordering the eBook!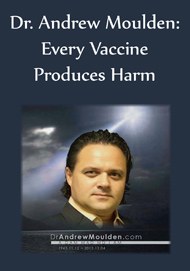 Retail: $13.99
Now: $9.99
Purchase Here.
Say NO to Mandatory Vaccines T-Shirt
100% Pre-shrunk Cotton!
Make a Statement for Health Freedom!
Big Pharma and government health authorities are trying to pass laws mandating vaccines for all children, and even adults.
Show your opposition to forced vaccinations and support the cause of Vaccine Impact, part of the Health Impact News network.
Vaccine Epidemic
by Louise Kuo Habakus and Mary Holland J.D.
FREE Shipping Available!
Published on February 17, 2015