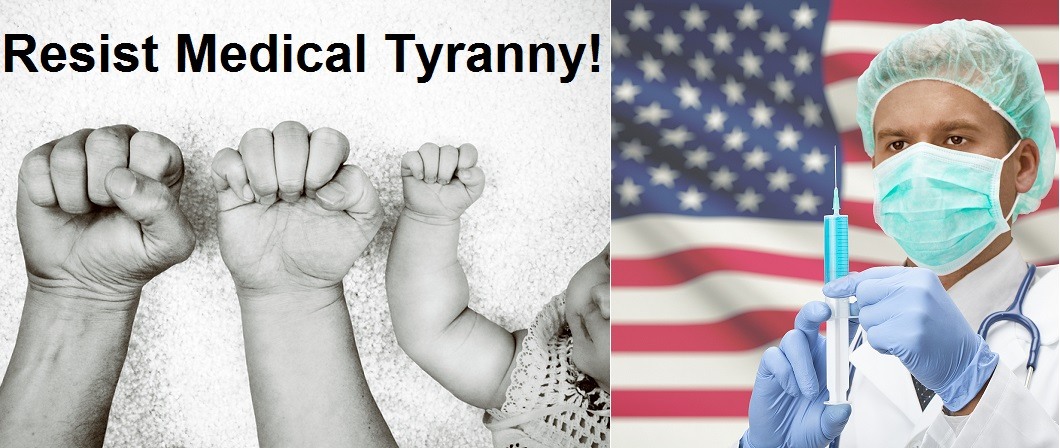 Why Is Informed Consent to Vaccination A Human Right?
by Barbara Loe Fisher
National Vaccine Information Center
Civil liberties.
They include the legal right to exercise freedom of thought, speech, conscience and religious belief. [1, 2]
Autonomy.
Protection of autonomy and bodily integrity includes the human right to exercise informed consent to medical risk taking. [3, 4, 5]
What is informed consent?
Informed consent means you have the legal right to be fully and accurately informed about the benefits and risks of a medical intervention, including a pharmaceutical product, and are free to make a voluntary decision about whether to accept the risk for yourself or your minor child without being coerced or punished for the decision you make. [6, 7]
Informed consent has guided the ethical practice of medicine since the Doctor's Trial at Nuremberg after World War II, where the informed consent principle was internationally acknowledged as a human right for individuals participating in scientific research. [8, 9]
Today, informed consent to medical risk taking also means you have the legal right to be fully and accurately informed by a doctor or medical facility about the benefits and risks of a lab test, surgical procedure, prescription drug or other medical intervention performed on you or your minor child and give your voluntary permission. [10, 11]
Why is informed consent to vaccine risk taking a human right?
Vaccines are biological products manufactured by pharmaceutical corporations. Like other pharmaceutical products, vaccines carry a risk of injury or death, which can be greater for some people than others, and often doctors cannot predict who will be harmed. [12, 13]
One-size-fits-all vaccine policies and laws, which force you to risk your health or your child's health without your voluntary, informed consent and with the threat of punishment for declining a vaccine, violate human rights. 14, 15]
It is important to protect civil liberties, including the freedom to exercise voluntary, informed consent to medical risk taking. Without the legal right to protect autonomy and bodily integrity, without the legal right to freedom of thought, speech, conscience and religious belief, we are no longer free. [16, 17]
Within NVIC.org, learn more about vaccines, diseases and the human right to informed consent to medical risk taking.
Empower yourself today with well-referenced information that can help you make educated decisions about vaccination.
It's your health. Your family. Your choice.
Read the full article at NVIC.org.
References
1 National Archives. America's Founding Documents: Declaration of Independence, Constitution, Bill of Rights. June 26, 2017.
2 The Free Dictionary. Definition of civil liberties.
3 Open Society Foundation – Armenia. Right to Bodily Integrity. Human Rights in Patient Care: A Practitioner Guide.
4 Cohen J, Ezer T. Human Rights in Patient Care: A Theoretical and Practical Framework. Health and Human Rights Journal 2013; 15(2).
5 The Free Dictionary. Substantive Due Process: Modern Analysis.
6 Nir E. Informed Consent. The Stanford Encyclopedia of Philosophy 2011 (Fall Edition).
7 HG.org. Understanding Informed Consent.
8 Annas GJ, Grodin MA. The Nazi Doctors and the Nuremberg Code. Oxford University Press 1992.
9 Grodin MA, Annas GJ. Legacies of Nuremberg – Medical Ethics and Human Rights. JAMA 1996; 276(20): 1682-1683.
10 U.S. Library of Medicine. Informed Consent – Adults. Medline Plus Oct. 29, 2015.
11 Nemours Children's Health System. When You Need Consent for Treatment at Nemours. The Nemours Foundation 2017.
12 Institute of Medicine Committee to Review Adverse Effects of Vaccines. Adverse Effects of Vaccines: Evidence and Causality: Evaluating Biological Mechanisms of Adverse Events (p. 57-102), Increased Susceptibility (p. 82). Washington, DC: The National Academies Press 2012.
13 HRSA. Vaccine Injury Compensation Program Data and Statistics.
14 Fisher BL. Blackmail and the Medical Vaccine Exemption. NVIC Newsletter May 18, 2015.
15 Nickel J. Human Rights. Stanford Encyclopedia of Philosophy Nov. 8, 2014.
16 Fisher BL. Vaccination: Defending Your Right to Know and Freedom to Choose. NVIC Newsletter Nov. 3, 2014.
17 Fisher BL. Defending the Religious Exemption to Vaccination. NVIC Newsletter June 28, 2016.
Medical Doctors Opposed to Forced Vaccinations – Should Their Views be Silenced?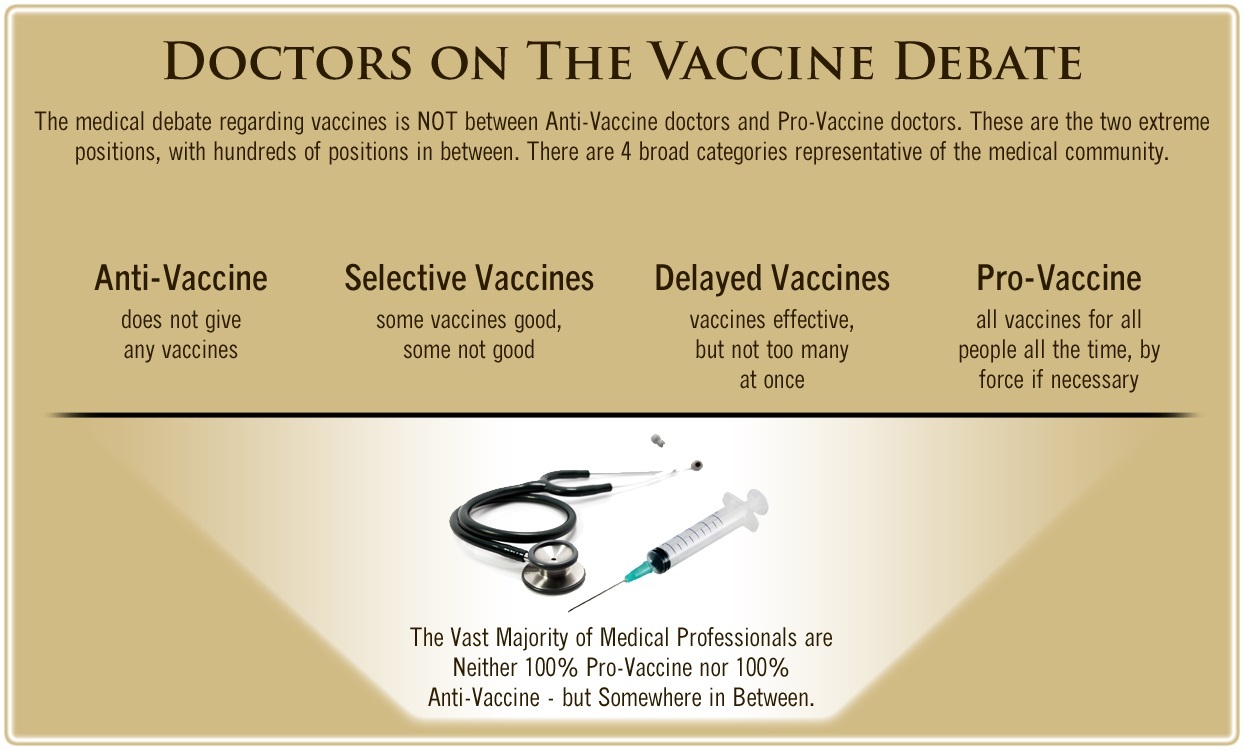 One of the biggest myths being propagated in the compliant mainstream media today is that doctors are either pro-vaccine or anti-vaccine, and that the anti-vaccine doctors are all "quacks."
However, nothing could be further from the truth in the vaccine debate. Doctors are not unified at all on their positions regarding "the science" of vaccines, nor are they unified in the position of removing informed consent to a medical procedure like vaccines.
The two most extreme positions are those doctors who are 100% against vaccines and do not administer them at all, and those doctors that believe that ALL vaccines are safe and effective for ALL people, ALL the time, by force if necessary.
Very few doctors fall into either of these two extremist positions, and yet it is the extreme pro-vaccine position that is presented by the U.S. Government and mainstream media as being the dominant position of the medical field.
In between these two extreme views, however, is where the vast majority of doctors practicing today would probably categorize their position. Many doctors who consider themselves "pro-vaccine," for example, do not believe that every single vaccine is appropriate for every single individual.
Many doctors recommend a "delayed" vaccine schedule for some patients, and not always the recommended one-size-fits-all CDC childhood schedule. Other doctors choose to recommend vaccines based on the actual science and merit of each vaccine, recommending some, while determining that others are not worth the risk for children, such as the suspect seasonal flu shot.
These doctors who do not hold extreme positions would be opposed to government-mandated vaccinations and the removal of all parental exemptions.
In this eBook, I am going to summarize the many doctors today who do not take the most extremist pro-vaccine position, which is probably not held by very many doctors at all, in spite of what the pharmaceutical industry, the federal government, and the mainstream media would like the public to believe.
Dr. Andrew Moulden: Every Vaccine Produces Harm
Retail: $13.99
Now: $9.99
Order Here.
Canadian physician Dr. Andrew Moulden provided clear scientific evidence to prove that every dose of vaccine given to a child or an adult produces harm. The truth that he uncovered was rejected by the conventional medical system and the pharmaceutical industry. Nevertheless, his warning and his message to America remains as a solid legacy of the man who stood up against big pharma and their program to vaccinate every person on the Earth.
Dr. Moulden died unexpectedly in November of 2013 at age 49.
Because of the strong opposition from big pharma concerning Dr. Moulden's research, we became concerned that the name of this brilliant researcher and his life's work had nearly been deleted from the internet. His reputation was being disparaged, and his message of warning and hope was being distorted and buried without a tombstone. This book summarizes his teaching and is a must-read for everyone who wants to learn the "other-side" of the vaccine debate that the mainstream media routinely censors.
Read Dr. Andrew Moulden: Every Vaccine Produces Harm on your mobile device or computer by ordering the eBook!

Published on July 3, 2017