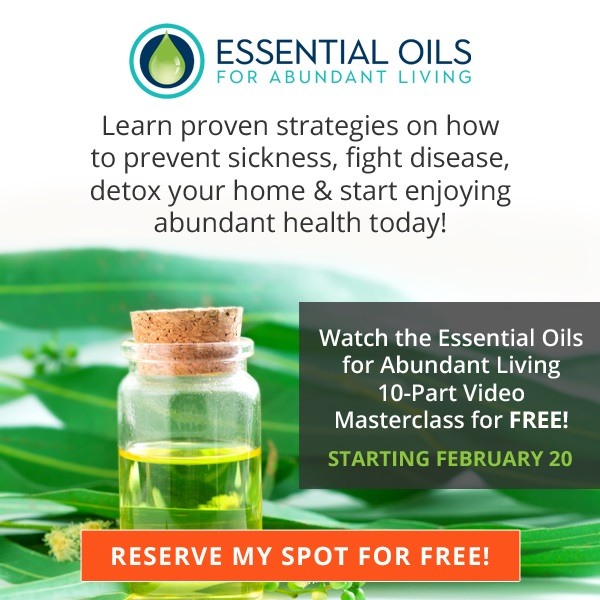 Health Impact News
Dr. Eric & Sabrina Ann Zielinski (affectionately known as Dr. Z & Mama Z) just finished producing a 10-Part Video Masterclass that will give you the confidence that you need to make healing remedies for your body & non-toxic natural recipes for your home with essential oils.
This Global Premiere of Essential Oils for Abundant Living runs online for FREE this February 20 – March 1. Register here to reserve your spot!
Since Dr. Z doesn't sell essential oils, he's free to share from his years of research about which oils work best for which conditions. In the new Essential Oils for Abundant Living Video Masterclass, he clearly lays out the roadmap so you will know how to use oils on yourselves and your children safely. He shares the real health benefits and the recipes his family personally use to improve and support their health.
Distilling down what takes aromatherapists months and even years to learn, the Essential Oils for Abundant Living Masterclass delivers an easy-to-follow roadmap so you can start to use essential oils in your home with confidence.
Consider this an all-you-can-sniff buffet of expert aromatherapy tips and DIY hacks to help you and your family enjoy abundant health with essential oils!
If used properly, essential oils are one of the safest, most powerful natural remedies and we have a long history of use to guide us on our journey.
And the best part?
They have virtually no side effects, if you use them the right way!
Discover how to give your medicine cabinet a makeover and start to use essential oils for abundant living today!
Here is the schedule of what you will learn online during this FREE Course:
Setting the Foundation
Lesson 1: Aromatherapy History & Basics

Lesson 2: Inhalation Guide & Safety Tips

Lesson 3: Topical Application Guide & Safety Tips

Lesson 4: Internal Use Guide & Safety Tips
Natural Solutions for a Toxic-Free Home
Lesson 5: DIY Body Care Products

Lesson 6: DIY Cleaning Products

Lesson 7: Cooking with Essential Oils
Regaining Control of Your Health
Lesson 8: Preventing Disease with Essential Oils

Lesson 9: Treating Disease with Essential Oils

Lesson 10: Advanced Strategies & Protocols
Comment on this article at HealthImpactNews.com.
See Also:
Say NO to Mandatory Vaccines T-Shirt
100% Pre-shrunk Cotton!
Make a Statement for Health Freedom!
Big Pharma and government health authorities are trying to pass laws mandating vaccines for all children, and even adults.
Show your opposition to forced vaccinations and support the cause of Vaccine Impact, part of the Health Impact News network.
Published on February 7, 2018