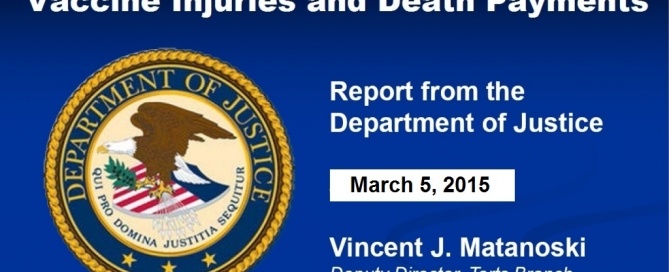 March 2015 Settlements in Vaccine Court: 117 Vaccine Injuries and Deaths
The Depart of Justice issues a report on vaccine injuries and deaths every quarter to the Advisory Commission on Childhood Vaccines. The March 5, 2015 report states that there were 117 cases for vaccine injuries and deaths compensated from 11/16/2014 to 2/15/2015. Five of those settlements were for deaths linked to vaccines, with three deaths related to the flu shot.
The unified message presented by the U.S. mainstream media and certain government agencies is that vaccines are safe.
This is a lie. Vaccines are dangerous. People are injured and killed by vaccines, and the quarterly reports from the DOJ, which probably reflects a very small percentage of the actual cases, clearly reflect that inherent danger.
Copy and paste this URL into your WordPress site to embed
Copy and paste this code into your site to embed