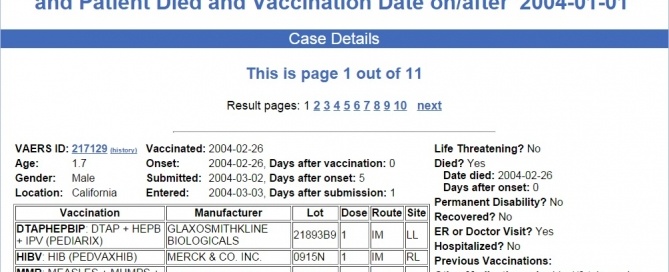 Less Than 1% of Vaccine Injuries Reported in the Government National Vaccine Adverse Event Reporting System
The Vaccine Adverse Event Reporting System (VAERS) was created by Congress under the National Childhood Vaccine Injury Act of 1986 and became operational in 1990 in response to growing public concern about the safety of vaccines, particularly the DPT (diphtheria-pertussis-tetanus) vaccine.
VAERS is jointly operated by the U.S. Food and Drug Administration (FDA) and U.S. Centers for Disease Control and Prevention (CDC).
Since VAERS began collecting reports in 1990, as of Nov. 14, 2019 there have been 8,087 vaccine-related deaths reported and about 47 percent of those death reports were for children under the age of three. There have been 17,394 reports of permanent disability following vaccinations, with about 30 percent occurring in children under age 17, while about 40 percent are in adults between 17 and 65 years old.
A 2011 report by Harvard Pilgrim Health Care, Inc. for the U.S. Department of Health and Human Services (HHS) stated that fewer than one percent of all vaccine adverse events are reported to the government.
Copy and paste this URL into your WordPress site to embed
Copy and paste this code into your site to embed