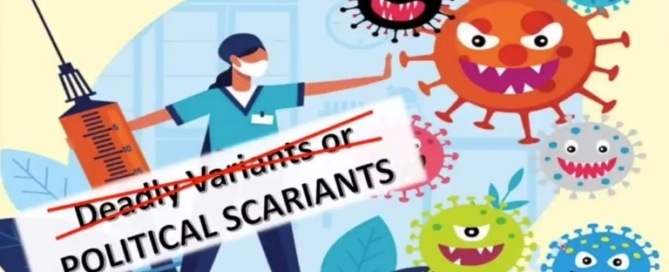 The Delta Variant of COVID-19 is Harmless – A Scam for Governments to Implement More Lockdowns
We all knew this was coming, right?
The Big LIE: "Here's the deal: The Delta variant is more contagious, it's deadlier, and it's spreading quickly around the world – leaving young, unvaccinated people more vulnerable than ever. Please, get vaccinated if you haven't already. Let's head off this strain before it's too late."
This is what Anthony Fauci and Joe Biden told the American public last week.
It is just beyond belief to me that there are still people who actually believe that those in our Government like Mass-murderer Anthony Fauci, and the Fake President suffering from dementia, Joe Biden, are telling the truth. What evidence do you have that they have EVER said anything publicly that is true about COVID-19?
But there it is. Fear mongering to get more people to sign up for the bioweapon shots, because now the "unvaccinated" will be blamed for this "new variant" which is neither "new" nor dangerous (if it exists at all).
Here is a video analyzing how this alleged new variant is affecting hospitalizations and deaths in the UK (spoiler alert: hospitalizations and deaths are non-existent), where travel restrictions are already in place to protect against this "deadly variant."
And of course Dr. Mike Yeadon has been sounding the alarm on these fake "deadly" variants for weeks now, and so we found a short video clip where he once again explains how a variant is never more than .003% different from the original virus, and how people who already have immunity from most of these coronaviruses have absolutely nothing to worry about.