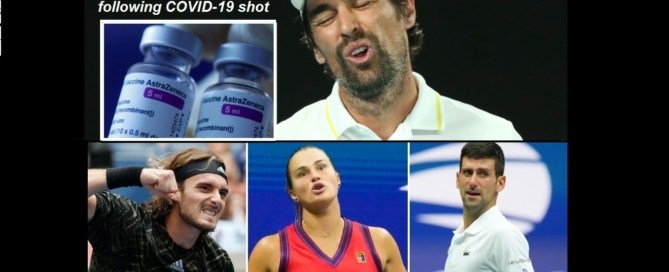 Top Tennis Player Forced to Stop Competing Due to COVID-19 Shot Side Effects – Other Top Tennis Stars Say "No" to Shots
Former 2017 Davis Cup winner tennis player Jeremy Chardy recently announced he could no longer compete in professional tennis this year due to the crippling effects of the Pfizer COVID-19 shot.
"Suddenly I cannot train, I cannot play. In my head, it's difficult because I do not know how long it will last. For the moment, my season is stopped and I do not know when I will resume. It's frustrating because I started the year really well, I was playing really well. And then I went to the Games, where I felt great too. And now my season is at a standstill and I do not know when I will resume. It is especially frustrating that I do not have ten years to play… suddenly, now I regret having had the vaccine."
Unlike other professional sports leagues that claim a high percentage of its players are now fully vaccinated with a COVID-19 shot, professional tennis has only about a 50% rate of those who have taken the shot, and some of the sport's top players have said they do not intend to take it.
The world's top four male players – Novak Djokovic, Daniil Medvedev, Stefanos Tsitsipas and Alexander Zverev – have all spoken at some point about their reluctance to be vaccinated.
Coincidentally, three of that rebel quartet were US Open semi-finalists this month, which meant that all but one, Felix Auger-Aliassime, who is still yet to confirm his view, had either raised concerns about the jab or stated they refuse to take it.
If mandatory COVID-19 shots are required in the future for these players to compete, how many will risk their health and their lives to continue competing in their sport? I seriously doubt that the Globalists who own these professional sports leagues will allow unvaccinated players to continue competing much longer, because it will soon become obvious who are the better athletes, vaccinated or unvaccinated.