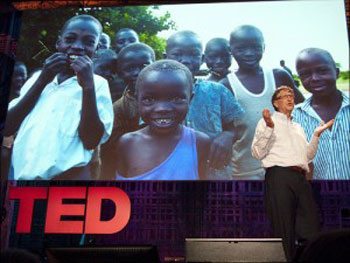 by Christina England
VacTruth.com
In January 2013,  Bill Gates told the world in an interview that he had no need for money and that he believed the global vaccination program was God's work. [1] "It's not going to stop us succeeding," says Gates. "It does force us to sit down with the Pakistan government to renew their commitments, see what they're going to do in security and make changes to protect the women who are doing God's work and getting out to these children and delivering the vaccine."
His words came after several vaccine workers administering the polio vaccination in Pakistan were shot dead in January. [2]
It appears that although Gates wants to carry on with what he calls 'God's work,' people living in the third world are beginning to make their feelings abundantly clear. It appears that they don't want his vaccines or his charity, as more shootings were reported in Nigeria.
On February 8, 2013, The Guardian reported that at least nine health workers administering the polio vaccinations in Nigeria were shot dead by gunmen thought to belong to radical an Islamist sect. The Guardian wrote:
"The killings drew comparisons with a series of incidents in Pakistan last December where five female polio vaccinators were gunned down, apparently by Islamist militants. It also signalled a fresh wave of hostility towards immunisation drives in Nigeria, where some clerics have claimed the vaccines are part of a western plot to sterilise young girls and eliminate the Muslim population." [3]
DO YOU KNOW WHAT'S IN THAT NEEDLE?
They are right to be suspicious because it would not be the first time that vaccines were given with the intention of sterilizing women in the third world. In 1995, many third world countries were given a tetanus vaccine containing a birth control drug by the World Health Organization.
An organization known as The Comite became suspicious of the protocols surrounding the vaccines and obtained several vials for testing. It was discovered that some of the vials contained human chorionic gonadotrophin (hCG), a naturally occurring hormone essential for maintaining a pregnancy.
However, when combined with a tetanus toxoid carrier, this vaccine essentially causes a woman's body to produce antibodies against pregnancy, forcing her body to abort her unborn baby, as reported by ThinkTwice Global Vaccine Institute:
"In nature the hCG hormone alerts the woman's body that she is pregnant and causes the release of other hormones to prepare the uterine lining for the implantation of the fertilized egg. The rapid rise in hCG levels after conception makes it an excellent marker for confirmation of pregnancy: when a woman takes a pregnancy test she is not tested for the pregnancy itself, but for the elevated presence of hCG.

However, when introduced into the body coupled with a tetanus toxoid carrier, antibodies will be formed not only against tetanus but also against hCG. In this case the body fails to recognize hCG as a friend and will produce anti-hCG antibodies. The antibodies will attack subsequent pregnancies by killing the hCG which naturally sustains a pregnancy; when a woman has sufficient anti-hCG antibodies in her system, she is rendered incapable of maintaining a pregnancy." [4]
Curiously, no men, boys or babies were vaccinated during the program. The only people vaccinated with this particular vaccine were women aged between 15 and 45. Was it a coincidence that these vaccines were only given to women of childbearing age? After all, anyone can contract tetanus, can't they?
THE ADVERSE EVENT YOU MIGHT NOT EXPECT
Polio vaccine workers are not the only health workers who have been attacked during the last few months. In December 2012, La Voix reported that parents of vaccine-damaged children in Chad, Northern Africa, took out their anger and frustration by torching a car belonging to a hospital worker. [5]
VacTruth has since been informed by Chadian contacts that the people of Chad are boycotting all vaccinations, while the parents of the vaccine damaged children stoned the school's headmaster who had forced pupils to take the MenAfriVac Meningitis A vaccine. The parents have since announced that they have no choice but to take government and its international organizations to court.
This is probably because whether Gates believes he is doing 'God's work' or not, dumping severely vaccine damaged children in a remote village in Africa without a doctor on site is almost certainly not God's work and this is exactly what Gates has allowed to happen to the children adversely affected by the MenAfriVac Meningitis A vaccine.
Over the last few months I have written four articles covering recent events in Chad, Northern Africa, where 106 children became ill after receiving the meningitis vaccine, 40 of which were left paralyzed and suffering from convulsions. [6,7,8,9]
This week, VacTruth received word from a Chadian contact that said:
"Last night the Chadian minister of health evacuated all children paralyzed from MenAfriVac meningitis A vaccine, including very ill children, to Faya. I have just spoken to one person, who told me that seven girls and a boy are seriously ill with convulsions.

Please, help us. This forced evacuation of very ill and paralyzed children on a military plan, to a destination where there is not even basic medical personnel and equipment, is deliberately sending vulnerable children to a place where they are likely to die."
Faya is a small town surrounded by desert at least 100 miles away from the children's home village of Gouro. This is extremely worrying, especially after VacTruth received several medical records confirming that these children did indeed suffer vaccine injuries.
MEDICAL RECORDS AS EVIDENCE
Over the past three months, members of the community of Gouro have reached out to VacTruth with desperate pleas for assistance as they helplessly watch their children suffer. We received a copy of one of the children's medical records from their parent, which was written in French and translated on our behalf by Desiree Rover, an activist and avid campaigner from the Netherlands.
According to the record of treatment, the child was admitted to the hospital for an "undesirable post-vaccinal manifestation" and "intoxication by meningitis A vaccine." Over the course of the hospital stay, the child suffered from headaches, shaking, vomiting, intense abdominal pain, and "contractions," which likely refers to seizures.
Sadly, this child was prescribed Largactil, a psychiatric drug used to treat schizophrenia, probably due to the fact that members of the government have insisted that the paralyzed children's afflictions were all in their heads. There is no mention in the clinical records of any prescription or treatment for pain relief or seizures.
This medical record, as well as the others sent to VacTruth by parents, demonstrates that these children need continued medical care. Yet, the ill children have been returned to an isolated, poorly equipped village far from sufficient available help!
It has since been reported by Ecoterra International that the conditions of at least ten children have deteriorated since being evacuated. [10]
POLIO RATES SKYROCKET IN THE MIDST OF VACCINATION CAMPAIGNS
As if the poorest regions of Africa has not had enough problems, GlaxoSmithKline has decided that they would get in on the act. Ethan A. Huff from Natural News reported on Feburary 19, 2013, that GlaxoSmithKline has teamed up with the company Biological E Ltd. and together they have decided that is a great idea to give the children of Africa a six-in-one vaccine. This is a single-dose vaccine for polio, diphtheria, tetanus, whooping cough (pertussis), hepatitis B, and Haemophilus influenzae type B.
This vaccine will be specifically designed for the poorest children of world. Natural News says:
"According to reports, GSK will add the contents of its injectable polio shot to a pentavalent vaccine already being manufactured by Biological E Ltd. that contains the other five vaccines. Together, as part of a 50-50 joint venture, the two companies will manufacture the hexavalent vaccine, which will rival similar combination vaccines for polio currently being developed and administered by rival drug companies in India such as Serum Institute of India Ltd. and Sanofi Pasteur." [11]
According to Natural News, a study published in the Indian Journal of Medical Ethics (IJME) found that cases of polio-related paralysis have skyrocketed as a result of widespread polio vaccine campaigns throughout India, which means the populations of India are not benefiting from existing polio vaccines as the vaccine industry claims they are. So the two companies decided to put their heads together and come up with a new vaccine to boost their own economy.
In other words if at first you do not succeed, try, try, try again!
Dr. Rebecca Carley made her feelings abundantly clear about vaccines being used as bioweapons in an article recently, while the resulting damage is hidden from the public. She wrote:
"As I continue to follow the ongoing vaccine induced genocide of the indigenous Tibu children in Chad, Africa, it has become obvious that the totality of the documents I have accrued over the years has now reached critical mass for the purpose of going on the offensive against the psychopaths orchestrating the depopulation agenda. This was the topic of my RBN show on 2/10/13; you can access the archive for free by going to http://thelightofdayradioshow.com/archives/RBN-BACKUP/New-RBN-Dr-Carley-Archives.html. [12]
Dr. Carley is right, as there is no better way of covering up adverse events than dumping sick children in the middle of nowhere and leaving them to die, is there? The saying  'out of sight, out of mind' springs to mind.
CONCLUSION
It appears that Mr. Gates will go to any lengths to vaccinate the world, even if the world makes it very clear that they do not want his vaccines. Rather than vaccinating more children, if he was such a humanitarian, why has he allowed vulnerable, sick children to be dumped in the middle of nowhere to die? Surely the world would applaud him far more loudly if he spent his millions making sure that any vaccine casualties were sufficiently cared for.
Read the full article here: http://vactruth.com/2013/02/26/rebels-shooting-vaccine-workers
Vaccine Epidemic
by Louise Kuo Habakus and Mary Holland J.D.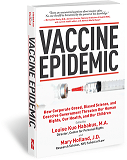 FREE Shipping Available!
Published on February 28, 2013