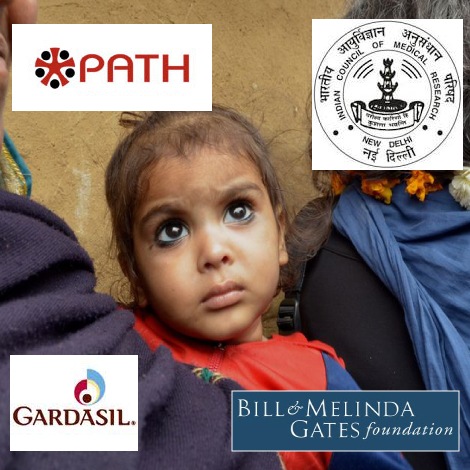 Health Impact News Editor Comments:
The HPV vaccine continues to make headline news around the world, while the mainstream media in the U.S. ignores these stories. There is little doubt left in my mind that Gardasil (and therefore Cervarix also) will eventually crash and burn much like other defective Merck pharmaceutical products such as Vioxx, which eventually had to be removed from the market because it was so dangerous. Sadly, while Merck was found guilty of selling a drug that killed tens of thousands of people, it made no dent into their sales of other products, or the prescription pain killer market overall. Unfortunately, the same will probably hold true for the vaccine market. People will continue to willingly be injected with products produced by convicted criminals.
In the meantime, please look outside the U.S. mainstream media for vaccine information, before you too become one of the victims. Because unlike the U.S., where pharmaceutical companies enjoy immunity from the law for any defective vaccine products in the market, such is not the case in other countries, and they are beginning to take action and publish the truth regarding the HPV vaccine.
In this report from Christina England, a 43 page document produced by the Indian Parliament accuses the U.S. group PATH, funded in part by Bill Gates' foundation, of committing illegal and improper activities in support of commercial interests in the development of the HPV vaccine in India, which reportedly led to the deaths of several young Indian girls.
BREAKING NEWS: US-Based Agency PATH Violated Law During HPV Vaccine Trials in India
Indian Parliament Writes Scathing Report Concerning The Conduct of PATH During HPV Vaccine Trials.
by Christina England
GreenMedInfo.com
On 30th August 2013, The Mail India Online, reported that the Indian Council of Medical Research (ICMR) had allegedly played hand in glove with the US NGO, PATH, to promote the commercial interests of both cervical cancer vaccine manufacturers, which they say were linked to the deaths of several young Indian girls.
The Mail stated that the Indian Parliamentary panel had found the ICMR guilty of lending its platform to PATH, in an "improper and unlawful manner." [1]
On the same day as the Mail's article was published, an extremely damning document was released by the Indian Parliament, entitled: Seventy Second Report on Alleged Irregularities In The Conduct Of Studies Using Human Papilloma Virus (HPV) Vaccine By PATH In India, supporting their claims. [2]
The Parliamentary report, stated that the committee had found the Indian Council of Medical Research (ICMR), guilty of helping the US NGO, PATH (Programme for Appropriate Technology in Health), facilitate studies relating to the cervical cancer vaccine on young girls, endangering their lives.
The forty-three-page report clearly stated that PATH's presence in India had been illegal.
Section 1.1 of the report stated that:
"During March, 2010 the entire world was shocked by the media reports about the deaths of some female children and adolescents in Khammam district of Andhra Pradesh after being administered Human Papilloma Virus (HPV) vaccines.  The vaccination trials were carried out by an American agency viz. Programme for Appropriate Technology in Health (PATH). The project was reportedly funded by the Bill and Melinda Gates Foundation, an American charity.
The committee stated that:
"Several questions were asked and concerns expressed in the media and well meaning quarters on the role of government agencies including Indian Council of Medical Research (ICMR) and Drugs Controller General of India (DCGI) in approving and facilitating the trials, which was against all laws of the land and even international ethical norms and rules; misuse of government funds, man-power facilities and infrastructure for the private project of dubious nature; use of logo of Natural Rural Health Mission (NRHM), an official programme of the Union Government during these vaccination drives to give it respectability and official endorsement ; and above all the blatant violation by PATH of all regulatory and ethical norms laid down by the Government of India for the purpose as also possible violations of such norms prescribed and very scrupulously enforced in the Country of its origin viz. United States of America."
The committee were extremely scathing of PATH's activities, stating that it was their belief that in trying to get the HPV vaccination included into the universal immunization programmes, PATH had resorted to an element of subterfuge calling the clinical trials by several different names including Observational Studies and Demonstration Projects. The committee stated that in doing so. PATH had severely jeopardised the safety and well being of young girls and adolescents by using self-determined and self-servicing nomenclature which was not only highly deplorable but a serious breach of the law of the land.
Furthermore, the Indian parliament stated that it had been clear from as far back as October-November 2006, that PATH's main objective was to generate evidence supporting the introduction of the HPV vaccine Gardasil being included into the Indian government-funded immunization program.
However, PATH was not the only organization criticized; the report also criticized several others including the Drugs Controller General of India (DCGI), stating:
"The Committee's examination has proved that DCGI has also played a very questionable role in the entire matter. Initially, it took a call that since human subjects, as part of the studies, were receiving invasive intervention like immunization, clinical trials rules must be enforced. However, it remained a silent spectator thereafter, even when its own rules and regulations were being so fragrantly violated. The approvals of clinical trials, marketing approval and import licences by DCGI appear to be irregular. Therefore, the role of the DCGI in this entire matter should also be inquired into."
Not only did the committee find clear cases of conflicts of interest they also found that many of the consent forms for the vaccination had been forged. The forms were supposed to be signed by a parent or guardian if the subject was under the age of consent. However, the report stated:
"In the case of Andhra Pradesh 9,543 forms were signed, 1,948 had thumb impressions while hostel warden had signed 2,763 forms."
Of course this could not have come sooner for the three brave activists and campaigners who in January 2013, submitted a Writ Petition to the Supreme Courts of India, criticizing these very same organizations. I say this because their case was heard today, Monday 2nd September, just three days after this damning report was released.
Background to This Case
For those of you who have little or no knowledge of the Writ Petition here is a little background information.
In January 2013, I wrote an article titled, The Writ Petition, documenting the historical moment when activists Kalpana Mehta and Nalini Bhanot, along with Dr. Rukmini Rao, President of the Gramya Resource Centre for Women in India, filed a writ petition with the Supreme Court of India under Article 32 of The Constitution of India for Women. The petition was filed against:
Drug Controller General of India,
Indian Council of Medical Research, State of Andhra Pradesh,
State of Gujarat, 
PATH International,
GlaxoSmithKline Asia Private Limited,
MSD Pharmaceuticals Private Limited.
The petition outlined a series of serious allegations regarding the HPV vaccines Gardasil® and Cervarix®. Petitioners Kalpana Mehta, Nalini Bhanot and Dr. Rukmini Rao reported that the two HPV vaccines were illegally brought into the states of Andhra Pradesh and Gujarat and subsequently administered to thousands of young, vulnerable Indian children before the vaccines were known to be safe.
The three Petitioners told the court that even though the Indian government and the above organizations knew the HPV vaccines were of dubious value and of speculative benefits, they continued to allow a trial using both the Gardasil® and Cervarix®  vaccines without regard to the potential endangerment of the lives of adolescent girls.
To read the complete story concerning this historical event please refer to reference [3]
After attending court today, Kalpana Mehta forwarded me the following press release:
A step forward in redressing of woes of 24000 victims of PATH-ICMR misadventure

A trial done by PATH with HPV vaccines on 24000 girls in Andhra Pradesh and Gujarat has been termed a "sordid incident" by the Parliamentary Standing Committee for Health and Family Welfare that found the entire matter "very intriguing and fishy". This trial has left in its trail at least 1200 girls in the two states with chronic health problems. A writ petition was filed before the Supreme Court praying for the identification of the health problems of these girls and provision of treatment, along with other prayers.

Notices were issued to the Government of India and the Drugs Controller by the Supreme Court in January 2013 but neither has bothered to file a reply. In this callous delay in court proceedings, the 72nd report of the Standing Committee released last week has proved to be a boon in disguise. The concerned officials from the ministry, ICMR and the DCGI, and also from PATH appeared before the Standing Committee but their explanations cut no ice.

This report was placed before the judges today and senior advocate Colin Gonsalves representing the petitioners reiterated the misery of the girls who are likely to be afflicted with serious conditions like convulsions, asthma, central demyelinatingdiseases, acute disseminated encephalomyelitis, idiopathic thrombopenia purpura, etc.; autoimmune conditions like thyroiditis and rheumatoid arthritis; and also by mental ailments that are serious enough to lead to suicides. The Standing committee has also stated that HPV vaccine as a possible, if not probable, cause of suicidal ideation cannot be ruled out.

Since the filing of the main petition many new facts about these vaccines and their serious health implications have come to light. Tomljenovic and Shaw examined post-mortem brain tissue specimens from two young women who suffered from cerebral vasculitis-type symptoms following vaccination with the HPV vaccine Gardasil and concluded "Our study suggests that HPV vaccines containing HPV-16L1 antigens pose an inherent risk for triggering potentially fatal autoimmune vasculopathies." It should be known that cerebral vasculitis is a serious disease which typically results in fatal outcomes when undiagnosed and left untreated. Many of the symptoms following HPV vaccination are indicative of cerebral vasculitis such as intense persistent migraines, syncope, seizures, tremors and tingling, myalgia, locomotor abnormalities, psychotic symptoms and cognitive deficits.

On 20 March 2013, the United States based Judicial Watch announced that, it has received documents from the Department of Health and Human Services (HHS) revealing that its National Vaccine Injury Compensation Program (VICP) has awarded $5,877,710 (US dollars) to 49 victims including two deaths in claims made against the highly controversial HPV (human papillomavirus) vaccines.

Meanwhile a fact finding mission undertaken by NGO's in the project areas in Gujarat in June 2013 indicated that many of the girls have already got married and moved away making it difficult to trace and treat them.

The petitioners had therefore asked by way of interim relief that all the vaccinated girls be examined by qualified medical practitioners to ascertain their health status and provide appropriate medical care.

Beyond these 24000 girls the other consumers of the two vaccines Gardasil and Cervarix are also at risk because the two companies have not bothered to update their product information to include serious side effects as they are emerging and being included in the inserts of other countries.

Also countries abroad both companies provide information to the patients/users that informs them of the effectiveness, potential problems and symptoms for which the users should approach a medical facility. The petitioners felt that this information is also the right of Indian patients, girls, and women who can then make a rational choice and take timely decision to seek medical care.

Nalini Bhanot and Kalpana Mehta

9899905851, 09425056985″
PATH Had Suprisingly Little To Say
PATH responded to the parliamentary report by stating the following on their website:
"Today, the Indian Parliament's Standing Committee on Health and Family Welfare released a report critical of a cervical cancer vaccine demonstration project conducted in India from 2009 to 2010 through a collaboration among PATH, the Indian Council of Medical Research (ICMR), and the state governments of Andhra Pradesh and Gujarat.

PATH welcomes public discussion about the role of vaccines in preventing life-threatening diseases such as cervical cancer, and we thank the committee members for their time and effort in reviewing this matter. We support the adoption of reasonable measures to further strengthen and clarify protections for individuals participating in research projects. However, we are troubled by the report's inaccurate characterization of this important work.

PATH, an international nonprofit organization, is committed to meeting the highest scientific, ethical, and legal standards in our work and to contributing our experience and expertise to address the burden of cervical cancer through transformative innovations such as vaccines. The demonstration project in India was part of a four-country project to explore suitable vaccine delivery strategies and help provide evidence for national health authorities to make informed decisions about the potential benefits and challenges of introducing vaccines against human papillomavirus (HPV), the primary cause of cervical cancer." [4]
Conclusion
After reading the Indian parliamentary report, it is clear that PATH acted illegally and in doing so endangered the lives of thousands of innocent Indian girls, many as young as fourteen, proving that once again, we have evidence that the Bill and Melinda Gates Foundation have funded a project of dubious scientific and health value.
Ever since the two HPV vaccines Gardasil and Cervarix hit the market, there have been continual reports of deaths and disabilities caused by the vaccines. Despite mounting evidence, however, governments from around the world have refused to take action and ban these dangerous vaccines.
Thanks to the courage of Kalpana Mehta, Nalini Bhanot and the President of the Gramya Resource Centre for Women in India, Dr. Rukmini Rao, however, this may be all set to change very soon.
Read the full article here: http://www.greenmedinfo.com/blog/breaking-news-us-based-agency-path-violated-law-during-hpv-vaccine-trials-india
See Also:
References
1.     http://www.dailymail.co.uk/indiahome/indianews/article-2407569/Indian-Council-Medical-Research-endorsed-illegal-US-vaccine.html#ixzz2debpyUSM
2.    http://164.100.47.5/newcommittee/reports/EnglishCommittees/Committee%20on%20Health%20and%20Family%20Welfare/72.pdf
3.     http://weeklyblitz.net/2013/04/the-writ-petition/
4.     http://www.path.org/news/press-room/642/

Christina was born and educated in London, U.K. She received an A Level in Psychology and a BTEC in Learning Disabilities. She has spent many years researching vaccines and adverse reactions. She has an  HND in journalism and media and is currently writing for the American Chronicle, the Weekly Blitz and Vaccination Truth on immunization safety and efficacy.
Vaccine Epidemic
by Louise Kuo Habakus and Mary Holland J.D.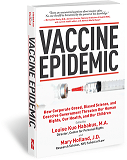 FREE Shipping Available!
Published on September 5, 2013