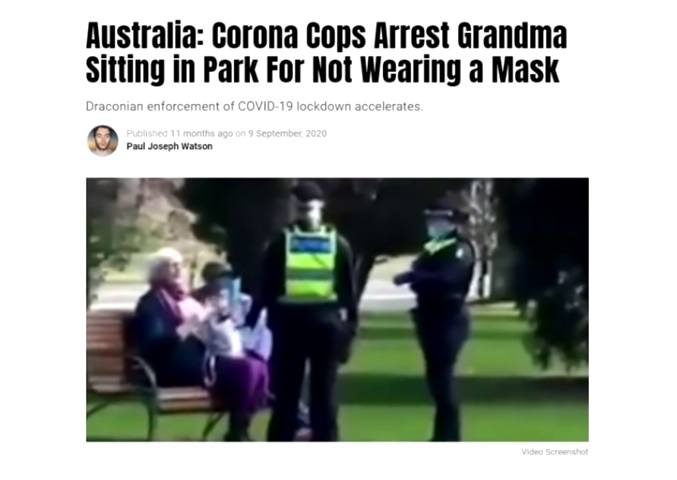 by Summit News
"Australia is now officially a biosecurity police state."
This is TYRANNY! Elderly man arrested in Queensland park for not wearing a mask (he was exempt) then suffers heart attack. Are they trying to kill people with their terror? pic.twitter.com/CLSid2VnXq

— leilani dowding (@LeilaniDowding) August 3, 2021
Comments by Brian Shilhavy:
I emailed a contact I have in Australia and asked him if it was really as bad as Summit News and people on Twitter were reporting, and if so, if it was only in the major cities like Sydney, and he replied:
Everything in that clip is true. Most of the worse draconian measures are currently in NSW/Sydney. The State Premier Dictator Gladys has turned particularly bad as has the PM Morrison. He speaks of punishing the unvaxxed. https://www.pm.gov.au/media/interview-neil-mitchell-3aw-10

But also other states have very draconian state laws including Western Australia where I live. Our state 2016 Public Health Act section 158 and other similar sections are about as bad as you could imagine with powers to forcibly remove clothing (actually says underwear) and give you a vaccine or medical treatment, yes also removing children.

That law is unconstitutional but it was passed by a state conservative government which shows you how both sides left and right have become the same evil bird.

There are rumours circulating that my state WA (and maybe all of Oz) will be put under a level 5 (the worst) lockdown by end of August, but we'll see. There is no science to it just demon possessed dictators.
Published on August 3, 2021