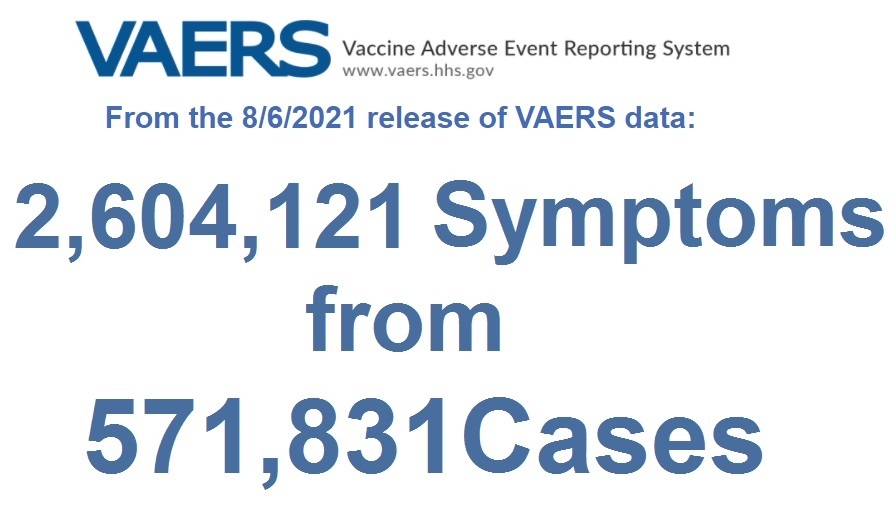 UPDATE 8/20/21 – The VAERS database was updated today, and there are now 595,622 cases with 2,714,620 reported symptoms.
by Brian Shilhavy
Editor, Health Impact News
Last month we reported on how the CDC's proclamation that the U.S. is now facing a "pandemic of the unvaccinated" was a lie, with no stats to back up this assertion.
They claimed that "99%" of those being hospitalized with COVID were "unvaccinated," even though reports and other stats proved just the opposite.
Even Republican Governors are perpetuating this lie to the American people. See:
As regular readers of Health Impact News know, the U.S. Government has a tracking system to track reported injuries following vaccines, called "VAERS," the Vaccine Adverse Event Reporting System.
Here is what they say about the Government vaccine reporting system, which is on the hhs.gov website:
The CDC and FDA typically add new cases of injuries and deaths following COVID-19 vaccines every week, and you can read about the latest data dump into VAERS from this past weekend here.
As the U.S. Government admits above in the "About Us" section of VAERS, it is a "passive reporting system," and "relies on individuals to send in reports of their experiences to CDC and FDA."
So the big question has always been, just what percentage of actual vaccine injuries and deaths are represented in VAERS?
According to a report in 2011 that was prepared for the U.S. Department of Health and Human Services, less than 1%. See:
The last VAERS report from this past weekend listed:
12,791 deaths
16,044 permanent disabilities
70,667 emergency room visits
51,242 hospitalizations
13,139 life threatening events
following COVID-19 shots.
But what about total injuries reported following these shots? They are listed as "symptoms" in the VAERS database, and I had never done a search on total symptoms reported following COVID-19 shots.
So I did one today, and the search result returned 2,604,121 reported symptoms from 571,831 cases. You can see the results of the search here.
There are over 10,500 kinds of symptoms reported, and I copied that table into an Excel spreadsheet and sorted them from most reported symptoms to least, and the results are below.
To be fair, not all of the symptoms are injuries. They list some benign things such as lab tests, for example. But they are mostly injuries, because this is the purpose of the VAERS system, as the government admits. The purpose is to track injuries and deaths to see if there are any concerns.
The CDC says there are no concerns. The few concerns they do admit, they brush aside as "rare." They claim blood clots, for example, are rare. (Source.)
They come up with very low numbers for a serious adverse event by narrowly defining the symptom, and ignore all others.
For example, if you search the table below for "thrombosis," the most common "symptom" for blood clots, you will find 80 different kinds of thrombosis, with around 10,000 reports, in a passive system that may only represent 1% of the population of COVID-19 vaccinated.
Does that sound "rare"?
When all these COVID-19 vaccinated people start suffering from blood clots, where do you think they go?
To the hospitals.
And yet the CDC, FDA, and politicians want us to believe that there is a "pandemic of unvaccinated" and that "99% of hospitalizations" right now are unvaccinated?
Their own stats prove they are all LIARS!
I don't know if this article, or another one that reports something similar to this will go viral enough to attract the attention of the corporate media or Big Tech "fact checkers" who will come in and try to cherry pick something in the stats that they will claim "proves" this is false, but there is one thing that nobody can refute:
From these 571,831 cases and 2,604,121 reported symptoms, NOT A SINGLE ONE IS FROM SOMEONE WHO IS UNVACCINATED WITH COVID-19.
| | | |
| --- | --- | --- |
| Symptoms | Count | Percent |
| TOTAL | † 2,604,121 | † 455.4% |
| Headache | 110,528 | 19.33% |
| Fatigue | 88,666 | 15.51% |
| Pyrexia | 88,543 | 15.48% |
| Chills | 75,489 | 13.20% |
| Pain | 71,514 | 12.51% |
| Nausea | 64,723 | 11.32% |
| Dizziness | 63,528 | 11.11% |
| Pain in extremity | 52,329 | 9.15% |
| SARS-CoV-2 test | 38,755 | 6.78% |
| Myalgia | 38,268 | 6.69% |
| Arthralgia | 36,864 | 6.45% |
| Dyspnoea | 32,920 | 5.76% |
| Injection site pain | 32,686 | 5.72% |
| Rash | 28,284 | 4.95% |
| Pruritus | 26,928 | 4.71% |
| Vomiting | 25,039 | 4.38% |
| Asthenia | 24,812 | 4.34% |
| Injection site erythema | 23,704 | 4.15% |
| Malaise | 22,131 | 3.87% |
| Paraesthesia | 20,410 | 3.57% |
| Diarrhoea | 19,812 | 3.46% |
| Injection site swelling | 19,216 | 3.36% |
| Hyperhidrosis | 19,130 | 3.35% |
| Erythema | 18,797 | 3.29% |
| Body temperature | 18,581 | 3.25% |
| Hypoaesthesia | 17,944 | 3.14% |
| Lymphadenopathy | 17,876 | 3.13% |
| Injection site pruritus | 16,949 | 2.96% |
| Urticaria | 16,583 | 2.90% |
| Chest pain | 16,377 | 2.86% |
| Syncope | 15,917 | 2.78% |
| Feeling abnormal | 15,812 | 2.77% |
| COVID-19 | 14,697 | 2.57% |
| Cough | 14,425 | 2.52% |
| Blood test | 13,693 | 2.39% |
| Peripheral swelling | 13,284 | 2.32% |
| Injection site warmth | 12,225 | 2.14% |
| Chest discomfort | 11,910 | 2.08% |
| Blood pressure measurement | 11,833 | 2.07% |
| Palpitations | 11,829 | 2.07% |
| Electrocardiogram | 11,702 | 2.05% |
| Tremor | 11,499 | 2.01% |
| Vaccination site pain | 10,927 | 1.91% |
| Back pain | 10,911 | 1.91% |
| Loss of consciousness | 10,610 | 1.86% |
| Heart rate increased | 10,547 | 1.84% |
| Tinnitus | 10,428 | 1.82% |
| Feeling hot | 9,851 | 1.72% |
| Decreased appetite | 9,602 | 1.68% |
| Injection site rash | 9,543 | 1.67% |
| Oropharyngeal pain | 9,117 | 1.59% |
| SARS-CoV-2 test positive | 8,894 | 1.56% |
| Influenza like illness | 8,864 | 1.55% |
| Neck pain | 8,842 | 1.55% |
| Swelling | 8,713 | 1.52% |
| Rash erythematous | 8,420 | 1.47% |
| Condition aggravated | 8,254 | 1.44% |
| Heart rate | 8,248 | 1.44% |
| Computerised tomogram | 7,925 | 1.39% |
| Flushing | 7,809 | 1.37% |
| Migraine | 7,705 | 1.35% |
| Hypertension | 7,487 | 1.31% |
| Skin warm | 7,263 | 1.27% |
| Tachycardia | 7,084 | 1.24% |
| Rash pruritic | 6,974 | 1.22% |
| Vertigo | 6,899 | 1.21% |
| Blood pressure increased | 6,730 | 1.18% |
| Abdominal pain upper | 6,725 | 1.18% |
| Body temperature increased | 6,688 | 1.17% |
| Abdominal pain | 6,680 | 1.17% |
| Death | 6,674 | 1.17% |
| Anxiety | 6,630 | 1.16% |
| Mobility decreased | 6,538 | 1.14% |
| Product administered to patient of inappropriate age | 6,520 | 1.14% |
| SARS-CoV-2 test negative | 6,448 | 1.13% |
| Herpes zoster | 6,391 | 1.12% |
| Paraesthesia oral | 6,356 | 1.11% |
| Sleep disorder | 6,333 | 1.11% |
| Muscle spasms | 6,280 | 1.10% |
| Feeling cold | 6,214 | 1.09% |
| Insomnia | 6,176 | 1.08% |
| Muscular weakness | 6,106 | 1.07% |
| Lethargy | 6,024 | 1.05% |
| Inappropriate schedule of product administration | 6,010 | 1.05% |
| Swelling face | 6,004 | 1.05% |
| Fall | 5,986 | 1.05% |
| Oxygen saturation | 5,914 | 1.03% |
| Vision blurred | 5,885 | 1.03% |
| Product storage error | 5,857 | 1.02% |
| Throat tightness | 5,846 | 1.02% |
| Musculoskeletal stiffness | 5,635 | 0.99% |
| Somnolence | 5,539 | 0.97% |
| Gait disturbance | 5,454 | 0.95% |
| No adverse event | 5,287 | 0.92% |
| Pallor | 5,204 | 0.91% |
| Chest X-ray | 5,137 | 0.90% |
| Burning sensation | 5,049 | 0.88% |
| Throat irritation | 4,990 | 0.87% |
| Laboratory test | 4,970 | 0.87% |
| Magnetic resonance imaging | 4,925 | 0.86% |
| Confusional state | 4,878 | 0.85% |
| Axillary pain | 4,862 | 0.85% |
| Pulmonary embolism | 4,775 | 0.84% |
| Full blood count | 4,714 | 0.82% |
| Injection site induration | 4,695 | 0.82% |
| Seizure | 4,646 | 0.81% |
| Anaphylactic reaction | 4,609 | 0.81% |
| Rhinorrhoea | 4,574 | 0.80% |
| Drug ineffective | 4,485 | 0.78% |
| Impaired work ability | 4,433 | 0.78% |
| Dysphagia | 4,377 | 0.77% |
| Lip swelling | 4,281 | 0.75% |
| Immediate post-injection reaction | 4,255 | 0.74% |
| Hypoaesthesia oral | 4,246 | 0.74% |
| Abdominal discomfort | 4,210 | 0.74% |
| Hypotension | 4,196 | 0.73% |
| Swollen tongue | 4,119 | 0.72% |
| Injection site reaction | 4,111 | 0.72% |
| Limb discomfort | 4,065 | 0.71% |
| Echocardiogram | 4,058 | 0.71% |
| Heavy menstrual bleeding | 4,014 | 0.70% |
| Cold sweat | 4,011 | 0.70% |
| Lymph node pain | 3,928 | 0.69% |
| Hypersensitivity | 3,908 | 0.68% |
| Dysgeusia | 3,817 | 0.67% |
| Unevaluable event | 3,806 | 0.67% |
| Presyncope | 3,745 | 0.65% |
| Pharyngeal swelling | 3,742 | 0.65% |
| Facial paralysis | 3,706 | 0.65% |
| Thrombosis | 3,680 | 0.64% |
| Metabolic function test | 3,659 | 0.64% |
| Ultrasound scan | 3,600 | 0.63% |
| Hot flush | 3,563 | 0.62% |
| C-reactive protein | 3,495 | 0.61% |
| Investigation | 3,450 | 0.60% |
| Cerebrovascular accident | 3,417 | 0.60% |
| Electrocardiogram normal | 3,407 | 0.60% |
| Nasal congestion | 3,381 | 0.59% |
| Bell's palsy | 3,375 | 0.59% |
| Tenderness | 3,375 | 0.59% |
| Deep vein thrombosis | 3,367 | 0.59% |
| Loss of personal independence in daily activities | 3,358 | 0.59% |
| Visual impairment | 3,351 | 0.59% |
| Discomfort | 3,337 | 0.58% |
| Unresponsive to stimuli | 3,319 | 0.58% |
| Rash macular | 3,273 | 0.57% |
| Contusion | 3,216 | 0.56% |
| Balance disorder | 3,194 | 0.56% |
| Ear pain | 3,125 | 0.55% |
| Interchange of vaccine products | 3,103 | 0.54% |
| Platelet count | 3,061 | 0.54% |
| Computerised tomogram head | 3,003 | 0.53% |
| Eye pain | 2,946 | 0.52% |
| X-ray | 2,939 | 0.51% |
| Fibrin D dimer | 2,863 | 0.50% |
| Urine analysis | 2,833 | 0.50% |
| Ageusia | 2,806 | 0.49% |
| Illness | 2,768 | 0.48% |
| Vaccination site swelling | 2,659 | 0.46% |
| Nasopharyngitis | 2,646 | 0.46% |
| Rash papular | 2,644 | 0.46% |
| Joint swelling | 2,596 | 0.45% |
| Wheezing | 2,525 | 0.44% |
| Inflammation | 2,479 | 0.43% |
| Blood test normal | 2,476 | 0.43% |
| Pneumonia | 2,450 | 0.43% |
| Atrial fibrillation | 2,448 | 0.43% |
| Head discomfort | 2,422 | 0.42% |
| Incorrect dose administered | 2,418 | 0.42% |
| Menstruation irregular | 2,400 | 0.42% |
| Off label use | 2,392 | 0.42% |
| Eye swelling | 2,389 | 0.42% |
| Ultrasound Doppler | 2,352 | 0.41% |
| Vaccination site erythema | 2,319 | 0.41% |
| Night sweats | 2,281 | 0.40% |
| Injection site mass | 2,263 | 0.40% |
| Myocarditis | 2,261 | 0.40% |
| Troponin | 2,252 | 0.39% |
| Vaccination failure | 2,248 | 0.39% |
| Blood glucose | 2,240 | 0.39% |
| White blood cell count | 2,211 | 0.39% |
| Epistaxis | 2,144 | 0.37% |
| Anosmia | 2,141 | 0.37% |
| Disturbance in attention | 2,104 | 0.37% |
| Dysmenorrhoea | 2,084 | 0.36% |
| Disorientation | 2,070 | 0.36% |
| Dehydration | 2,063 | 0.36% |
| Dry mouth | 2,043 | 0.36% |
| Magnetic resonance imaging head | 2,040 | 0.36% |
| Neuralgia | 1,995 | 0.35% |
| Full blood count normal | 1,990 | 0.35% |
| Oxygen saturation decreased | 1,985 | 0.35% |
| Angiogram | 1,951 | 0.34% |
| Chest X-ray normal | 1,940 | 0.34% |
| Dysstasia | 1,937 | 0.34% |
| Bone pain | 1,910 | 0.33% |
| Exposure during pregnancy | 1,907 | 0.33% |
| Poor quality product administered | 1,906 | 0.33% |
| Sensitive skin | 1,900 | 0.33% |
| Hypersomnia | 1,896 | 0.33% |
| Ear discomfort | 1,870 | 0.33% |
| Expired product administered | 1,866 | 0.33% |
| Menstrual disorder | 1,827 | 0.32% |
| Nervousness | 1,827 | 0.32% |
| Blister | 1,806 | 0.32% |
| Blood pressure decreased | 1,791 | 0.31% |
| Underdose | 1,756 | 0.31% |
| Induration | 1,732 | 0.30% |
| Computerised tomogram thorax | 1,726 | 0.30% |
| Photophobia | 1,726 | 0.30% |
| Respiratory tract congestion | 1,715 | 0.30% |
| Pain in jaw | 1,710 | 0.30% |
| Vital signs measurement | 1,703 | 0.30% |
| C-reactive protein increased | 1,695 | 0.30% |
| Skin discolouration | 1,688 | 0.30% |
| Peripheral coldness | 1,687 | 0.30% |
| Influenza | 1,686 | 0.29% |
| Dysphonia | 1,675 | 0.29% |
| Haemoglobin | 1,675 | 0.29% |
| Oropharyngeal discomfort | 1,675 | 0.29% |
| Injection site bruising | 1,665 | 0.29% |
| Muscle twitching | 1,658 | 0.29% |
| Aphasia | 1,651 | 0.29% |
| Cellulitis | 1,645 | 0.29% |
| Head injury | 1,645 | 0.29% |
| Arrhythmia | 1,635 | 0.29% |
| Muscle tightness | 1,633 | 0.29% |
| Myocardial infarction | 1,633 | 0.29% |
| SARS-CoV-2 antibody test | 1,627 | 0.28% |
| Taste disorder | 1,614 | 0.28% |
| Oedema peripheral | 1,601 | 0.28% |
| Pericarditis | 1,596 | 0.28% |
| Troponin increased | 1,591 | 0.28% |
| Dysarthria | 1,576 | 0.28% |
| Gait inability | 1,565 | 0.27% |
| Asthma | 1,538 | 0.27% |
| Pain of skin | 1,530 | 0.27% |
| Blood glucose increased | 1,524 | 0.27% |
| Respiratory distress | 1,517 | 0.27% |
| Speech disorder | 1,493 | 0.26% |
| Electrocardiogram abnormal | 1,486 | 0.26% |
| Physical examination | 1,483 | 0.26% |
| Movement disorder | 1,431 | 0.25% |
| Extra dose administered | 1,424 | 0.25% |
| Computerised tomogram normal | 1,414 | 0.25% |
| Breast pain | 1,413 | 0.25% |
| Blood glucose normal | 1,409 | 0.25% |
| Angioedema | 1,407 | 0.25% |
| Blood creatinine | 1,407 | 0.25% |
| Platelet count decreased | 1,407 | 0.25% |
| Joint range of motion decreased | 1,402 | 0.25% |
| Deafness | 1,398 | 0.24% |
| Product preparation issue | 1,390 | 0.24% |
| Vaccination site warmth | 1,384 | 0.24% |
| Haemorrhage | 1,378 | 0.24% |
| Vaccination complication | 1,369 | 0.24% |
| Retching | 1,348 | 0.24% |
| Abdominal distension | 1,347 | 0.24% |
| Dyspepsia | 1,342 | 0.23% |
| Thrombocytopenia | 1,333 | 0.23% |
| White blood cell count increased | 1,309 | 0.23% |
| Cardiac arrest | 1,297 | 0.23% |
| Thirst | 1,296 | 0.23% |
| Vaginal haemorrhage | 1,293 | 0.23% |
| Laboratory test normal | 1,266 | 0.22% |
| Feeling of body temperature change | 1,259 | 0.22% |
| Injection site urticaria | 1,242 | 0.22% |
| Menstruation delayed | 1,239 | 0.22% |
| Hypoacusis | 1,235 | 0.22% |
| Skin burning sensation | 1,231 | 0.22% |
| Urinary tract infection | 1,225 | 0.21% |
| Vaccination site reaction | 1,219 | 0.21% |
| Intensive care | 1,217 | 0.21% |
| Heart rate irregular | 1,216 | 0.21% |
| Sneezing | 1,210 | 0.21% |
| Memory impairment | 1,208 | 0.21% |
| Injected limb mobility decreased | 1,190 | 0.21% |
| Blood thyroid stimulating hormone | 1,181 | 0.21% |
| Facial pain | 1,180 | 0.21% |
| Ocular hyperaemia | 1,177 | 0.21% |
| Product use issue | 1,177 | 0.21% |
| Fibrin D dimer increased | 1,152 | 0.20% |
| Disease recurrence | 1,151 | 0.20% |
| Eye pruritus | 1,146 | 0.20% |
| Vaccination site pruritus | 1,139 | 0.20% |
| Nodule | 1,137 | 0.20% |
| Vaccine positive rechallenge | 1,137 | 0.20% |
| Sensation of foreign body | 1,121 | 0.20% |
| Transient ischaemic attack | 1,115 | 0.19% |
| Abortion spontaneous | 1,114 | 0.19% |
| Weight decreased | 1,093 | 0.19% |
| Arthritis | 1,090 | 0.19% |
| Neuropathy peripheral | 1,088 | 0.19% |
| Oral herpes | 1,074 | 0.19% |
| Joint stiffness | 1,065 | 0.19% |
| Amnesia | 1,050 | 0.18% |
| Chest X-ray abnormal | 1,048 | 0.18% |
| Hemiparesis | 1,040 | 0.18% |
| Neurological examination | 1,038 | 0.18% |
| Lacrimation increased | 1,035 | 0.18% |
| Echocardiogram normal | 1,030 | 0.18% |
| Suspected COVID-19 | 1,030 | 0.18% |
| Hallucination | 1,012 | 0.18% |
| Restlessness | 1,008 | 0.18% |
| Intermenstrual bleeding | 1,005 | 0.18% |
| Heart rate decreased | 1,002 | 0.18% |
| Acute kidney injury | 996 | 0.17% |
| Incorrect route of product administration | 995 | 0.17% |
| Anticoagulant therapy | 989 | 0.17% |
| COVID-19 pneumonia | 987 | 0.17% |
| Dyskinesia | 977 | 0.17% |
| Diplopia | 967 | 0.17% |
| Blindness | 963 | 0.17% |
| Panic attack | 962 | 0.17% |
| Musculoskeletal chest pain | 955 | 0.17% |
| Injection site inflammation | 954 | 0.17% |
| Bradycardia | 952 | 0.17% |
| Hypoxia | 951 | 0.17% |
| Dizziness postural | 949 | 0.17% |
| General physical health deterioration | 946 | 0.17% |
| Parosmia | 945 | 0.17% |
| Productive cough | 945 | 0.17% |
| Blood potassium | 938 | 0.16% |
| Eye irritation | 938 | 0.16% |
| Dyspnoea exertional | 937 | 0.16% |
| Pharyngeal paraesthesia | 931 | 0.16% |
| Angina pectoris | 927 | 0.16% |
| Musculoskeletal discomfort | 927 | 0.16% |
| Acute myocardial infarction | 924 | 0.16% |
| Computerised tomogram abnormal | 919 | 0.16% |
| Syringe issue | 918 | 0.16% |
| International normalised ratio | 914 | 0.16% |
| Sensory disturbance | 914 | 0.16% |
| Swelling of eyelid | 913 | 0.16% |
| Cerebral infarction | 911 | 0.16% |
| Respiratory rate | 910 | 0.16% |
| Hyperpyrexia | 899 | 0.16% |
| Product temperature excursion issue | 897 | 0.16% |
| Prothrombin time | 889 | 0.16% |
| Deafness unilateral | 886 | 0.15% |
| Injection site nodule | 883 | 0.15% |
| Ischaemic stroke | 882 | 0.15% |
| Haemoglobin decreased | 875 | 0.15% |
| Hypertensive crisis | 874 | 0.15% |
| Depressed level of consciousness | 873 | 0.15% |
| Cardiac failure | 866 | 0.15% |
| Petechiae | 860 | 0.15% |
| Oedema | 852 | 0.15% |
| Hyperventilation | 844 | 0.15% |
| Feeding disorder | 840 | 0.15% |
| Computerised tomogram abdomen | 837 | 0.15% |
| Constipation | 837 | 0.15% |
| Guillain-Barre syndrome | 831 | 0.15% |
| Depression | 830 | 0.15% |
| Activated partial thromboplastin time | 827 | 0.14% |
| Vaccination site rash | 826 | 0.14% |
| Blood sodium | 823 | 0.14% |
| Neutrophil count | 823 | 0.14% |
| Glomerular filtration rate | 818 | 0.14% |
| Asymptomatic COVID-19 | 809 | 0.14% |
| Facial paresis | 809 | 0.14% |
| Dry throat | 800 | 0.14% |
| Lumbar puncture | 780 | 0.14% |
| Eye movement disorder | 776 | 0.14% |
| Blood creatine phosphokinase | 771 | 0.13% |
| Magnetic resonance imaging head abnormal | 770 | 0.13% |
| Alanine aminotransferase | 769 | 0.13% |
| Platelet count normal | 767 | 0.13% |
| Acoustic stimulation tests | 764 | 0.13% |
| Computerised tomogram thorax abnormal | 764 | 0.13% |
| Cerebral haemorrhage | 762 | 0.13% |
| Magnetic resonance imaging normal | 752 | 0.13% |
| Irritability | 748 | 0.13% |
| Mouth swelling | 737 | 0.13% |
| Cardiac flutter | 735 | 0.13% |
| Toothache | 735 | 0.13% |
| Maternal exposure during pregnancy | 734 | 0.13% |
| Polymerase chain reaction | 721 | 0.13% |
| Skin exfoliation | 721 | 0.13% |
| Computerised tomogram head normal | 714 | 0.12% |
| Paralysis | 713 | 0.12% |
| Impaired driving ability | 712 | 0.12% |
| Urine analysis normal | 711 | 0.12% |
| Electroencephalogram | 709 | 0.12% |
| Echocardiogram abnormal | 708 | 0.12% |
| Dry skin | 702 | 0.12% |
| Red blood cell sedimentation rate | 700 | 0.12% |
| Urinary incontinence | 699 | 0.12% |
| Cardiac monitoring | 697 | 0.12% |
| Crying | 688 | 0.12% |
| Sepsis | 688 | 0.12% |
| Exposure to SARS-CoV-2 | 686 | 0.12% |
| Blood urea | 681 | 0.12% |
| Influenza virus test negative | 679 | 0.12% |
| Hypokinesia | 673 | 0.12% |
| Red blood cell sedimentation rate increased | 673 | 0.12% |
| Metabolic function test normal | 671 | 0.12% |
| Aspartate aminotransferase | 663 | 0.12% |
| Blood test abnormal | 661 | 0.12% |
| Flatulence | 661 | 0.12% |
| Magnetic resonance imaging head normal | 661 | 0.12% |
| Epilepsy | 656 | 0.11% |
| Ultrasound Doppler abnormal | 656 | 0.11% |
| Cognitive disorder | 654 | 0.11% |
| Troponin normal | 651 | 0.11% |
| Periorbital swelling | 647 | 0.11% |
| Scan | 643 | 0.11% |
| Lymphocyte count | 641 | 0.11% |
| Rheumatoid arthritis | 639 | 0.11% |
| Sinus congestion | 639 | 0.11% |
| Infection | 638 | 0.11% |
| Ophthalmological examination | 638 | 0.11% |
| Abdominal pain lower | 634 | 0.11% |
| Liver function test | 634 | 0.11% |
| Blood fibrinogen | 630 | 0.11% |
| Respiratory failure | 618 | 0.11% |
| Sinusitis | 618 | 0.11% |
| Cyanosis | 617 | 0.11% |
| Weight | 617 | 0.11% |
| Oral discomfort | 616 | 0.11% |
| Blood pressure systolic | 615 | 0.11% |
| Cardiac stress test | 615 | 0.11% |
| Anaphylactic shock | 614 | 0.11% |
| Mental impairment | 613 | 0.11% |
| Vaccination site mass | 613 | 0.11% |
| Mass | 610 | 0.11% |
| Ocular discomfort | 608 | 0.11% |
| Anaemia | 607 | 0.11% |
| Hyperaesthesia | 606 | 0.11% |
| Spinal pain | 606 | 0.11% |
| Alopecia | 605 | 0.11% |
| Renal pain | 605 | 0.11% |
| Blood creatinine increased | 602 | 0.11% |
| Skin reaction | 602 | 0.11% |
| Cardio-respiratory arrest | 600 | 0.10% |
| Delirium | 599 | 0.10% |
| Haematochezia | 598 | 0.10% |
| Endotracheal intubation | 597 | 0.10% |
| Electrocardiogram ambulatory | 596 | 0.10% |
| Blood lactic acid | 593 | 0.10% |
| Differential white blood cell count | 591 | 0.10% |
| Pleural effusion | 590 | 0.10% |
| Paranasal sinus discomfort | 588 | 0.10% |
| Stomatitis | 587 | 0.10% |
| Muscle fatigue | 585 | 0.10% |
| Mental status changes | 583 | 0.10% |
| Axillary mass | 581 | 0.10% |
| Antibody test | 577 | 0.10% |
| Alanine aminotransferase increased | 575 | 0.10% |
| Painful respiration | 574 | 0.10% |
| Pollakiuria | 570 | 0.10% |
| White blood cell count normal | 569 | 0.10% |
| Computerised tomogram head abnormal | 563 | 0.10% |
| Antinuclear antibody | 560 | 0.10% |
| Wrong product administered | 560 | 0.10% |
| Skin lesion | 559 | 0.10% |
| Sudden death | 557 | 0.10% |
| Injection site hypoaesthesia | 549 | 0.10% |
| Product administered at inappropriate site | 547 | 0.10% |
| Cardiac disorder | 546 | 0.10% |
| Gastrooesophageal reflux disease | 546 | 0.10% |
| Pericardial effusion | 546 | 0.10% |
| Haemoglobin normal | 545 | 0.10% |
| Musculoskeletal pain | 544 | 0.10% |
| Aspartate aminotransferase increased | 543 | 0.09% |
| Immune thrombocytopenia | 543 | 0.09% |
| Glycosylated haemoglobin | 542 | 0.09% |
| Agitation | 540 | 0.09% |
| Appendicitis | 539 | 0.09% |
| Haematocrit | 539 | 0.09% |
| Acute respiratory failure | 536 | 0.09% |
| Coma scale | 536 | 0.09% |
| Ventricular extrasystoles | 532 | 0.09% |
| Biopsy | 531 | 0.09% |
| Poor quality sleep | 531 | 0.09% |
| Blood bilirubin | 529 | 0.09% |
| Depressed mood | 529 | 0.09% |
| Adverse event | 528 | 0.09% |
| Incorrect product formulation administered | 528 | 0.09% |
| Generalised tonic-clonic seizure | 526 | 0.09% |
| Tension headache | 526 | 0.09% |
| Hyperacusis | 525 | 0.09% |
| Tachypnoea | 521 | 0.09% |
| Feeling jittery | 519 | 0.09% |
| Oral pain | 518 | 0.09% |
| Sinus tachycardia | 518 | 0.09% |
| Sluggishness | 516 | 0.09% |
| Red blood cell sedimentation rate normal | 515 | 0.09% |
| Scan with contrast | 515 | 0.09% |
| Ultrasound scan abnormal | 514 | 0.09% |
| Sensory loss | 512 | 0.09% |
| Oral pruritus | 510 | 0.09% |
| Dysuria | 509 | 0.09% |
| Brain natriuretic peptide | 508 | 0.09% |
| Magnetic resonance imaging heart | 508 | 0.09% |
| Injection site paraesthesia | 506 | 0.09% |
| Ultrasound abdomen | 506 | 0.09% |
| Blood culture | 505 | 0.09% |
| Rash vesicular | 503 | 0.09% |
| Blood lactate dehydrogenase | 498 | 0.09% |
| Blood urine present | 494 | 0.09% |
| Product administration error | 494 | 0.09% |
| Glossodynia | 492 | 0.09% |
| Neurological symptom | 492 | 0.09% |
| Auscultation | 490 | 0.09% |
| Injection site discomfort | 490 | 0.09% |
| Gamma-glutamyltransferase | 489 | 0.09% |
| Magnetic resonance imaging abnormal | 489 | 0.09% |
| Skin swelling | 488 | 0.09% |
| Skin tightness | 487 | 0.09% |
| Eczema | 485 | 0.08% |
| Polymenorrhoea | 485 | 0.08% |
| Respiratory rate increased | 484 | 0.08% |
| Resuscitation | 483 | 0.08% |
| Hypopnoea | 482 | 0.08% |
| Tongue discomfort | 478 | 0.08% |
| Blood potassium normal | 477 | 0.08% |
| Electric shock sensation | 477 | 0.08% |
| White blood cell count decreased | 477 | 0.08% |
| Ultrasound scan normal | 475 | 0.08% |
| Postmenopausal haemorrhage | 474 | 0.08% |
| Tongue disorder | 472 | 0.08% |
| Blood glucose decreased | 470 | 0.08% |
| Blood creatinine normal | 469 | 0.08% |
| Breast swelling | 468 | 0.08% |
| Tongue pruritus | 466 | 0.08% |
| Flank pain | 464 | 0.08% |
| Gastrointestinal disorder | 461 | 0.08% |
| Blood potassium decreased | 460 | 0.08% |
| Streptococcus test negative | 460 | 0.08% |
| Abnormal dreams | 459 | 0.08% |
| Electrocardiogram ST segment elevation | 459 | 0.08% |
| Extrasystoles | 456 | 0.08% |
| Red blood cell count | 455 | 0.08% |
| Product preparation error | 452 | 0.08% |
| Pulmonary thrombosis | 446 | 0.08% |
| Vaccination site induration | 444 | 0.08% |
| Pharyngeal hypoaesthesia | 443 | 0.08% |
| Dry eye | 440 | 0.08% |
| Immunoglobulin therapy | 440 | 0.08% |
| Pulmonary pain | 440 | 0.08% |
| C-reactive protein normal | 439 | 0.08% |
| Bedridden | 438 | 0.08% |
| Nightmare | 438 | 0.08% |
| Odynophagia | 438 | 0.08% |
| Haematoma | 436 | 0.08% |
| Body temperature decreased | 433 | 0.08% |
| Groin pain | 432 | 0.08% |
| Mean cell volume | 432 | 0.08% |
| Thrombophlebitis superficial | 432 | 0.08% |
| Lung opacity | 430 | 0.08% |
| Sinus pain | 430 | 0.08% |
| Troponin I | 430 | 0.08% |
| Angiogram pulmonary abnormal | 429 | 0.08% |
| Altered state of consciousness | 428 | 0.07% |
| Blood cholesterol | 428 | 0.07% |
| Eye disorder | 427 | 0.07% |
| Aphonia | 426 | 0.07% |
| Haematocrit normal | 425 | 0.07% |
| Blood alkaline phosphatase | 424 | 0.07% |
| Pulmonary oedema | 423 | 0.07% |
| Blood sodium normal | 422 | 0.07% |
| Skin irritation | 422 | 0.07% |
| Hemiplegia | 415 | 0.07% |
| Face oedema | 414 | 0.07% |
| Blepharospasm | 411 | 0.07% |
| Culture urine | 411 | 0.07% |
| Blood pressure fluctuation | 410 | 0.07% |
| Monoplegia | 410 | 0.07% |
| Electromyogram | 409 | 0.07% |
| Circulatory collapse | 408 | 0.07% |
| Catheterisation cardiac | 407 | 0.07% |
| Respiratory arrest | 407 | 0.07% |
| Renal failure | 405 | 0.07% |
| Eye haemorrhage | 404 | 0.07% |
| Injection site discolouration | 404 | 0.07% |
| X-ray normal | 404 | 0.07% |
| Sinus headache | 401 | 0.07% |
| Blood pressure abnormal | 400 | 0.07% |
| Chromaturia | 400 | 0.07% |
| Tunnel vision | 399 | 0.07% |
| Mouth ulceration | 398 | 0.07% |
| PO2 | 398 | 0.07% |
| Respiratory disorder | 398 | 0.07% |
| Cardiac failure congestive | 397 | 0.07% |
| Vaccination site inflammation | 393 | 0.07% |
| Vitreous floaters | 393 | 0.07% |
| Fear | 391 | 0.07% |
| Monocyte count | 390 | 0.07% |
| Haemoptysis | 387 | 0.07% |
| Sudden hearing loss | 387 | 0.07% |
| Injection site haemorrhage | 386 | 0.07% |
| Influenza B virus test | 385 | 0.07% |
| Low density lipoprotein | 382 | 0.07% |
| Haematocrit decreased | 380 | 0.07% |
| Asthenopia | 377 | 0.07% |
| Ear swelling | 377 | 0.07% |
| Gastrointestinal pain | 377 | 0.07% |
| Bronchospasm | 375 | 0.07% |
| Local reaction | 374 | 0.07% |
| Photopsia | 374 | 0.07% |
| Oligomenorrhoea | 373 | 0.07% |
| Grip strength decreased | 370 | 0.06% |
| Scan brain | 368 | 0.06% |
| Blood calcium | 367 | 0.06% |
| Blood sodium decreased | 367 | 0.06% |
| Fibrin D dimer normal | 367 | 0.06% |
| Heart rate abnormal | 367 | 0.06% |
| Lymphadenitis | 365 | 0.06% |
| Eosinophil count | 362 | 0.06% |
| Seizure like phenomena | 362 | 0.06% |
| Skin disorder | 362 | 0.06% |
| Blood urea increased | 359 | 0.06% |
| Blood magnesium | 358 | 0.06% |
| Influenza A virus test negative | 358 | 0.06% |
| Rash maculo-papular | 357 | 0.06% |
| Blood creatine phosphokinase increased | 356 | 0.06% |
| Immunisation | 356 | 0.06% |
| Respiration abnormal | 353 | 0.06% |
| Gout | 352 | 0.06% |
| Supraventricular tachycardia | 352 | 0.06% |
| Breast tenderness | 348 | 0.06% |
| Haematuria | 348 | 0.06% |
| Blood chloride normal | 347 | 0.06% |
| Laboratory test abnormal | 347 | 0.06% |
| N-terminal prohormone brain natriuretic peptide | 347 | 0.06% |
| SARS-CoV-2 antibody test negative | 346 | 0.06% |
| Vaccination site bruising | 346 | 0.06% |
| Feeling drunk | 345 | 0.06% |
| Adverse reaction | 343 | 0.06% |
| Blood urea normal | 341 | 0.06% |
| Colonoscopy | 341 | 0.06% |
| Bronchitis | 340 | 0.06% |
| Stress | 340 | 0.06% |
| Biopsy skin | 339 | 0.06% |
| Limb injury | 338 | 0.06% |
| Dermatitis allergic | 336 | 0.06% |
| Mammogram | 336 | 0.06% |
| Chronic obstructive pulmonary disease | 333 | 0.06% |
| Amenorrhoea | 332 | 0.06% |
| Rectal haemorrhage | 332 | 0.06% |
| Injection site cellulitis | 329 | 0.06% |
| Lip pruritus | 329 | 0.06% |
| Tryptase | 328 | 0.06% |
| Sciatica | 326 | 0.06% |
| Red blood cell count decreased | 325 | 0.06% |
| Nervous system disorder | 324 | 0.06% |
| Pulmonary congestion | 324 | 0.06% |
| Blood gases | 323 | 0.06% |
| Blindness unilateral | 322 | 0.06% |
| Blood albumin | 322 | 0.06% |
| Computerised tomogram abdomen abnormal | 322 | 0.06% |
| Throat clearing | 322 | 0.06% |
| Conjunctival haemorrhage | 320 | 0.06% |
| Hyperglycaemia | 320 | 0.06% |
| Hypophagia | 320 | 0.06% |
| Pelvic pain | 320 | 0.06% |
| Hypoglycaemia | 319 | 0.06% |
| Pain assessment | 319 | 0.06% |
| Thyroid function test | 319 | 0.06% |
| Viral test | 318 | 0.06% |
| Blood count | 317 | 0.06% |
| Dermatitis | 317 | 0.06% |
| Lipase | 317 | 0.06% |
| Renal function test | 316 | 0.06% |
| Ejection fraction | 315 | 0.06% |
| Therapeutic response unexpected | 315 | 0.06% |
| Allergy to vaccine | 314 | 0.05% |
| Angiocardiogram | 313 | 0.05% |
| Pulse abnormal | 312 | 0.05% |
| Computerised tomogram neck | 311 | 0.05% |
| Coordination abnormal | 310 | 0.05% |
| Brain natriuretic peptide increased | 309 | 0.05% |
| Motor dysfunction | 309 | 0.05% |
| Overdose | 307 | 0.05% |
| Vaccination site movement impairment | 307 | 0.05% |
| Lung disorder | 306 | 0.05% |
| Ear infection | 305 | 0.05% |
| Eyelid ptosis | 303 | 0.05% |
| Purpura | 303 | 0.05% |
| Mydriasis | 302 | 0.05% |
| Blood electrolytes | 301 | 0.05% |
| Cerebral venous sinus thrombosis | 301 | 0.05% |
| PCO2 | 299 | 0.05% |
| Aphthous ulcer | 298 | 0.05% |
| Autoimmune disorder | 298 | 0.05% |
| Product dose omission issue | 298 | 0.05% |
| Hyponatraemia | 297 | 0.05% |
| Psoriasis | 297 | 0.05% |
| Alanine aminotransferase normal | 296 | 0.05% |
| Blood thyroid stimulating hormone normal | 296 | 0.05% |
| Emotional distress | 296 | 0.05% |
| HIV test | 296 | 0.05% |
| Upper-airway cough syndrome | 296 | 0.05% |
| Mechanical ventilation | 295 | 0.05% |
| Thinking abnormal | 295 | 0.05% |
| Appendicectomy | 294 | 0.05% |
| Rheumatoid factor | 294 | 0.05% |
| Gingival pain | 293 | 0.05% |
| Audiogram | 292 | 0.05% |
| Blood alkaline phosphatase normal | 292 | 0.05% |
| Mean cell haemoglobin | 292 | 0.05% |
| Mean cell volume normal | 292 | 0.05% |
| Blood chloride | 290 | 0.05% |
| Blood immunoglobulin G | 290 | 0.05% |
| Hypothermia | 290 | 0.05% |
| Incomplete course of vaccination | 290 | 0.05% |
| Formication | 288 | 0.05% |
| Influenza virus test | 288 | 0.05% |
| Polymyalgia rheumatica | 287 | 0.05% |
| Troponin T | 287 | 0.05% |
| Periarthritis | 286 | 0.05% |
| Serum ferritin | 286 | 0.05% |
| Blood triglycerides | 285 | 0.05% |
| Eructation | 284 | 0.05% |
| Skin laceration | 284 | 0.05% |
| Full blood count abnormal | 283 | 0.05% |
| Walking aid user | 283 | 0.05% |
| Pregnancy test | 282 | 0.05% |
| Hypotonia | 281 | 0.05% |
| Migraine with aura | 281 | 0.05% |
| Protein total | 281 | 0.05% |
| X-ray limb | 281 | 0.05% |
| Bursitis | 280 | 0.05% |
| Procalcitonin | 279 | 0.05% |
| SARS-CoV-2 antibody test positive | 279 | 0.05% |
| Lower respiratory tract infection | 278 | 0.05% |
| Deafness neurosensory | 277 | 0.05% |
| International normalised ratio increased | 277 | 0.05% |
| Blood pressure diastolic | 276 | 0.05% |
| Cardiomegaly | 276 | 0.05% |
| Erythema multiforme | 276 | 0.05% |
| Magnetic resonance imaging neck | 276 | 0.05% |
| Respiratory viral panel | 276 | 0.05% |
| Carbon dioxide normal | 275 | 0.05% |
| Cardiovascular disorder | 275 | 0.05% |
| Acoustic stimulation tests abnormal | 274 | 0.05% |
| Blood bilirubin normal | 273 | 0.05% |
| Diabetes mellitus | 273 | 0.05% |
| Ejection fraction decreased | 273 | 0.05% |
| Fear of injection | 273 | 0.05% |
| Vaccination site oedema | 273 | 0.05% |
| Weight increased | 272 | 0.05% |
| Fluid retention | 270 | 0.05% |
| Troponin I increased | 270 | 0.05% |
| Acne | 269 | 0.05% |
| Oral mucosal blistering | 269 | 0.05% |
| Dysentery | 268 | 0.05% |
| Urinary retention | 267 | 0.05% |
| Blood culture negative | 266 | 0.05% |
| Injection site vesicles | 264 | 0.05% |
| Lung infiltration | 264 | 0.05% |
| Laryngeal oedema | 263 | 0.05% |
| Muscle contractions involuntary | 263 | 0.05% |
| Sinus disorder | 263 | 0.05% |
| Fibromyalgia | 262 | 0.05% |
| Muscle rigidity | 262 | 0.05% |
| Gaze palsy | 261 | 0.05% |
| Vertigo positional | 261 | 0.05% |
| Secretion discharge | 260 | 0.05% |
| Adverse drug reaction | 259 | 0.05% |
| Aspartate aminotransferase normal | 259 | 0.05% |
| Blood bicarbonate | 259 | 0.05% |
| Cerebral thrombosis | 259 | 0.05% |
| Ophthalmic herpes zoster | 259 | 0.05% |
| Scan with contrast abnormal | 259 | 0.05% |
| Injection site irritation | 258 | 0.05% |
| Body mass index | 257 | 0.04% |
| Eating disorder | 257 | 0.04% |
| Gastrointestinal haemorrhage | 257 | 0.04% |
| International normalised ratio normal | 255 | 0.04% |
| Red blood cell count normal | 255 | 0.04% |
| Posture abnormal | 254 | 0.04% |
| Extensive swelling of vaccinated limb | 253 | 0.04% |
| Facial discomfort | 253 | 0.04% |
| Basophil count | 252 | 0.04% |
| Conjunctivitis | 252 | 0.04% |
| Incontinence | 252 | 0.04% |
| Subarachnoid haemorrhage | 252 | 0.04% |
| Leukocytosis | 251 | 0.04% |
| Muscle strain | 250 | 0.04% |
| Panic reaction | 250 | 0.04% |
| Salivary hypersecretion | 250 | 0.04% |
| Blood calcium normal | 249 | 0.04% |
| Blood magnesium normal | 249 | 0.04% |
| Restless legs syndrome | 249 | 0.04% |
| Ultrasound Doppler normal | 248 | 0.04% |
| Hepatic enzyme increased | 247 | 0.04% |
| Magnetic resonance imaging spinal | 247 | 0.04% |
| Blood alkaline phosphatase increased | 246 | 0.04% |
| Photosensitivity reaction | 246 | 0.04% |
| Streptococcus test | 246 | 0.04% |
| Vitamin B12 | 246 | 0.04% |
| Glomerular filtration rate decreased | 244 | 0.04% |
| Haematemesis | 244 | 0.04% |
| Incoherent | 244 | 0.04% |
| Pregnancy test negative | 244 | 0.04% |
| Scab | 243 | 0.04% |
| Suicidal ideation | 243 | 0.04% |
| Ear, nose and throat examination | 242 | 0.04% |
| Gingival bleeding | 242 | 0.04% |
| pH body fluid | 241 | 0.04% |
| Urine analysis abnormal | 241 | 0.04% |
| Antinuclear antibody negative | 240 | 0.04% |
| Red cell distribution width normal | 238 | 0.04% |
| Blood bilirubin increased | 237 | 0.04% |
| Mean cell haemoglobin concentration normal | 237 | 0.04% |
| Vasculitis | 236 | 0.04% |
| Visual field defect | 236 | 0.04% |
| High density lipoprotein | 235 | 0.04% |
| Coagulation test | 234 | 0.04% |
| Face injury | 234 | 0.04% |
| Faeces discoloured | 234 | 0.04% |
| Needle issue | 234 | 0.04% |
| Protein total normal | 234 | 0.04% |
| Vitamin D | 234 | 0.04% |
| Maternal exposure during breast feeding | 233 | 0.04% |
| Skin mass | 233 | 0.04% |
| Abnormal behaviour | 232 | 0.04% |
| Anal incontinence | 230 | 0.04% |
| Autopsy | 230 | 0.04% |
| Pleuritic pain | 230 | 0.04% |
| Diverticulitis | 228 | 0.04% |
| Lip oedema | 228 | 0.04% |
| Differential white blood cell count normal | 227 | 0.04% |
| Mean cell haemoglobin concentration | 227 | 0.04% |
| Multiple sclerosis | 227 | 0.04% |
| Endoscopy | 226 | 0.04% |
| Hypokalaemia | 226 | 0.04% |
| Neutrophil count increased | 226 | 0.04% |
| Specialist consultation | 226 | 0.04% |
| Therapy non-responder | 226 | 0.04% |
| Lymphoedema | 225 | 0.04% |
| Nasal discomfort | 225 | 0.04% |
| Renal impairment | 225 | 0.04% |
| Breast mass | 224 | 0.04% |
| Herpes simplex | 224 | 0.04% |
| Lip pain | 224 | 0.04% |
| Shock | 224 | 0.04% |
| Pulse absent | 223 | 0.04% |
| Cheilitis | 221 | 0.04% |
| Post-acute COVID-19 syndrome | 221 | 0.04% |
| Ear pruritus | 220 | 0.04% |
| Vaccination site discomfort | 220 | 0.04% |
| Lipids | 219 | 0.04% |
| Monocyte percentage | 219 | 0.04% |
| Limb mass | 218 | 0.04% |
| Skin abrasion | 217 | 0.04% |
| Drug hypersensitivity | 216 | 0.04% |
| Platelet count increased | 216 | 0.04% |
| Tension | 216 | 0.04% |
| Rhabdomyolysis | 215 | 0.04% |
| Cystitis | 213 | 0.04% |
| Erysipelas | 213 | 0.04% |
| Euphoric mood | 213 | 0.04% |
| Nerve injury | 213 | 0.04% |
| Pulmonary function test | 213 | 0.04% |
| Choking | 212 | 0.04% |
| Immunology test | 212 | 0.04% |
| Atelectasis | 211 | 0.04% |
| Pneumonia aspiration | 211 | 0.04% |
| Trismus | 211 | 0.04% |
| Ear congestion | 210 | 0.04% |
| Hyperthermia | 210 | 0.04% |
| Body temperature fluctuation | 209 | 0.04% |
| Colitis | 209 | 0.04% |
| Colitis ulcerative | 209 | 0.04% |
| Eyelid oedema | 209 | 0.04% |
| Red cell distribution width | 209 | 0.04% |
| Lip blister | 208 | 0.04% |
| Thrombophlebitis | 208 | 0.04% |
| Trigeminal neuralgia | 208 | 0.04% |
| Blood albumin normal | 207 | 0.04% |
| Blood pressure systolic increased | 207 | 0.04% |
| Eosinophil percentage | 207 | 0.04% |
| Mean cell haemoglobin normal | 207 | 0.04% |
| Prothrombin level | 207 | 0.04% |
| Antinuclear antibody positive | 206 | 0.04% |
| Exercise tolerance decreased | 206 | 0.04% |
| Body temperature abnormal | 205 | 0.04% |
| Cardioversion | 205 | 0.04% |
| Exposure via breast milk | 205 | 0.04% |
| Blood creatine phosphokinase normal | 204 | 0.04% |
| Nephrolithiasis | 204 | 0.04% |
| Vaccine breakthrough infection | 204 | 0.04% |
| Diarrhoea haemorrhagic | 203 | 0.04% |
| Encephalopathy | 203 | 0.04% |
| Allergy test | 202 | 0.04% |
| Drooling | 202 | 0.04% |
| Micturition urgency | 202 | 0.04% |
| Surgery | 202 | 0.04% |
| Frequent bowel movements | 201 | 0.04% |
| Coagulopathy | 200 | 0.03% |
| Venous thrombosis limb | 200 | 0.03% |
| Positron emission tomogram | 199 | 0.03% |
| Transfusion | 199 | 0.03% |
| Ventricular tachycardia | 199 | 0.03% |
| Serology test | 198 | 0.03% |
| Bacterial test | 197 | 0.03% |
| Musculoskeletal disorder | 197 | 0.03% |
| Liver function test increased | 196 | 0.03% |
| Cardiac failure acute | 195 | 0.03% |
| Pancreatitis acute | 195 | 0.03% |
| Stridor | 195 | 0.03% |
| Catheterisation cardiac normal | 194 | 0.03% |
| Viral infection | 193 | 0.03% |
| Atrial flutter | 192 | 0.03% |
| Injection site oedema | 192 | 0.03% |
| Body height | 191 | 0.03% |
| Computerised tomogram thorax normal | 191 | 0.03% |
| Dementia | 191 | 0.03% |
| Hallucination, visual | 191 | 0.03% |
| Neutrophil percentage increased | 191 | 0.03% |
| Orthostatic hypotension | 191 | 0.03% |
| Vaccination site haemorrhage | 191 | 0.03% |
| Wrong technique in product usage process | 191 | 0.03% |
| Lymphocyte percentage decreased | 190 | 0.03% |
| Lymphocyte count decreased | 189 | 0.03% |
| Tonsillar hypertrophy | 189 | 0.03% |
| Blood calcium decreased | 188 | 0.03% |
| Blood immunoglobulin M | 188 | 0.03% |
| Respiratory symptom | 188 | 0.03% |
| Thyroid function test normal | 188 | 0.03% |
| Ataxia | 187 | 0.03% |
| Pancreatitis | 187 | 0.03% |
| Respiratory syncytial virus test negative | 187 | 0.03% |
| Imaging procedure | 186 | 0.03% |
| Shoulder injury related to vaccine administration | 186 | 0.03% |
| Stool analysis | 186 | 0.03% |
| Jaundice | 185 | 0.03% |
| Pleurisy | 185 | 0.03% |
| Systemic lupus erythematosus | 185 | 0.03% |
| Blood glucose abnormal | 184 | 0.03% |
| Brain natriuretic peptide normal | 184 | 0.03% |
| Cluster headache | 184 | 0.03% |
| Medication error | 184 | 0.03% |
| Tongue oedema | 184 | 0.03% |
| Immune system disorder | 183 | 0.03% |
| Liver function test normal | 183 | 0.03% |
| Cardiovascular examination | 182 | 0.03% |
| Computerised tomogram pelvis | 182 | 0.03% |
| Livedo reticularis | 182 | 0.03% |
| Mental fatigue | 181 | 0.03% |
| Tendonitis | 181 | 0.03% |
| Device connection issue | 180 | 0.03% |
| Emotional disorder | 180 | 0.03% |
| Lymphocyte percentage | 180 | 0.03% |
| Vestibular neuronitis | 180 | 0.03% |
| Retinal vein occlusion | 179 | 0.03% |
| Arthropathy | 178 | 0.03% |
| Gingival swelling | 178 | 0.03% |
| Herpes virus infection | 178 | 0.03% |
| Nystagmus | 178 | 0.03% |
| Uveitis | 178 | 0.03% |
| Culture | 177 | 0.03% |
| Electroencephalogram normal | 177 | 0.03% |
| Pneumonitis | 177 | 0.03% |
| Sinus rhythm | 177 | 0.03% |
| Joint injury | 176 | 0.03% |
| Pityriasis rosea | 176 | 0.03% |
| Upper respiratory tract infection | 176 | 0.03% |
| Acoustic stimulation tests normal | 175 | 0.03% |
| Coma | 175 | 0.03% |
| Mental disorder | 175 | 0.03% |
| Myelitis transverse | 175 | 0.03% |
| Myocardial necrosis marker | 175 | 0.03% |
| Rhinitis | 175 | 0.03% |
| Embolism | 174 | 0.03% |
| Haemorrhagic stroke | 174 | 0.03% |
| Human chorionic gonadotropin | 174 | 0.03% |
| Anion gap | 173 | 0.03% |
| Blood iron | 173 | 0.03% |
| Encephalitis | 173 | 0.03% |
| Status epilepticus | 173 | 0.03% |
| Blindness transient | 172 | 0.03% |
| Septic shock | 172 | 0.03% |
| Thrombectomy | 172 | 0.03% |
| Blood albumin decreased | 171 | 0.03% |
| Cytomegalovirus test | 171 | 0.03% |
| Dysaesthesia | 171 | 0.03% |
| Hypomenorrhoea | 171 | 0.03% |
| Magnetic resonance imaging spinal abnormal | 171 | 0.03% |
| Motion sickness | 171 | 0.03% |
| Muscle swelling | 171 | 0.03% |
| Neutrophil percentage | 171 | 0.03% |
| Skin induration | 171 | 0.03% |
| Basophil percentage | 170 | 0.03% |
| Concussion | 170 | 0.03% |
| Acute coronary syndrome | 169 | 0.03% |
| Magnetic resonance imaging brain | 169 | 0.03% |
| Systemic inflammatory response syndrome | 169 | 0.03% |
| Mean platelet volume normal | 168 | 0.03% |
| Rheumatoid factor negative | 168 | 0.03% |
| Cardiac function test | 167 | 0.03% |
| Eyelid function disorder | 167 | 0.03% |
| Vitamin B12 normal | 167 | 0.03% |
| Pharyngeal erythema | 166 | 0.03% |
| Phlebitis | 165 | 0.03% |
| Catheterisation cardiac abnormal | 164 | 0.03% |
| Optic neuritis | 164 | 0.03% |
| Mean platelet volume | 163 | 0.03% |
| Neck mass | 163 | 0.03% |
| Ultrasound scan vagina | 163 | 0.03% |
| Hyperthyroidism | 162 | 0.03% |
| Injury | 162 | 0.03% |
| Troponin I normal | 162 | 0.03% |
| Anger | 161 | 0.03% |
| Blood thyroid stimulating hormone decreased | 161 | 0.03% |
| Borrelia test | 161 | 0.03% |
| Inflammatory marker increased | 161 | 0.03% |
| Pulmonary infarction | 161 | 0.03% |
| Blood phosphorus | 160 | 0.03% |
| Eye discharge | 160 | 0.03% |
| Hemiparaesthesia | 160 | 0.03% |
| Costochondritis | 159 | 0.03% |
| Hepatitis C virus test | 159 | 0.03% |
| Hunger | 159 | 0.03% |
| Multiple organ dysfunction syndrome | 159 | 0.03% |
| Blood lactic acid increased | 158 | 0.03% |
| Mastication disorder | 158 | 0.03% |
| Spinal X-ray | 158 | 0.03% |
| Blood folate | 157 | 0.03% |
| CSF protein increased | 157 | 0.03% |
| Dermatitis bullous | 157 | 0.03% |
| Road traffic accident | 157 | 0.03% |
| Ventricular fibrillation | 157 | 0.03% |
| Cardiac discomfort | 156 | 0.03% |
| Blood uric acid | 155 | 0.03% |
| Irritable bowel syndrome | 155 | 0.03% |
| Mood swings | 155 | 0.03% |
| Myositis | 155 | 0.03% |
| Seasonal allergy | 155 | 0.03% |
| Skin sensitisation | 155 | 0.03% |
| Vomiting projectile | 155 | 0.03% |
| Apathy | 154 | 0.03% |
| Carbon dioxide decreased | 154 | 0.03% |
| Mastitis | 154 | 0.03% |
| Venous thrombosis | 154 | 0.03% |
| Ecchymosis | 153 | 0.03% |
| Obstructive airways disorder | 153 | 0.03% |
| Bradyphrenia | 152 | 0.03% |
| Erectile dysfunction | 152 | 0.03% |
| Hypothyroidism | 152 | 0.03% |
| Raynaud's phenomenon | 152 | 0.03% |
| Vasodilatation | 152 | 0.03% |
| Osteoarthritis | 151 | 0.03% |
| Aggression | 150 | 0.03% |
| Lymphocyte count normal | 150 | 0.03% |
| Prothrombin time normal | 150 | 0.03% |
| Culture urine negative | 149 | 0.03% |
| Retinal artery occlusion | 149 | 0.03% |
| Blood cholesterol increased | 148 | 0.03% |
| Coronary artery disease | 148 | 0.03% |
| Crohn's disease | 148 | 0.03% |
| Hepatitis B virus test | 148 | 0.03% |
| Acute respiratory distress syndrome | 147 | 0.03% |
| Epstein-Barr virus test | 147 | 0.03% |
| Angiogram cerebral | 146 | 0.03% |
| Electrophoresis protein | 146 | 0.03% |
| Neutrophil count normal | 146 | 0.03% |
| Amylase | 145 | 0.03% |
| Breath sounds abnormal | 145 | 0.03% |
| Cardiogenic shock | 145 | 0.03% |
| Eosinophil count normal | 145 | 0.03% |
| Nerve compression | 145 | 0.03% |
| Tendon pain | 145 | 0.03% |
| Brain oedema | 144 | 0.03% |
| Cardiac imaging procedure abnormal | 144 | 0.03% |
| Exposure via skin contact | 144 | 0.03% |
| Inflammatory marker test | 144 | 0.03% |
| Monocyte count increased | 144 | 0.03% |
| Neutrophil count decreased | 144 | 0.03% |
| Pulmonary mass | 144 | 0.03% |
| Slow speech | 144 | 0.03% |
| Angiogram cerebral abnormal | 143 | 0.03% |
| Blood creatine | 143 | 0.03% |
| Dysphemia | 143 | 0.03% |
| Hangover | 143 | 0.03% |
| Initial insomnia | 143 | 0.03% |
| NIH stroke scale | 143 | 0.03% |
| Staring | 143 | 0.03% |
| X-ray limb normal | 143 | 0.03% |
| Angiogram normal | 142 | 0.02% |
| Lip dry | 142 | 0.02% |
| Localised oedema | 142 | 0.02% |
| Mood altered | 142 | 0.02% |
| Pregnancy | 142 | 0.02% |
| Blood electrolytes normal | 141 | 0.02% |
| Cardiac stress test normal | 141 | 0.02% |
| Interstitial lung disease | 141 | 0.02% |
| Lumbar puncture abnormal | 141 | 0.02% |
| Monoparesis | 141 | 0.02% |
| Oral disorder | 141 | 0.02% |
| Scan with contrast normal | 141 | 0.02% |
| Middle insomnia | 140 | 0.02% |
| Neutropenia | 140 | 0.02% |
| Pharyngeal oedema | 140 | 0.02% |
| Thyroxine free | 140 | 0.02% |
| Bilevel positive airway pressure | 139 | 0.02% |
| Premenstrual syndrome | 139 | 0.02% |
| Temperature intolerance | 139 | 0.02% |
| Tongue discolouration | 139 | 0.02% |
| Viral test negative | 139 | 0.02% |
| Bed rest | 138 | 0.02% |
| Gastric disorder | 138 | 0.02% |
| Gastritis | 138 | 0.02% |
| HIV test negative | 138 | 0.02% |
| Prothrombin time prolonged | 138 | 0.02% |
| Cardiac telemetry | 137 | 0.02% |
| Circumstance or information capable of leading to medication error | 137 | 0.02% |
| Eye inflammation | 137 | 0.02% |
| Subdural haematoma | 137 | 0.02% |
| Treponema test | 137 | 0.02% |
| X-ray abnormal | 137 | 0.02% |
| Abnormal sensation in eye | 136 | 0.02% |
| Angiogram abnormal | 136 | 0.02% |
| Chapped lips | 136 | 0.02% |
| Genital herpes | 136 | 0.02% |
| Hospitalisation | 135 | 0.02% |
| Internal haemorrhage | 135 | 0.02% |
| Nerve conduction studies | 135 | 0.02% |
| Papule | 135 | 0.02% |
| Piloerection | 135 | 0.02% |
| Blood lactate dehydrogenase increased | 134 | 0.02% |
| Bradykinesia | 134 | 0.02% |
| Multiple sclerosis relapse | 134 | 0.02% |
| Antineutrophil cytoplasmic antibody | 133 | 0.02% |
| Delusion | 133 | 0.02% |
| Mouth haemorrhage | 133 | 0.02% |
| Serum ferritin increased | 133 | 0.02% |
| Sinus operation | 133 | 0.02% |
| Injection site hypersensitivity | 132 | 0.02% |
| Pharyngitis | 132 | 0.02% |
| Renal disorder | 132 | 0.02% |
| Angiogram cerebral normal | 131 | 0.02% |
| Anaphylactoid reaction | 130 | 0.02% |
| Blood chloride increased | 130 | 0.02% |
| Blood creatine phosphokinase MB | 130 | 0.02% |
| Supraventricular extrasystoles | 130 | 0.02% |
| Dysphoria | 129 | 0.02% |
| Sedation | 129 | 0.02% |
| Sinus bradycardia | 129 | 0.02% |
| Stent placement | 129 | 0.02% |
| CSF test | 128 | 0.02% |
| Dissociation | 128 | 0.02% |
| Immature granulocyte count | 128 | 0.02% |
| Lipase normal | 128 | 0.02% |
| Rash pustular | 128 | 0.02% |
| Red cell distribution width increased | 128 | 0.02% |
| Scratch | 128 | 0.02% |
| Wound | 128 | 0.02% |
| Abnormal faeces | 127 | 0.02% |
| Cardiovascular evaluation | 127 | 0.02% |
| Haemorrhage subcutaneous | 127 | 0.02% |
| Hyperaesthesia teeth | 127 | 0.02% |
| Rotator cuff syndrome | 127 | 0.02% |
| Testicular pain | 127 | 0.02% |
| Enlarged uvula | 126 | 0.02% |
| Glossitis | 126 | 0.02% |
| Lip erythema | 126 | 0.02% |
| Vaccination error | 126 | 0.02% |
| Cerebral ischaemia | 125 | 0.02% |
| Coronary arterial stent insertion | 125 | 0.02% |
| Glomerular filtration rate normal | 125 | 0.02% |
| Kidney infection | 125 | 0.02% |
| Muscle discomfort | 125 | 0.02% |
| Tongue blistering | 125 | 0.02% |
| Weight bearing difficulty | 125 | 0.02% |
| Coronary artery occlusion | 124 | 0.02% |
| Glycosylated haemoglobin increased | 124 | 0.02% |
| Oral mucosal eruption | 124 | 0.02% |
| Rash morbilliform | 124 | 0.02% |
| Abdominal X-ray | 123 | 0.02% |
| Lyme disease | 123 | 0.02% |
| Monocyte count normal | 123 | 0.02% |
| Myoclonus | 123 | 0.02% |
| Scar | 123 | 0.02% |
| Tearfulness | 123 | 0.02% |
| Audiogram abnormal | 122 | 0.02% |
| Monocyte percentage increased | 122 | 0.02% |
| Cardiomyopathy | 121 | 0.02% |
| Fine motor skill dysfunction | 121 | 0.02% |
| Haematology test | 121 | 0.02% |
| Myasthenia gravis | 121 | 0.02% |
| Ultrasound breast | 121 | 0.02% |
| Basophil count decreased | 120 | 0.02% |
| Borrelia test negative | 120 | 0.02% |
| Hypoaesthesia eye | 120 | 0.02% |
| Lymphopenia | 120 | 0.02% |
| Magnetic resonance imaging spinal normal | 120 | 0.02% |
| Metamorphopsia | 120 | 0.02% |
| Paranoia | 120 | 0.02% |
| Vaccination site paraesthesia | 120 | 0.02% |
| Venogram | 120 | 0.02% |
| Dermatitis contact | 119 | 0.02% |
| Ear disorder | 119 | 0.02% |
| Ejection fraction normal | 119 | 0.02% |
| Haemorrhage urinary tract | 119 | 0.02% |
| Labyrinthitis | 119 | 0.02% |
| Bundle branch block right | 118 | 0.02% |
| Carbon dioxide | 118 | 0.02% |
| Choking sensation | 118 | 0.02% |
| Erythema of eyelid | 118 | 0.02% |
| Food allergy | 118 | 0.02% |
| Middle ear effusion | 118 | 0.02% |
| Wheelchair user | 118 | 0.02% |
| Cholelithiasis | 117 | 0.02% |
| Immobile | 117 | 0.02% |
| Leukopenia | 117 | 0.02% |
| Miliaria | 117 | 0.02% |
| Atrioventricular block | 116 | 0.02% |
| Blood potassium increased | 116 | 0.02% |
| Eosinophil count decreased | 116 | 0.02% |
| Injection site joint pain | 116 | 0.02% |
| Liver function test abnormal | 116 | 0.02% |
| Postural orthostatic tachycardia syndrome | 116 | 0.02% |
| Tongue erythema | 116 | 0.02% |
| Tonsillitis | 116 | 0.02% |
| Vaccination site hypoaesthesia | 116 | 0.02% |
| Blood pressure normal | 115 | 0.02% |
| Bowel movement irregularity | 115 | 0.02% |
| Complement factor C4 | 115 | 0.02% |
| Refusal of treatment by patient | 115 | 0.02% |
| Aura | 114 | 0.02% |
| Rales | 114 | 0.02% |
| Antiphospholipid antibodies | 113 | 0.02% |
| Eye contusion | 113 | 0.02% |
| Foetal death | 113 | 0.02% |
| Fungal infection | 113 | 0.02% |
| Influenza A virus test | 113 | 0.02% |
| Listless | 113 | 0.02% |
| Protein urine | 113 | 0.02% |
| Pustule | 113 | 0.02% |
| Vaccination site lymphadenopathy | 113 | 0.02% |
| Aspiration | 112 | 0.02% |
| Thyroxine | 112 | 0.02% |
| Ventilation/perfusion scan | 112 | 0.02% |
| Eyelids pruritus | 111 | 0.02% |
| Hallucination, auditory | 111 | 0.02% |
| Pancytopenia | 111 | 0.02% |
| Partial seizures | 111 | 0.02% |
| Visual acuity reduced | 111 | 0.02% |
| Communication disorder | 110 | 0.02% |
| Dermatitis acneiform | 110 | 0.02% |
| Diabetic ketoacidosis | 110 | 0.02% |
| Heparin-induced thrombocytopenia test | 110 | 0.02% |
| Mitral valve incompetence | 110 | 0.02% |
| Transaminases increased | 110 | 0.02% |
| Activated partial thromboplastin time shortened | 109 | 0.02% |
| Complement factor C3 | 109 | 0.02% |
| Cyst | 109 | 0.02% |
| Defaecation urgency | 109 | 0.02% |
| Energy increased | 109 | 0.02% |
| Eyelid disorder | 109 | 0.02% |
| Injection site infection | 109 | 0.02% |
| Left ventricular dysfunction | 109 | 0.02% |
| N-terminal prohormone brain natriuretic peptide increased | 109 | 0.02% |
| Respiratory tract infection | 109 | 0.02% |
| Skin ulcer | 109 | 0.02% |
| Arteriogram carotid normal | 108 | 0.02% |
| Deafness bilateral | 108 | 0.02% |
| Muscle contracture | 108 | 0.02% |
| Periorbital oedema | 108 | 0.02% |
| Polyuria | 108 | 0.02% |
| Activated partial thromboplastin time ratio | 107 | 0.02% |
| Blood iron decreased | 107 | 0.02% |
| Injection site movement impairment | 107 | 0.02% |
| Portal vein thrombosis | 107 | 0.02% |
| Psychomotor hyperactivity | 107 | 0.02% |
| Tongue ulceration | 107 | 0.02% |
| Biopsy bone marrow | 106 | 0.02% |
| Chest scan | 106 | 0.02% |
| Diabetes mellitus inadequate control | 106 | 0.02% |
| Lumbar puncture normal | 106 | 0.02% |
| Pulseless electrical activity | 106 | 0.02% |
| Vaccination site discolouration | 106 | 0.02% |
| Vitreous detachment | 106 | 0.02% |
| Adenovirus test | 105 | 0.02% |
| Chronic kidney disease | 105 | 0.02% |
| Diplegia | 105 | 0.02% |
| Foaming at mouth | 105 | 0.02% |
| Lip disorder | 105 | 0.02% |
| Platelet transfusion | 105 | 0.02% |
| Polyarthritis | 105 | 0.02% |
| Slow response to stimuli | 105 | 0.02% |
| Vaccination site haematoma | 105 | 0.02% |
| Varicose vein | 105 | 0.02% |
| Arteriosclerosis | 104 | 0.02% |
| Basophil count normal | 104 | 0.02% |
| Computerised tomogram spine | 104 | 0.02% |
| Near death experience | 104 | 0.02% |
| Arthritis reactive | 103 | 0.02% |
| Bacterial infection | 103 | 0.02% |
| Blood blister | 103 | 0.02% |
| Blood thyroid stimulating hormone increased | 103 | 0.02% |
| Hordeolum | 103 | 0.02% |
| Hypogeusia | 103 | 0.02% |
| Smear test | 103 | 0.02% |
| Troponin T increased | 103 | 0.02% |
| Uterine dilation and curettage | 103 | 0.02% |
| Hyperkalaemia | 102 | 0.02% |
| Injection site haematoma | 102 | 0.02% |
| Protein urine present | 102 | 0.02% |
| Vaccination site urticaria | 102 | 0.02% |
| Bilirubin conjugated | 101 | 0.02% |
| Cerebral venous thrombosis | 101 | 0.02% |
| Hepatic enzyme | 101 | 0.02% |
| Lipase increased | 101 | 0.02% |
| Meniere's disease | 101 | 0.02% |
| Prostatic specific antigen | 101 | 0.02% |
| Psychotic disorder | 101 | 0.02% |
| Skin test | 101 | 0.02% |
| Cardiolipin antibody | 100 | 0.02% |
| Computerised tomogram pelvis abnormal | 100 | 0.02% |
| Disorganised speech | 100 | 0.02% |
| Electrocardiogram T wave inversion | 100 | 0.02% |
| Eyelid rash | 100 | 0.02% |
| Muscle disorder | 100 | 0.02% |
| Nucleic acid test | 100 | 0.02% |
| Petit mal epilepsy | 100 | 0.02% |
| Abdominal tenderness | 99 | 0.02% |
| Apnoea | 99 | 0.02% |
| Cutaneous vasculitis | 99 | 0.02% |
| Eosinophil percentage decreased | 99 | 0.02% |
| Hepatic function abnormal | 99 | 0.02% |
| Human chorionic gonadotropin negative | 99 | 0.02% |
| Moaning | 99 | 0.02% |
| Neuralgic amyotrophy | 99 | 0.02% |
| Suffocation feeling | 99 | 0.02% |
| Blood chloride decreased | 98 | 0.02% |
| Blood pH | 98 | 0.02% |
| Fluid intake reduced | 98 | 0.02% |
| Pneumothorax | 98 | 0.02% |
| Splenomegaly | 98 | 0.02% |
| Upper respiratory tract congestion | 98 | 0.02% |
| Dyspnoea at rest | 97 | 0.02% |
| Injection site indentation | 97 | 0.02% |
| Joint effusion | 97 | 0.02% |
| Liver disorder | 97 | 0.02% |
| Vitamin D decreased | 97 | 0.02% |
| White matter lesion | 97 | 0.02% |
| Adnexa uteri pain | 96 | 0.02% |
| Angiogram pulmonary normal | 96 | 0.02% |
| Basophil percentage decreased | 96 | 0.02% |
| Culture stool | 96 | 0.02% |
| Cytomegalovirus test negative | 96 | 0.02% |
| Erythema nodosum | 96 | 0.02% |
| Gastroenteritis | 96 | 0.02% |
| Glassy eyes | 96 | 0.02% |
| Myocardial ischaemia | 96 | 0.02% |
| Sputum discoloured | 96 | 0.02% |
| Treponema test negative | 96 | 0.02% |
| Ultrasound antenatal screen abnormal | 96 | 0.02% |
| Vaccination site cellulitis | 96 | 0.02% |
| Anti-cyclic citrullinated peptide antibody | 95 | 0.02% |
| Endoscopy upper gastrointestinal tract | 95 | 0.02% |
| Laryngitis | 95 | 0.02% |
| Ophthalmological examination abnormal | 95 | 0.02% |
| Pneumonia bacterial | 95 | 0.02% |
| Ultrasound chest | 95 | 0.02% |
| Activated partial thromboplastin time prolonged | 94 | 0.02% |
| Drug eruption | 94 | 0.02% |
| Goitre | 94 | 0.02% |
| Myocardial necrosis marker increased | 94 | 0.02% |
| Peripheral artery thrombosis | 94 | 0.02% |
| Renal function test normal | 94 | 0.02% |
| Skin haemorrhage | 94 | 0.02% |
| Ultrasound abdomen normal | 94 | 0.02% |
| Ultrasound pelvis | 94 | 0.02% |
| Urine output decreased | 94 | 0.02% |
| Base excess | 93 | 0.02% |
| Blood lactic acid normal | 93 | 0.02% |
| Embolic stroke | 93 | 0.02% |
| Faeces soft | 93 | 0.02% |
| Febrile convulsion | 93 | 0.02% |
| Herpes simplex test negative | 93 | 0.02% |
| Injection site extravasation | 93 | 0.02% |
| Localised infection | 93 | 0.02% |
| Lymphocyte count increased | 93 | 0.02% |
| Menopause | 93 | 0.02% |
| X-ray limb abnormal | 93 | 0.02% |
| Computerised tomogram abdomen normal | 92 | 0.02% |
| COVID-19 immunisation | 92 | 0.02% |
| Giant cell arteritis | 92 | 0.02% |
| Hiccups | 92 | 0.02% |
| Lymphangitis | 92 | 0.02% |
| Poor peripheral circulation | 92 | 0.02% |
| Acute pulmonary oedema | 91 | 0.02% |
| Cardiac pacemaker insertion | 91 | 0.02% |
| Carpal tunnel syndrome | 91 | 0.02% |
| Creatinine renal clearance | 91 | 0.02% |
| Decreased activity | 91 | 0.02% |
| Eosinophil count increased | 91 | 0.02% |
| Gynaecological examination | 91 | 0.02% |
| Platelet factor 4 | 91 | 0.02% |
| Rhinalgia | 91 | 0.02% |
| Transient global amnesia | 91 | 0.02% |
| Ventricular hypokinesia | 91 | 0.02% |
| Visual analogue scale | 91 | 0.02% |
| Haemorrhoids | 90 | 0.02% |
| Hormone level abnormal | 90 | 0.02% |
| Hyporesponsive to stimuli | 90 | 0.02% |
| Sweating fever | 90 | 0.02% |
| Thyroxine free normal | 90 | 0.02% |
| Vaginal discharge | 90 | 0.02% |
| Cardiac monitoring abnormal | 89 | 0.02% |
| Coronavirus test | 89 | 0.02% |
| Electromyogram abnormal | 89 | 0.02% |
| Hepatitis | 89 | 0.02% |
| Joint noise | 89 | 0.02% |
| Paresis | 89 | 0.02% |
| Proteinuria | 89 | 0.02% |
| Staphylococcal infection | 89 | 0.02% |
| Sunburn | 89 | 0.02% |
| Vascular pain | 89 | 0.02% |
| Electroencephalogram abnormal | 88 | 0.02% |
| Facial asymmetry | 88 | 0.02% |
| Intervertebral disc protrusion | 88 | 0.02% |
| Neurological examination normal | 88 | 0.02% |
| Pemphigoid | 88 | 0.02% |
| Physical deconditioning | 88 | 0.02% |
| Respiratory rate decreased | 88 | 0.02% |
| Arteriogram carotid | 87 | 0.02% |
| Cardiac monitoring normal | 87 | 0.02% |
| Furuncle | 87 | 0.02% |
| Haemorrhage intracranial | 87 | 0.02% |
| Oral candidiasis | 87 | 0.02% |
| Peripheral vascular disorder | 87 | 0.02% |
| SARS-CoV-1 test | 87 | 0.02% |
| Skin weeping | 87 | 0.02% |
| Tonic clonic movements | 87 | 0.02% |
| Chronic fatigue syndrome | 86 | 0.02% |
| Eyelid pain | 86 | 0.02% |
| Facial spasm | 86 | 0.02% |
| Hypovolaemic shock | 86 | 0.02% |
| Intracardiac thrombus | 86 | 0.02% |
| Post viral fatigue syndrome | 86 | 0.02% |
| Thrombotic thrombocytopenic purpura | 86 | 0.02% |
| Urobilinogen urine | 86 | 0.02% |
| Increased upper airway secretion | 85 | 0.01% |
| Lip injury | 85 | 0.01% |
| Pulmonary hypertension | 85 | 0.01% |
| Temperature regulation disorder | 85 | 0.01% |
| Urine leukocyte esterase | 85 | 0.01% |
| Uterine haemorrhage | 85 | 0.01% |
| Vein disorder | 85 | 0.01% |
| Biopsy skin abnormal | 84 | 0.01% |
| Enterovirus test negative | 84 | 0.01% |
| Herpes ophthalmic | 84 | 0.01% |
| Melaena | 84 | 0.01% |
| Myocardial necrosis marker normal | 84 | 0.01% |
| Peripheral ischaemia | 84 | 0.01% |
| Uterine spasm | 84 | 0.01% |
| Vulvovaginal pain | 84 | 0.01% |
| Bruxism | 83 | 0.01% |
| Dialysis | 83 | 0.01% |
| Eye infection | 83 | 0.01% |
| Ischaemia | 83 | 0.01% |
| Rib fracture | 83 | 0.01% |
| Screaming | 83 | 0.01% |
| Snoring | 83 | 0.01% |
| Yawning | 83 | 0.01% |
| Anti-thyroid antibody | 82 | 0.01% |
| Autoimmune thyroiditis | 82 | 0.01% |
| Brain injury | 82 | 0.01% |
| Coagulation time | 82 | 0.01% |
| Demyelination | 82 | 0.01% |
| Heart rate normal | 82 | 0.01% |
| Hemianaesthesia | 82 | 0.01% |
| Increased appetite | 82 | 0.01% |
| Lacunar infarction | 82 | 0.01% |
| Procalcitonin increased | 82 | 0.01% |
| Tongue dry | 82 | 0.01% |
| Aortic dissection | 81 | 0.01% |
| Glycosylated haemoglobin normal | 81 | 0.01% |
| Hepatic pain | 81 | 0.01% |
| Ischaemic cerebral infarction | 81 | 0.01% |
| Mean cell volume increased | 81 | 0.01% |
| Nasal pruritus | 81 | 0.01% |
| Psoriatic arthropathy | 81 | 0.01% |
| Tongue biting | 81 | 0.01% |
| Type I hypersensitivity | 81 | 0.01% |
| Blood glucose fluctuation | 80 | 0.01% |
| Central nervous system lesion | 80 | 0.01% |
| Herpes zoster oticus | 80 | 0.01% |
| Infectious mononucleosis | 80 | 0.01% |
| Intestinal obstruction | 80 | 0.01% |
| Jaw disorder | 80 | 0.01% |
| Mean platelet volume increased | 80 | 0.01% |
| Myelitis | 80 | 0.01% |
| Pyelonephritis | 80 | 0.01% |
| Temporomandibular joint syndrome | 80 | 0.01% |
| Ultrasound kidney | 80 | 0.01% |
| X-ray of pelvis and hip | 80 | 0.01% |
| Blood immunoglobulin A | 79 | 0.01% |
| Chillblains | 79 | 0.01% |
| Drainage | 79 | 0.01% |
| Drug screen negative | 79 | 0.01% |
| Electromyogram normal | 79 | 0.01% |
| Hepatic steatosis | 79 | 0.01% |
| Injection site abscess | 79 | 0.01% |
| Mesenteric vein thrombosis | 79 | 0.01% |
| Skin infection | 79 | 0.01% |
| Transaminases | 79 | 0.01% |
| Blood fibrinogen increased | 78 | 0.01% |
| Breast feeding | 78 | 0.01% |
| Globulin | 78 | 0.01% |
| Metabolic function test abnormal | 78 | 0.01% |
| Ophthalmic migraine | 78 | 0.01% |
| Palatal swelling | 78 | 0.01% |
| Polyneuropathy | 78 | 0.01% |
| Protein C | 78 | 0.01% |
| Urine odour abnormal | 78 | 0.01% |
| Asthmatic crisis | 77 | 0.01% |
| Bilirubin urine | 77 | 0.01% |
| Breast discomfort | 77 | 0.01% |
| Drug screen | 77 | 0.01% |
| Mononucleosis heterophile test negative | 77 | 0.01% |
| Muscle atrophy | 77 | 0.01% |
| Nitrite urine absent | 77 | 0.01% |
| Synovial cyst | 77 | 0.01% |
| Tricuspid valve incompetence | 77 | 0.01% |
| Ultrasound thyroid | 77 | 0.01% |
| Atrioventricular block complete | 76 | 0.01% |
| Bacterial test negative | 76 | 0.01% |
| Exfoliative rash | 76 | 0.01% |
| Generalised oedema | 76 | 0.01% |
| Hyposmia | 76 | 0.01% |
| Intestinal ischaemia | 76 | 0.01% |
| Magnetic resonance imaging brain abnormal | 76 | 0.01% |
| Mean cell haemoglobin concentration decreased | 76 | 0.01% |
| Medical observation | 76 | 0.01% |
| Meningitis | 76 | 0.01% |
| Metabolic acidosis | 76 | 0.01% |
| Neuritis | 76 | 0.01% |
| Nipple pain | 76 | 0.01% |
| Reaction to previous exposure to any vaccine | 76 | 0.01% |
| Red blood cell nucleated morphology | 76 | 0.01% |
| Abscess | 75 | 0.01% |
| Activated partial thromboplastin time normal | 75 | 0.01% |
| Cerebral artery occlusion | 75 | 0.01% |
| Colitis ischaemic | 75 | 0.01% |
| Conjunctival hyperaemia | 75 | 0.01% |
| Lactic acidosis | 75 | 0.01% |
| Lung consolidation | 75 | 0.01% |
| Ulcer | 75 | 0.01% |
| Visual acuity tests | 75 | 0.01% |
| Basedow's disease | 74 | 0.01% |
| Blood urea nitrogen/creatinine ratio | 74 | 0.01% |
| Dystonia | 74 | 0.01% |
| Nail discolouration | 74 | 0.01% |
| Nasal dryness | 74 | 0.01% |
| Parkinson's disease | 74 | 0.01% |
| Postictal state | 74 | 0.01% |
| Yellow skin | 74 | 0.01% |
| Autonomic nervous system imbalance | 73 | 0.01% |
| Biopsy kidney | 73 | 0.01% |
| Blood urea decreased | 73 | 0.01% |
| Blood urine | 73 | 0.01% |
| Emergency care examination | 73 | 0.01% |
| Irregular breathing | 73 | 0.01% |
| Appendicitis perforated | 72 | 0.01% |
| Ascites | 72 | 0.01% |
| Blood immunoglobulin E | 72 | 0.01% |
| Injection site lymphadenopathy | 72 | 0.01% |
| Lip discolouration | 72 | 0.01% |
| Loss of control of legs | 72 | 0.01% |
| Post herpetic neuralgia | 72 | 0.01% |
| Protein total decreased | 72 | 0.01% |
| Consciousness fluctuating | 71 | 0.01% |
| Disseminated intravascular coagulation | 71 | 0.01% |
| Gastrointestinal sounds abnormal | 71 | 0.01% |
| Heart sounds | 71 | 0.01% |
| Legionella test | 71 | 0.01% |
| Lipids normal | 71 | 0.01% |
| Meningitis aseptic | 71 | 0.01% |
| Nephrotic syndrome | 71 | 0.01% |
| Orthopnoea | 71 | 0.01% |
| Palatal oedema | 71 | 0.01% |
| Peroneal nerve palsy | 71 | 0.01% |
| Plasmapheresis | 71 | 0.01% |
| Respiratory syncytial virus test | 71 | 0.01% |
| Retinal detachment | 71 | 0.01% |
| Type IV hypersensitivity reaction | 71 | 0.01% |
| Ultrasound abdomen abnormal | 71 | 0.01% |
| VIth nerve paralysis | 71 | 0.01% |
| Angiogram pulmonary | 70 | 0.01% |
| Areflexia | 70 | 0.01% |
| Asphyxia | 70 | 0.01% |
| Bladder pain | 70 | 0.01% |
| Joint lock | 70 | 0.01% |
| Ligament sprain | 70 | 0.01% |
| Neoplasm malignant | 70 | 0.01% |
| Neutrophil percentage decreased | 70 | 0.01% |
| Oxygen saturation normal | 70 | 0.01% |
| Red blood cell count increased | 70 | 0.01% |
| Suppressed lactation | 70 | 0.01% |
| Vestibular disorder | 70 | 0.01% |
| Anion gap normal | 69 | 0.01% |
| Cataract | 69 | 0.01% |
| Cerebellar infarction | 69 | 0.01% |
| Cholecystitis | 69 | 0.01% |
| Haemolytic anaemia | 69 | 0.01% |
| Haptoglobin | 69 | 0.01% |
| Hepatic failure | 69 | 0.01% |
| Protein total increased | 69 | 0.01% |
| Serum ferritin normal | 69 | 0.01% |
| Tachyphrenia | 69 | 0.01% |
| Allodynia | 68 | 0.01% |
| Antithrombin III | 68 | 0.01% |
| Arteriogram coronary normal | 68 | 0.01% |
| Candida infection | 68 | 0.01% |
| Cerebral disorder | 68 | 0.01% |
| Culture negative | 68 | 0.01% |
| Eosinophilia | 68 | 0.01% |
| Facial bones fracture | 68 | 0.01% |
| Joint dislocation | 68 | 0.01% |
| Left ventricular hypertrophy | 68 | 0.01% |
| Mammogram abnormal | 68 | 0.01% |
| Premenstrual pain | 68 | 0.01% |
| Sudden cardiac death | 68 | 0.01% |
| Thermal burn | 68 | 0.01% |
| Type 2 diabetes mellitus | 68 | 0.01% |
| Arthropod bite | 67 | 0.01% |
| Autoscopy | 67 | 0.01% |
| Cardiac murmur | 67 | 0.01% |
| Endometriosis | 67 | 0.01% |
| Foetal heart rate abnormal | 67 | 0.01% |
| Impaired quality of life | 67 | 0.01% |
| Magnetic resonance imaging brain normal | 67 | 0.01% |
| Mean cell haemoglobin increased | 67 | 0.01% |
| Sinus arrhythmia | 67 | 0.01% |
| Tic | 67 | 0.01% |
| Urine abnormality | 67 | 0.01% |
| Cerebral small vessel ischaemic disease | 66 | 0.01% |
| Eye injury | 66 | 0.01% |
| Herpes simplex test | 66 | 0.01% |
| Iridocyclitis | 66 | 0.01% |
| Jugular vein thrombosis | 66 | 0.01% |
| Lymphoma | 66 | 0.01% |
| Monocyte count decreased | 66 | 0.01% |
| No reaction on previous exposure to drug | 66 | 0.01% |
| Retinal haemorrhage | 66 | 0.01% |
| Tachyarrhythmia | 66 | 0.01% |
| Atypical pneumonia | 65 | 0.01% |
| Cerebellar stroke | 65 | 0.01% |
| Cholecystectomy | 65 | 0.01% |
| Electrocardiogram ST segment depression | 65 | 0.01% |
| Myocardial strain | 65 | 0.01% |
| Nasal oedema | 65 | 0.01% |
| Noninfective gingivitis | 65 | 0.01% |
| Nuchal rigidity | 65 | 0.01% |
| Smear cervix | 65 | 0.01% |
| Coronary artery thrombosis | 64 | 0.01% |
| Epigastric discomfort | 64 | 0.01% |
| Haematocrit increased | 64 | 0.01% |
| Haemoglobin increased | 64 | 0.01% |
| Hiatus hernia | 64 | 0.01% |
| Intracranial aneurysm | 64 | 0.01% |
| Intracranial pressure increased | 64 | 0.01% |
| Mycoplasma test negative | 64 | 0.01% |
| Type 1 diabetes mellitus | 64 | 0.01% |
| Albumin globulin ratio | 63 | 0.01% |
| Albumin globulin ratio normal | 63 | 0.01% |
| Appetite disorder | 63 | 0.01% |
| Bladder catheterisation | 63 | 0.01% |
| Blood triglycerides increased | 63 | 0.01% |
| Disability | 63 | 0.01% |
| Dysgraphia | 63 | 0.01% |
| Head titubation | 63 | 0.01% |
| Hip fracture | 63 | 0.01% |
| Intervertebral disc degeneration | 63 | 0.01% |
| Laryngospasm | 63 | 0.01% |
| Neurological examination abnormal | 63 | 0.01% |
| Ovarian cyst | 63 | 0.01% |
| Prothrombin time ratio | 63 | 0.01% |
| Pulmonary physical examination | 63 | 0.01% |
| Radioisotope scan | 63 | 0.01% |
| Rosacea | 63 | 0.01% |
| Thyroiditis | 63 | 0.01% |
| White blood cells urine positive | 63 | 0.01% |
| Anti-platelet antibody | 62 | 0.01% |
| Autoimmune haemolytic anaemia | 62 | 0.01% |
| Electrocardiogram ST segment abnormal | 62 | 0.01% |
| Gastroenteritis viral | 62 | 0.01% |
| Office visit | 62 | 0.01% |
| Ophthalmological examination normal | 62 | 0.01% |
| Pathology test | 62 | 0.01% |
| Pelvic venous thrombosis | 62 | 0.01% |
| Pulmonary fibrosis | 62 | 0.01% |
| Sjogren's syndrome | 62 | 0.01% |
| Small intestinal obstruction | 62 | 0.01% |
| Spinal osteoarthritis | 62 | 0.01% |
| Vaccination site joint movement impairment | 62 | 0.01% |
| Abdomen scan | 61 | 0.01% |
| Back injury | 61 | 0.01% |
| Craniocerebral injury | 61 | 0.01% |
| CSF protein | 61 | 0.01% |
| Foreign body sensation in eyes | 61 | 0.01% |
| Increased tendency to bruise | 61 | 0.01% |
| Infarction | 61 | 0.01% |
| Optic ischaemic neuropathy | 61 | 0.01% |
| Oral mucosal erythema | 61 | 0.01% |
| Papilloedema | 61 | 0.01% |
| Radiculopathy | 61 | 0.01% |
| Reticulocyte count | 61 | 0.01% |
| Skin discomfort | 61 | 0.01% |
| Specific gravity urine normal | 61 | 0.01% |
| Stress cardiomyopathy | 61 | 0.01% |
| Abnormal loss of weight | 60 | 0.01% |
| Accidental overdose | 60 | 0.01% |
| Blood creatine phosphokinase MB increased | 60 | 0.01% |
| Bundle branch block left | 60 | 0.01% |
| Epstein-Barr virus test negative | 60 | 0.01% |
| Frustration tolerance decreased | 60 | 0.01% |
| Hepatic cytolysis | 60 | 0.01% |
| Hepatitis viral test negative | 60 | 0.01% |
| Hepatomegaly | 60 | 0.01% |
| Human metapneumovirus test | 60 | 0.01% |
| Human rhinovirus test | 60 | 0.01% |
| Oxygen saturation abnormal | 60 | 0.01% |
| Peripheral venous disease | 60 | 0.01% |
| Respiratory tract irritation | 60 | 0.01% |
| Sleep apnoea syndrome | 60 | 0.01% |
| Subclavian vein thrombosis | 60 | 0.01% |
| Thalamic infarction | 60 | 0.01% |
| Tongue eruption | 60 | 0.01% |
| Tooth fracture | 60 | 0.01% |
| Anion gap decreased | 59 | 0.01% |
| Arteriogram carotid abnormal | 59 | 0.01% |
| Blood ketone body | 59 | 0.01% |
| Clumsiness | 59 | 0.01% |
| Corneal reflex decreased | 59 | 0.01% |
| CSF glucose normal | 59 | 0.01% |
| Electrocardiogram ambulatory normal | 59 | 0.01% |
| Gamma-glutamyltransferase increased | 59 | 0.01% |
| Glucose urine absent | 59 | 0.01% |
| Intraocular pressure test | 59 | 0.01% |
| Mechanical urticaria | 59 | 0.01% |
| Optical coherence tomography | 59 | 0.01% |
| Oxygen therapy | 59 | 0.01% |
| Platelet disorder | 59 | 0.01% |
| Scan myocardial perfusion | 59 | 0.01% |
| Abdominal rigidity | 58 | 0.01% |
| Angiotensin converting enzyme | 58 | 0.01% |
| Bacterial test positive | 58 | 0.01% |
| Blood cholesterol normal | 58 | 0.01% |
| Blood culture positive | 58 | 0.01% |
| Carbon dioxide increased | 58 | 0.01% |
| Cardiac tamponade | 58 | 0.01% |
| CSF culture negative | 58 | 0.01% |
| Diagnostic procedure | 58 | 0.01% |
| Dizziness exertional | 58 | 0.01% |
| Fluid overload | 58 | 0.01% |
| Hepatic enzyme abnormal | 58 | 0.01% |
| Low density lipoprotein increased | 58 | 0.01% |
| Nucleated red cells | 58 | 0.01% |
| Retinal vein thrombosis | 58 | 0.01% |
| Ultrasound antenatal screen | 58 | 0.01% |
| Venogram abnormal | 58 | 0.01% |
| Acute disseminated encephalomyelitis | 57 | 0.01% |
| Antibody test negative | 57 | 0.01% |
| Auditory disorder | 57 | 0.01% |
| Blood magnesium decreased | 57 | 0.01% |
| Double stranded DNA antibody | 57 | 0.01% |
| Electrocardiogram T wave abnormal | 57 | 0.01% |
| Heart injury | 57 | 0.01% |
| Herpes virus test | 57 | 0.01% |
| Pharyngitis streptococcal | 57 | 0.01% |
| pH urine normal | 57 | 0.01% |
| Polymerase chain reaction positive | 57 | 0.01% |
| Red blood cells urine positive | 57 | 0.01% |
| SARS-CoV-2 RNA | 57 | 0.01% |
| Skin odour abnormal | 57 | 0.01% |
| Sleep deficit | 57 | 0.01% |
| Thyroid mass | 57 | 0.01% |
| Transverse sinus thrombosis | 57 | 0.01% |
| Accidental exposure to product | 56 | 0.01% |
| Arterial occlusive disease | 56 | 0.01% |
| Blood folate normal | 56 | 0.01% |
| Carotid artery stenosis | 56 | 0.01% |
| Discharge | 56 | 0.01% |
| Electrolyte imbalance | 56 | 0.01% |
| Eyelid irritation | 56 | 0.01% |
| Functional gastrointestinal disorder | 56 | 0.01% |
| Increased viscosity of upper respiratory secretion | 56 | 0.01% |
| Language disorder | 56 | 0.01% |
| Low density lipoprotein normal | 56 | 0.01% |
| Lymph node palpable | 56 | 0.01% |
| Procalcitonin normal | 56 | 0.01% |
| Protein urine absent | 56 | 0.01% |
| Thyroid disorder | 56 | 0.01% |
| Thyroiditis subacute | 56 | 0.01% |
| Trigger finger | 56 | 0.01% |
| Aspiration pleural cavity | 55 | 0.01% |
| Caesarean section | 55 | 0.01% |
| Differential white blood cell count abnormal | 55 | 0.01% |
| Electrocardiogram ambulatory abnormal | 55 | 0.01% |
| Gastrointestinal inflammation | 55 | 0.01% |
| General physical condition abnormal | 55 | 0.01% |
| Hypertensive urgency | 55 | 0.01% |
| IIIrd nerve paralysis | 55 | 0.01% |
| Left ventricular failure | 55 | 0.01% |
| Mania | 55 | 0.01% |
| Microbiology test | 55 | 0.01% |
| Nasal injury | 55 | 0.01% |
| Oesophagogastroduodenoscopy | 55 | 0.01% |
| Urine ketone body absent | 55 | 0.01% |
| Arteriosclerosis coronary artery | 54 | 0.01% |
| Beta-2 glycoprotein antibody | 54 | 0.01% |
| Blood disorder | 54 | 0.01% |
| Blood uric acid normal | 54 | 0.01% |
| Chlamydia test negative | 54 | 0.01% |
| Coronary artery stenosis | 54 | 0.01% |
| Feeling of despair | 54 | 0.01% |
| Haemolysis | 54 | 0.01% |
| Hypercoagulation | 54 | 0.01% |
| Hypertensive emergency | 54 | 0.01% |
| Immunodeficiency | 54 | 0.01% |
| Iritis | 54 | 0.01% |
| Liver injury | 54 | 0.01% |
| Muscle spasticity | 54 | 0.01% |
| Paranasal sinus hypersecretion | 54 | 0.01% |
| PO2 decreased | 54 | 0.01% |
| Tri-iodothyronine | 54 | 0.01% |
| Varicella virus test | 54 | 0.01% |
| Abnormal uterine bleeding | 53 | 0.01% |
| Anuria | 53 | 0.01% |
| Biopsy liver | 53 | 0.01% |
| Blood pressure diastolic increased | 53 | 0.01% |
| Dermatologic examination | 53 | 0.01% |
| Epstein-Barr virus antibody positive | 53 | 0.01% |
| Eye oedema | 53 | 0.01% |
| Hyperlipidaemia | 53 | 0.01% |
| Injection site muscle weakness | 53 | 0.01% |
| Injection site streaking | 53 | 0.01% |
| Inner ear disorder | 53 | 0.01% |
| Mammogram normal | 53 | 0.01% |
| Occipital neuralgia | 53 | 0.01% |
| Peripheral embolism | 53 | 0.01% |
| Protein S | 53 | 0.01% |
| Red blood cells urine | 53 | 0.01% |
| Stevens-Johnson syndrome | 53 | 0.01% |
| Tonic convulsion | 53 | 0.01% |
| Venogram normal | 53 | 0.01% |
| Cerebral haematoma | 52 | 0.01% |
| Limb immobilisation | 52 | 0.01% |
| Maternal exposure timing unspecified | 52 | 0.01% |
| Mean cell haemoglobin decreased | 52 | 0.01% |
| Mucous stools | 52 | 0.01% |
| Otitis media | 52 | 0.01% |
| Parvovirus B19 test | 52 | 0.01% |
| Premature delivery | 52 | 0.01% |
| Premature labour | 52 | 0.01% |
| Uterine leiomyoma | 52 | 0.01% |
| Vaccination site nodule | 52 | 0.01% |
| Vitamin B12 decreased | 52 | 0.01% |
| Vitamin D deficiency | 52 | 0.01% |
| Antineutrophil cytoplasmic antibody negative | 51 | 0.01% |
| Blood phosphorus normal | 51 | 0.01% |
| Blood triglycerides normal | 51 | 0.01% |
| Cardiac stress test abnormal | 51 | 0.01% |
| Chemotherapy | 51 | 0.01% |
| Coagulation test normal | 51 | 0.01% |
| Electrocardiogram QT prolonged | 51 | 0.01% |
| Emphysema | 51 | 0.01% |
| Extraocular muscle paresis | 51 | 0.01% |
| Gallbladder disorder | 51 | 0.01% |
| Gastrointestinal examination | 51 | 0.01% |
| Henoch-Schonlein purpura | 51 | 0.01% |
| Hypercapnia | 51 | 0.01% |
| Infusion | 51 | 0.01% |
| Injury associated with device | 51 | 0.01% |
| International normalised ratio decreased | 51 | 0.01% |
| Life support | 51 | 0.01% |
| Myoglobin blood | 51 | 0.01% |
| Platelet distribution width | 51 | 0.01% |
| Skin erosion | 51 | 0.01% |
| Visual field tests | 51 | 0.01% |
| Alopecia areata | 50 | 0.01% |
| Blood bicarbonate decreased | 50 | 0.01% |
| Blood pH decreased | 50 | 0.01% |
| Cooling therapy | 50 | 0.01% |
| CSF test abnormal | 50 | 0.01% |
| Culture stool negative | 50 | 0.01% |
| Delivery | 50 | 0.01% |
| Dyschromatopsia | 50 | 0.01% |
| Hyporeflexia | 50 | 0.01% |
| Iron deficiency anaemia | 50 | 0.01% |
| Laparoscopic surgery | 50 | 0.01% |
| Non-cardiac chest pain | 50 | 0.01% |
| Pupil fixed | 50 | 0.01% |
| Quality of life decreased | 50 | 0.01% |
| Testicular swelling | 50 | 0.01% |
| Ultrasound biliary tract | 50 | 0.01% |
| Vaccination site vesicles | 50 | 0.01% |
| Affect lability | 49 | 0.01% |
| Allergy test negative | 49 | 0.01% |
| Arterial thrombosis | 49 | 0.01% |
| Back disorder | 49 | 0.01% |
| Blood immunoglobulin G normal | 49 | 0.01% |
| Blood smear test | 49 | 0.01% |
| Brain stem infarction | 49 | 0.01% |
| Carotid artery occlusion | 49 | 0.01% |
| CSF cell count | 49 | 0.01% |
| Hyperleukocytosis | 49 | 0.01% |
| Immunoglobulins | 49 | 0.01% |
| Injection site papule | 49 | 0.01% |
| Injection site scab | 49 | 0.01% |
| Joint warmth | 49 | 0.01% |
| Lymphocyte percentage increased | 49 | 0.01% |
| Maternal exposure before pregnancy | 49 | 0.01% |
| Miosis | 49 | 0.01% |
| Streptococcus test positive | 49 | 0.01% |
| Thrombocytopenic purpura | 49 | 0.01% |
| Tongue movement disturbance | 49 | 0.01% |
| Toxic skin eruption | 49 | 0.01% |
| Transferrin | 49 | 0.01% |
| White blood cell disorder | 49 | 0.01% |
| Aneurysm | 48 | 0.01% |
| Ankylosing spondylitis | 48 | 0.01% |
| Autoimmune hepatitis | 48 | 0.01% |
| Biopsy lymph gland | 48 | 0.01% |
| Blood gases abnormal | 48 | 0.01% |
| Cholestasis | 48 | 0.01% |
| Clostridium test | 48 | 0.01% |
| Enuresis | 48 | 0.01% |
| Genital haemorrhage | 48 | 0.01% |
| Haemorrhage in pregnancy | 48 | 0.01% |
| Myosclerosis | 48 | 0.01% |
| Neoplasm | 48 | 0.01% |
| Product label confusion | 48 | 0.01% |
| Product reconstitution quality issue | 48 | 0.01% |
| Renal infarct | 48 | 0.01% |
| Splenic infarction | 48 | 0.01% |
| Strabismus | 48 | 0.01% |
| Antinuclear antibody increased | 47 | 0.01% |
| Bladder disorder | 47 | 0.01% |
| Blood bicarbonate normal | 47 | 0.01% |
| Blood calcium increased | 47 | 0.01% |
| Blood homocysteine | 47 | 0.01% |
| Blood magnesium increased | 47 | 0.01% |
| Breast cancer | 47 | 0.01% |
| Colonoscopy abnormal | 47 | 0.01% |
| CSF red blood cell count positive | 47 | 0.01% |
| Lagophthalmos | 47 | 0.01% |
| Panic disorder | 47 | 0.01% |
| Pericardial drainage | 47 | 0.01% |
| pH urine | 47 | 0.01% |
| Pregnancy test positive | 47 | 0.01% |
| Sitting disability | 47 | 0.01% |
| Stool analysis normal | 47 | 0.01% |
| Stress echocardiogram | 47 | 0.01% |
| Biliary colic | 46 | 0.01% |
| Bordetella test negative | 46 | 0.01% |
| Culture throat | 46 | 0.01% |
| Dermatitis atopic | 46 | 0.01% |
| Enteritis | 46 | 0.01% |
| Exercise electrocardiogram | 46 | 0.01% |
| Facial nerve disorder | 46 | 0.01% |
| Food aversion | 46 | 0.01% |
| Fracture | 46 | 0.01% |
| Granulocyte count | 46 | 0.01% |
| Hepatitis acute | 46 | 0.01% |
| Impaired healing | 46 | 0.01% |
| Interleukin level | 46 | 0.01% |
| Personality change | 46 | 0.01% |
| Renal cyst | 46 | 0.01% |
| Respiratory depression | 46 | 0.01% |
| Sarcoidosis | 46 | 0.01% |
| Walking disability | 46 | 0.01% |
| Aortic valve incompetence | 45 | 0.01% |
| Bacteraemia | 45 | 0.01% |
| Cerebral artery thrombosis | 45 | 0.01% |
| Circumoral swelling | 45 | 0.01% |
| Culture urine positive | 45 | 0.01% |
| Diabetes mellitus management | 45 | 0.01% |
| Disease progression | 45 | 0.01% |
| Embolism venous | 45 | 0.01% |
| Genital rash | 45 | 0.01% |
| Hepatitis A virus test | 45 | 0.01% |
| Hepatitis C test negative | 45 | 0.01% |
| Hepatitis viral test | 45 | 0.01% |
| Joint contracture | 45 | 0.01% |
| Pneumonia viral | 45 | 0.01% |
| Polydipsia | 45 | 0.01% |
| Pregnancy test urine negative | 45 | 0.01% |
| Tooth infection | 45 | 0.01% |
| Upper limb fracture | 45 | 0.01% |
| Urine ketone body present | 45 | 0.01% |
| Anti-cyclic citrullinated peptide antibody negative | 44 | 0.01% |
| Blood iron normal | 44 | 0.01% |
| Blood osmolarity | 44 | 0.01% |
| Blood osmolarity decreased | 44 | 0.01% |
| Conversion disorder | 44 | 0.01% |
| Hypotonic-hyporesponsive episode | 44 | 0.01% |
| Impaired gastric emptying | 44 | 0.01% |
| Iron binding capacity total | 44 | 0.01% |
| Lower respiratory tract congestion | 44 | 0.01% |
| Lymphadenopathy mediastinal | 44 | 0.01% |
| Metabolic encephalopathy | 44 | 0.01% |
| Muscle injury | 44 | 0.01% |
| Radiculitis brachial | 44 | 0.01% |
| Respiratory tract oedema | 44 | 0.01% |
| Retinal migraine | 44 | 0.01% |
| Sleep terror | 44 | 0.01% |
| Thyroxine normal | 44 | 0.01% |
| Total complement activity test | 44 | 0.01% |
| Urine leukocyte esterase positive | 44 | 0.01% |
| Urosepsis | 44 | 0.01% |
| Vaccination site irritation | 44 | 0.01% |
| White blood cells urine | 44 | 0.01% |
| Angioplasty | 43 | 0.01% |
| Aortic aneurysm | 43 | 0.01% |
| Arteriogram coronary abnormal | 43 | 0.01% |
| Autoantibody test | 43 | 0.01% |
| Blood lactic acid decreased | 43 | 0.01% |
| Clostridium difficile colitis | 43 | 0.01% |
| Continuous positive airway pressure | 43 | 0.01% |
| Cranial nerve disorder | 43 | 0.01% |
| Epstein-Barr virus antibody | 43 | 0.01% |
| Facial neuralgia | 43 | 0.01% |
| Food refusal | 43 | 0.01% |
| General symptom | 43 | 0.01% |
| Histology | 43 | 0.01% |
| Oropharyngeal blistering | 43 | 0.01% |
| Pigmentation disorder | 43 | 0.01% |
| Sialoadenitis | 43 | 0.01% |
| Tendon disorder | 43 | 0.01% |
| Thyroid function test abnormal | 43 | 0.01% |
| Tongue coated | 43 | 0.01% |
| Toxicologic test | 43 | 0.01% |
| Varicella virus test positive | 43 | 0.01% |
| Angiopathy | 42 | 0.01% |
| Aortic arteriosclerosis | 42 | 0.01% |
| Behaviour disorder | 42 | 0.01% |
| Blood pressure diastolic decreased | 42 | 0.01% |
| Blood pressure systolic decreased | 42 | 0.01% |
| Blood sodium increased | 42 | 0.01% |
| Brain scan normal | 42 | 0.01% |
| Breath sounds | 42 | 0.01% |
| Cardiac death | 42 | 0.01% |
| Cerebral artery embolism | 42 | 0.01% |
| Cerebral atrophy | 42 | 0.01% |
| Exophthalmos | 42 | 0.01% |
| Fluid replacement | 42 | 0.01% |
| Food intolerance | 42 | 0.01% |
| Hepatitis C antibody | 42 | 0.01% |
| High density lipoprotein decreased | 42 | 0.01% |
| Imaging procedure abnormal | 42 | 0.01% |
| Macule | 42 | 0.01% |
| Mononucleosis heterophile test | 42 | 0.01% |
| Neutrophilia | 42 | 0.01% |
| Nitrite urine | 42 | 0.01% |
| Ophthalmoplegia | 42 | 0.01% |
| Periorbital pain | 42 | 0.01% |
| Similar reaction on previous exposure to drug | 42 | 0.01% |
| Tetany | 42 | 0.01% |
| Transferrin saturation | 42 | 0.01% |
| Vaccination site hypersensitivity | 42 | 0.01% |
| Vaccination site infection | 42 | 0.01% |
| Varicella | 42 | 0.01% |
| Varicella virus test negative | 42 | 0.01% |
| Apraxia | 41 | 0.01% |
| Blepharitis | 41 | 0.01% |
| Cardiac dysfunction | 41 | 0.01% |
| Coccydynia | 41 | 0.01% |
| Crepitations | 41 | 0.01% |
| CSF white blood cell count | 41 | 0.01% |
| CSF white blood cell count increased | 41 | 0.01% |
| Enterovirus test | 41 | 0.01% |
| Eosinophil percentage increased | 41 | 0.01% |
| Epstein-Barr virus infection | 41 | 0.01% |
| Femur fracture | 41 | 0.01% |
| Haemophagocytic lymphohistiocytosis | 41 | 0.01% |
| Inappropriate affect | 41 | 0.01% |
| Induced labour | 41 | 0.01% |
| Intraocular pressure increased | 41 | 0.01% |
| Narcolepsy | 41 | 0.01% |
| Reflex test | 41 | 0.01% |
| Rheumatoid factor increased | 41 | 0.01% |
| Romberg test | 41 | 0.01% |
| Sexually transmitted disease test | 41 | 0.01% |
| Spinal X-ray abnormal | 41 | 0.01% |
| Spirometry | 41 | 0.01% |
| Superior sagittal sinus thrombosis | 41 | 0.01% |
| Thrombocytosis | 41 | 0.01% |
| Atrial tachycardia | 40 | 0.01% |
| Bronchoscopy | 40 | 0.01% |
| Cardiac failure chronic | 40 | 0.01% |
| Cardiac function test normal | 40 | 0.01% |
| Cardiopulmonary failure | 40 | 0.01% |
| Cystoscopy | 40 | 0.01% |
| Hypernatraemia | 40 | 0.01% |
| Lacunar stroke | 40 | 0.01% |
| Lip exfoliation | 40 | 0.01% |
| Sense of oppression | 40 | 0.01% |
| Sleep disorder due to general medical condition, insomnia type | 40 | 0.01% |
| Small fibre neuropathy | 40 | 0.01% |
| Torticollis | 40 | 0.01% |
| Ultrasound foetal abnormal | 40 | 0.01% |
| Ultrasound liver | 40 | 0.01% |
| Varicella zoster virus infection | 40 | 0.01% |
| Abortion missed | 39 | 0.01% |
| Atrial septal defect | 39 | 0.01% |
| Audiogram normal | 39 | 0.01% |
| Bilirubin conjugated increased | 39 | 0.01% |
| Blood cortisol | 39 | 0.01% |
| Breath odour | 39 | 0.01% |
| Cardiac assistance device user | 39 | 0.01% |
| Cardiac fibrillation | 39 | 0.01% |
| Coagulation factor | 39 | 0.01% |
| Drug interaction | 39 | 0.01% |
| Epicondylitis | 39 | 0.01% |
| Epinephrine | 39 | 0.01% |
| Factor V Leiden mutation | 39 | 0.01% |
| Folliculitis | 39 | 0.01% |
| Genital pain | 39 | 0.01% |
| Gingivitis | 39 | 0.01% |
| Glaucoma | 39 | 0.01% |
| Hepatic cirrhosis | 39 | 0.01% |
| Hepatitis C | 39 | 0.01% |
| Lactation disorder | 39 | 0.01% |
| Magnetic resonance imaging thoracic | 39 | 0.01% |
| Nerve conduction studies abnormal | 39 | 0.01% |
| Oedema mouth | 39 | 0.01% |
| Oesophageal pain | 39 | 0.01% |
| Physiotherapy | 39 | 0.01% |
| Skin plaque | 39 | 0.01% |
| Synovitis | 39 | 0.01% |
| Tooth injury | 39 | 0.01% |
| Urine ketone body | 39 | 0.01% |
| Urticaria chronic | 39 | 0.01% |
| Uterine pain | 39 | 0.01% |
| Accidental underdose | 38 | 0.01% |
| Angina unstable | 38 | 0.01% |
| Biopsy bone marrow abnormal | 38 | 0.01% |
| Central venous catheterisation | 38 | 0.01% |
| Cerebral mass effect | 38 | 0.01% |
| Chest injury | 38 | 0.01% |
| Decreased interest | 38 | 0.01% |
| Diaphragmalgia | 38 | 0.01% |
| Diastolic dysfunction | 38 | 0.01% |
| Ear haemorrhage | 38 | 0.01% |
| External ear pain | 38 | 0.01% |
| Gastric ulcer | 38 | 0.01% |
| Illusion | 38 | 0.01% |
| Laryngeal discomfort | 38 | 0.01% |
| Mean cell volume decreased | 38 | 0.01% |
| Meningitis viral | 38 | 0.01% |
| Neck injury | 38 | 0.01% |
| Oesophageal spasm | 38 | 0.01% |
| Proctalgia | 38 | 0.01% |
| Reduced facial expression | 38 | 0.01% |
| Skin texture abnormal | 38 | 0.01% |
| Spinal stenosis | 38 | 0.01% |
| Spinal X-ray normal | 38 | 0.01% |
| Stillbirth | 38 | 0.01% |
| Stupor | 38 | 0.01% |
| Tooth abscess | 38 | 0.01% |
| Total cholesterol/HDL ratio | 38 | 0.01% |
| Ultrasound foetal | 38 | 0.01% |
| Ultrasound joint | 38 | 0.01% |
| Adrenocortical insufficiency acute | 37 | 0.01% |
| Blood 25-hydroxycholecalciferol | 37 | 0.01% |
| Body height decreased | 37 | 0.01% |
| Bone swelling | 37 | 0.01% |
| Capillary fragility | 37 | 0.01% |
| Cardiac ablation | 37 | 0.01% |
| Contraception | 37 | 0.01% |
| CSF culture | 37 | 0.01% |
| Dark circles under eyes | 37 | 0.01% |
| Diet refusal | 37 | 0.01% |
| Dyschezia | 37 | 0.01% |
| Episcleritis | 37 | 0.01% |
| Essential hypertension | 37 | 0.01% |
| Glucose urine | 37 | 0.01% |
| Hemiplegic migraine | 37 | 0.01% |
| Hypertonia | 37 | 0.01% |
| Ileus | 37 | 0.01% |
| Intraventricular haemorrhage | 37 | 0.01% |
| Lack of spontaneous speech | 37 | 0.01% |
| Magnetic resonance imaging abdominal | 37 | 0.01% |
| Mycoplasma test | 37 | 0.01% |
| Occupational exposure to SARS-CoV-2 | 37 | 0.01% |
| Parotid gland enlargement | 37 | 0.01% |
| Percutaneous coronary intervention | 37 | 0.01% |
| Prothrombin level normal | 37 | 0.01% |
| Pruritus genital | 37 | 0.01% |
| Red blood cell analysis | 37 | 0.01% |
| Rheumatic disorder | 37 | 0.01% |
| Scleritis | 37 | 0.01% |
| Spinal myelogram | 37 | 0.01% |
| Spondylitis | 37 | 0.01% |
| Tooth disorder | 37 | 0.01% |
| Trigeminal nerve disorder | 37 | 0.01% |
| Tumour marker test | 37 | 0.01% |
| Vaccination site joint pain | 37 | 0.01% |
| Balance test | 36 | 0.01% |
| Blood uric acid increased | 36 | 0.01% |
| Cytology | 36 | 0.01% |
| Diverticulum | 36 | 0.01% |
| Dyslalia | 36 | 0.01% |
| Epstein-Barr virus antibody negative | 36 | 0.01% |
| Escherichia infection | 36 | 0.01% |
| Gastrointestinal tube insertion | 36 | 0.01% |
| Haemodynamic test | 36 | 0.01% |
| Hypomagnesaemia | 36 | 0.01% |
| Joint instability | 36 | 0.01% |
| Lichen planus | 36 | 0.01% |
| Menstrual discomfort | 36 | 0.01% |
| Muscle strength abnormal | 36 | 0.01% |
| Packed red blood cell transfusion | 36 | 0.01% |
| Parotitis | 36 | 0.01% |
| Peak expiratory flow rate | 36 | 0.01% |
| Red blood cell abnormality | 36 | 0.01% |
| Retinal tear | 36 | 0.01% |
| Right ventricular dysfunction | 36 | 0.01% |
| Skin fissures | 36 | 0.01% |
| Skin hyperpigmentation | 36 | 0.01% |
| Sleep paralysis | 36 | 0.01% |
| Streptococcal infection | 36 | 0.01% |
| Suture insertion | 36 | 0.01% |
| Thermal burns of eye | 36 | 0.01% |
| Toxicologic test normal | 36 | 0.01% |
| Tri-iodothyronine free | 36 | 0.01% |
| Urine output | 36 | 0.01% |
| Anti-thyroid antibody positive | 35 | 0.01% |
| Blood creatine increased | 35 | 0.01% |
| Blood urine absent | 35 | 0.01% |
| Bloody discharge | 35 | 0.01% |
| Coronavirus infection | 35 | 0.01% |
| Discoloured vomit | 35 | 0.01% |
| Drug reaction with eosinophilia and systemic symptoms | 35 | 0.01% |
| Eyelid margin crusting | 35 | 0.01% |
| Genital ulceration | 35 | 0.01% |
| Haemorrhagic disorder | 35 | 0.01% |
| HIV antibody | 35 | 0.01% |
| Magnetic resonance cholangiopancreatography | 35 | 0.01% |
| Major depression | 35 | 0.01% |
| Malnutrition | 35 | 0.01% |
| Oesophagitis | 35 | 0.01% |
| Ophthalmic vein thrombosis | 35 | 0.01% |
| Oral blood blister | 35 | 0.01% |
| Peripheral artery occlusion | 35 | 0.01% |
| Peripheral sensory neuropathy | 35 | 0.01% |
| Plateletcrit | 35 | 0.01% |
| Scan normal | 35 | 0.01% |
| Urinary sediment present | 35 | 0.01% |
| Administration site pain | 34 | 0.01% |
| Agonal respiration | 34 | 0.01% |
| Amaurosis fugax | 34 | 0.01% |
| Ankle fracture | 34 | 0.01% |
| Atrioventricular block first degree | 34 | 0.01% |
| Body temperature normal | 34 | 0.01% |
| Cachexia | 34 | 0.01% |
| Carcinoembryonic antigen | 34 | 0.01% |
| Carotid arteriosclerosis | 34 | 0.01% |
| Cerebrovascular disorder | 34 | 0.01% |
| Cryptococcus test | 34 | 0.01% |
| CSF glucose | 34 | 0.01% |
| Electrocardiogram repolarisation abnormality | 34 | 0.01% |
| Foetal growth restriction | 34 | 0.01% |
| Gastric dilatation | 34 | 0.01% |
| Gingival discomfort | 34 | 0.01% |
| Gingival erythema | 34 | 0.01% |
| Hepatitis B | 34 | 0.01% |
| Herpes zoster reactivation | 34 | 0.01% |
| Magnetic resonance imaging thoracic abnormal | 34 | 0.01% |
| Mycobacterium tuberculosis complex test | 34 | 0.01% |
| Nasal obstruction | 34 | 0.01% |
| Otorrhoea | 34 | 0.01% |
| PCO2 increased | 34 | 0.01% |
| Peritonitis | 34 | 0.01% |
| Pharyngeal disorder | 34 | 0.01% |
| Respiratory acidosis | 34 | 0.01% |
| Right ventricular failure | 34 | 0.01% |
| Sensation of blood flow | 34 | 0.01% |
| Subdural haemorrhage | 34 | 0.01% |
| Suicide attempt | 34 | 0.01% |
| Tendon rupture | 34 | 0.01% |
| Tongue paralysis | 34 | 0.01% |
| Vibratory sense increased | 34 | 0.01% |
| Acute myeloid leukaemia | 33 | 0.01% |
| Antiphospholipid antibodies negative | 33 | 0.01% |
| Blister rupture | 33 | 0.01% |
| Blood bilirubin decreased | 33 | 0.01% |
| Blood count abnormal | 33 | 0.01% |
| Blood creatinine decreased | 33 | 0.01% |
| Blood lactate dehydrogenase normal | 33 | 0.01% |
| Blood phosphorus decreased | 33 | 0.01% |
| Blood pressure immeasurable | 33 | 0.01% |
| Brain death | 33 | 0.01% |
| Brain stem stroke | 33 | 0.01% |
| Catheter placement | 33 | 0.01% |
| Cerebellar haemorrhage | 33 | 0.01% |
| Cervical radiculopathy | 33 | 0.01% |
| Colitis microscopic | 33 | 0.01% |
| Coronary artery dissection | 33 | 0.01% |
| Deafness transitory | 33 | 0.01% |
| Electroneuromyography | 33 | 0.01% |
| Enzyme level test | 33 | 0.01% |
| Extremity contracture | 33 | 0.01% |
| Fear of death | 33 | 0.01% |
| Fibrin degradation products | 33 | 0.01% |
| Flow cytometry | 33 | 0.01% |
| Fraction of inspired oxygen | 33 | 0.01% |
| Haemodialysis | 33 | 0.01% |
| Haemostasis | 33 | 0.01% |
| Hip arthroplasty | 33 | 0.01% |
| Human chorionic gonadotropin decreased | 33 | 0.01% |
| Hyperreflexia | 33 | 0.01% |
| Immature granulocyte count increased | 33 | 0.01% |
| Increased bronchial secretion | 33 | 0.01% |
| Injection site pustule | 33 | 0.01% |
| Intentional product use issue | 33 | 0.01% |
| Lip haemorrhage | 33 | 0.01% |
| Paranasal sinus inflammation | 33 | 0.01% |
| Plantar fasciitis | 33 | 0.01% |
| Pulmonary haemorrhage | 33 | 0.01% |
| Q fever | 33 | 0.01% |
| Retinal vascular thrombosis | 33 | 0.01% |
| Rheumatoid factor positive | 33 | 0.01% |
| Rheumatological examination | 33 | 0.01% |
| Rhonchi | 33 | 0.01% |
| Sleep study | 33 | 0.01% |
| Soft tissue swelling | 33 | 0.01% |
| Spinal disorder | 33 | 0.01% |
| Troponin T normal | 33 | 0.01% |
| Tuberculin test | 33 | 0.01% |
| Ultrasound kidney normal | 33 | 0.01% |
| Upper gastrointestinal haemorrhage | 33 | 0.01% |
| Viral rash | 33 | 0.01% |
| Vital functions abnormal | 33 | 0.01% |
| X-ray dental | 33 | 0.01% |
| Accident | 32 | 0.01% |
| Acidosis | 32 | 0.01% |
| Acute left ventricular failure | 32 | 0.01% |
| Antiphospholipid syndrome | 32 | 0.01% |
| Breast cyst | 32 | 0.01% |
| C-reactive protein decreased | 32 | 0.01% |
| Clonus | 32 | 0.01% |
| Coma scale abnormal | 32 | 0.01% |
| Craniotomy | 32 | 0.01% |
| CSF test normal | 32 | 0.01% |
| Dementia Alzheimer's type | 32 | 0.01% |
| Electrophoresis | 32 | 0.01% |
| Foot fracture | 32 | 0.01% |
| Hepatitis B surface antigen | 32 | 0.01% |
| Hepatitis C antibody negative | 32 | 0.01% |
| Hydronephrosis | 32 | 0.01% |
| Hypervigilance | 32 | 0.01% |
| Hypocalcaemia | 32 | 0.01% |
| Implantable defibrillator insertion | 32 | 0.01% |
| Injection related reaction | 32 | 0.01% |
| Injection site joint movement impairment | 32 | 0.01% |
| Leukaemia | 32 | 0.01% |
| Menopausal symptoms | 32 | 0.01% |
| Nasal disorder | 32 | 0.01% |
| Oliguria | 32 | 0.01% |
| On and off phenomenon | 32 | 0.01% |
| Palmar erythema | 32 | 0.01% |
| Physical examination normal | 32 | 0.01% |
| Prothrombin time shortened | 32 | 0.01% |
| Pupils unequal | 32 | 0.01% |
| Spinal compression fracture | 32 | 0.01% |
| Spinal cord disorder | 32 | 0.01% |
| Steroid therapy | 32 | 0.01% |
| Tenosynovitis | 32 | 0.01% |
| Vaginal ulceration | 32 | 0.01% |
| Vestibular migraine | 32 | 0.01% |
| Abscess limb | 31 | 0.01% |
| Altered visual depth perception | 31 | 0.01% |
| Arteriogram | 31 | 0.01% |
| Atrioventricular block second degree | 31 | 0.01% |
| Blood bilirubin unconjugated | 31 | 0.01% |
| Blood creatine normal | 31 | 0.01% |
| Breast inflammation | 31 | 0.01% |
| Carotid artery thrombosis | 31 | 0.01% |
| Colonoscopy normal | 31 | 0.01% |
| Complement factor | 31 | 0.01% |
| Coronavirus test positive | 31 | 0.01% |
| Endocarditis | 31 | 0.01% |
| Food poisoning | 31 | 0.01% |
| Foreign body in throat | 31 | 0.01% |
| Haemodynamic instability | 31 | 0.01% |
| Lower limb fracture | 31 | 0.01% |
| Menometrorrhagia | 31 | 0.01% |
| Nerve conduction studies normal | 31 | 0.01% |
| Noninfective encephalitis | 31 | 0.01% |
| Oversensing | 31 | 0.01% |
| PCO2 decreased | 31 | 0.01% |
| Pre-eclampsia | 31 | 0.01% |
| Psychogenic seizure | 31 | 0.01% |
| Rhinitis allergic | 31 | 0.01% |
| Shock symptom | 31 | 0.01% |
| Somnambulism | 31 | 0.01% |
| Ultrasound uterus | 31 | 0.01% |
| Urological examination | 31 | 0.01% |
| Vascular test | 31 | 0.01% |
| X-ray of pelvis and hip normal | 31 | 0.01% |
| Abscess drainage | 30 | 0.01% |
| ADAMTS13 activity assay | 30 | 0.01% |
| Adverse event following immunisation | 30 | 0.01% |
| Antibody test positive | 30 | 0.01% |
| Blood pH normal | 30 | 0.01% |
| Bone disorder | 30 | 0.01% |
| Brain stem haemorrhage | 30 | 0.01% |
| Breast enlargement | 30 | 0.01% |
| Bronchiectasis | 30 | 0.01% |
| Carbohydrate antigen 19-9 | 30 | 0.01% |
| Carditis | 30 | 0.01% |
| Completed suicide | 30 | 0.01% |
| CSF protein normal | 30 | 0.01% |
| Decubitus ulcer | 30 | 0.01% |
| Demyelinating polyneuropathy | 30 | 0.01% |
| DNA antibody | 30 | 0.01% |
| Dyshidrotic eczema | 30 | 0.01% |
| Faecal calprotectin | 30 | 0.01% |
| Failure to thrive | 30 | 0.01% |
| Grunting | 30 | 0.01% |
| Haemarthrosis | 30 | 0.01% |
| Haemorrhagic diathesis | 30 | 0.01% |
| Hepatitis B test negative | 30 | 0.01% |
| Hypoosmolar state | 30 | 0.01% |
| Hysteroscopy | 30 | 0.01% |
| Ill-defined disorder | 30 | 0.01% |
| Inner ear inflammation | 30 | 0.01% |
| IVth nerve paralysis | 30 | 0.01% |
| Lung assist device therapy | 30 | 0.01% |
| Menorrhagia | 30 | 0.01% |
| Morning sickness | 30 | 0.01% |
| Neurogenic shock | 30 | 0.01% |
| Optic nerve disorder | 30 | 0.01% |
| Paraplegia | 30 | 0.01% |
| Pharyngeal inflammation | 30 | 0.01% |
| Phlebitis superficial | 30 | 0.01% |
| Premature baby | 30 | 0.01% |
| Premature separation of placenta | 30 | 0.01% |
| Procedural pain | 30 | 0.01% |
| Reading disorder | 30 | 0.01% |
| Skin papilloma | 30 | 0.01% |
| Toxicity to various agents | 30 | 0.01% |
| Ultrasound pelvis normal | 30 | 0.01% |
| Urinary sediment | 30 | 0.01% |
| Vena cava thrombosis | 30 | 0.01% |
| Vitreous haemorrhage | 30 | 0.01% |
| Vocal cord paralysis | 30 | 0.01% |
| Vulvovaginal pruritus | 30 | 0.01% |
| White blood cells urine negative | 30 | 0.01% |
| Wound haemorrhage | 30 | 0.01% |
| Amylase increased | 29 | 0.01% |
| Anal haemorrhage | 29 | 0.01% |
| Blood follicle stimulating hormone | 29 | 0.01% |
| Blood immunoglobulin G increased | 29 | 0.01% |
| Brain scan abnormal | 29 | 0.01% |
| Breast discharge | 29 | 0.01% |
| Cardiovascular function test | 29 | 0.01% |
| Cholangitis | 29 | 0.01% |
| Cholecystitis acute | 29 | 0.01% |
| Chronic inflammatory demyelinating polyradiculoneuropathy | 29 | 0.01% |
| Congestive cardiomyopathy | 29 | 0.01% |
| Coronary artery bypass | 29 | 0.01% |
| Depersonalisation/derealisation disorder | 29 | 0.01% |
| EGFR status assay | 29 | 0.01% |
| Eustachian tube dysfunction | 29 | 0.01% |
| Gingival blister | 29 | 0.01% |
| Heart valve incompetence | 29 | 0.01% |
| Hemianopia | 29 | 0.01% |
| High density lipoprotein normal | 29 | 0.01% |
| HIV antibody negative | 29 | 0.01% |
| Hyperbilirubinaemia | 29 | 0.01% |
| Macular oedema | 29 | 0.01% |
| Mouth injury | 29 | 0.01% |
| Otoscopy | 29 | 0.01% |
| Parvovirus B19 test negative | 29 | 0.01% |
| Product dispensing issue | 29 | 0.01% |
| Pulmonary arterial pressure | 29 | 0.01% |
| Sleep disorder due to a general medical condition | 29 | 0.01% |
| Sopor | 29 | 0.01% |
| Toxoplasma serology | 29 | 0.01% |
| Vein discolouration | 29 | 0.01% |
| Acute cardiac event | 28 | 0% |
| Anaesthesia | 28 | 0% |
| Anion gap increased | 28 | 0% |
| Aortic stenosis | 28 | 0% |
| Axillary vein thrombosis | 28 | 0% |
| Chronic lymphocytic leukaemia | 28 | 0% |
| Coronavirus test negative | 28 | 0% |
| Derealisation | 28 | 0% |
| Disseminated Bacillus Calmette-Guerin infection | 28 | 0% |
| Distractibility | 28 | 0% |
| Drug level | 28 | 0% |
| Effusion | 28 | 0% |
| Electrocardiogram ST-T change | 28 | 0% |
| Electrocardiogram ST-T segment abnormal | 28 | 0% |
| Gastric haemorrhage | 28 | 0% |
| Gram stain | 28 | 0% |
| Granuloma annulare | 28 | 0% |
| Hyperaemia | 28 | 0% |
| Immunisation anxiety related reaction | 28 | 0% |
| Microscopy | 28 | 0% |
| Occult blood | 28 | 0% |
| Paraparesis | 28 | 0% |
| Pharyngeal ulceration | 28 | 0% |
| Red blood cell sedimentation rate abnormal | 28 | 0% |
| Salivary gland enlargement | 28 | 0% |
| Skin hypertrophy | 28 | 0% |
| Terminal insomnia | 28 | 0% |
| Thirst decreased | 28 | 0% |
| Thrombolysis | 28 | 0% |
| Ultrasound testes | 28 | 0% |
| Uterine contractions during pregnancy | 28 | 0% |
| Vulvovaginal swelling | 28 | 0% |
| Allergy test positive | 27 | 0% |
| Antiacetylcholine receptor antibody | 27 | 0% |
| Arthropod sting | 27 | 0% |
| Attention deficit hyperactivity disorder | 27 | 0% |
| Basilar artery thrombosis | 27 | 0% |
| Blood count normal | 27 | 0% |
| Blood pH increased | 27 | 0% |
| Blue toe syndrome | 27 | 0% |
| Bronchial hyperreactivity | 27 | 0% |
| Butterfly rash | 27 | 0% |
| Cardiolipin antibody negative | 27 | 0% |
| Catatonia | 27 | 0% |
| Catheter directed thrombolysis | 27 | 0% |
| Child maltreatment syndrome | 27 | 0% |
| Complex regional pain syndrome | 27 | 0% |
| Computerised tomogram coronary artery | 27 | 0% |
| Convalescent plasma transfusion | 27 | 0% |
| Electrocardiogram QT interval | 27 | 0% |
| Eyelid sensory disorder | 27 | 0% |
| Foetal hypokinesia | 27 | 0% |
| Hypovolaemia | 27 | 0% |
| Idiopathic intracranial hypertension | 27 | 0% |
| Intestinal haemorrhage | 27 | 0% |
| Intussusception | 27 | 0% |
| Laryngoscopy | 27 | 0% |
| Mast cell activation syndrome | 27 | 0% |
| Neoplasm progression | 27 | 0% |
| Neuromyelitis optica spectrum disorder | 27 | 0% |
| Obesity | 27 | 0% |
| Ocular vascular disorder | 27 | 0% |
| Pregnancy test urine | 27 | 0% |
| Prohormone brain natriuretic peptide | 27 | 0% |
| Psychiatric symptom | 27 | 0% |
| Right ventricular dilatation | 27 | 0% |
| Sensitisation | 27 | 0% |
| Subcutaneous abscess | 27 | 0% |
| Sudden visual loss | 27 | 0% |
| Tonsillar disorder | 27 | 0% |
| Tympanometry | 27 | 0% |
| Vascular injury | 27 | 0% |
| Vitiligo | 27 | 0% |
| Vulval ulceration | 27 | 0% |
| Vulvovaginal mycotic infection | 27 | 0% |
| Basal ganglia infarction | 26 | 0% |
| Calcium ionised | 26 | 0% |
| Cardiac telemetry normal | 26 | 0% |
| Cervicobrachial syndrome | 26 | 0% |
| Concomitant disease aggravated | 26 | 0% |
| Coxsackie virus test | 26 | 0% |
| Dermatitis exfoliative generalised | 26 | 0% |
| Epididymitis | 26 | 0% |
| Epstein-Barr virus infection reactivation | 26 | 0% |
| Excessive cerumen production | 26 | 0% |
| Eye colour change | 26 | 0% |
| Febrile neutropenia | 26 | 0% |
| Granulocyte percentage | 26 | 0% |
| Hallucinations, mixed | 26 | 0% |
| Helicobacter test | 26 | 0% |
| Hypersensitivity vasculitis | 26 | 0% |
| Injection site scar | 26 | 0% |
| Iron deficiency | 26 | 0% |
| Magnetic resonance imaging joint | 26 | 0% |
| Muscle rupture | 26 | 0% |
| Myocardial oedema | 26 | 0% |
| Nasal inflammation | 26 | 0% |
| Necrosis | 26 | 0% |
| New daily persistent headache | 26 | 0% |
| Ovulation pain | 26 | 0% |
| Peripheral circulatory failure | 26 | 0% |
| Post-traumatic stress disorder | 26 | 0% |
| Postmenopause | 26 | 0% |
| Pupillary reflex impaired | 26 | 0% |
| Reaction to preservatives | 26 | 0% |
| Salivary gland pain | 26 | 0% |
| Skin test negative | 26 | 0% |
| Sputum culture | 26 | 0% |
| Staphylococcus test negative | 26 | 0% |
| Thrombotic stroke | 26 | 0% |
| Vasculitic rash | 26 | 0% |
| Acute sinusitis | 25 | 0% |
| Aortic aneurysm rupture | 25 | 0% |
| Aortic thrombosis | 25 | 0% |
| Aptyalism | 25 | 0% |
| Basal ganglia stroke | 25 | 0% |
| Biopsy endometrium | 25 | 0% |
| Blood fibrinogen decreased | 25 | 0% |
| Blood parathyroid hormone | 25 | 0% |
| Bone scan | 25 | 0% |
| Cardiac ventricular thrombosis | 25 | 0% |
| Cardiovascular insufficiency | 25 | 0% |
| Chest tube insertion | 25 | 0% |
| Coeliac disease | 25 | 0% |
| Coombs direct test | 25 | 0% |
| Culture positive | 25 | 0% |
| Dental discomfort | 25 | 0% |
| Diverticulum intestinal | 25 | 0% |
| Endoscopy normal | 25 | 0% |
| Enterocolitis | 25 | 0% |
| Faeces pale | 25 | 0% |
| Fasting | 25 | 0% |
| Foetal exposure during pregnancy | 25 | 0% |
| Food craving | 25 | 0% |
| Fundoscopy | 25 | 0% |
| Fungal test negative | 25 | 0% |
| Gastrointestinal motility disorder | 25 | 0% |
| Globulins increased | 25 | 0% |
| Glomerular filtration rate increased | 25 | 0% |
| Heart sounds abnormal | 25 | 0% |
| Hilar lymphadenopathy | 25 | 0% |
| IgA nephropathy | 25 | 0% |
| Impaired self-care | 25 | 0% |
| Intentional dose omission | 25 | 0% |
| Libido decreased | 25 | 0% |
| Lung hyperinflation | 25 | 0% |
| Lung neoplasm malignant | 25 | 0% |
| Lymph node abscess | 25 | 0% |
| Lymphocytosis | 25 | 0% |
| Macular degeneration | 25 | 0% |
| Mouth breathing | 25 | 0% |
| Mucosal dryness | 25 | 0% |
| Myopathy | 25 | 0% |
| Non-high-density lipoprotein cholesterol | 25 | 0% |
| Occult blood positive | 25 | 0% |
| Pemphigus | 25 | 0% |
| Prostatomegaly | 25 | 0% |
| Regurgitation | 25 | 0% |
| Ruptured cerebral aneurysm | 25 | 0% |
| Scan abnormal | 25 | 0% |
| Serum ferritin decreased | 25 | 0% |
| Serum sickness | 25 | 0% |
| Specific gravity urine | 25 | 0% |
| Splenic vein thrombosis | 25 | 0% |
| Sudden onset of sleep | 25 | 0% |
| Thalamus haemorrhage | 25 | 0% |
| Thromboembolectomy | 25 | 0% |
| Thyroxine free increased | 25 | 0% |
| Tilt table test | 25 | 0% |
| Type III immune complex mediated reaction | 25 | 0% |
| Urinary tract disorder | 25 | 0% |
| Vaccination site joint erythema | 25 | 0% |
| Vein rupture | 25 | 0% |
| Venous occlusion | 25 | 0% |
| Vitamin B12 increased | 25 | 0% |
| Wrong patient | 25 | 0% |
| Biopsy breast | 24 | 0% |
| Blood creatine phosphokinase decreased | 24 | 0% |
| Blood prolactin | 24 | 0% |
| Brain operation | 24 | 0% |
| Clonic convulsion | 24 | 0% |
| Clostridium difficile infection | 24 | 0% |
| Contraindication to vaccination | 24 | 0% |
| Coombs test | 24 | 0% |
| CSF glucose increased | 24 | 0% |
| Dental examination | 24 | 0% |
| Dermatomyositis | 24 | 0% |
| Dreamy state | 24 | 0% |
| Electrocardiogram PR segment depression | 24 | 0% |
| End stage renal disease | 24 | 0% |
| Epstein-Barr virus test positive | 24 | 0% |
| Excessive eye blinking | 24 | 0% |
| Gastrostomy | 24 | 0% |
| Gestational diabetes | 24 | 0% |
| Hepatobiliary scan | 24 | 0% |
| Hydrocephalus | 24 | 0% |
| Hypercalcaemia | 24 | 0% |
| Immune-mediated adverse reaction | 24 | 0% |
| Inflammatory bowel disease | 24 | 0% |
| Keratitis | 24 | 0% |
| Lipoma | 24 | 0% |
| Lip ulceration | 24 | 0% |
| Logorrhoea | 24 | 0% |
| Marasmus | 24 | 0% |
| Miller Fisher syndrome | 24 | 0% |
| Mini mental status examination | 24 | 0% |
| Mitral valve prolapse | 24 | 0% |
| Multiple allergies | 24 | 0% |
| Nitrite urine present | 24 | 0% |
| Oculomucocutaneous syndrome | 24 | 0% |
| Otitis externa | 24 | 0% |
| Parkinsonism | 24 | 0% |
| Perfusion brain scan | 24 | 0% |
| Pleuropericarditis | 24 | 0% |
| Pre-existing condition improved | 24 | 0% |
| Prostatic specific antigen increased | 24 | 0% |
| Prostatitis | 24 | 0% |
| Pulmonary artery thrombosis | 24 | 0% |
| QRS axis abnormal | 24 | 0% |
| Renal function test abnormal | 24 | 0% |
| Skin wrinkling | 24 | 0% |
| Spontaneous haematoma | 24 | 0% |
| Sputum increased | 24 | 0% |
| Thrombin time | 24 | 0% |
| Thyroid pain | 24 | 0% |
| Tonsillar inflammation | 24 | 0% |
| Troponin abnormal | 24 | 0% |
| Vaccination site discharge | 24 | 0% |
| Vaccination site hyperaesthesia | 24 | 0% |
| Ventricular arrhythmia | 24 | 0% |
| Vitamin B12 deficiency | 24 | 0% |
| Abortion induced | 23 | 0% |
| Acupuncture | 23 | 0% |
| Acute hepatic failure | 23 | 0% |
| Affective disorder | 23 | 0% |
| Arrhythmia supraventricular | 23 | 0% |
| Biopsy artery | 23 | 0% |
| Biopsy heart | 23 | 0% |
| Biopsy kidney abnormal | 23 | 0% |
| Biopsy liver abnormal | 23 | 0% |
| Blood albumin increased | 23 | 0% |
| Blood bicarbonate increased | 23 | 0% |
| Blood loss anaemia | 23 | 0% |
| Bone densitometry | 23 | 0% |
| Brain herniation | 23 | 0% |
| Cardiac imaging procedure | 23 | 0% |
| Chlamydia test | 23 | 0% |
| Culture throat negative | 23 | 0% |
| Cytokine storm | 23 | 0% |
| Dermal filler injection | 23 | 0% |
| Electrocardiogram change | 23 | 0% |
| Endocrine test | 23 | 0% |
| Escherichia urinary tract infection | 23 | 0% |
| Factor II mutation | 23 | 0% |
| Faecaloma | 23 | 0% |
| Foot deformity | 23 | 0% |
| Gene sequencing | 23 | 0% |
| Glomerulonephritis minimal lesion | 23 | 0% |
| Herpes simplex reactivation | 23 | 0% |
| Inflammatory pain | 23 | 0% |
| Influenza B virus test positive | 23 | 0% |
| Injection site injury | 23 | 0% |
| Intermittent claudication | 23 | 0% |
| Left atrial enlargement | 23 | 0% |
| Mucosal disorder | 23 | 0% |
| Mutism | 23 | 0% |
| Mycobacterium tuberculosis complex test negative | 23 | 0% |
| Normocytic anaemia | 23 | 0% |
| Otic examination | 23 | 0% |
| Paraesthesia ear | 23 | 0% |
| Pleocytosis | 23 | 0% |
| Premature rupture of membranes | 23 | 0% |
| Psychomotor skills impaired | 23 | 0% |
| Reactogenicity event | 23 | 0% |
| Shift to the left | 23 | 0% |
| Shock haemorrhagic | 23 | 0% |
| Subcutaneous haematoma | 23 | 0% |
| Tendon injury | 23 | 0% |
| Urinary tract infection bacterial | 23 | 0% |
| Urine output increased | 23 | 0% |
| Vascular purpura | 23 | 0% |
| Vasoconstriction | 23 | 0% |
| Vulvovaginal burning sensation | 23 | 0% |
| Wrong patient received product | 23 | 0% |
| Ammonia | 22 | 0% |
| Amylase normal | 22 | 0% |
| Anti-ganglioside antibody | 22 | 0% |
| Anxiety disorder | 22 | 0% |
| Aspartate aminotransferase decreased | 22 | 0% |
| Azotaemia | 22 | 0% |
| Bronchoalveolar lavage | 22 | 0% |
| C-reactive protein abnormal | 22 | 0% |
| Capillary nail refill test | 22 | 0% |
| Change of bowel habit | 22 | 0% |
| Creatinine urine | 22 | 0% |
| CSF lymphocyte count increased | 22 | 0% |
| Daydreaming | 22 | 0% |
| Dermal cyst | 22 | 0% |
| Disseminated varicella zoster virus infection | 22 | 0% |
| Embolic cerebral infarction | 22 | 0% |
| Erythroblast count | 22 | 0% |
| Escherichia bacteraemia | 22 | 0% |
| Focal dyscognitive seizures | 22 | 0% |
| Freezing phenomenon | 22 | 0% |
| Fungal test | 22 | 0% |
| Gene mutation identification test | 22 | 0% |
| Glucose tolerance impaired | 22 | 0% |
| Grip strength | 22 | 0% |
| Hallucination, olfactory | 22 | 0% |
| Hidradenitis | 22 | 0% |
| Hypercholesterolaemia | 22 | 0% |
| Hypoalbuminaemia | 22 | 0% |
| Incisional drainage | 22 | 0% |
| Injection site discharge | 22 | 0% |
| Injection site dryness | 22 | 0% |
| Monocytosis | 22 | 0% |
| Myelodysplastic syndrome | 22 | 0% |
| Nerve stimulation test | 22 | 0% |
| Nonspecific reaction | 22 | 0% |
| Oesophagogastroduodenoscopy abnormal | 22 | 0% |
| Organ failure | 22 | 0% |
| Osteomyelitis | 22 | 0% |
| Oxygen consumption | 22 | 0% |
| Performance status decreased | 22 | 0% |
| Peripheral arterial occlusive disease | 22 | 0% |
| Radial nerve palsy | 22 | 0% |
| Reaction to excipient | 22 | 0% |
| SARS-CoV-2 RNA increased | 22 | 0% |
| Sensorimotor disorder | 22 | 0% |
| Sickle cell anaemia with crisis | 22 | 0% |
| Skin injury | 22 | 0% |
| Skull X-ray | 22 | 0% |
| Sleep talking | 22 | 0% |
| Syphilis | 22 | 0% |
| Systolic dysfunction | 22 | 0% |
| Thunderclap headache | 22 | 0% |
| Tri-iodothyronine normal | 22 | 0% |
| Ultrasound pelvis abnormal | 22 | 0% |
| Use of accessory respiratory muscles | 22 | 0% |
| Vaginal infection | 22 | 0% |
| Ventricular hypertrophy | 22 | 0% |
| Viral pericarditis | 22 | 0% |
| Vulvovaginal candidiasis | 22 | 0% |
| Vulvovaginal discomfort | 22 | 0% |
| Acquired haemophilia | 21 | 0% |
| Anembryonic gestation | 21 | 0% |
| Babinski reflex test | 21 | 0% |
| Biopsy lung | 21 | 0% |
| Blood testosterone | 21 | 0% |
| Blood urea nitrogen/creatinine ratio increased | 21 | 0% |
| Cervical spinal stenosis | 21 | 0% |
| Chronic left ventricular failure | 21 | 0% |
| CSF cell count normal | 21 | 0% |
| Decreased immune responsiveness | 21 | 0% |
| Diagnostic aspiration | 21 | 0% |
| Electroneurography | 21 | 0% |
| Escherichia test positive | 21 | 0% |
| Eye haematoma | 21 | 0% |
| Fungal skin infection | 21 | 0% |
| Gastrointestinal necrosis | 21 | 0% |
| Gene mutation | 21 | 0% |
| Genital swelling | 21 | 0% |
| Haemorrhoids thrombosed | 21 | 0% |
| Helicobacter test negative | 21 | 0% |
| Hemianopia homonymous | 21 | 0% |
| Hypertensive heart disease | 21 | 0% |
| Hypoventilation | 21 | 0% |
| Immature granulocyte percentage increased | 21 | 0% |
| Impetigo | 21 | 0% |
| Intervertebral disc disorder | 21 | 0% |
| Ischaemic hepatitis | 21 | 0% |
| Larynx irritation | 21 | 0% |
| Measles | 21 | 0% |
| Monocyte percentage decreased | 21 | 0% |
| Mucosal inflammation | 21 | 0% |
| Nephropathy | 21 | 0% |
| Pelvic fracture | 21 | 0% |
| Plasma cell myeloma | 21 | 0% |
| Pulmonary function test normal | 21 | 0% |
| Rectal examination | 21 | 0% |
| Renal colic | 21 | 0% |
| Skin atrophy | 21 | 0% |
| Skull fracture | 21 | 0% |
| Speech disorder developmental | 21 | 0% |
| Stiff tongue | 21 | 0% |
| Tracheostomy | 21 | 0% |
| Vena cava filter insertion | 21 | 0% |
| Vestibular function test | 21 | 0% |
| Visual brightness | 21 | 0% |
| X-ray of pelvis and hip abnormal | 21 | 0% |
| Abdominal mass | 20 | 0% |
| Albumin globulin ratio decreased | 20 | 0% |
| Anaesthesia oral | 20 | 0% |
| Anti-cyclic citrullinated peptide antibody positive | 20 | 0% |
| Aortic dilatation | 20 | 0% |
| Application site pain | 20 | 0% |
| Arteriospasm coronary | 20 | 0% |
| Bipolar disorder | 20 | 0% |
| Bladder dysfunction | 20 | 0% |
| Bleeding time prolonged | 20 | 0% |
| Blood methaemoglobin | 20 | 0% |
| Carboxyhaemoglobin | 20 | 0% |
| Cognitive test | 20 | 0% |
| Complication associated with device | 20 | 0% |
| Device malfunction | 20 | 0% |
| Drug screen positive | 20 | 0% |
| Dyspraxia | 20 | 0% |
| Ear, nose and throat examination abnormal | 20 | 0% |
| Ear, nose and throat examination normal | 20 | 0% |
| Embolism arterial | 20 | 0% |
| Endoscopy abnormal | 20 | 0% |
| Exostosis | 20 | 0% |
| Extubation | 20 | 0% |
| Gastrointestinal wall thickening | 20 | 0% |
| Haematoma muscle | 20 | 0% |
| Haemorrhagic transformation stroke | 20 | 0% |
| Hand dermatitis | 20 | 0% |
| Hepatic cyst | 20 | 0% |
| Immunisation reaction | 20 | 0% |
| Implantable cardiac monitor insertion | 20 | 0% |
| Influenza virus test positive | 20 | 0% |
| Lymphadenectomy | 20 | 0% |
| Lymph gland infection | 20 | 0% |
| Mean arterial pressure | 20 | 0% |
| Nasal cavity packing | 20 | 0% |
| Neisseria test | 20 | 0% |
| Nocturia | 20 | 0% |
| Numb chin syndrome | 20 | 0% |
| Ocular icterus | 20 | 0% |
| Oral contusion | 20 | 0% |
| Oral mucosal exfoliation | 20 | 0% |
| Phonophobia | 20 | 0% |
| Prenatal screening test | 20 | 0% |
| Progesterone | 20 | 0% |
| Protein S normal | 20 | 0% |
| Repetitive speech | 20 | 0% |
| Respiratory fatigue | 20 | 0% |
| Skin indentation | 20 | 0% |
| Skin necrosis | 20 | 0% |
| Skin test positive | 20 | 0% |
| Staphylococcal bacteraemia | 20 | 0% |
| Thyroiditis acute | 20 | 0% |
| Ultrasound breast abnormal | 20 | 0% |
| Ultrasound thyroid abnormal | 20 | 0% |
| Vertebral artery dissection | 20 | 0% |
| Vitamin B1 | 20 | 0% |
| Vocal cord disorder | 20 | 0% |
| White blood cell count abnormal | 20 | 0% |
| Acute abdomen | 19 | 0% |
| Acute febrile neutrophilic dermatosis | 19 | 0% |
| Akathisia | 19 | 0% |
| Allergy to chemicals | 19 | 0% |
| Anaphylaxis prophylaxis | 19 | 0% |
| Aneurysm ruptured | 19 | 0% |
| Anovulatory cycle | 19 | 0% |
| Aspiration joint | 19 | 0% |
| Atrial enlargement | 19 | 0% |
| Bladder discomfort | 19 | 0% |
| Bladder spasm | 19 | 0% |
| Blood fibrinogen normal | 19 | 0% |
| Blood grouping | 19 | 0% |
| Blood pressure orthostatic | 19 | 0% |
| Breast cancer female | 19 | 0% |
| Carbohydrate antigen 125 | 19 | 0% |
| Cardiac operation | 19 | 0% |
| Cardiovascular symptom | 19 | 0% |
| Cerumen removal | 19 | 0% |
| Claustrophobia | 19 | 0% |
| Cor pulmonale acute | 19 | 0% |
| Critical illness | 19 | 0% |
| Cytomegalovirus test positive | 19 | 0% |
| Dyslipidaemia | 19 | 0% |
| Eczema nummular | 19 | 0% |
| Face and mouth X-ray | 19 | 0% |
| Femoral neck fracture | 19 | 0% |
| Flat affect | 19 | 0% |
| Fluid balance assessment | 19 | 0% |
| Gastrointestinal oedema | 19 | 0% |
| Gastrointestinal pathogen panel | 19 | 0% |
| General physical condition | 19 | 0% |
| Hepatic lesion | 19 | 0% |
| Hepatitis B surface antigen negative | 19 | 0% |
| Herpes zoster cutaneous disseminated | 19 | 0% |
| Histamine level | 19 | 0% |
| Labile blood pressure | 19 | 0% |
| Laryngeal pain | 19 | 0% |
| Mean platelet volume decreased | 19 | 0% |
| Meningioma | 19 | 0% |
| Micturition disorder | 19 | 0% |
| Neuromyopathy | 19 | 0% |
| Orbital oedema | 19 | 0% |
| Organising pneumonia | 19 | 0% |
| Orthostatic intolerance | 19 | 0% |
| Peripheral paralysis | 19 | 0% |
| Phantom limb syndrome | 19 | 0% |
| Pharyngeal mass | 19 | 0% |
| Physical breast examination | 19 | 0% |
| Physical examination abnormal | 19 | 0% |
| Poisoning | 19 | 0% |
| Polycystic ovaries | 19 | 0% |
| Pulmonary function test abnormal | 19 | 0% |
| Respiratory alkalosis | 19 | 0% |
| Sigmoidoscopy | 19 | 0% |
| Smear cervix normal | 19 | 0% |
| Somatic symptom disorder | 19 | 0% |
| Spinal fracture | 19 | 0% |
| Staphylococcal sepsis | 19 | 0% |
| Submaxillary gland enlargement | 19 | 0% |
| Tachycardia paroxysmal | 19 | 0% |
| Thermometry | 19 | 0% |
| Thyroid stimulating immunoglobulin | 19 | 0% |
| Total lung capacity decreased | 19 | 0% |
| Toxic encephalopathy | 19 | 0% |
| Ulcerative keratitis | 19 | 0% |
| Urine protein/creatinine ratio | 19 | 0% |
| Vertebral foraminal stenosis | 19 | 0% |
| West Nile virus test negative | 19 | 0% |
| Wrist fracture | 19 | 0% |
| Acne cystic | 18 | 0% |
| Acute stress disorder | 18 | 0% |
| Antibody test abnormal | 18 | 0% |
| Anti factor VIII antibody test | 18 | 0% |
| Brachial plexopathy | 18 | 0% |
| Brain neoplasm | 18 | 0% |
| Brain stem syndrome | 18 | 0% |
| Breast induration | 18 | 0% |
| Cardiac valve disease | 18 | 0% |
| Carotid artery dissection | 18 | 0% |
| Cerebral palsy | 18 | 0% |
| Chronic respiratory failure | 18 | 0% |
| Clostridium test positive | 18 | 0% |
| Coagulation factor VIII level | 18 | 0% |
| Conjunctival oedema | 18 | 0% |
| CSF red blood cell count | 18 | 0% |
| Depressive symptom | 18 | 0% |
| Drug-induced liver injury | 18 | 0% |
| Ectopic pregnancy | 18 | 0% |
| Ehrlichia test | 18 | 0% |
| Electronystagmogram | 18 | 0% |
| Encephalitis autoimmune | 18 | 0% |
| Endoscopy gastrointestinal | 18 | 0% |
| Eustachian tube disorder | 18 | 0% |
| Eye infarction | 18 | 0% |
| Gallbladder enlargement | 18 | 0% |
| Hepatocellular injury | 18 | 0% |
| Herpes simplex test positive | 18 | 0% |
| Human chorionic gonadotropin positive | 18 | 0% |
| Hypertonic bladder | 18 | 0% |
| Immunosuppression | 18 | 0% |
| Influenza A virus test positive | 18 | 0% |
| Injection site ulcer | 18 | 0% |
| Insulin resistance | 18 | 0% |
| Iron binding capacity total normal | 18 | 0% |
| Leukoencephalopathy | 18 | 0% |
| Magnetic resonance imaging thoracic normal | 18 | 0% |
| Meningism | 18 | 0% |
| Metrorrhagia | 18 | 0% |
| Microcytic anaemia | 18 | 0% |
| Multisystem inflammatory syndrome in children | 18 | 0% |
| Orthopaedic examination | 18 | 0% |
| Orthostatic hypertension | 18 | 0% |
| Osteitis | 18 | 0% |
| Peripheral vein occlusion | 18 | 0% |
| Peritonsillar abscess | 18 | 0% |
| Polycythaemia | 18 | 0% |
| Positron emission tomogram abnormal | 18 | 0% |
| Posturing | 18 | 0% |
| Product quality issue | 18 | 0% |
| Prostate cancer | 18 | 0% |
| Pulmonary arterial hypertension | 18 | 0% |
| Pulmonary granuloma | 18 | 0% |
| Quadriplegia | 18 | 0% |
| Radial pulse abnormal | 18 | 0% |
| SARS-CoV-2 test false positive | 18 | 0% |
| Sinonasal obstruction | 18 | 0% |
| Skin wound | 18 | 0% |
| Slit-lamp examination | 18 | 0% |
| Sputum purulent | 18 | 0% |
| Stress echocardiogram normal | 18 | 0% |
| Tardive dyskinesia | 18 | 0% |
| Tongue injury | 18 | 0% |
| Tonsillar erythema | 18 | 0% |
| Urinary bladder haemorrhage | 18 | 0% |
| Urine flow decreased | 18 | 0% |
| Vaccination site extravasation | 18 | 0% |
| Viral load | 18 | 0% |
| Viral myocarditis | 18 | 0% |
| Viral test positive | 18 | 0% |
| Viral titre | 18 | 0% |
| Water pollution | 18 | 0% |
| Wound secretion | 18 | 0% |
| Adjusted calcium | 17 | 0% |
| Adrenal disorder | 17 | 0% |
| Albumin urine | 17 | 0% |
| Alcohol intolerance | 17 | 0% |
| Alpha 1 foetoprotein | 17 | 0% |
| Analgesic drug level | 17 | 0% |
| Angiogram retina | 17 | 0% |
| Apnoeic attack | 17 | 0% |
| Basal ganglia haemorrhage | 17 | 0% |
| Behcet's syndrome | 17 | 0% |
| Beta-2 glycoprotein antibody negative | 17 | 0% |
| Biliary dilatation | 17 | 0% |
| Biopsy muscle | 17 | 0% |
| Blood alcohol | 17 | 0% |
| Blood luteinising hormone | 17 | 0% |
| Blood phosphorus increased | 17 | 0% |
| Blood smear test abnormal | 17 | 0% |
| Breast engorgement | 17 | 0% |
| Breast oedema | 17 | 0% |
| Bronchial disorder | 17 | 0% |
| Bronchoscopy abnormal | 17 | 0% |
| Bundle branch block | 17 | 0% |
| Cardiac electrophysiologic study | 17 | 0% |
| Catarrh | 17 | 0% |
| Cerebral artery stenosis | 17 | 0% |
| Chromatopsia | 17 | 0% |
| Computerised tomogram coronary artery normal | 17 | 0% |
| CSF oligoclonal band | 17 | 0% |
| Cystitis interstitial | 17 | 0% |
| Dermatitis psoriasiform | 17 | 0% |
| Dermo-hypodermitis | 17 | 0% |
| Dissociative disorder | 17 | 0% |
| Drowning | 17 | 0% |
| Exercise test | 17 | 0% |
| Galactostasis | 17 | 0% |
| Gene mutation identification test negative | 17 | 0% |
| Generalised anxiety disorder | 17 | 0% |
| Genital discomfort | 17 | 0% |
| Gingival disorder | 17 | 0% |
| Glomerulonephritis | 17 | 0% |
| Glucose tolerance test | 17 | 0% |
| Gram stain negative | 17 | 0% |
| Guttate psoriasis | 17 | 0% |
| Haematology test normal | 17 | 0% |
| Halo vision | 17 | 0% |
| Hand deformity | 17 | 0% |
| Heparin-induced thrombocytopenia | 17 | 0% |
| Herpes zoster meningitis | 17 | 0% |
| Human rhinovirus test positive | 17 | 0% |
| Hyperphagia | 17 | 0% |
| Hypotensive crisis | 17 | 0% |
| Ileus paralytic | 17 | 0% |
| Intellectual disability | 17 | 0% |
| Intentional product misuse | 17 | 0% |
| Ketoacidosis | 17 | 0% |
| Laziness | 17 | 0% |
| Lichen sclerosus | 17 | 0% |
| Ligament pain | 17 | 0% |
| Ligament rupture | 17 | 0% |
| Loss of libido | 17 | 0% |
| Mesenteric artery thrombosis | 17 | 0% |
| Muscle mass | 17 | 0% |
| Myoglobin blood increased | 17 | 0% |
| Negative thoughts | 17 | 0% |
| Oral lichen planus | 17 | 0% |
| Panniculitis | 17 | 0% |
| Patient isolation | 17 | 0% |
| Pericardial fibrosis | 17 | 0% |
| Pharyngeal haemorrhage | 17 | 0% |
| Post procedural complication | 17 | 0% |
| Product dispensing error | 17 | 0% |
| Pulmonary alveolar haemorrhage | 17 | 0% |
| Quadriparesis | 17 | 0% |
| Renal tubular necrosis | 17 | 0% |
| Saliva altered | 17 | 0% |
| Sedative therapy | 17 | 0% |
| Severe acute respiratory syndrome | 17 | 0% |
| Sick relative | 17 | 0% |
| Skin temperature | 17 | 0% |
| Spontaneous haemorrhage | 17 | 0% |
| Stenosis | 17 | 0% |
| Substance use | 17 | 0% |
| Time perception altered | 17 | 0% |
| Tonsillitis bacterial | 17 | 0% |
| Treatment noncompliance | 17 | 0% |
| Tri-iodothyronine decreased | 17 | 0% |
| Tri-iodothyronine increased | 17 | 0% |
| Ultrasound breast normal | 17 | 0% |
| Ultrasound eye | 17 | 0% |
| Ultrasound liver normal | 17 | 0% |
| Urinary casts | 17 | 0% |
| Urinary system X-ray | 17 | 0% |
| Vascular imaging | 17 | 0% |
| Venous oxygen saturation | 17 | 0% |
| Viral pharyngitis | 17 | 0% |
| Vulval haemorrhage | 17 | 0% |
| Withdrawal syndrome | 17 | 0% |
| Abortion | 16 | 0% |
| Adrenal mass | 16 | 0% |
| Akinesia | 16 | 0% |
| Aldolase | 16 | 0% |
| Allergy to arthropod sting | 16 | 0% |
| Ammonia normal | 16 | 0% |
| Anaemia macrocytic | 16 | 0% |
| Anisocytosis | 16 | 0% |
| Anorectal discomfort | 16 | 0% |
| Anti-neutrophil cytoplasmic antibody positive vasculitis | 16 | 0% |
| Antiphospholipid antibodies positive | 16 | 0% |
| Aortic valve stenosis | 16 | 0% |
| Aplastic anaemia | 16 | 0% |
| Arthritis bacterial | 16 | 0% |
| Bacterial vaginosis | 16 | 0% |
| Barre test | 16 | 0% |
| Benign prostatic hyperplasia | 16 | 0% |
| Beta 2 microglobulin | 16 | 0% |
| Blood ethanol | 16 | 0% |
| Blood gases normal | 16 | 0% |
| Blood immunoglobulin G decreased | 16 | 0% |
| Blood iron increased | 16 | 0% |
| Blood pressure inadequately controlled | 16 | 0% |
| Canalith repositioning procedure | 16 | 0% |
| Cardiac telemetry abnormal | 16 | 0% |
| Cerebral congestion | 16 | 0% |
| Chalazion | 16 | 0% |
| Chest crushing | 16 | 0% |
| Cholecystitis infective | 16 | 0% |
| Chondrocalcinosis pyrophosphate | 16 | 0% |
| Chorea | 16 | 0% |
| Circumoral oedema | 16 | 0% |
| Coagulation factor V level | 16 | 0% |
| Cold-stimulus headache | 16 | 0% |
| Complement factor normal | 16 | 0% |
| Cortisol normal | 16 | 0% |
| Double stranded DNA antibody positive | 16 | 0% |
| Drain placement | 16 | 0% |
| Dupuytren's contracture | 16 | 0% |
| Electrocardiogram ST segment | 16 | 0% |
| Endoscopic retrograde cholangiopancreatography | 16 | 0% |
| Essential tremor | 16 | 0% |
| Faeces hard | 16 | 0% |
| Finger deformity | 16 | 0% |
| Gangrene | 16 | 0% |
| Gastric emptying study | 16 | 0% |
| Granuloma | 16 | 0% |
| Haematospermia | 16 | 0% |
| Haemoperitoneum | 16 | 0% |
| Haemorrhoidal haemorrhage | 16 | 0% |
| Hemidysaesthesia | 16 | 0% |
| Hepatic encephalopathy | 16 | 0% |
| Hernia | 16 | 0% |
| Hyperchlorhydria | 16 | 0% |
| Increased insulin requirement | 16 | 0% |
| Injection site macule | 16 | 0% |
| Intentional self-injury | 16 | 0% |
| Intracranial mass | 16 | 0% |
| Intranasal hypoaesthesia | 16 | 0% |
| Klebsiella infection | 16 | 0% |
| Large intestine perforation | 16 | 0% |
| Left atrial dilatation | 16 | 0% |
| Loss of proprioception | 16 | 0% |
| Macroglossia | 16 | 0% |
| Madarosis | 16 | 0% |
| Magnetic resonance imaging abdominal abnormal | 16 | 0% |
| Meniscus injury | 16 | 0% |
| Menstruation normal | 16 | 0% |
| Metastases to lymph nodes | 16 | 0% |
| Migraine without aura | 16 | 0% |
| Mucosal haemorrhage | 16 | 0% |
| Myocardial fibrosis | 16 | 0% |
| Osteoporosis | 16 | 0% |
| Palatal disorder | 16 | 0% |
| Phobia | 16 | 0% |
| Physical disability | 16 | 0% |
| Platelet count abnormal | 16 | 0% |
| Posterior reversible encephalopathy syndrome | 16 | 0% |
| Purulent discharge | 16 | 0% |
| Red blood cell sedimentation rate decreased | 16 | 0% |
| Retinal disorder | 16 | 0% |
| Retinal vascular occlusion | 16 | 0% |
| Scar pain | 16 | 0% |
| Scoliosis | 16 | 0% |
| Sensory level abnormal | 16 | 0% |
| Sinus arrest | 16 | 0% |
| Skin oedema | 16 | 0% |
| Staphylococcus test positive | 16 | 0% |
| Swallow study | 16 | 0% |
| Systemic lupus erythematosus rash | 16 | 0% |
| Terminal state | 16 | 0% |
| Ultrasound bladder | 16 | 0% |
| Urobilinogen urine increased | 16 | 0% |
| Vaccination site abscess | 16 | 0% |
| Vaccination site scar | 16 | 0% |
| Vasospasm | 16 | 0% |
| Vitamin B6 | 16 | 0% |
| Vulval disorder | 16 | 0% |
| Whole body scan | 16 | 0% |
| Abdominal infection | 15 | 0% |
| Abnormal sleep-related event | 15 | 0% |
| Abortion threatened | 15 | 0% |
| Acarodermatitis | 15 | 0% |
| Acute vestibular syndrome | 15 | 0% |
| Alcohol use | 15 | 0% |
| Allergic oedema | 15 | 0% |
| Aspiration bone marrow | 15 | 0% |
| Band sensation | 15 | 0% |
| Bladder scan | 15 | 0% |
| Bone contusion | 15 | 0% |
| Burn oral cavity | 15 | 0% |
| Burns second degree | 15 | 0% |
| Cardiac imaging procedure normal | 15 | 0% |
| Cardiac output | 15 | 0% |
| Childhood asthma | 15 | 0% |
| Chronic sinusitis | 15 | 0% |
| Circadian rhythm sleep disorder | 15 | 0% |
| Clavicle fracture | 15 | 0% |
| Colectomy | 15 | 0% |
| Cranial nerve paralysis | 15 | 0% |
| Dental paraesthesia | 15 | 0% |
| Dependence on respirator | 15 | 0% |
| Dyspnoea paroxysmal nocturnal | 15 | 0% |
| Electric shock | 15 | 0% |
| Exposure to communicable disease | 15 | 0% |
| Fluorescence angiogram | 15 | 0% |
| Genital lesion | 15 | 0% |
| Gram stain positive | 15 | 0% |
| Haemoglobin distribution width | 15 | 0% |
| Heat stroke | 15 | 0% |
| Heparin-induced thrombocytopenia test positive | 15 | 0% |
| Hepatic mass | 15 | 0% |
| Hepatitis E virus test | 15 | 0% |
| HIV antigen negative | 15 | 0% |
| Humerus fracture | 15 | 0% |
| Hypertensive encephalopathy | 15 | 0% |
| Hypovitaminosis | 15 | 0% |
| Hypoxic-ischaemic encephalopathy | 15 | 0% |
| Hysterectomy | 15 | 0% |
| Immune complex assay | 15 | 0% |
| Immunology test normal | 15 | 0% |
| Inappropriate antidiuretic hormone secretion | 15 | 0% |
| Incorrect product administration duration | 15 | 0% |
| Infrequent bowel movements | 15 | 0% |
| Inguinal hernia | 15 | 0% |
| Injection site coldness | 15 | 0% |
| Intestinal perforation | 15 | 0% |
| Ischaemic cardiomyopathy | 15 | 0% |
| Jaw clicking | 15 | 0% |
| Left ventricular dilatation | 15 | 0% |
| Light chain analysis | 15 | 0% |
| Live birth | 15 | 0% |
| Lividity | 15 | 0% |
| Lumbar radiculopathy | 15 | 0% |
| Mononucleosis heterophile test positive | 15 | 0% |
| Occult blood negative | 15 | 0% |
| Oedema mucosal | 15 | 0% |
| Oesophageal disorder | 15 | 0% |
| Opisthotonus | 15 | 0% |
| Oral contraception | 15 | 0% |
| Orbital swelling | 15 | 0% |
| Orchitis | 15 | 0% |
| Oropharyngeal swelling | 15 | 0% |
| Osteopenia | 15 | 0% |
| Ovarian cyst ruptured | 15 | 0% |
| Pancreatic carcinoma | 15 | 0% |
| Pancreatitis necrotising | 15 | 0% |
| Parasite stool test negative | 15 | 0% |
| Patient elopement | 15 | 0% |
| Pneumothorax spontaneous | 15 | 0% |
| Polymyositis | 15 | 0% |
| Polyp | 15 | 0% |
| Product container issue | 15 | 0% |
| Pulmonary imaging procedure | 15 | 0% |
| Radial pulse | 15 | 0% |
| Reflexes abnormal | 15 | 0% |
| Reflux gastritis | 15 | 0% |
| Retinal artery thrombosis | 15 | 0% |
| Scintillating scotoma | 15 | 0% |
| Sinus node dysfunction | 15 | 0% |
| Speech sound disorder | 15 | 0% |
| Sputum test | 15 | 0% |
| Squamous cell carcinoma | 15 | 0% |
| Staphylococcus test | 15 | 0% |
| Systolic hypertension | 15 | 0% |
| Tooth loss | 15 | 0% |
| Transient aphasia | 15 | 0% |
| Tri-iodothyronine free normal | 15 | 0% |
| Tympanic membrane perforation | 15 | 0% |
| Urinary tract discomfort | 15 | 0% |
| Weight fluctuation | 15 | 0% |
| X-ray dental normal | 15 | 0% |
| Acute generalised exanthematous pustulosis | 14 | 0% |
| Adrenal insufficiency | 14 | 0% |
| Allergic cough | 14 | 0% |
| Antiplatelet therapy | 14 | 0% |
| Application site erythema | 14 | 0% |
| Arterial stenosis | 14 | 0% |
| Atrial thrombosis | 14 | 0% |
| Axillary lymphadenectomy | 14 | 0% |
| B-cell lymphoma | 14 | 0% |
| Bacille Calmette-Guerin scar reactivation | 14 | 0% |
| Basophil count increased | 14 | 0% |
| Basophil percentage increased | 14 | 0% |
| Bile duct stone | 14 | 0% |
| Brain contusion | 14 | 0% |
| Breast disorder female | 14 | 0% |
| Burning mouth syndrome | 14 | 0% |
| Chronic spontaneous urticaria | 14 | 0% |
| Coating in mouth | 14 | 0% |
| Complicated appendicitis | 14 | 0% |
| Compression fracture | 14 | 0% |
| Computerised tomogram aorta | 14 | 0% |
| Connective tissue disorder | 14 | 0% |
| Continuous glucose monitoring | 14 | 0% |
| Contraindicated product administered | 14 | 0% |
| Defaecation disorder | 14 | 0% |
| Depression suicidal | 14 | 0% |
| Emergency care | 14 | 0% |
| Endocrine ophthalmopathy | 14 | 0% |
| Enthesopathy | 14 | 0% |
| Extensor plantar response | 14 | 0% |
| Extrapyramidal disorder | 14 | 0% |
| First trimester pregnancy | 14 | 0% |
| Folate deficiency | 14 | 0% |
| Gastrointestinal infection | 14 | 0% |
| Genital blister | 14 | 0% |
| Granulomatosis with polyangiitis | 14 | 0% |
| Haemoglobin abnormal | 14 | 0% |
| Haemoglobin urine | 14 | 0% |
| Haemorrhagic cerebral infarction | 14 | 0% |
| Hand-eye coordination impaired | 14 | 0% |
| Hand fracture | 14 | 0% |
| Haptoglobin decreased | 14 | 0% |
| Heat illness | 14 | 0% |
| Heat therapy | 14 | 0% |
| Helicobacter infection | 14 | 0% |
| Hepatic vein thrombosis | 14 | 0% |
| HLA-B*27 assay | 14 | 0% |
| Homans' sign | 14 | 0% |
| Hypertrophic cardiomyopathy | 14 | 0% |
| Immunoglobulins normal | 14 | 0% |
| Immunophenotyping | 14 | 0% |
| International normalised ratio abnormal | 14 | 0% |
| Laparoscopy | 14 | 0% |
| Laryngeal obstruction | 14 | 0% |
| Lipids increased | 14 | 0% |
| Liver abscess | 14 | 0% |
| Loss of bladder sensation | 14 | 0% |
| Multiple use of single-use product | 14 | 0% |
| Myasthenia gravis crisis | 14 | 0% |
| Nephritis | 14 | 0% |
| Neurologic neglect syndrome | 14 | 0% |
| Nodal rhythm | 14 | 0% |
| Oesophagogastroduodenoscopy normal | 14 | 0% |
| Ophthalmic scan | 14 | 0% |
| Oral fungal infection | 14 | 0% |
| Out of specification product use | 14 | 0% |
| Pancreatic disorder | 14 | 0% |
| Parasite blood test | 14 | 0% |
| Parasite stool test | 14 | 0% |
| Pityriasis | 14 | 0% |
| PO2 increased | 14 | 0% |
| Positron emission tomogram normal | 14 | 0% |
| Postpartum haemorrhage | 14 | 0% |
| Product leakage | 14 | 0% |
| Psychiatric evaluation | 14 | 0% |
| Pupillary light reflex tests abnormal | 14 | 0% |
| Red blood cell scan | 14 | 0% |
| Renal injury | 14 | 0% |
| Retinogram | 14 | 0% |
| Right ventricular enlargement | 14 | 0% |
| SARS-CoV-2 RNA undetectable | 14 | 0% |
| Scan thyroid gland | 14 | 0% |
| Scrotal swelling | 14 | 0% |
| Skin depigmentation | 14 | 0% |
| Small intestinal haemorrhage | 14 | 0% |
| Spider vein | 14 | 0% |
| Splenic rupture | 14 | 0% |
| Sputum abnormal | 14 | 0% |
| Symptom recurrence | 14 | 0% |
| Telangiectasia | 14 | 0% |
| Thrombotic microangiopathy | 14 | 0% |
| Thyroxine increased | 14 | 0% |
| Tobacco user | 14 | 0% |
| Tongue haemorrhage | 14 | 0% |
| Tongue spasm | 14 | 0% |
| Tuberculosis | 14 | 0% |
| Ulcer haemorrhage | 14 | 0% |
| Ultrasound scan vagina abnormal | 14 | 0% |
| Ultrasound thyroid normal | 14 | 0% |
| Urine cytology | 14 | 0% |
| Vaccination site scab | 14 | 0% |
| Vascular headache | 14 | 0% |
| Ventricular dysfunction | 14 | 0% |
| Vertebral artery stenosis | 14 | 0% |
| Visceral pain | 14 | 0% |
| Vocal cord dysfunction | 14 | 0% |
| Volvulus | 14 | 0% |
| Wound infection | 14 | 0% |
| Wrong technique in device usage process | 14 | 0% |
| Abdomen scan normal | 13 | 0% |
| Abdominal symptom | 13 | 0% |
| Abnormal weight gain | 13 | 0% |
| Allergic reaction to excipient | 13 | 0% |
| Amblyopia | 13 | 0% |
| Ammonia increased | 13 | 0% |
| Amyotrophic lateral sclerosis | 13 | 0% |
| Anal pruritus | 13 | 0% |
| Anti-muscle specific kinase antibody | 13 | 0% |
| Antimitochondrial antibody | 13 | 0% |
| Artery dissection | 13 | 0% |
| AST/ALT ratio | 13 | 0% |
| Auricular swelling | 13 | 0% |
| Bite | 13 | 0% |
| Blood folate decreased | 13 | 0% |
| Blood follicle stimulating hormone increased | 13 | 0% |
| Blood prolactin increased | 13 | 0% |
| Borrelia test positive | 13 | 0% |
| Bronchial secretion retention | 13 | 0% |
| Bronchostenosis | 13 | 0% |
| Carbohydrate antigen 15-3 | 13 | 0% |
| Cataplexy | 13 | 0% |
| Cell death | 13 | 0% |
| Central nervous system inflammation | 13 | 0% |
| Cerebellar syndrome | 13 | 0% |
| Coagulation test abnormal | 13 | 0% |
| Complement factor C4 decreased | 13 | 0% |
| Complication of pregnancy | 13 | 0% |
| Concomitant disease progression | 13 | 0% |
| Conjunctivitis allergic | 13 | 0% |
| Corrective lens user | 13 | 0% |
| COVID-19 screening | 13 | 0% |
| Cryoglobulins | 13 | 0% |
| CSF oligoclonal band absent | 13 | 0% |
| Cubital tunnel syndrome | 13 | 0% |
| Cystitis haemorrhagic | 13 | 0% |
| Dermatochalasis | 13 | 0% |
| Diabetic metabolic decompensation | 13 | 0% |
| Diaphragmatic spasm | 13 | 0% |
| Dysmetria | 13 | 0% |
| Ear injury | 13 | 0% |
| Ehlers-Danlos syndrome | 13 | 0% |
| Ejection fraction abnormal | 13 | 0% |
| Electrocardiogram PR interval | 13 | 0% |
| Erythromelalgia | 13 | 0% |
| Escherichia test | 13 | 0% |
| External ear inflammation | 13 | 0% |
| Forced expiratory volume | 13 | 0% |
| Gingival pruritus | 13 | 0% |
| Glucose urine present | 13 | 0% |
| Haemangioma | 13 | 0% |
| Haemangioma of skin | 13 | 0% |
| Hair disorder | 13 | 0% |
| Hair texture abnormal | 13 | 0% |
| Helplessness | 13 | 0% |
| Hepatitis B antibody | 13 | 0% |
| High density lipoprotein increased | 13 | 0% |
| Hospice care | 13 | 0% |
| Hyperdynamic left ventricle | 13 | 0% |
| Hypertransaminasaemia | 13 | 0% |
| Hypoaesthesia teeth | 13 | 0% |
| Hypogammaglobulinaemia | 13 | 0% |
| Illiteracy | 13 | 0% |
| Interleukin level increased | 13 | 0% |
| Intervertebral disc space narrowing | 13 | 0% |
| Intra-abdominal fluid collection | 13 | 0% |
| Intrusive thoughts | 13 | 0% |
| Knee arthroplasty | 13 | 0% |
| Leukocyturia | 13 | 0% |
| Lipoprotein (a) | 13 | 0% |
| Lymphocyte morphology abnormal | 13 | 0% |
| Malignant hypertension | 13 | 0% |
| Medical diet | 13 | 0% |
| Medical induction of coma | 13 | 0% |
| Metabolic disorder | 13 | 0% |
| Multipathogen PCR test | 13 | 0% |
| Nasal herpes | 13 | 0% |
| Nerve block | 13 | 0% |
| Neurological decompensation | 13 | 0% |
| Oropharyngeal oedema | 13 | 0% |
| Ovulation delayed | 13 | 0% |
| Oxygenation index | 13 | 0% |
| Pancreatic enzymes increased | 13 | 0% |
| Pelvic haemorrhage | 13 | 0% |
| Perfusion brain scan normal | 13 | 0% |
| Pericardial excision | 13 | 0% |
| Pericardial haemorrhage | 13 | 0% |
| Periorbital haematoma | 13 | 0% |
| Placental disorder | 13 | 0% |
| Polypectomy | 13 | 0% |
| Post procedural haemorrhage | 13 | 0% |
| Prealbumin | 13 | 0% |
| Preterm premature rupture of membranes | 13 | 0% |
| Prurigo | 13 | 0% |
| Pulmonary function test decreased | 13 | 0% |
| Pulpitis dental | 13 | 0% |
| Pupillary light reflex tests | 13 | 0% |
| Putamen haemorrhage | 13 | 0% |
| Pyelonephritis acute | 13 | 0% |
| Rectal tenesmus | 13 | 0% |
| Refusal of vaccination | 13 | 0% |
| Renal haemorrhage | 13 | 0% |
| Respirovirus test | 13 | 0% |
| Rhinovirus infection | 13 | 0% |
| Schizophrenia | 13 | 0% |
| Seborrhoea | 13 | 0% |
| Sensitivity to weather change | 13 | 0% |
| Skin striae | 13 | 0% |
| Spinal cord infarction | 13 | 0% |
| Spleen disorder | 13 | 0% |
| Superficial vein prominence | 13 | 0% |
| Thyroxine free decreased | 13 | 0% |
| Tracheal stenosis | 13 | 0% |
| Transferrin saturation decreased | 13 | 0% |
| Tubulointerstitial nephritis | 13 | 0% |
| Ultrasound kidney abnormal | 13 | 0% |
| Upper motor neurone lesion | 13 | 0% |
| Urinary tract pain | 13 | 0% |
| Urine sodium | 13 | 0% |
| Urticarial vasculitis | 13 | 0% |
| Urticaria papular | 13 | 0% |
| Varicophlebitis | 13 | 0% |
| Vulvovaginal dryness | 13 | 0% |
| Wall motion score index abnormal | 13 | 0% |
| White coat hypertension | 13 | 0% |
| Acute leukaemia | 12 | 0% |
| Acute polyneuropathy | 12 | 0% |
| Acute psychosis | 12 | 0% |
| Angle closure glaucoma | 12 | 0% |
| Aortic valve replacement | 12 | 0% |
| Apallic syndrome | 12 | 0% |
| Apparent life threatening event | 12 | 0% |
| Appendix disorder | 12 | 0% |
| Atrophy | 12 | 0% |
| Bartonella test negative | 12 | 0% |
| Basilar artery occlusion | 12 | 0% |
| Bicytopenia | 12 | 0% |
| Blood copper | 12 | 0% |
| Blood electrolytes decreased | 12 | 0% |
| Blood immunoglobulin A normal | 12 | 0% |
| Blood immunoglobulin E increased | 12 | 0% |
| Blood osmolarity increased | 12 | 0% |
| Blood prolactin normal | 12 | 0% |
| Bronchiolitis | 12 | 0% |
| Capillary nail refill test abnormal | 12 | 0% |
| Carbon dioxide abnormal | 12 | 0% |
| Cerumen impaction | 12 | 0% |
| Clostridium test negative | 12 | 0% |
| Coagulation time prolonged | 12 | 0% |
| Computerised tomogram kidney | 12 | 0% |
| Corneal abrasion | 12 | 0% |
| Corneal graft rejection | 12 | 0% |
| Cor pulmonale | 12 | 0% |
| Creatinine renal clearance decreased | 12 | 0% |
| CSF white blood cell count negative | 12 | 0% |
| Culture wound | 12 | 0% |
| Cytokine test | 12 | 0% |
| Dental caries | 12 | 0% |
| Diverticulum intestinal haemorrhagic | 12 | 0% |
| Dyslexia | 12 | 0% |
| Electrophoresis protein normal | 12 | 0% |
| Endometrial thickening | 12 | 0% |
| Epstein-Barr virus antigen positive | 12 | 0% |
| Erection increased | 12 | 0% |
| Escherichia sepsis | 12 | 0% |
| Explorative laparotomy | 12 | 0% |
| Eyelid skin dryness | 12 | 0% |
| Faecal calprotectin increased | 12 | 0% |
| Feeding tube user | 12 | 0% |
| Feeling of relaxation | 12 | 0% |
| Fibrin | 12 | 0% |
| Fibrosis | 12 | 0% |
| Foetal monitoring | 12 | 0% |
| Free thyroxine index | 12 | 0% |
| Fundus autofluorescence | 12 | 0% |
| Galactorrhoea | 12 | 0% |
| Gastrointestinal hypermotility | 12 | 0% |
| Gestational hypertension | 12 | 0% |
| Hepatitis A | 12 | 0% |
| Hepatitis A antibody | 12 | 0% |
| Hepatitis B core antibody | 12 | 0% |
| Hepatitis cholestatic | 12 | 0% |
| HIV test false positive | 12 | 0% |
| Horner's syndrome | 12 | 0% |
| Human herpes virus 6 serology | 12 | 0% |
| Hypoperfusion | 12 | 0% |
| Idiopathic pulmonary fibrosis | 12 | 0% |
| Incorrect dose administered by device | 12 | 0% |
| Inspiratory capacity decreased | 12 | 0% |
| Insulin therapy | 12 | 0% |
| Lactose intolerance | 12 | 0% |
| Lichenoid keratosis | 12 | 0% |
| Mean cell haemoglobin concentration increased | 12 | 0% |
| Melanocytic naevus | 12 | 0% |
| Meningitis bacterial | 12 | 0% |
| Metamyelocyte count | 12 | 0% |
| Microembolism | 12 | 0% |
| Mononeuropathy | 12 | 0% |
| Multiple fractures | 12 | 0% |
| Mumps | 12 | 0% |
| Mycobacterium test negative | 12 | 0% |
| Nasoendoscopy | 12 | 0% |
| Neoplasm skin | 12 | 0% |
| Neuromuscular pain | 12 | 0% |
| Neutrophil count abnormal | 12 | 0% |
| Nipple swelling | 12 | 0% |
| Ocular hypertension | 12 | 0% |
| Optic neuropathy | 12 | 0% |
| Orthosis user | 12 | 0% |
| Ovulation disorder | 12 | 0% |
| Oxygen saturation increased | 12 | 0% |
| Paranasal sinus hyposecretion | 12 | 0% |
| Peak expiratory flow rate decreased | 12 | 0% |
| Pelvic discomfort | 12 | 0% |
| Pelvic inflammatory disease | 12 | 0% |
| Periorbital cellulitis | 12 | 0% |
| Portosplenomesenteric venous thrombosis | 12 | 0% |
| Proctitis | 12 | 0% |
| Prohormone brain natriuretic peptide increased | 12 | 0% |
| Pulmonary arterial pressure increased | 12 | 0% |
| Pulmonary artery dilatation | 12 | 0% |
| Pupillary disorder | 12 | 0% |
| Radicular pain | 12 | 0% |
| Red blood cell count abnormal | 12 | 0% |
| Red blood cells urine negative | 12 | 0% |
| Renal mass | 12 | 0% |
| Renal scan | 12 | 0% |
| Resting tremor | 12 | 0% |
| Reticulocyte count increased | 12 | 0% |
| SARS-CoV-1 test positive | 12 | 0% |
| Scalloped tongue | 12 | 0% |
| Serum sickness-like reaction | 12 | 0% |
| Skin bacterial infection | 12 | 0% |
| Spinal cord injury | 12 | 0% |
| Splenectomy | 12 | 0% |
| Splenic thrombosis | 12 | 0% |
| Still's disease | 12 | 0% |
| Subacute inflammatory demyelinating polyneuropathy | 12 | 0% |
| Superinfection | 12 | 0% |
| Suprapubic pain | 12 | 0% |
| Therapy change | 12 | 0% |
| Therapy partial responder | 12 | 0% |
| Thyroglobulin | 12 | 0% |
| Thyroxine decreased | 12 | 0% |
| Toxic epidermal necrolysis | 12 | 0% |
| Ultrasound ovary | 12 | 0% |
| Ureterolithiasis | 12 | 0% |
| Urinary hesitation | 12 | 0% |
| Urinary occult blood positive | 12 | 0% |
| Urinary tract inflammation | 12 | 0% |
| Urine potassium | 12 | 0% |
| Uvulitis | 12 | 0% |
| Vagus nerve disorder | 12 | 0% |
| Vascular occlusion | 12 | 0% |
| Vascular rupture | 12 | 0% |
| Vasogenic cerebral oedema | 12 | 0% |
| Ventricular assist device insertion | 12 | 0% |
| Ventricular drainage | 12 | 0% |
| Vertebral artery occlusion | 12 | 0% |
| Viral upper respiratory tract infection | 12 | 0% |
| Vulvovaginal rash | 12 | 0% |
| Withdrawal of life support | 12 | 0% |
| Abdominal hernia | 11 | 0% |
| Abnormal clotting factor | 11 | 0% |
| Agranulocytosis | 11 | 0% |
| Allergic respiratory symptom | 11 | 0% |
| Amaurosis | 11 | 0% |
| Anti-aquaporin-4 antibody | 11 | 0% |
| Antibiotic therapy | 11 | 0% |
| Antineutrophil cytoplasmic antibody positive | 11 | 0% |
| Arnold-Chiari malformation | 11 | 0% |
| Arterial catheterisation | 11 | 0% |
| Asthma exercise induced | 11 | 0% |
| Autism spectrum disorder | 11 | 0% |
| Bacterial sepsis | 11 | 0% |
| Barium swallow | 11 | 0% |
| Bartonella test | 11 | 0% |
| Beta haemolytic streptococcal infection | 11 | 0% |
| Biopsy bone marrow normal | 11 | 0% |
| Biopsy brain | 11 | 0% |
| Biopsy colon abnormal | 11 | 0% |
| Biopsy skin normal | 11 | 0% |
| Biopsy uterus | 11 | 0% |
| Biopsy uterus normal | 11 | 0% |
| Blood follicle stimulating hormone normal | 11 | 0% |
| Blood immunoglobulin M normal | 11 | 0% |
| Blood osmolarity normal | 11 | 0% |
| Blood thromboplastin | 11 | 0% |
| Blood thyroid stimulating hormone abnormal | 11 | 0% |
| Breast abscess | 11 | 0% |
| Bronchitis chronic | 11 | 0% |
| Bulbar palsy | 11 | 0% |
| Burning sensation mucosal | 11 | 0% |
| Capillary leak syndrome | 11 | 0% |
| Cardiac hypertrophy | 11 | 0% |
| Cardiopulmonary exercise test | 11 | 0% |
| CD4 lymphocytes | 11 | 0% |
| Computerised tomogram intestine | 11 | 0% |
| Corneal opacity | 11 | 0% |
| Coronary angioplasty | 11 | 0% |
| Cortisol decreased | 11 | 0% |
| Cough variant asthma | 11 | 0% |
| CSF oligoclonal band present | 11 | 0% |
| CSF virus no organisms observed | 11 | 0% |
| Culture wound positive | 11 | 0% |
| Cutaneous symptom | 11 | 0% |
| Disturbance in sexual arousal | 11 | 0% |
| Duodenitis | 11 | 0% |
| Eating disorder symptom | 11 | 0% |
| Electrocardiogram QRS complex prolonged | 11 | 0% |
| Endoscopy upper gastrointestinal tract normal | 11 | 0% |
| Exercise electrocardiogram abnormal | 11 | 0% |
| Extraocular muscle disorder | 11 | 0% |
| Eyelid infection | 11 | 0% |
| Facet joint syndrome | 11 | 0% |
| Fear of falling | 11 | 0% |
| Foetal disorder | 11 | 0% |
| Gastritis erosive | 11 | 0% |
| Gastrointestinal tract irritation | 11 | 0% |
| Hepatitis B core antibody negative | 11 | 0% |
| Herpes simplex encephalitis | 11 | 0% |
| HIV infection | 11 | 0% |
| HLA marker study | 11 | 0% |
| Human chorionic gonadotropin normal | 11 | 0% |
| Hypersensitivity pneumonitis | 11 | 0% |
| Hypertriglyceridaemia | 11 | 0% |
| Hypertrophy of tongue papillae | 11 | 0% |
| Infusion related reaction | 11 | 0% |
| Injection site joint swelling | 11 | 0% |
| Injection site nerve damage | 11 | 0% |
| Injection site pallor | 11 | 0% |
| Jaw fracture | 11 | 0% |
| Joint fluid drainage | 11 | 0% |
| Leg amputation | 11 | 0% |
| Listeria test | 11 | 0% |
| Loose tooth | 11 | 0% |
| Lower gastrointestinal haemorrhage | 11 | 0% |
| Lymphatic disorder | 11 | 0% |
| May-Thurner syndrome | 11 | 0% |
| Metastatic neoplasm | 11 | 0% |
| Mixed connective tissue disease | 11 | 0% |
| Muscle haemorrhage | 11 | 0% |
| Mycoplasma test positive | 11 | 0% |
| Nail disorder | 11 | 0% |
| NIH stroke scale score increased | 11 | 0% |
| Nocturnal dyspnoea | 11 | 0% |
| Noninfective sialoadenitis | 11 | 0% |
| Oesophageal achalasia | 11 | 0% |
| Oesophageal discomfort | 11 | 0% |
| Ophthalmic herpes simplex | 11 | 0% |
| Optic nerve injury | 11 | 0% |
| Oxygen consumption decreased | 11 | 0% |
| PCO2 normal | 11 | 0% |
| Penile haemorrhage | 11 | 0% |
| Penile pain | 11 | 0% |
| Penile swelling | 11 | 0% |
| Periorbital haemorrhage | 11 | 0% |
| Peripheral vein thrombus extension | 11 | 0% |
| Persistent postural-perceptual dizziness | 11 | 0% |
| Pharyngeal stenosis | 11 | 0% |
| Plasminogen activator inhibitor | 11 | 0% |
| Polychromasia | 11 | 0% |
| Portal hypertension | 11 | 0% |
| Post concussion syndrome | 11 | 0% |
| Protein albumin ratio | 11 | 0% |
| Pseudomonas infection | 11 | 0% |
| Psychomotor retardation | 11 | 0% |
| Radiotherapy | 11 | 0% |
| Retinal vasculitis | 11 | 0% |
| Reversible cerebral vasoconstriction syndrome | 11 | 0% |
| Right atrial dilatation | 11 | 0% |
| Scrotal pain | 11 | 0% |
| Self-injurious ideation | 11 | 0% |
| Sensory overload | 11 | 0% |
| Social avoidant behaviour | 11 | 0% |
| Splinter haemorrhages | 11 | 0% |
| Status migrainosus | 11 | 0% |
| Superinfection bacterial | 11 | 0% |
| Teething | 11 | 0% |
| Temperature difference of extremities | 11 | 0% |
| Therapeutic product effect decreased | 11 | 0% |
| Thoracic cavity drainage | 11 | 0% |
| Thrombotic cerebral infarction | 11 | 0% |
| Thyroid hormones increased | 11 | 0% |
| Tongue rough | 11 | 0% |
| Tooth extraction | 11 | 0% |
| Toxoplasma serology negative | 11 | 0% |
| Ultrasound antenatal screen normal | 11 | 0% |
| Upper airway obstruction | 11 | 0% |
| Urethral pain | 11 | 0% |
| Urine albumin/creatinine ratio | 11 | 0% |
| Uterine contractions abnormal | 11 | 0% |
| Vaccination site coldness | 11 | 0% |
| Vaccination site necrosis | 11 | 0% |
| Vaccination site papule | 11 | 0% |
| Vaginal lesion | 11 | 0% |
| Wound complication | 11 | 0% |
| Abdominal abscess | 10 | 0% |
| Abdominal wall haematoma | 10 | 0% |
| Abscess neck | 10 | 0% |
| Acute motor-sensory axonal neuropathy | 10 | 0% |
| Adverse food reaction | 10 | 0% |
| Alcohol test | 10 | 0% |
| Amnestic disorder | 10 | 0% |
| Anal sphincter atony | 10 | 0% |
| Anhedonia | 10 | 0% |
| Anterograde amnesia | 10 | 0% |
| Anti-glomerular basement membrane antibody | 10 | 0% |
| Anti-RNA polymerase III antibody | 10 | 0% |
| Arachnoid cyst | 10 | 0% |
| Arthritis infective | 10 | 0% |
| Autoantibody negative | 10 | 0% |
| Bilirubin urine present | 10 | 0% |
| Biopsy lymph gland abnormal | 10 | 0% |
| Bladder dilatation | 10 | 0% |
| Blood corticotrophin | 10 | 0% |
| Blood creatine phosphokinase MB normal | 10 | 0% |
| Blood immunoglobulin M increased | 10 | 0% |
| Blood oestrogen | 10 | 0% |
| Blood parathyroid hormone increased | 10 | 0% |
| Blood testosterone decreased | 10 | 0% |
| Bone marrow disorder | 10 | 0% |
| Brachial plexus injury | 10 | 0% |
| Breast discolouration | 10 | 0% |
| Breast disorder | 10 | 0% |
| Burning feet syndrome | 10 | 0% |
| Calcium ionised normal | 10 | 0% |
| Cardiac pacemaker evaluation | 10 | 0% |
| Cardiospasm | 10 | 0% |
| Cauda equina syndrome | 10 | 0% |
| Chorioretinopathy | 10 | 0% |
| Chronic gastritis | 10 | 0% |
| Colon cancer | 10 | 0% |
| Computerised tomogram liver | 10 | 0% |
| Congenital anomaly | 10 | 0% |
| Contrast media allergy | 10 | 0% |
| Cortisol increased | 10 | 0% |
| Coxsackie virus test negative | 10 | 0% |
| CSF glucose decreased | 10 | 0% |
| CSF immunoglobulin increased | 10 | 0% |
| Cystoscopy normal | 10 | 0% |
| Debridement | 10 | 0% |
| Decreased nasolabial fold | 10 | 0% |
| Deformity | 10 | 0% |
| Delirium febrile | 10 | 0% |
| DNA antibody negative | 10 | 0% |
| Drop attacks | 10 | 0% |
| Drug intolerance | 10 | 0% |
| Echovirus test | 10 | 0% |
| Encephalitis viral | 10 | 0% |
| Enterovirus test positive | 10 | 0% |
| Epiglottic oedema | 10 | 0% |
| Epiglottitis | 10 | 0% |
| Epiploic appendagitis | 10 | 0% |
| Exertional headache | 10 | 0% |
| Extravasation | 10 | 0% |
| Extremity necrosis | 10 | 0% |
| Eye allergy | 10 | 0% |
| Frostbite | 10 | 0% |
| Genital burning sensation | 10 | 0% |
| Gingival discolouration | 10 | 0% |
| Gynaecomastia | 10 | 0% |
| Haemothorax | 10 | 0% |
| Haptoglobin normal | 10 | 0% |
| Head banging | 10 | 0% |
| Hearing aid user | 10 | 0% |
| Heart disease congenital | 10 | 0% |
| Herpes zoster infection neurological | 10 | 0% |
| Herpes zoster meningoencephalitis | 10 | 0% |
| Histamine intolerance | 10 | 0% |
| HIV antigen | 10 | 0% |
| Immunohistochemistry | 10 | 0% |
| Impaired reasoning | 10 | 0% |
| Incorrect dosage administered | 10 | 0% |
| Infantile vomiting | 10 | 0% |
| Inflammation scan | 10 | 0% |
| Injection | 10 | 0% |
| Injection site plaque | 10 | 0% |
| Intestinal infarction | 10 | 0% |
| Intra-aortic balloon placement | 10 | 0% |
| In vitro fertilisation | 10 | 0% |
| LDL/HDL ratio | 10 | 0% |
| Lipids abnormal | 10 | 0% |
| Lower urinary tract symptoms | 10 | 0% |
| Lumbar spinal stenosis | 10 | 0% |
| Lymphocyte count abnormal | 10 | 0% |
| Mean cell volume abnormal | 10 | 0% |
| Meningoencephalitis herpetic | 10 | 0% |
| Microvascular cranial nerve palsy | 10 | 0% |
| Mineral supplementation | 10 | 0% |
| Mitral valve calcification | 10 | 0% |
| Monoclonal gammopathy | 10 | 0% |
| Multi-organ disorder | 10 | 0% |
| Mycobacterium test | 10 | 0% |
| Myocardial rupture | 10 | 0% |
| Myopia | 10 | 0% |
| Nasal mucosal blistering | 10 | 0% |
| Necrotising fasciitis | 10 | 0% |
| Neurosensory hypoacusis | 10 | 0% |
| Obstructive pancreatitis | 10 | 0% |
| Oesophageal stenosis | 10 | 0% |
| Ophthalmic artery thrombosis | 10 | 0% |
| Optical coherence tomography abnormal | 10 | 0% |
| Oral dysaesthesia | 10 | 0% |
| Oral pustule | 10 | 0% |
| Palpable purpura | 10 | 0% |
| Paracentesis | 10 | 0% |
| Paraesthesia mucosal | 10 | 0% |
| Parasitic blood test negative | 10 | 0% |
| Paroxysmal nocturnal haemoglobinuria | 10 | 0% |
| Pelvic girdle pain | 10 | 0% |
| Peptic ulcer haemorrhage | 10 | 0% |
| Periorbital discomfort | 10 | 0% |
| Pertussis | 10 | 0% |
| Platelet morphology abnormal | 10 | 0% |
| Plicated tongue | 10 | 0% |
| Pneumomediastinum | 10 | 0% |
| Pneumonia pneumococcal | 10 | 0% |
| PO2 normal | 10 | 0% |
| Postoperative wound infection | 10 | 0% |
| Prerenal failure | 10 | 0% |
| Product dose omission in error | 10 | 0% |
| Pupil dilation procedure | 10 | 0% |
| Pyuria | 10 | 0% |
| Renal artery thrombosis | 10 | 0% |
| Renal replacement therapy | 10 | 0% |
| Retinal oedema | 10 | 0% |
| Retroperitoneal haemorrhage | 10 | 0% |
| Right ventricular hypertrophy | 10 | 0% |
| Russell's viper venom time | 10 | 0% |
| Sacroiliitis | 10 | 0% |
| Salivary gland disorder | 10 | 0% |
| Scleroderma | 10 | 0% |
| Seizure cluster | 10 | 0% |
| Skin culture | 10 | 0% |
| Small intestinal resection | 10 | 0% |
| Smooth muscle antibody | 10 | 0% |
| Soliloquy | 10 | 0% |
| Specific gravity urine increased | 10 | 0% |
| Spinal operation | 10 | 0% |
| Tendon discomfort | 10 | 0% |
| Tourette's disorder | 10 | 0% |
| Transplant rejection | 10 | 0% |
| Traumatic haematoma | 10 | 0% |
| Traumatic lung injury | 10 | 0% |
| Trichoglossia | 10 | 0% |
| Ultrasound liver abnormal | 10 | 0% |
| Ultrasound pancreas | 10 | 0% |
| Ultrasound skull | 10 | 0% |
| Ultrasound uterus abnormal | 10 | 0% |
| Ultrasound uterus normal | 10 | 0% |
| Urobilinogen urine decreased | 10 | 0% |
| Urogram | 10 | 0% |
| Vaccination site injury | 10 | 0% |
| Vaccination site joint swelling | 10 | 0% |
| Vascular calcification | 10 | 0% |
| Vascular graft | 10 | 0% |
| Vascular stent thrombosis | 10 | 0% |
| Ventilation/perfusion scan abnormal | 10 | 0% |
| Vertebrobasilar stroke | 10 | 0% |
| Very low density lipoprotein | 10 | 0% |
| Vitamin B6 normal | 10 | 0% |
| Vitamin C | 10 | 0% |
| Wound closure | 10 | 0% |
| Acid base balance | 9 | 0% |
| Activated protein C resistance test | 9 | 0% |
| Adrenal haemorrhage | 9 | 0% |
| Alcohol poisoning | 9 | 0% |
| Allergic sinusitis | 9 | 0% |
| Amylase decreased | 9 | 0% |
| Amyloidosis | 9 | 0% |
| Angular cheilitis | 9 | 0% |
| Anti-RNA polymerase III antibody negative | 9 | 0% |
| Anti-thyroid antibody negative | 9 | 0% |
| Antiacetylcholine receptor antibody positive | 9 | 0% |
| Antibody test normal | 9 | 0% |
| Application site swelling | 9 | 0% |
| AST/ALT ratio abnormal | 9 | 0% |
| Band neutrophil percentage | 9 | 0% |
| Base excess increased | 9 | 0% |
| Bladder hypertrophy | 9 | 0% |
| Blast cells | 9 | 0% |
| Blast cells present | 9 | 0% |
| Blood bilirubin unconjugated increased | 9 | 0% |
| Blood cholinesterase | 9 | 0% |
| Blood creatinine abnormal | 9 | 0% |
| Blood insulin | 9 | 0% |
| Blood smear test normal | 9 | 0% |
| Blood testosterone increased | 9 | 0% |
| Blood testosterone normal | 9 | 0% |
| Blood zinc | 9 | 0% |
| Borrelia infection | 9 | 0% |
| Brachiocephalic vein thrombosis | 9 | 0% |
| Brain compression | 9 | 0% |
| Capillary disorder | 9 | 0% |
| Carcinoembryonic antigen increased | 9 | 0% |
| Cardioactive drug level | 9 | 0% |
| Carotid artery disease | 9 | 0% |
| Cerebral arteriosclerosis | 9 | 0% |
| Cerebral calcification | 9 | 0% |
| Cerebral microangiopathy | 9 | 0% |
| Cerebrospinal fluid leakage | 9 | 0% |
| Cervical vertebral fracture | 9 | 0% |
| Cholangiogram | 9 | 0% |
| Circulating anticoagulant | 9 | 0% |
| Conductive deafness | 9 | 0% |
| Conjunctivitis bacterial | 9 | 0% |
| Costovertebral angle tenderness | 9 | 0% |
| Cough decreased | 9 | 0% |
| Cranial nerve palsies multiple | 9 | 0% |
| Craniectomy | 9 | 0% |
| Creutzfeldt-Jakob disease | 9 | 0% |
| CSF lymphocyte count normal | 9 | 0% |
| CSF neutrophil count increased | 9 | 0% |
| Cystoid macular oedema | 9 | 0% |
| Cytogenetic analysis | 9 | 0% |
| Cytomegalovirus infection | 9 | 0% |
| Dairy intolerance | 9 | 0% |
| Decreased eye contact | 9 | 0% |
| Dependence on oxygen therapy | 9 | 0% |
| Device leakage | 9 | 0% |
| Diaphragmatic disorder | 9 | 0% |
| Discouragement | 9 | 0% |
| Drug abuse | 9 | 0% |
| Dysacusis | 9 | 0% |
| Electrocardiogram QRS complex | 9 | 0% |
| Electrocardiogram QRS complex shortened | 9 | 0% |
| Encephalomalacia | 9 | 0% |
| Endolymphatic hydrops | 9 | 0% |
| Eosinophilic oesophagitis | 9 | 0% |
| Erythropsia | 9 | 0% |
| Eustachian tube obstruction | 9 | 0% |
| Evans syndrome | 9 | 0% |
| Exercise lack of | 9 | 0% |
| Eyelid contusion | 9 | 0% |
| Gastrointestinal hypomotility | 9 | 0% |
| Genital herpes simplex | 9 | 0% |
| Gingival abscess | 9 | 0% |
| Gingival ulceration | 9 | 0% |
| Globulins decreased | 9 | 0% |
| Gluten sensitivity | 9 | 0% |
| Glycosylated haemoglobin decreased | 9 | 0% |
| Haemophilus test | 9 | 0% |
| Haemorrhagic ovarian cyst | 9 | 0% |
| Hearing disability | 9 | 0% |
| Heat exhaustion | 9 | 0% |
| Hemihyperaesthesia | 9 | 0% |
| Hepatitis A antibody negative | 9 | 0% |
| Hernia repair | 9 | 0% |
| Herpes dermatitis | 9 | 0% |
| Histamine level increased | 9 | 0% |
| Human herpes virus 6 serology negative | 9 | 0% |
| Hydrops foetalis | 9 | 0% |
| Hyperintensity in brain deep nuclei | 9 | 0% |
| Hyperkeratosis | 9 | 0% |
| Hyperlactacidaemia | 9 | 0% |
| Hyperuricaemia | 9 | 0% |
| Hypophosphataemia | 9 | 0% |
| IIIrd nerve paresis | 9 | 0% |
| Inferior vena cava dilatation | 9 | 0% |
| Intention tremor | 9 | 0% |
| Intra-abdominal haematoma | 9 | 0% |
| Irritability postvaccinal | 9 | 0% |
| Itching scar | 9 | 0% |
| Jaundice cholestatic | 9 | 0% |
| Joint injection | 9 | 0% |
| Judgement impaired | 9 | 0% |
| Keratosis pilaris | 9 | 0% |
| Labia enlarged | 9 | 0% |
| Large intestine infection | 9 | 0% |
| Large intestine polyp | 9 | 0% |
| Left ventricular end-diastolic pressure increased | 9 | 0% |
| Lipaemic index score | 9 | 0% |
| Lumbar vertebral fracture | 9 | 0% |
| Macular hole | 9 | 0% |
| Malignant melanoma | 9 | 0% |
| Microangiopathy | 9 | 0% |
| Muscle oedema | 9 | 0% |
| Myelopathy | 9 | 0% |
| Myoclonic epilepsy | 9 | 0% |
| Myofascial pain syndrome | 9 | 0% |
| N-terminal prohormone brain natriuretic peptide normal | 9 | 0% |
| Nasal discharge discolouration | 9 | 0% |
| Neuropsychological test | 9 | 0% |
| Night blindness | 9 | 0% |
| NIH stroke scale abnormal | 9 | 0% |
| Obsessive-compulsive disorder | 9 | 0% |
| Obstruction | 9 | 0% |
| Ocular myasthenia | 9 | 0% |
| Oestradiol | 9 | 0% |
| Oral infection | 9 | 0% |
| Ovarian disorder | 9 | 0% |
| Ovarian vein thrombosis | 9 | 0% |
| Overweight | 9 | 0% |
| Pancreatic cyst | 9 | 0% |
| Parasitic test | 9 | 0% |
| Penis disorder | 9 | 0% |
| Peptic ulcer | 9 | 0% |
| Perineal pain | 9 | 0% |
| Peripheral nerve palsy | 9 | 0% |
| Personality disorder | 9 | 0% |
| Potentiating drug interaction | 9 | 0% |
| Pregnancy test urine positive | 9 | 0% |
| Procalcitonin decreased | 9 | 0% |
| Product administration interrupted | 9 | 0% |
| Product supply issue | 9 | 0% |
| Pruritus allergic | 9 | 0% |
| Pulmonary sepsis | 9 | 0% |
| Pulse pressure increased | 9 | 0% |
| Puncture site pain | 9 | 0% |
| Respiratory tract haemorrhage | 9 | 0% |
| Retrograde amnesia | 9 | 0% |
| Right atrial enlargement | 9 | 0% |
| Right ventricular ejection fraction decreased | 9 | 0% |
| Scleral haemorrhage | 9 | 0% |
| Second trimester pregnancy | 9 | 0% |
| Spinal laminectomy | 9 | 0% |
| Sputum retention | 9 | 0% |
| Status asthmaticus | 9 | 0% |
| Sticky skin | 9 | 0% |
| Stress at work | 9 | 0% |
| T-lymphocyte count | 9 | 0% |
| Testicular disorder | 9 | 0% |
| Therapeutic response shortened | 9 | 0% |
| Thrombosis mesenteric vessel | 9 | 0% |
| Thyroid cancer | 9 | 0% |
| Tibia fracture | 9 | 0% |
| Tongue geographic | 9 | 0% |
| Tonsillolith | 9 | 0% |
| Tracheitis | 9 | 0% |
| Traumatic haemorrhage | 9 | 0% |
| Troponin decreased | 9 | 0% |
| Tuberculin test negative | 9 | 0% |
| Ultrasound urinary system | 9 | 0% |
| Urinary occult blood | 9 | 0% |
| Vaccination site dysaesthesia | 9 | 0% |
| Vascular dementia | 9 | 0% |
| Ventilation/perfusion scan normal | 9 | 0% |
| Visual evoked potentials | 9 | 0% |
| Visual field tests abnormal | 9 | 0% |
| Von Willebrand's factor activity test | 9 | 0% |
| West Nile virus test | 9 | 0% |
| Wound drainage | 9 | 0% |
| Abdominal lymphadenopathy | 8 | 0% |
| Accelerated hypertension | 8 | 0% |
| Acoustic neuroma | 8 | 0% |
| Acquired diaphragmatic eventration | 8 | 0% |
| Adult failure to thrive | 8 | 0% |
| Alanine aminotransferase decreased | 8 | 0% |
| Albumin globulin ratio increased | 8 | 0% |
| Alcohol withdrawal syndrome | 8 | 0% |
| Allergy to animal | 8 | 0% |
| Amniorrhoea | 8 | 0% |
| Anal rash | 8 | 0% |
| Angioscopy | 8 | 0% |
| Anti-transglutaminase antibody | 8 | 0% |
| Antithrombin III decreased | 8 | 0% |
| Aortic disorder | 8 | 0% |
| Aortic valve calcification | 8 | 0% |
| Arterial disorder | 8 | 0% |
| Arterial rupture | 8 | 0% |
| Arteriovenous malformation | 8 | 0% |
| Arteritis | 8 | 0% |
| Atonic seizures | 8 | 0% |
| Autonomic neuropathy | 8 | 0% |
| Bacteriuria | 8 | 0% |
| Band neutrophil count | 8 | 0% |
| Bilirubin conjugated normal | 8 | 0% |
| Bipolar I disorder | 8 | 0% |
| Blood bilirubin abnormal | 8 | 0% |
| Blood cholesterol decreased | 8 | 0% |
| Blood ethanol normal | 8 | 0% |
| Blood potassium abnormal | 8 | 0% |
| Blood urea abnormal | 8 | 0% |
| Body fluid analysis | 8 | 0% |
| Body tinea | 8 | 0% |
| Brain hypoxia | 8 | 0% |
| Breast milk discolouration | 8 | 0% |
| Breath sounds normal | 8 | 0% |
| Bronchial irritation | 8 | 0% |
| Bronchial obstruction | 8 | 0% |
| Bronchopneumopathy | 8 | 0% |
| Bronchoscopy normal | 8 | 0% |
| Burns third degree | 8 | 0% |
| Calcinosis | 8 | 0% |
| Cardiac aneurysm | 8 | 0% |
| Cardiac asthma | 8 | 0% |
| Cardiolipin antibody positive | 8 | 0% |
| Carotid endarterectomy | 8 | 0% |
| Cartilage injury | 8 | 0% |
| Cautery to nose | 8 | 0% |
| Cavernous sinus thrombosis | 8 | 0% |
| Central nervous system vasculitis | 8 | 0% |
| Cerebral microhaemorrhage | 8 | 0% |
| CHA2DS2-VASc-score | 8 | 0% |
| Chiropractic | 8 | 0% |
| Cholinergic syndrome | 8 | 0% |
| Cold urticaria | 8 | 0% |
| Computerised tomogram coronary artery abnormal | 8 | 0% |
| Convulsions local | 8 | 0% |
| Coombs direct test positive | 8 | 0% |
| CSF cell count increased | 8 | 0% |
| CSF immunoglobulin | 8 | 0% |
| CSF lymphocyte count | 8 | 0% |
| CSF pressure | 8 | 0% |
| Culture stool positive | 8 | 0% |
| Cyanopsia | 8 | 0% |
| Cystitis noninfective | 8 | 0% |
| Cytology abnormal | 8 | 0% |
| Cytology normal | 8 | 0% |
| Decompressive craniectomy | 8 | 0% |
| Defect conduction intraventricular | 8 | 0% |
| Dehydroepiandrosterone test | 8 | 0% |
| Deja vu | 8 | 0% |
| Delusional perception | 8 | 0% |
| Dental examination normal | 8 | 0% |
| Dermatitis exfoliative | 8 | 0% |
| Dermatologic examination abnormal | 8 | 0% |
| Dermatosis | 8 | 0% |
| Diabetes insipidus | 8 | 0% |
| Diabetic coma | 8 | 0% |
| Diffuse large B-cell lymphoma | 8 | 0% |
| Ejaculation disorder | 8 | 0% |
| Electrocardiogram PR shortened | 8 | 0% |
| Electrocardiogram QRS complex abnormal | 8 | 0% |
| Endodontic procedure | 8 | 0% |
| Endoscopy upper gastrointestinal tract abnormal | 8 | 0% |
| Endotracheal intubation complication | 8 | 0% |
| Enterococcal infection | 8 | 0% |
| Enzyme level increased | 8 | 0% |
| Erythema annulare | 8 | 0% |
| Erythema induratum | 8 | 0% |
| Eye infection bacterial | 8 | 0% |
| Eyelid cyst | 8 | 0% |
| Eye operation | 8 | 0% |
| Eye paraesthesia | 8 | 0% |
| Eye symptom | 8 | 0% |
| Eye ulcer | 8 | 0% |
| Faecal vomiting | 8 | 0% |
| Fear of disease | 8 | 0% |
| Febrile infection | 8 | 0% |
| Fibrin D dimer decreased | 8 | 0% |
| Giardia test negative | 8 | 0% |
| Glioblastoma | 8 | 0% |
| Haemorrhagic infarction | 8 | 0% |
| Hair colour changes | 8 | 0% |
| Hair growth abnormal | 8 | 0% |
| Hepatic infarction | 8 | 0% |
| Hepatitis B surface antibody | 8 | 0% |
| Hepatitis C RNA | 8 | 0% |
| Hepatosplenomegaly | 8 | 0% |
| HLA-B*27 positive | 8 | 0% |
| Human chorionic gonadotropin abnormal | 8 | 0% |
| Hydrocele | 8 | 0% |
| Hypnagogic hallucination | 8 | 0% |
| Idiopathic urticaria | 8 | 0% |
| Iliac artery occlusion | 8 | 0% |
| Immunosuppressant drug therapy | 8 | 0% |
| Inability to crawl | 8 | 0% |
| Incision site pain | 8 | 0% |
| Indifference | 8 | 0% |
| Infected cyst | 8 | 0% |
| Injection site cyst | 8 | 0% |
| Intestinal resection | 8 | 0% |
| Joint hyperextension | 8 | 0% |
| Joint vibration | 8 | 0% |
| Jugular vein distension | 8 | 0% |
| Ketonuria | 8 | 0% |
| Lactation puerperal increased | 8 | 0% |
| Laryngeal disorder | 8 | 0% |
| Limb deformity | 8 | 0% |
| Limbic encephalitis | 8 | 0% |
| Liver scan | 8 | 0% |
| Lung cancer metastatic | 8 | 0% |
| Lupus-like syndrome | 8 | 0% |
| Macular fibrosis | 8 | 0% |
| Maculopathy | 8 | 0% |
| Mastoid disorder | 8 | 0% |
| Mastoiditis | 8 | 0% |
| Medial tibial stress syndrome | 8 | 0% |
| Mediastinal mass | 8 | 0% |
| Meningeal disorder | 8 | 0% |
| Modified Rankin score | 8 | 0% |
| Mumps antibody test | 8 | 0% |
| Muscle enzyme | 8 | 0% |
| Myelosuppression | 8 | 0% |
| Nasal septum deviation | 8 | 0% |
| Neutralising antibodies | 8 | 0% |
| Non-Hodgkin's lymphoma | 8 | 0% |
| NYHA classification | 8 | 0% |
| Onychalgia | 8 | 0% |
| Onychoclasis | 8 | 0% |
| Oral mucosal roughening | 8 | 0% |
| Oropharyngeal plaque | 8 | 0% |
| Oropharyngeal spasm | 8 | 0% |
| Oscillopsia | 8 | 0% |
| Patient uncooperative | 8 | 0% |
| Perfusion brain scan abnormal | 8 | 0% |
| Pericarditis constrictive | 8 | 0% |
| Persistent depressive disorder | 8 | 0% |
| Pharyngeal abscess | 8 | 0% |
| Pituitary tumour benign | 8 | 0% |
| Platelet-large cell ratio | 8 | 0% |
| Pleural thickening | 8 | 0% |
| Pneumonia mycoplasmal | 8 | 0% |
| Pneumonia pseudomonal | 8 | 0% |
| Pneumonia staphylococcal | 8 | 0% |
| Post-traumatic neck syndrome | 8 | 0% |
| Post vaccination syndrome | 8 | 0% |
| Premature menopause | 8 | 0% |
| Premenstrual dysphoric disorder | 8 | 0% |
| Product colour issue | 8 | 0% |
| Product complaint | 8 | 0% |
| Product packaging quantity issue | 8 | 0% |
| Progesterone decreased | 8 | 0% |
| Prostate examination | 8 | 0% |
| Prothrombin level increased | 8 | 0% |
| QRS axis | 8 | 0% |
| Quarantine | 8 | 0% |
| Radius fracture | 8 | 0% |
| Rectal discharge | 8 | 0% |
| Red cell distribution width decreased | 8 | 0% |
| Reflex test normal | 8 | 0% |
| Respiratory muscle weakness | 8 | 0% |
| Retinal exudates | 8 | 0% |
| Scleral discolouration | 8 | 0% |
| Sight disability | 8 | 0% |
| Simple partial seizures | 8 | 0% |
| Single photon emission computerised tomogram | 8 | 0% |
| Skin cancer | 8 | 0% |
| Skull fractured base | 8 | 0% |
| Smooth muscle antibody negative | 8 | 0% |
| Soft tissue disorder | 8 | 0% |
| Spinal cord compression | 8 | 0% |
| Spinal cord injury cervical | 8 | 0% |
| Sputum culture positive | 8 | 0% |
| Stress echocardiogram abnormal | 8 | 0% |
| Subclavian artery thrombosis | 8 | 0% |
| Sulphur dioxide test | 8 | 0% |
| Therapeutic embolisation | 8 | 0% |
| Therapeutic hypothermia | 8 | 0% |
| Thoracic vertebral fracture | 8 | 0% |
| Thyroid cyst | 8 | 0% |
| Toxoplasmosis | 8 | 0% |
| Tracheal pain | 8 | 0% |
| Transient acantholytic dermatosis | 8 | 0% |
| Traumatic intracranial haemorrhage | 8 | 0% |
| Trigeminal neuritis | 8 | 0% |
| Underweight | 8 | 0% |
| Urethral haemorrhage | 8 | 0% |
| Vaginal disorder | 8 | 0% |
| Venous injury | 8 | 0% |
| Vertigo labyrinthine | 8 | 0% |
| Viral labyrinthitis | 8 | 0% |
| Visual acuity tests normal | 8 | 0% |
| Visual snow syndrome | 8 | 0% |
| White blood cell analysis | 8 | 0% |
| Wound treatment | 8 | 0% |
| Xanthopsia | 8 | 0% |
| Abscess oral | 7 | 0% |
| Accommodation disorder | 7 | 0% |
| Administration site bruise | 7 | 0% |
| Alcoholism | 7 | 0% |
| Alpha 1 globulin | 7 | 0% |
| Alpha 2 globulin | 7 | 0% |
| Anal abscess | 7 | 0% |
| Animal bite | 7 | 0% |
| Ankle brachial index | 7 | 0% |
| Anti-GAD antibody | 7 | 0% |
| Anti-neuronal antibody | 7 | 0% |
| Anticonvulsant drug level | 7 | 0% |
| Antimicrobial susceptibility test | 7 | 0% |
| Antimitochondrial antibody normal | 7 | 0% |
| Antipsychotic drug level | 7 | 0% |
| Apnoea test | 7 | 0% |
| Arterial stent insertion | 7 | 0% |
| Arthroscopy | 7 | 0% |
| Aspartate aminotransferase abnormal | 7 | 0% |
| Atrial natriuretic peptide | 7 | 0% |
| Atrial pressure | 7 | 0% |
| Autoantibody positive | 7 | 0% |
| Autoimmune demyelinating disease | 7 | 0% |
| Automatic positive airway pressure | 7 | 0% |
| Axonal neuropathy | 7 | 0% |
| Barium swallow abnormal | 7 | 0% |
| Basal cell carcinoma | 7 | 0% |
| Biopsy bone | 7 | 0% |
| Biopsy breast abnormal | 7 | 0% |
| Biopsy colon | 7 | 0% |
| Bleeding time | 7 | 0% |
| Blood alkaline phosphatase decreased | 7 | 0% |
| Blood catecholamines | 7 | 0% |
| Blood copper normal | 7 | 0% |
| Blood homocysteine normal | 7 | 0% |
| Blood immunoglobulin A increased | 7 | 0% |
| Blood immunoglobulin E normal | 7 | 0% |
| Blood pressure systolic abnormal | 7 | 0% |
| Bone marrow failure | 7 | 0% |
| Botulinum toxin injection | 7 | 0% |
| Brain natriuretic peptide decreased | 7 | 0% |
| Brain stem thrombosis | 7 | 0% |
| Breast cellulitis | 7 | 0% |
| Bronchial wall thickening | 7 | 0% |
| Bronchitis bacterial | 7 | 0% |
| Burnout syndrome | 7 | 0% |
| Bursa disorder | 7 | 0% |
| Caffeine consumption | 7 | 0% |
| Calcium ionised decreased | 7 | 0% |
| Campylobacter infection | 7 | 0% |
| Cardiac infection | 7 | 0% |
| Cardiac pharmacologic stress test | 7 | 0% |
| Cardiac sarcoidosis | 7 | 0% |
| Cardiac valve vegetation | 7 | 0% |
| Central pain syndrome | 7 | 0% |
| Central vision loss | 7 | 0% |
| Cerebellar ataxia | 7 | 0% |
| Cerebral ventricle dilatation | 7 | 0% |
| Choluria | 7 | 0% |
| Coagulation factor V level normal | 7 | 0% |
| Coccidioidomycosis | 7 | 0% |
| Compartment syndrome | 7 | 0% |
| Coombs test positive | 7 | 0% |
| Corneal disorder | 7 | 0% |
| Coxiella test | 7 | 0% |
| Croup infectious | 7 | 0% |
| CSF immunoglobulin G index | 7 | 0% |
| CSF monocyte count decreased | 7 | 0% |
| Culture wound negative | 7 | 0% |
| Cyclic vomiting syndrome | 7 | 0% |
| Cytokine release syndrome | 7 | 0% |
| Cytopenia | 7 | 0% |
| Decerebrate posture | 7 | 0% |
| Device related infection | 7 | 0% |
| Drug specific antibody | 7 | 0% |
| Duodenal ulcer haemorrhage | 7 | 0% |
| Duodenogastric reflux | 7 | 0% |
| Ear irrigation | 7 | 0% |
| Electrocardiogram PR prolongation | 7 | 0% |
| Enanthema | 7 | 0% |
| Endometrial ablation | 7 | 0% |
| Endometrial cancer | 7 | 0% |
| Endoscopic ultrasound | 7 | 0% |
| Enteral nutrition | 7 | 0% |
| Eyelid myoclonus | 7 | 0% |
| Fasciitis | 7 | 0% |
| Fat tissue increased | 7 | 0% |
| Fibromuscular dysplasia | 7 | 0% |
| Fluorescence angiogram abnormal | 7 | 0% |
| Focal peritonitis | 7 | 0% |
| Foetal heart rate | 7 | 0% |
| Foetal non-stress test | 7 | 0% |
| Follicular lymphoma | 7 | 0% |
| Gallbladder oedema | 7 | 0% |
| Gastric antral vascular ectasia | 7 | 0% |
| Gastric pH decreased | 7 | 0% |
| Gastric ulcer haemorrhage | 7 | 0% |
| Glare | 7 | 0% |
| Gonorrhoea | 7 | 0% |
| Granulocyte count increased | 7 | 0% |
| Gynaecological examination normal | 7 | 0% |
| Haemangioma of liver | 7 | 0% |
| Haemoglobinaemia | 7 | 0% |
| Helicobacter test positive | 7 | 0% |
| Hepatitis B antibody negative | 7 | 0% |
| Hepatitis E | 7 | 0% |
| High risk pregnancy | 7 | 0% |
| Hip surgery | 7 | 0% |
| Hodgkin's disease | 7 | 0% |
| Hydrothorax | 7 | 0% |
| Hypermetropia | 7 | 0% |
| Hypervolaemia | 7 | 0% |
| Hypobarism | 7 | 0% |
| Hypochromic anaemia | 7 | 0% |
| Immunoglobulins increased | 7 | 0% |
| Infant irritability | 7 | 0% |
| Injection site dermatitis | 7 | 0% |
| Insulin C-peptide | 7 | 0% |
| Intranasal paraesthesia | 7 | 0% |
| Invasive ductal breast carcinoma | 7 | 0% |
| Iron binding capacity unsaturated | 7 | 0% |
| Joint space narrowing | 7 | 0% |
| Knee operation | 7 | 0% |
| Lupus nephritis | 7 | 0% |
| Lymph nodes scan abnormal | 7 | 0% |
| Magnetic resonance imaging hepatobiliary | 7 | 0% |
| Malabsorption | 7 | 0% |
| Methylenetetrahydrofolate reductase gene mutation | 7 | 0% |
| Monoclonal antibody unconjugated therapy | 7 | 0% |
| Mononeuritis | 7 | 0% |
| Mononuclear cell count | 7 | 0% |
| Mucosal hypertrophy | 7 | 0% |
| Multimorbidity | 7 | 0% |
| Myasthenic syndrome | 7 | 0% |
| Myelocyte count | 7 | 0% |
| Nasal polyps | 7 | 0% |
| Nerve stimulation test normal | 7 | 0% |
| Neurogenic bladder | 7 | 0% |
| Neutrophilic dermatosis | 7 | 0% |
| Non-tobacco user | 7 | 0% |
| Normochromic normocytic anaemia | 7 | 0% |
| Open reduction of fracture | 7 | 0% |
| Optic atrophy | 7 | 0% |
| Oral mucosal discolouration | 7 | 0% |
| Orthopaedic examination abnormal | 7 | 0% |
| Orthostatic heart rate test | 7 | 0% |
| Otitis media acute | 7 | 0% |
| Otolithiasis | 7 | 0% |
| Ovarian cancer | 7 | 0% |
| Palmar-plantar erythrodysaesthesia syndrome | 7 | 0% |
| Paranasal cyst | 7 | 0% |
| Peripheral sensorimotor neuropathy | 7 | 0% |
| Pneumococcal infection | 7 | 0% |
| Polyhydramnios | 7 | 0% |
| Poor feeding infant | 7 | 0% |
| Postictal paralysis | 7 | 0% |
| Premature menarche | 7 | 0% |
| Product use in unapproved indication | 7 | 0% |
| Promyelocyte count | 7 | 0% |
| Prostate infection | 7 | 0% |
| Protrusion tongue | 7 | 0% |
| Pulmonary artery occlusion | 7 | 0% |
| Pulmonary valve incompetence | 7 | 0% |
| Pulmonary vascular disorder | 7 | 0% |
| Purulence | 7 | 0% |
| Radial nerve injury | 7 | 0% |
| Red blood cell morphology | 7 | 0% |
| Red blood cell morphology normal | 7 | 0% |
| Reflux laryngitis | 7 | 0% |
| Renal atrophy | 7 | 0% |
| Renal vein thrombosis | 7 | 0% |
| Respiratory syncytial virus test positive | 7 | 0% |
| Reticulocyte count decreased | 7 | 0% |
| Right ventricular systolic pressure increased | 7 | 0% |
| Romberg test positive | 7 | 0% |
| Rubber sensitivity | 7 | 0% |
| Saline infusion sonogram | 7 | 0% |
| Scan myocardial perfusion normal | 7 | 0% |
| Seborrhoeic dermatitis | 7 | 0% |
| Serology negative | 7 | 0% |
| Seronegative arthritis | 7 | 0% |
| Serotonin syndrome | 7 | 0% |
| Sexual dysfunction | 7 | 0% |
| Skin hypopigmentation | 7 | 0% |
| Smear vaginal normal | 7 | 0% |
| Smooth muscle antibody positive | 7 | 0% |
| Soft tissue infection | 7 | 0% |
| Soft tissue inflammation | 7 | 0% |
| Somatosensory evoked potentials | 7 | 0% |
| Specific gravity urine decreased | 7 | 0% |
| Spinal fusion surgery | 7 | 0% |
| Splenic haemorrhage | 7 | 0% |
| Steatorrhoea | 7 | 0% |
| Stool analysis abnormal | 7 | 0% |
| Streptococcal sepsis | 7 | 0% |
| Subchorionic haematoma | 7 | 0% |
| Subchorionic haemorrhage | 7 | 0% |
| Systemic immune activation | 7 | 0% |
| Tachycardia foetal | 7 | 0% |
| Target skin lesion | 7 | 0% |
| Tenosynovitis stenosans | 7 | 0% |
| Terminal ileitis | 7 | 0% |
| Third trimester pregnancy | 7 | 0% |
| Throat lesion | 7 | 0% |
| Thrombosis in device | 7 | 0% |
| Thyrotoxic crisis | 7 | 0% |
| Tilt table test positive | 7 | 0% |
| Tinea infection | 7 | 0% |
| Tissue injury | 7 | 0% |
| Tongue exfoliation | 7 | 0% |
| Tooth discolouration | 7 | 0% |
| Trisomy 21 | 7 | 0% |
| Tuberculin test positive | 7 | 0% |
| Ultrasound eye abnormal | 7 | 0% |
| Ultrasound spleen | 7 | 0% |
| Ultrasound testes abnormal | 7 | 0% |
| Urethritis | 7 | 0% |
| Uterine polyp | 7 | 0% |
| Vaccination site plaque | 7 | 0% |
| Vaccination site pustule | 7 | 0% |
| Vaccination site thrombosis | 7 | 0% |
| Vascular encephalopathy | 7 | 0% |
| Venous oxygen saturation decreased | 7 | 0% |
| Ventricular septal defect | 7 | 0% |
| Vertical infection transmission | 7 | 0% |
| Vitamin supplementation | 7 | 0% |
| Vulval abscess | 7 | 0% |
| Wall motion score index normal | 7 | 0% |
| White blood cell agglutination present | 7 | 0% |
| Wrong device used | 7 | 0% |
| Wrong route | 7 | 0% |
| Abdominal exploration | 6 | 0% |
| Absence of immediate treatment response | 6 | 0% |
| Abulia | 6 | 0% |
| Adenomyosis | 6 | 0% |
| Administration site reaction | 6 | 0% |
| Administration site swelling | 6 | 0% |
| Adnexal torsion | 6 | 0% |
| Age-related macular degeneration | 6 | 0% |
| Agonal rhythm | 6 | 0% |
| Albuminuria | 6 | 0% |
| Alcohol test negative | 6 | 0% |
| Aldolase increased | 6 | 0% |
| Allergy to arthropod bite | 6 | 0% |
| Alpha tumour necrosis factor | 6 | 0% |
| Androgenetic alopecia | 6 | 0% |
| Angiogram peripheral abnormal | 6 | 0% |
| Anticoagulation drug level above therapeutic | 6 | 0% |
| Anticoagulation drug level below therapeutic | 6 | 0% |
| Anticoagulation drug level therapeutic | 6 | 0% |
| Aortic occlusion | 6 | 0% |
| Aspergillus test | 6 | 0% |
| Asthma prophylaxis | 6 | 0% |
| Autoimmune arthritis | 6 | 0% |
| Autoimmune pancreatitis | 6 | 0% |
| Axonal and demyelinating polyneuropathy | 6 | 0% |
| Band neutrophil count increased | 6 | 0% |
| Base excess decreased | 6 | 0% |
| Biliary obstruction | 6 | 0% |
| Binocular eye movement disorder | 6 | 0% |
| Biopsy artery abnormal | 6 | 0% |
| Biopsy artery normal | 6 | 0% |
| Biopsy lymph gland normal | 6 | 0% |
| Biopsy muscle abnormal | 6 | 0% |
| Biopsy salivary gland | 6 | 0% |
| Biopsy soft tissue | 6 | 0% |
| Biopsy stomach normal | 6 | 0% |
| Biopsy thyroid gland | 6 | 0% |
| Bladder cancer | 6 | 0% |
| Bladder irritation | 6 | 0% |
| Blister infected | 6 | 0% |
| Blood alcohol increased | 6 | 0% |
| Blood cannabinoids | 6 | 0% |
| Blood homocysteine increased | 6 | 0% |
| Blood luteinising hormone increased | 6 | 0% |
| Blood pressure ambulatory | 6 | 0% |
| Blood pressure orthostatic abnormal | 6 | 0% |
| Bone density abnormal | 6 | 0% |
| Bradyarrhythmia | 6 | 0% |
| Brain stem ischaemia | 6 | 0% |
| Breath sounds absent | 6 | 0% |
| Bullous haemorrhagic dermatosis | 6 | 0% |
| Bursal fluid accumulation | 6 | 0% |
| Buttock injury | 6 | 0% |
| C1 esterase inhibitor test | 6 | 0% |
| Cardiac ventriculogram | 6 | 0% |
| Cardiac ventriculogram left | 6 | 0% |
| Cardio-respiratory distress | 6 | 0% |
| Ceruloplasmin | 6 | 0% |
| Cervical polyp | 6 | 0% |
| Chest wall mass | 6 | 0% |
| Cheyne-Stokes respiration | 6 | 0% |
| Cholestatic liver injury | 6 | 0% |
| Chondrocalcinosis | 6 | 0% |
| Chronic myelomonocytic leukaemia | 6 | 0% |
| Claudication of jaw muscles | 6 | 0% |
| Colostomy | 6 | 0% |
| Colour blindness | 6 | 0% |
| Coma scale normal | 6 | 0% |
| Compression garment application | 6 | 0% |
| Computerised tomogram kidney abnormal | 6 | 0% |
| Conduction disorder | 6 | 0% |
| Coombs direct test negative | 6 | 0% |
| Corneal oedema | 6 | 0% |
| Coronary artery embolism | 6 | 0% |
| Crystal urine present | 6 | 0% |
| CSF lactate | 6 | 0% |
| CSF pressure increased | 6 | 0% |
| CSF volume | 6 | 0% |
| Cutaneous sarcoidosis | 6 | 0% |
| Cystoscopy abnormal | 6 | 0% |
| Dacryostenosis acquired | 6 | 0% |
| Decreased vibratory sense | 6 | 0% |
| Dermatitis diaper | 6 | 0% |
| Device use issue | 6 | 0% |
| Diabetic complication | 6 | 0% |
| Dilatation atrial | 6 | 0% |
| Dilatation ventricular | 6 | 0% |
| Dissociative amnesia | 6 | 0% |
| Eczema eyelids | 6 | 0% |
| Electrocardiogram PR segment elevation | 6 | 0% |
| Electrocauterisation | 6 | 0% |
| Elliptocytosis | 6 | 0% |
| Emotional poverty | 6 | 0% |
| Endocrine disorder | 6 | 0% |
| Endoscopy large bowel | 6 | 0% |
| Epidural blood patch | 6 | 0% |
| Epileptic aura | 6 | 0% |
| Eschar | 6 | 0% |
| Exaggerated startle response | 6 | 0% |
| Exposure to extreme temperature | 6 | 0% |
| Eye irrigation | 6 | 0% |
| Eyelid haematoma | 6 | 0% |
| Eyelid injury | 6 | 0% |
| Feeling guilty | 6 | 0% |
| Femoral artery embolism | 6 | 0% |
| Fibula fracture | 6 | 0% |
| Fluorescent in situ hybridisation | 6 | 0% |
| Foetal growth abnormality | 6 | 0% |
| Foetal placental thrombosis | 6 | 0% |
| Free prostate-specific antigen | 6 | 0% |
| Gallbladder operation | 6 | 0% |
| Gastrointestinal injury | 6 | 0% |
| Genital paraesthesia | 6 | 0% |
| Grimacing | 6 | 0% |
| Haematoma evacuation | 6 | 0% |
| Haemodynamic test normal | 6 | 0% |
| Haemoglobinuria | 6 | 0% |
| Hand-arm vibration syndrome | 6 | 0% |
| Heart rate variability test | 6 | 0% |
| Hemiataxia | 6 | 0% |
| Hepatitis B core antibody positive | 6 | 0% |
| Hepatitis E antibody | 6 | 0% |
| Hepatitis viral | 6 | 0% |
| HIV test positive | 6 | 0% |
| Hypermobility syndrome | 6 | 0% |
| Hyperplasia | 6 | 0% |
| Hypertrophy | 6 | 0% |
| Icterus index | 6 | 0% |
| Idiosyncratic drug reaction | 6 | 0% |
| Immunoelectrophoresis | 6 | 0% |
| Impatience | 6 | 0% |
| Inappropriate release of product for distribution | 6 | 0% |
| Incorrect disposal of product | 6 | 0% |
| Infectious pleural effusion | 6 | 0% |
| Injection site atrophy | 6 | 0% |
| Injection site thrombosis | 6 | 0% |
| Intercostal neuralgia | 6 | 0% |
| Intervertebral disc compression | 6 | 0% |
| Intestinal dilatation | 6 | 0% |
| Investigation abnormal | 6 | 0% |
| Investigation normal | 6 | 0% |
| Iodine uptake decreased | 6 | 0% |
| Irregular sleep phase | 6 | 0% |
| Kawasaki's disease | 6 | 0% |
| Kyphosis | 6 | 0% |
| Laparotomy | 6 | 0% |
| Lasegue's test | 6 | 0% |
| Leptospira test | 6 | 0% |
| Lipase decreased | 6 | 0% |
| Lipoatrophy | 6 | 0% |
| Lip scab | 6 | 0% |
| Lung abscess | 6 | 0% |
| Lymphocytic infiltration | 6 | 0% |
| Lymphoproliferative disorder | 6 | 0% |
| Magnetic resonance imaging abdominal normal | 6 | 0% |
| Measles antibody | 6 | 0% |
| Medication dilution | 6 | 0% |
| Metastases to bone | 6 | 0% |
| Metastases to central nervous system | 6 | 0% |
| Microalbuminuria | 6 | 0% |
| Microangiopathic haemolytic anaemia | 6 | 0% |
| Microvascular coronary artery disease | 6 | 0% |
| Mixed liver injury | 6 | 0% |
| Mucosal discolouration | 6 | 0% |
| Mucosal ulceration | 6 | 0% |
| Multiple injuries | 6 | 0% |
| Murphy's sign test | 6 | 0% |
| Nasal ulcer | 6 | 0% |
| Necrotic lymphadenopathy | 6 | 0% |
| Neovascular age-related macular degeneration | 6 | 0% |
| Nipple exudate bloody | 6 | 0% |
| Nodal arrhythmia | 6 | 0% |
| Obstruction gastric | 6 | 0% |
| Occupational exposure to product | 6 | 0% |
| Oedematous pancreatitis | 6 | 0% |
| Oesophageal ulcer | 6 | 0% |
| Oesophageal varices haemorrhage | 6 | 0% |
| Omental infarction | 6 | 0% |
| Onychomadesis | 6 | 0% |
| Orbital haematoma | 6 | 0% |
| PaO2/FiO2 ratio | 6 | 0% |
| Parainfluenzae virus infection | 6 | 0% |
| Partial seizures with secondary generalisation | 6 | 0% |
| Penile oedema | 6 | 0% |
| Perioral dermatitis | 6 | 0% |
| Peripheral nerve lesion | 6 | 0% |
| Perivascular dermatitis | 6 | 0% |
| Persecutory delusion | 6 | 0% |
| Pharyngeal enanthema | 6 | 0% |
| Pharyngitis bacterial | 6 | 0% |
| Placenta praevia | 6 | 0% |
| Plantar erythema | 6 | 0% |
| Pneumonia fungal | 6 | 0% |
| Polychondritis | 6 | 0% |
| Post lumbar puncture syndrome | 6 | 0% |
| Pressure of speech | 6 | 0% |
| Priapism | 6 | 0% |
| Procedural dizziness | 6 | 0% |
| Product availability issue | 6 | 0% |
| Product label issue | 6 | 0% |
| Product odour abnormal | 6 | 0% |
| Progesterone normal | 6 | 0% |
| Prostatic specific antigen normal | 6 | 0% |
| Protein C increased | 6 | 0% |
| Protein total abnormal | 6 | 0% |
| Psychotic symptom | 6 | 0% |
| Pulmonary calcification | 6 | 0% |
| Pulmonary venous thrombosis | 6 | 0% |
| Puncture site bruise | 6 | 0% |
| Pyoderma gangrenosum | 6 | 0% |
| Red blood cell schistocytes | 6 | 0% |
| Red ear syndrome | 6 | 0% |
| Reticulocyte count normal | 6 | 0% |
| Retinal artery embolism | 6 | 0% |
| Retinal ischaemia | 6 | 0% |
| Retinal operation | 6 | 0% |
| Retinopathy | 6 | 0% |
| Reversed hot-cold sensation | 6 | 0% |
| Reynold's syndrome | 6 | 0% |
| Rheumatic fever | 6 | 0% |
| Rocky mountain spotted fever | 6 | 0% |
| Scan abdomen abnormal | 6 | 0% |
| Scan lymph nodes | 6 | 0% |
| Sciatic nerve neuropathy | 6 | 0% |
| Sexually transmitted disease | 6 | 0% |
| Skeletal injury | 6 | 0% |
| Skin lesion inflammation | 6 | 0% |
| Smear vagina | 6 | 0% |
| Spinal claudication | 6 | 0% |
| Splenic artery aneurysm | 6 | 0% |
| Splenic artery thrombosis | 6 | 0% |
| Spondylolisthesis | 6 | 0% |
| Stiff leg syndrome | 6 | 0% |
| Stress fracture | 6 | 0% |
| Subileus | 6 | 0% |
| Suicidal behaviour | 6 | 0% |
| Synovial fluid analysis | 6 | 0% |
| Telemedicine | 6 | 0% |
| Thoracic operation | 6 | 0% |
| Thoracic outlet syndrome | 6 | 0% |
| Thrombosed varicose vein | 6 | 0% |
| Thyroidectomy | 6 | 0% |
| Tissue irritation | 6 | 0% |
| Tracheal obstruction | 6 | 0% |
| Treponema test positive | 6 | 0% |
| Tri-iodothyronine free increased | 6 | 0% |
| Trichorrhexis | 6 | 0% |
| Tumour pain | 6 | 0% |
| Tympanic membrane disorder | 6 | 0% |
| Typhus rickettsia test | 6 | 0% |
| Typical aura without headache | 6 | 0% |
| Ulnar neuritis | 6 | 0% |
| Ultrasound biliary tract normal | 6 | 0% |
| Ultrasound scan vagina normal | 6 | 0% |
| Upper respiratory tract irritation | 6 | 0% |
| Uterine hypertonus | 6 | 0% |
| Vaccination site anaesthesia | 6 | 0% |
| Vaccination site dermatitis | 6 | 0% |
| Vaccination site nerve damage | 6 | 0% |
| Vaccination site streaking | 6 | 0% |
| Vaccination site ulcer | 6 | 0% |
| Vascular device user | 6 | 0% |
| Vasopressive therapy | 6 | 0% |
| Venous haemorrhage | 6 | 0% |
| Ventricular internal diameter | 6 | 0% |
| Vertebral osteophyte | 6 | 0% |
| Very low density lipoprotein normal | 6 | 0% |
| Vestibular function test abnormal | 6 | 0% |
| Vestibular function test normal | 6 | 0% |
| Violence-related symptom | 6 | 0% |
| Vital capacity | 6 | 0% |
| Vitamin B12 absorption test | 6 | 0% |
| Vitrectomy | 6 | 0% |
| Vitreous degeneration | 6 | 0% |
| Vitreous disorder | 6 | 0% |
| Vocal cord inflammation | 6 | 0% |
| Vulvovaginal ulceration | 6 | 0% |
| X-ray gastrointestinal tract | 6 | 0% |
| X-ray therapy to lung | 6 | 0% |
| X-ray with contrast upper gastrointestinal tract | 6 | 0% |
| Xeroderma pigmentosum | 6 | 0% |
| Abdominal adhesions | 5 | 0% |
| Activated protein C resistance | 5 | 0% |
| Acute lymphocytic leukaemia | 5 | 0% |
| Acute macular outer retinopathy | 5 | 0% |
| Acute motor axonal neuropathy | 5 | 0% |
| Addison's disease | 5 | 0% |
| Adenocarcinoma | 5 | 0% |
| Adjustment disorder with depressed mood | 5 | 0% |
| Adrenal adenoma | 5 | 0% |
| Airway burns | 5 | 0% |
| Albumin CSF | 5 | 0% |
| Albumin urine absent | 5 | 0% |
| Albumin urine present | 5 | 0% |
| Aldolase normal | 5 | 0% |
| Allergy to plants | 5 | 0% |
| Alopecia universalis | 5 | 0% |
| Alpha 1 globulin normal | 5 | 0% |
| Amniotic cavity infection | 5 | 0% |
| Anal fissure | 5 | 0% |
| Anamnestic reaction | 5 | 0% |
| Anisomastia | 5 | 0% |
| Anorectal disorder | 5 | 0% |
| Anti-aquaporin-4 antibody negative | 5 | 0% |
| Anti-complement antibody | 5 | 0% |
| Anti-glomerular basement membrane disease | 5 | 0% |
| Anti-transglutaminase antibody negative | 5 | 0% |
| Anticonvulsant drug level therapeutic | 5 | 0% |
| Antidepressant drug level | 5 | 0% |
| Anti factor VIII antibody positive | 5 | 0% |
| Antineutrophil cytoplasmic antibody increased | 5 | 0% |
| Aortic embolus | 5 | 0% |
| Aortic rupture | 5 | 0% |
| Aortic valve sclerosis | 5 | 0% |
| Aortitis | 5 | 0% |
| Appendiceal abscess | 5 | 0% |
| Arterial haemorrhage | 5 | 0% |
| Arteriovenous fistula | 5 | 0% |
| Arteriovenous fistula thrombosis | 5 | 0% |
| Arthrogram | 5 | 0% |
| Autoimmune neuropathy | 5 | 0% |
| Axillary nerve injury | 5 | 0% |
| Babesiosis | 5 | 0% |
| Bandaemia | 5 | 0% |
| Band neutrophil percentage increased | 5 | 0% |
| Barium swallow normal | 5 | 0% |
| Benign lymph node neoplasm | 5 | 0% |
| Benzodiazepine drug level | 5 | 0% |
| Beta globulin | 5 | 0% |
| Bickerstaff's encephalitis | 5 | 0% |
| Biliary tract disorder | 5 | 0% |
| Bilirubin conjugated decreased | 5 | 0% |
| Biopsy endometrium normal | 5 | 0% |
| Biopsy heart abnormal | 5 | 0% |
| Bladder obstruction | 5 | 0% |
| Blood alcohol normal | 5 | 0% |
| Blood aldosterone | 5 | 0% |
| Blood beta-D-glucan negative | 5 | 0% |
| Blood cholesterol abnormal | 5 | 0% |
| Blood chromium | 5 | 0% |
| Blood corticotrophin normal | 5 | 0% |
| Blood creatine phosphokinase abnormal | 5 | 0% |
| Blood creatine phosphokinase MB decreased | 5 | 0% |
| Blood donation | 5 | 0% |
| Blood folate increased | 5 | 0% |
| Blood heavy metal normal | 5 | 0% |
| Blood heavy metal test | 5 | 0% |
| Blood insulin increased | 5 | 0% |
| Blood magnesium abnormal | 5 | 0% |
| Blood sodium abnormal | 5 | 0% |
| Bone density decreased | 5 | 0% |
| Bone marrow oedema | 5 | 0% |
| Bradycardia foetal | 5 | 0% |
| Breast cancer recurrent | 5 | 0% |
| Breast conserving surgery | 5 | 0% |
| Breast haematoma | 5 | 0% |
| Breast haemorrhage | 5 | 0% |
| Breast operation | 5 | 0% |
| Breath holding | 5 | 0% |
| Brucella test negative | 5 | 0% |
| Burn of internal organs | 5 | 0% |
| Bursa injury | 5 | 0% |
| C1 esterase inhibitor test normal | 5 | 0% |
| Campylobacter test positive | 5 | 0% |
| Candida test negative | 5 | 0% |
| Capsule endoscopy | 5 | 0% |
| Cardiac amyloidosis | 5 | 0% |
| Cardiac index | 5 | 0% |
| Cardiac output decreased | 5 | 0% |
| Cardiac resynchronisation therapy | 5 | 0% |
| Cardiac ventricular disorder | 5 | 0% |
| Cardiothoracic ratio | 5 | 0% |
| Carotid artery aneurysm | 5 | 0% |
| Carotid pulse | 5 | 0% |
| Cast application | 5 | 0% |
| Catecholamines urine | 5 | 0% |
| CD4 lymphocytes decreased | 5 | 0% |
| CD4/CD8 ratio | 5 | 0% |
| Cells in urine | 5 | 0% |
| Central nervous system infection | 5 | 0% |
| Cerebellar ischaemia | 5 | 0% |
| Cerebral amyloid angiopathy | 5 | 0% |
| Cerebral cavernous malformation | 5 | 0% |
| Cerebral ventricular rupture | 5 | 0% |
| Cerebrospinal fluid drainage | 5 | 0% |
| Ceruloplasmin normal | 5 | 0% |
| Cervicogenic headache | 5 | 0% |
| Chemical burn | 5 | 0% |
| Chest wall haematoma | 5 | 0% |
| Chondropathy | 5 | 0% |
| Chorioretinitis | 5 | 0% |
| Clinically isolated syndrome | 5 | 0% |
| Coagulation factor increased | 5 | 0% |
| Coagulation factor IX level | 5 | 0% |
| Coagulation time shortened | 5 | 0% |
| Collagen disorder | 5 | 0% |
| Complement factor C3 decreased | 5 | 0% |
| Complement factor C3 increased | 5 | 0% |
| Complement factor increased | 5 | 0% |
| Congestive hepatopathy | 5 | 0% |
| Contrast media reaction | 5 | 0% |
| Coombs negative haemolytic anaemia | 5 | 0% |
| Creatinine renal clearance increased | 5 | 0% |
| Cryoglobulinaemia | 5 | 0% |
| CSF culture positive | 5 | 0% |
| CSF electrophoresis | 5 | 0% |
| CSF lymphocyte count abnormal | 5 | 0% |
| CSF monocyte count | 5 | 0% |
| CSF protein abnormal | 5 | 0% |
| CSF white blood cell differential | 5 | 0% |
| Culture tissue specimen | 5 | 0% |
| Cutaneous lupus erythematosus | 5 | 0% |
| Cyst drainage | 5 | 0% |
| Cyst rupture | 5 | 0% |
| Cytogenetic abnormality | 5 | 0% |
| Cytogenetic analysis normal | 5 | 0% |
| Cytomegalovirus infection reactivation | 5 | 0% |
| Deafness permanent | 5 | 0% |
| Decidual cast | 5 | 0% |
| Dental examination abnormal | 5 | 0% |
| Dermatitis infected | 5 | 0% |
| Device dislocation | 5 | 0% |
| Device function test | 5 | 0% |
| Device occlusion | 5 | 0% |
| Diabetic foot | 5 | 0% |
| Diabetic foot infection | 5 | 0% |
| Diabetic neuropathy | 5 | 0% |
| Diaphragm muscle weakness | 5 | 0% |
| Diarrhoea infectious | 5 | 0% |
| Diastolic hypertension | 5 | 0% |
| Diuretic therapy | 5 | 0% |
| Duodenal ulcer | 5 | 0% |
| Ear infection bacterial | 5 | 0% |
| Ear infection viral | 5 | 0% |
| Eczema herpeticum | 5 | 0% |
| Electrocardiogram QRS complex normal | 5 | 0% |
| Electrocardiogram Q wave abnormal | 5 | 0% |
| Electrocardiogram ST-T segment elevation | 5 | 0% |
| Electrocardiogram ST segment normal | 5 | 0% |
| Electrocardiogram T wave peaked | 5 | 0% |
| Electroconvulsive therapy | 5 | 0% |
| Electronystagmogram normal | 5 | 0% |
| Empyema | 5 | 0% |
| Encephalomyelitis | 5 | 0% |
| Enteritis infectious | 5 | 0% |
| Enterocolitis haemorrhagic | 5 | 0% |
| Enterovirus infection | 5 | 0% |
| Ephelides | 5 | 0% |
| Executive dysfunction | 5 | 0% |
| Exercise electrocardiogram normal | 5 | 0% |
| Exposure to vaccinated person | 5 | 0% |
| Extradural abscess | 5 | 0% |
| Extradural haematoma | 5 | 0% |
| Eye laser surgery | 5 | 0% |
| Eye patch application | 5 | 0% |
| Factor VIII inhibition | 5 | 0% |
| Factor V Leiden carrier | 5 | 0% |
| Fasciotomy | 5 | 0% |
| Fear of eating | 5 | 0% |
| Fibrinolysis | 5 | 0% |
| Flashback | 5 | 0% |
| Fluid imbalance | 5 | 0% |
| Foetal cardiac arrest | 5 | 0% |
| Foetal heart rate decreased | 5 | 0% |
| Foetal malformation | 5 | 0% |
| Full blood count decreased | 5 | 0% |
| Fumbling | 5 | 0% |
| Gamma-glutamyltransferase normal | 5 | 0% |
| Gastric infection | 5 | 0% |
| Gastroenteritis Escherichia coli | 5 | 0% |
| Gastrointestinal scan | 5 | 0% |
| Genital erythema | 5 | 0% |
| Genital herpes zoster | 5 | 0% |
| Genitourinary symptom | 5 | 0% |
| Glomerulonephritis membranous | 5 | 0% |
| Glucose tolerance test normal | 5 | 0% |
| Gross motor delay | 5 | 0% |
| Gynaecological examination abnormal | 5 | 0% |
| H1N1 influenza | 5 | 0% |
| Habit cough | 5 | 0% |
| Haemoconcentration | 5 | 0% |
| Haemoglobin urine present | 5 | 0% |
| Haemophilia | 5 | 0% |
| Haemorrhoid operation | 5 | 0% |
| Hallucination, tactile | 5 | 0% |
| Hand-foot-and-mouth disease | 5 | 0% |
| Haptoglobin increased | 5 | 0% |
| Head lag | 5 | 0% |
| Heat oedema | 5 | 0% |
| Hepatic artery thrombosis | 5 | 0% |
| Hepatic cancer | 5 | 0% |
| Hepatic haemorrhage | 5 | 0% |
| Hepatic necrosis | 5 | 0% |
| Hepatitis C virus core antigen | 5 | 0% |
| Hormone replacement therapy | 5 | 0% |
| Hormone therapy | 5 | 0% |
| Hostility | 5 | 0% |
| Human chorionic gonadotropin increased | 5 | 0% |
| Human herpesvirus 6 infection | 5 | 0% |
| Huntington's disease | 5 | 0% |
| Hydrocholecystis | 5 | 0% |
| Hyperferritinaemia | 5 | 0% |
| Hyperhomocysteinaemia | 5 | 0% |
| Hypermetabolism | 5 | 0% |
| Hypochloraemia | 5 | 0% |
| Hypochromasia | 5 | 0% |
| Hypomania | 5 | 0% |
| Immunoglobulins decreased | 5 | 0% |
| Immunology test abnormal | 5 | 0% |
| Imperception | 5 | 0% |
| Implant site pain | 5 | 0% |
| Infertility female | 5 | 0% |
| Ingrown hair | 5 | 0% |
| Inguinal mass | 5 | 0% |
| Inhalation therapy | 5 | 0% |
| Injection site erosion | 5 | 0% |
| Injection site exfoliation | 5 | 0% |
| Injection site muscle atrophy | 5 | 0% |
| Interferon gamma release assay | 5 | 0% |
| Internal capsule infarction | 5 | 0% |
| Intra-ocular injection | 5 | 0% |
| Intracranial haematoma | 5 | 0% |
| Intraocular pressure test abnormal | 5 | 0% |
| Intrauterine contraception | 5 | 0% |
| Iris adhesions | 5 | 0% |
| Iron binding capacity total decreased | 5 | 0% |
| Janus kinase 2 mutation | 5 | 0% |
| Job dissatisfaction | 5 | 0% |
| Keloid scar | 5 | 0% |
| Klebsiella test positive | 5 | 0% |
| Labile hypertension | 5 | 0% |
| Labour induction | 5 | 0% |
| Lacrimation decreased | 5 | 0% |
| Large intestinal ulcer | 5 | 0% |
| Laryngeal dyspnoea | 5 | 0% |
| Laryngeal stenosis | 5 | 0% |
| Lateral medullary syndrome | 5 | 0% |
| Left ventricular end-diastolic pressure | 5 | 0% |
| Left ventricular enlargement | 5 | 0% |
| Ligamentitis | 5 | 0% |
| Limb operation | 5 | 0% |
| Liquid product physical issue | 5 | 0% |
| Lithiasis | 5 | 0% |
| Liver tenderness | 5 | 0% |
| Locked-in syndrome | 5 | 0% |
| Lung diffusion test | 5 | 0% |
| Lymphadenitis bacterial | 5 | 0% |
| Lysozyme | 5 | 0% |
| Magnetic resonance imaging breast | 5 | 0% |
| Mallory-Weiss syndrome | 5 | 0% |
| Mass excision | 5 | 0% |
| Medical counselling | 5 | 0% |
| Meibomian gland dysfunction | 5 | 0% |
| Meningitis herpes | 5 | 0% |
| Meningoradiculitis | 5 | 0% |
| Metamyelocyte percentage | 5 | 0% |
| Metastases to liver | 5 | 0% |
| Metastases to lung | 5 | 0% |
| Metastases to peritoneum | 5 | 0% |
| Metastasis | 5 | 0% |
| Middle ear disorder | 5 | 0% |
| Middle ear inflammation | 5 | 0% |
| Mitral valve stenosis | 5 | 0% |
| Morphoea | 5 | 0% |
| Motor neurone disease | 5 | 0% |
| Muscle hypertrophy | 5 | 0% |
| Mycobacterium tuberculosis complex test positive | 5 | 0% |
| Myocardial necrosis | 5 | 0% |
| Myokymia | 5 | 0% |
| Nail ridging | 5 | 0% |
| Nasal crusting | 5 | 0% |
| Nasal odour | 5 | 0% |
| Nasolaryngoscopy | 5 | 0% |
| Near drowning | 5 | 0% |
| Neonatal disorder | 5 | 0% |
| Neoplasm recurrence | 5 | 0% |
| Nephrostomy | 5 | 0% |
| Nerve stimulation test abnormal | 5 | 0% |
| Neuritis cranial | 5 | 0% |
| Neuropathic muscular atrophy | 5 | 0% |
| Neuropsychiatric symptoms | 5 | 0% |
| Nipple disorder | 5 | 0% |
| Norovirus test | 5 | 0% |
| Oculogyric crisis | 5 | 0% |
| Oesophageal rupture | 5 | 0% |
| Oligoarthritis | 5 | 0% |
| Onycholysis | 5 | 0% |
| Oophorectomy | 5 | 0% |
| Optic nerve infarction | 5 | 0% |
| Ovarian enlargement | 5 | 0% |
| Oxygen saturation immeasurable | 5 | 0% |
| Palindromic rheumatism | 5 | 0% |
| Pancreatic failure | 5 | 0% |
| Pancreatic mass | 5 | 0% |
| Passive smoking | 5 | 0% |
| Patella fracture | 5 | 0% |
| Pathogen resistance | 5 | 0% |
| Patient restraint | 5 | 0% |
| Peau d'orange | 5 | 0% |
| Pelvic haematoma | 5 | 0% |
| Pelvic mass | 5 | 0% |
| Penile rash | 5 | 0% |
| Penile vein thrombosis | 5 | 0% |
| Perichondritis | 5 | 0% |
| Periodontitis | 5 | 0% |
| Peripheral artery aneurysm | 5 | 0% |
| Peripheral artery stenosis | 5 | 0% |
| Peripheral motor neuropathy | 5 | 0% |
| Peripheral nerve injury | 5 | 0% |
| Pernicious anaemia | 5 | 0% |
| Pharyngotonsillitis | 5 | 0% |
| Pica | 5 | 0% |
| Piriformis syndrome | 5 | 0% |
| Pityriasis rubra pilaris | 5 | 0% |
| Plasma viscosity | 5 | 0% |
| Platelet aggregation test | 5 | 0% |
| Platelet morphology | 5 | 0% |
| Plethysmography | 5 | 0% |
| Pneumocystis jirovecii pneumonia | 5 | 0% |
| Pneumonia klebsiella | 5 | 0% |
| Polycythaemia vera | 5 | 0% |
| Poor venous access | 5 | 0% |
| Post thrombotic syndrome | 5 | 0% |
| Pregnancy with contraceptive device | 5 | 0% |
| Premature ovulation | 5 | 0% |
| Primary cough headache | 5 | 0% |
| Prinzmetal angina | 5 | 0% |
| Product contamination physical | 5 | 0% |
| Product formulation issue | 5 | 0% |
| Product substitution | 5 | 0% |
| Progesterone receptor assay | 5 | 0% |
| Protein C decreased | 5 | 0% |
| Prothrombin index | 5 | 0% |
| Pseudolymphoma | 5 | 0% |
| Pulmonary imaging procedure abnormal | 5 | 0% |
| Pulmonary sarcoidosis | 5 | 0% |
| Pulse waveform | 5 | 0% |
| Quadrantanopia | 5 | 0% |
| Radial nerve compression | 5 | 0% |
| Recalled product administered | 5 | 0% |
| Refusal of treatment by relative | 5 | 0% |
| Renal embolism | 5 | 0% |
| Respiratory syncytial virus infection | 5 | 0% |
| Respiratory tract infection viral | 5 | 0% |
| Respiratory tract inflammation | 5 | 0% |
| Restless arm syndrome | 5 | 0% |
| Retinal vascular disorder | 5 | 0% |
| Retroperitoneal lymphadenopathy | 5 | 0% |
| Rhesus antigen negative | 5 | 0% |
| Rheumatoid factor quantitative | 5 | 0% |
| Rubella antibody test | 5 | 0% |
| Saliva analysis | 5 | 0% |
| Saliva discolouration | 5 | 0% |
| Salmonella test negative | 5 | 0% |
| Salmonellosis | 5 | 0% |
| Scan myocardial perfusion abnormal | 5 | 0% |
| Scleral disorder | 5 | 0% |
| Seborrhoeic keratosis | 5 | 0% |
| Sensory processing disorder | 5 | 0% |
| Septic screen | 5 | 0% |
| Shortened cervix | 5 | 0% |
| Skin discharge | 5 | 0% |
| Skin operation | 5 | 0% |
| Skull X-ray abnormal | 5 | 0% |
| Sleep attacks | 5 | 0% |
| Soft tissue injury | 5 | 0% |
| Solar lentigo | 5 | 0% |
| Spinal cord ischaemia | 5 | 0% |
| Spinal cord oedema | 5 | 0% |
| Spinal epidural haematoma | 5 | 0% |
| Splint application | 5 | 0% |
| Spontaneous penile erection | 5 | 0% |
| Starvation | 5 | 0% |
| Stereotypy | 5 | 0% |
| Steroid diabetes | 5 | 0% |
| Stertor | 5 | 0% |
| Stoma site haemorrhage | 5 | 0% |
| Stress urinary incontinence | 5 | 0% |
| Subclavian vein occlusion | 5 | 0% |
| Subcutaneous emphysema | 5 | 0% |
| Subdural haematoma evacuation | 5 | 0% |
| Supraventricular tachyarrhythmia | 5 | 0% |
| Surgical procedure repeated | 5 | 0% |
| Symmetrical drug-related intertriginous and flexural exanthema | 5 | 0% |
| Synovial rupture | 5 | 0% |
| T-lymphocyte count increased | 5 | 0% |
| Therapeutic product effect incomplete | 5 | 0% |
| Thyroid gland scan abnormal | 5 | 0% |
| Tonic posturing | 5 | 0% |
| Tonsillar ulcer | 5 | 0% |
| Tonsillectomy | 5 | 0% |
| Toxicologic test abnormal | 5 | 0% |
| Toxocariasis | 5 | 0% |
| Tracheal aspirate culture | 5 | 0% |
| Tracheal inflammation | 5 | 0% |
| Tracheal oedema | 5 | 0% |
| Transcutaneous pacing | 5 | 0% |
| Transferrin receptor assay | 5 | 0% |
| Trendelenburg position | 5 | 0% |
| Twin pregnancy | 5 | 0% |
| Tympanometry abnormal | 5 | 0% |
| Tympanometry normal | 5 | 0% |
| Ulnar nerve injury | 5 | 0% |
| Ulnar nerve palsy | 5 | 0% |
| Ultrasound bladder normal | 5 | 0% |
| Ultrasound eye normal | 5 | 0% |
| Umbilical hernia | 5 | 0% |
| Undersensing | 5 | 0% |
| Urine electrolytes normal | 5 | 0% |
| Uterine dilation and evacuation | 5 | 0% |
| Uterine inflammation | 5 | 0% |
| Vaccination site atrophy | 5 | 0% |
| Vaccination site joint inflammation | 5 | 0% |
| Vaginal cyst | 5 | 0% |
| Vaginal odour | 5 | 0% |
| Varicocele | 5 | 0% |
| Vascular graft thrombosis | 5 | 0% |
| Vascular operation | 5 | 0% |
| Vascular pseudoaneurysm | 5 | 0% |
| Vascular test abnormal | 5 | 0% |
| Vascular test normal | 5 | 0% |
| Vasculitis necrotising | 5 | 0% |
| Venipuncture | 5 | 0% |
| Venous angioplasty | 5 | 0% |
| Ventricular enlargement | 5 | 0% |
| Ventriculo-peritoneal shunt | 5 | 0% |
| Vertebral artery thrombosis | 5 | 0% |
| Visceral venous thrombosis | 5 | 0% |
| Visual acuity tests abnormal | 5 | 0% |
| Visual perseveration | 5 | 0% |
| Vitamin B12 abnormal | 5 | 0% |
| Vitamin K | 5 | 0% |
| VIth nerve disorder | 5 | 0% |
| Volume blood decreased | 5 | 0% |
| Von Willebrand's factor antigen test | 5 | 0% |
| White blood cell scan | 5 | 0% |
| Withdrawal bleed | 5 | 0% |
| X-ray gastrointestinal tract abnormal | 5 | 0% |
| Xerophthalmia | 5 | 0% |
| Abscess jaw | 4 | 0% |
| Accident at home | 4 | 0% |
| ACTH stimulation test | 4 | 0% |
| Action tremor | 4 | 0% |
| Activated partial thromboplastin time abnormal | 4 | 0% |
| Acute phase reaction | 4 | 0% |
| ADAMTS13 activity decreased | 4 | 0% |
| Adenopathy syphilitic | 4 | 0% |
| Adenosine deaminase | 4 | 0% |
| Adenovirus infection | 4 | 0% |
| Administration site oedema | 4 | 0% |
| Aerophagia | 4 | 0% |
| Agglutination test | 4 | 0% |
| Agnosia | 4 | 0% |
| Airway secretion clearance therapy | 4 | 0% |
| Alanine aminotransferase abnormal | 4 | 0% |
| Albumin CSF increased | 4 | 0% |
| Alexia | 4 | 0% |
| Alpha 1 foetoprotein normal | 4 | 0% |
| Amino acid level | 4 | 0% |
| Amniocentesis | 4 | 0% |
| Amphetamines | 4 | 0% |
| Anaemia of chronic disease | 4 | 0% |
| Anaemia vitamin B12 deficiency | 4 | 0% |
| Analgesic drug level therapeutic | 4 | 0% |
| Analgesic therapy | 4 | 0% |
| Angiogram retina abnormal | 4 | 0% |
| Anti-GAD antibody positive | 4 | 0% |
| Anti-ganglioside antibody negative | 4 | 0% |
| Anti-myelin-associated glycoprotein antibodies positive | 4 | 0% |
| Anti-thrombin antibody | 4 | 0% |
| Antiallergic therapy | 4 | 0% |
| Anticoagulation drug level | 4 | 0% |
| Anti factor Xa assay normal | 4 | 0% |
| Antisynthetase syndrome | 4 | 0% |
| Antithrombin III deficiency | 4 | 0% |
| Antiviral treatment | 4 | 0% |
| Aortic aneurysm repair | 4 | 0% |
| Appendicolith | 4 | 0% |
| Application site discolouration | 4 | 0% |
| Arterial injury | 4 | 0% |
| Arteriogram abnormal | 4 | 0% |
| Aspergillus test negative | 4 | 0% |
| Asterixis | 4 | 0% |
| Astigmatism | 4 | 0% |
| Asymptomatic bacteriuria | 4 | 0% |
| Atopy | 4 | 0% |
| Auditory nerve disorder | 4 | 0% |
| Autoimmune encephalopathy | 4 | 0% |
| Autoimmune neutropenia | 4 | 0% |
| Autoimmune thyroid disorder | 4 | 0% |
| Autoinflammatory disease | 4 | 0% |
| Autonomic dysreflexia | 4 | 0% |
| Bacterial disease carrier | 4 | 0% |
| Barrett's oesophagus | 4 | 0% |
| Benign breast neoplasm | 4 | 0% |
| Beta 2 globulin | 4 | 0% |
| Biliary cyst | 4 | 0% |
| Biopsy breast normal | 4 | 0% |
| Biopsy cervix | 4 | 0% |
| Biopsy lung abnormal | 4 | 0% |
| Biopsy lung normal | 4 | 0% |
| Biopsy tonsil | 4 | 0% |
| Biopsy vagina | 4 | 0% |
| Bladder sphincter atony | 4 | 0% |
| Blood beta-D-glucan | 4 | 0% |
| Blood calcitonin normal | 4 | 0% |
| Blood creatine abnormal | 4 | 0% |
| Blood electrolytes abnormal | 4 | 0% |
| Blood ethanol increased | 4 | 0% |
| Blood HIV RNA | 4 | 0% |
| Blood HIV RNA below assay limit | 4 | 0% |
| Blood immunoglobulin M decreased | 4 | 0% |
| Blood ketone body increased | 4 | 0% |
| Blood lactate dehydrogenase abnormal | 4 | 0% |
| Blood lactate dehydrogenase decreased | 4 | 0% |
| Blood lead | 4 | 0% |
| Blood luteinising hormone normal | 4 | 0% |
| Blood oestrogen increased | 4 | 0% |
| Blood parathyroid hormone normal | 4 | 0% |
| Blood pressure management | 4 | 0% |
| Blood thrombin | 4 | 0% |
| Bone lesion | 4 | 0% |
| Bone neoplasm | 4 | 0% |
| Bradypnoea | 4 | 0% |
| Brain stem auditory evoked response | 4 | 0% |
| Breakthrough pain | 4 | 0% |
| Breech presentation | 4 | 0% |
| Bronchial oedema | 4 | 0% |
| Bundle branch block bilateral | 4 | 0% |
| Calculus bladder | 4 | 0% |
| Carbuncle | 4 | 0% |
| Cardiac perfusion defect | 4 | 0% |
| Cardiac septal hypertrophy | 4 | 0% |
| Cardiothoracic ratio increased | 4 | 0% |
| Carotid pulse abnormal | 4 | 0% |
| Central nervous system stimulation | 4 | 0% |
| Cephalin flocculation | 4 | 0% |
| Cerebellar atrophy | 4 | 0% |
| Cerebellar haematoma | 4 | 0% |
| Cervical discharge | 4 | 0% |
| Cervical dysplasia | 4 | 0% |
| Cervix haemorrhage uterine | 4 | 0% |
| Change in sustained attention | 4 | 0% |
| Cholangitis sclerosing | 4 | 0% |
| Cholelithotomy | 4 | 0% |
| Choreoathetosis | 4 | 0% |
| Choroidal neovascularisation | 4 | 0% |
| Chromosome analysis normal | 4 | 0% |
| Chronic pigmented purpura | 4 | 0% |
| Colour vision tests | 4 | 0% |
| Complement factor C4 increased | 4 | 0% |
| Computerised tomogram pancreas abnormal | 4 | 0% |
| Computerised tomogram pancreas normal | 4 | 0% |
| Conjunctival disorder | 4 | 0% |
| Conjunctival irritation | 4 | 0% |
| Conjunctivitis viral | 4 | 0% |
| Contraindicated product prescribed | 4 | 0% |
| Corticosteroid binding globulin test | 4 | 0% |
| Coxsackie virus test positive | 4 | 0% |
| Cryoglobulins absent | 4 | 0% |
| CSF myelin basic protein normal | 4 | 0% |
| CSF neutrophil count | 4 | 0% |
| CSF white blood cell count positive | 4 | 0% |
| Cystic lung disease | 4 | 0% |
| Cytotoxic oedema | 4 | 0% |
| Dacryocystitis | 4 | 0% |
| Decreased embryo viability | 4 | 0% |
| Dental care | 4 | 0% |
| Dental restoration failure | 4 | 0% |
| Dermatitis herpetiformis | 4 | 0% |
| Dermatologic examination normal | 4 | 0% |
| Device breakage | 4 | 0% |
| Diabetic ketosis | 4 | 0% |
| Diaphragmatic paralysis | 4 | 0% |
| Diffuse alopecia | 4 | 0% |
| Diffuse alveolar damage | 4 | 0% |
| Diffuse vasculitis | 4 | 0% |
| Diffusion-weighted brain MRI abnormal | 4 | 0% |
| Distributive shock | 4 | 0% |
| Dose calculation error | 4 | 0% |
| Drug dispensed to wrong patient | 4 | 0% |
| Drug resistance | 4 | 0% |
| Drug withdrawal syndrome | 4 | 0% |
| Dural arteriovenous fistula | 4 | 0% |
| Dysbiosis | 4 | 0% |
| Dysdiadochokinesis | 4 | 0% |
| Dysmorphism | 4 | 0% |
| Eastern Cooperative Oncology Group performance status | 4 | 0% |
| Echoencephalogram | 4 | 0% |
| Electrocardiogram Q waves | 4 | 0% |
| Electrolyte depletion | 4 | 0% |
| Electronystagmogram abnormal | 4 | 0% |
| Encephalitis brain stem | 4 | 0% |
| Endometritis | 4 | 0% |
| Endoscopy small intestine | 4 | 0% |
| Enema administration | 4 | 0% |
| Enterobacter infection | 4 | 0% |
| Eosinophilic myocarditis | 4 | 0% |
| Epidural injection | 4 | 0% |
| Escherichia test negative | 4 | 0% |
| Exposure to toxic agent | 4 | 0% |
| External compression headache | 4 | 0% |
| Eye abscess | 4 | 0% |
| Eyelid bleeding | 4 | 0% |
| Eyelid exfoliation | 4 | 0% |
| Face and mouth X-ray normal | 4 | 0% |
| Factor VIII deficiency | 4 | 0% |
| Familial mediterranean fever | 4 | 0% |
| Feelings of worthlessness | 4 | 0% |
| FEV1/FVC ratio | 4 | 0% |
| Fever neonatal | 4 | 0% |
| Fibrocystic breast disease | 4 | 0% |
| Fixed eruption | 4 | 0% |
| Flight of ideas | 4 | 0% |
| Foetal cystic hygroma | 4 | 0% |
| Foetal heart rate increased | 4 | 0% |
| Foetal monitoring normal | 4 | 0% |
| Forced expiratory volume increased | 4 | 0% |
| Foreign body in gastrointestinal tract | 4 | 0% |
| Fractured sacrum | 4 | 0% |
| Frontal sinus operation | 4 | 0% |
| Fundoscopy normal | 4 | 0% |
| Gait deviation | 4 | 0% |
| Gastrointestinal carcinoma | 4 | 0% |
| Gastrointestinal surgery | 4 | 0% |
| Generalised onset non-motor seizure | 4 | 0% |
| Genital hypoaesthesia | 4 | 0% |
| Genital tract inflammation | 4 | 0% |
| Gingivitis ulcerative | 4 | 0% |
| Glomerular filtration rate abnormal | 4 | 0% |
| Glomerulonephritis rapidly progressive | 4 | 0% |
| Glucose-6-phosphate dehydrogenase deficiency | 4 | 0% |
| Graft versus host disease | 4 | 0% |
| Granulomatous lymphadenitis | 4 | 0% |
| Groin abscess | 4 | 0% |
| Haematocrit abnormal | 4 | 0% |
| Haematology test abnormal | 4 | 0% |
| Haematoma infection | 4 | 0% |
| Haemophilus test positive | 4 | 0% |
| Heart rate variability decreased | 4 | 0% |
| Heart sounds normal | 4 | 0% |
| Heavy exposure to ultraviolet light | 4 | 0% |
| HELLP syndrome | 4 | 0% |
| Hepatitis B antigen | 4 | 0% |
| Hepatitis B surface antibody negative | 4 | 0% |
| Hepatitis B virus test positive | 4 | 0% |
| Hepatitis toxic | 4 | 0% |
| Hepatorenal syndrome | 4 | 0% |
| Hereditary angioedema | 4 | 0% |
| Herpangina | 4 | 0% |
| Histone antibody positive | 4 | 0% |
| HLA marker study positive | 4 | 0% |
| Housebound | 4 | 0% |
| Human ehrlichiosis | 4 | 0% |
| Hunt and Hess scale | 4 | 0% |
| Hydroureter | 4 | 0% |
| Hyperammonaemia | 4 | 0% |
| Hyperemesis gravidarum | 4 | 0% |
| Hypereosinophilic syndrome | 4 | 0% |
| Hypergammaglobulinaemia | 4 | 0% |
| Hyperglycaemic hyperosmolar nonketotic syndrome | 4 | 0% |
| Hyperkinesia | 4 | 0% |
| Hyperparathyroidism | 4 | 0% |
| Hypnopompic hallucination | 4 | 0% |
| Hypocomplementaemia | 4 | 0% |
| Hypokalaemic syndrome | 4 | 0% |
| Hypopituitarism | 4 | 0% |
| Idiopathic angioedema | 4 | 0% |
| IIIrd nerve disorder | 4 | 0% |
| Iliotibial band syndrome | 4 | 0% |
| Immune-mediated myositis | 4 | 0% |
| Immunodeficiency common variable | 4 | 0% |
| Impulsive behaviour | 4 | 0% |
| Inadequate aseptic technique in use of product | 4 | 0% |
| Increased viscosity of bronchial secretion | 4 | 0% |
| Infected dermal cyst | 4 | 0% |
| Infected skin ulcer | 4 | 0% |
| Infection parasitic | 4 | 0% |
| Infection reactivation | 4 | 0% |
| Infective exacerbation of chronic obstructive airways disease | 4 | 0% |
| Influenza immunisation | 4 | 0% |
| Inhibitory drug interaction | 4 | 0% |
| Injection site joint discomfort | 4 | 0% |
| Injection site joint erythema | 4 | 0% |
| Injection site necrosis | 4 | 0% |
| Injury corneal | 4 | 0% |
| Insulin-requiring type 2 diabetes mellitus | 4 | 0% |
| Insulin resistant diabetes | 4 | 0% |
| Intentional overdose | 4 | 0% |
| Interferon gamma level | 4 | 0% |
| Interleukin-2 receptor assay | 4 | 0% |
| Intertrigo | 4 | 0% |
| Interventricular septum rupture | 4 | 0% |
| Intervertebral disc operation | 4 | 0% |
| Intestinal angioedema | 4 | 0% |
| Intestinal pseudo-obstruction | 4 | 0% |
| Intoxication by breast feeding | 4 | 0% |
| Intra-abdominal haemorrhage | 4 | 0% |
| Iodine allergy | 4 | 0% |
| Irregular sleep wake rhythm disorder | 4 | 0% |
| Ischaemic limb pain | 4 | 0% |
| JC polyomavirus test | 4 | 0% |
| Joint ankylosis | 4 | 0% |
| Jugular vein occlusion | 4 | 0% |
| Karyotype analysis | 4 | 0% |
| Laryngoscopy normal | 4 | 0% |
| Laser therapy | 4 | 0% |
| Latent autoimmune diabetes in adults | 4 | 0% |
| Leukaemia recurrent | 4 | 0% |
| Leukoplakia oral | 4 | 0% |
| Lhermitte's sign | 4 | 0% |
| Lichenification | 4 | 0% |
| Lid sulcus deepened | 4 | 0% |
| Ligament disorder | 4 | 0% |
| Light chain analysis increased | 4 | 0% |
| Lithotripsy | 4 | 0% |
| Liver function test decreased | 4 | 0% |
| Loose body in joint | 4 | 0% |
| Low density lipoprotein decreased | 4 | 0% |
| Lumbosacral plexopathy | 4 | 0% |
| Lumbosacral radiculopathy | 4 | 0% |
| Lymphatic obstruction | 4 | 0% |
| Macrophage count | 4 | 0% |
| Magnetic resonance imaging hepatobiliary abnormal | 4 | 0% |
| Malaria | 4 | 0% |
| Malocclusion | 4 | 0% |
| Massage | 4 | 0% |
| Mastectomy | 4 | 0% |
| Mastocytosis | 4 | 0% |
| Mediastinal disorder | 4 | 0% |
| Menarche | 4 | 0% |
| Meningitis pneumococcal | 4 | 0% |
| Meningorrhagia | 4 | 0% |
| Meralgia paraesthetica | 4 | 0% |
| Mesenteric arterial occlusion | 4 | 0% |
| Mesenteric haemorrhage | 4 | 0% |
| Metamyelocyte count increased | 4 | 0% |
| Methylmalonic aciduria | 4 | 0% |
| Microscopic polyangiitis | 4 | 0% |
| Mixed anxiety and depressive disorder | 4 | 0% |
| Monoclonal immunoglobulin increased | 4 | 0% |
| Mononeuropathy multiplex | 4 | 0% |
| Mouth cyst | 4 | 0% |
| Mucosal pain | 4 | 0% |
| Mucosa vesicle | 4 | 0% |
| Multigravida | 4 | 0% |
| Muscle strength normal | 4 | 0% |
| Musculoskeletal injury | 4 | 0% |
| Myalgia intercostal | 4 | 0% |
| Myeloid leukaemia | 4 | 0% |
| Myringitis | 4 | 0% |
| Nasal abscess | 4 | 0% |
| Nasal turbinate hypertrophy | 4 | 0% |
| Neurosis | 4 | 0% |
| Neutropenic sepsis | 4 | 0% |
| Neutrophil/lymphocyte ratio | 4 | 0% |
| Non-consummation | 4 | 0% |
| Non-pitting oedema | 4 | 0% |
| Obstructive shock | 4 | 0% |
| Occupational therapy | 4 | 0% |
| Ocular ischaemic syndrome | 4 | 0% |
| Oculofacial paralysis | 4 | 0% |
| Oedema blister | 4 | 0% |
| Oesophagram | 4 | 0% |
| Oestradiol normal | 4 | 0% |
| Opiates negative | 4 | 0% |
| Optical coherence tomography normal | 4 | 0% |
| Oral purpura | 4 | 0% |
| Oral viral infection | 4 | 0% |
| Organic erectile dysfunction | 4 | 0% |
| Osteolysis | 4 | 0% |
| Pancreatic enzymes | 4 | 0% |
| Pancreatitis chronic | 4 | 0% |
| Panel-reactive antibody | 4 | 0% |
| Papilloma viral infection | 4 | 0% |
| Paradoxical embolism | 4 | 0% |
| Paralysis recurrent laryngeal nerve | 4 | 0% |
| Paranasal sinus haemorrhage | 4 | 0% |
| Paronychia | 4 | 0% |
| Parophthalmia | 4 | 0% |
| Paroxysmal arrhythmia | 4 | 0% |
| Pelvic abscess | 4 | 0% |
| Penile discomfort | 4 | 0% |
| Percussion test | 4 | 0% |
| Peripheral nerve paresis | 4 | 0% |
| Peripheral pulse decreased | 4 | 0% |
| Periportal oedema | 4 | 0% |
| Peritonitis bacterial | 4 | 0% |
| Platelet function test | 4 | 0% |
| Platelet morphology normal | 4 | 0% |
| Pleural fibrosis | 4 | 0% |
| Pleural fluid analysis | 4 | 0% |
| Pneumonia legionella | 4 | 0% |
| Pneumonia streptococcal | 4 | 0% |
| Polyserositis | 4 | 0% |
| Postoperative thrombosis | 4 | 0% |
| Postpartum state | 4 | 0% |
| Post procedural infection | 4 | 0% |
| Premenstrual headache | 4 | 0% |
| Prenatal screening test abnormal | 4 | 0% |
| Primary biliary cholangitis | 4 | 0% |
| Primary headache associated with sexual activity | 4 | 0% |
| Procedural nausea | 4 | 0% |
| Procedural site reaction | 4 | 0% |
| Proctitis ulcerative | 4 | 0% |
| Proctosigmoidoscopy | 4 | 0% |
| Product prescribing error | 4 | 0% |
| Product selection error | 4 | 0% |
| Progressive multifocal leukoencephalopathy | 4 | 0% |
| Prone position | 4 | 0% |
| Prostatic disorder | 4 | 0% |
| Prosthetic cardiac valve thrombosis | 4 | 0% |
| Prothrombin level decreased | 4 | 0% |
| Pseudohyponatraemia | 4 | 0% |
| Pseudomonal bacteraemia | 4 | 0% |
| Pulmonary arterial pressure abnormal | 4 | 0% |
| Pulmonary contusion | 4 | 0% |
| Pulmonary microemboli | 4 | 0% |
| Pulse volume decreased | 4 | 0% |
| Puncture site oedema | 4 | 0% |
| Pustular psoriasis | 4 | 0% |
| Pyelitis | 4 | 0% |
| Pyruvate kinase | 4 | 0% |
| Quantitative sensory testing | 4 | 0% |
| Radial pulse increased | 4 | 0% |
| Reaction to colouring | 4 | 0% |
| Rectal injury | 4 | 0% |
| Red blood cell nucleated morphology present | 4 | 0% |
| Red blood cell schistocytes present | 4 | 0% |
| Relapsing-remitting multiple sclerosis | 4 | 0% |
| Renal artery stenosis | 4 | 0% |
| Renal cancer | 4 | 0% |
| Renal tubular injury | 4 | 0% |
| Reticulocyte percentage increased | 4 | 0% |
| Retinal function test abnormal | 4 | 0% |
| Retinal infarction | 4 | 0% |
| Retinal pigment epitheliopathy | 4 | 0% |
| Retinogram abnormal | 4 | 0% |
| Retroperitoneal haematoma | 4 | 0% |
| Retroplacental haematoma | 4 | 0% |
| Rhesus antigen | 4 | 0% |
| Rhesus antigen positive | 4 | 0% |
| Right ventricular systolic pressure | 4 | 0% |
| Rubella | 4 | 0% |
| Salt craving | 4 | 0% |
| SARS-CoV-1 test negative | 4 | 0% |
| Scarlet fever | 4 | 0% |
| Schellong test | 4 | 0% |
| Schistocytosis | 4 | 0% |
| Scrotal erythema | 4 | 0% |
| Seizure anoxic | 4 | 0% |
| Senile dementia | 4 | 0% |
| Sepsis syndrome | 4 | 0% |
| Seroconversion test negative | 4 | 0% |
| Serology normal | 4 | 0% |
| Serositis | 4 | 0% |
| Serratia infection | 4 | 0% |
| Sigmoidoscopy abnormal | 4 | 0% |
| Sinusitis bacterial | 4 | 0% |
| Skin laxity | 4 | 0% |
| Skin maceration | 4 | 0% |
| Skin turgor decreased | 4 | 0% |
| Small cell lung cancer | 4 | 0% |
| Smear cervix abnormal | 4 | 0% |
| Social anxiety disorder | 4 | 0% |
| Spinal deformity | 4 | 0% |
| Spinal retrolisthesis | 4 | 0% |
| Spirometry normal | 4 | 0% |
| Squamous cell carcinoma of skin | 4 | 0% |
| Stasis dermatitis | 4 | 0% |
| Sternotomy | 4 | 0% |
| Streptobacillus infection | 4 | 0% |
| Streptococcal bacteraemia | 4 | 0% |
| Streptococcal urinary tract infection | 4 | 0% |
| Swallow study abnormal | 4 | 0% |
| Synovial fluid analysis abnormal | 4 | 0% |
| Synovial fluid white blood cells positive | 4 | 0% |
| Systemic infection | 4 | 0% |
| Systemic scleroderma | 4 | 0% |
| Takayasu's arteritis | 4 | 0% |
| Temporal lobe epilepsy | 4 | 0% |
| Testicular torsion | 4 | 0% |
| Tetanus | 4 | 0% |
| Therapy cessation | 4 | 0% |
| Thrombin-antithrombin III complex normal | 4 | 0% |
| Thyroid stimulating immunoglobulin increased | 4 | 0% |
| Thyroxine free abnormal | 4 | 0% |
| Tidal volume | 4 | 0% |
| Tinea versicolour | 4 | 0% |
| Tinel's sign | 4 | 0% |
| Toe amputation | 4 | 0% |
| Tongue cyst | 4 | 0% |
| Tonsillar haemorrhage | 4 | 0% |
| Torsade de pointes | 4 | 0% |
| Total bile acids | 4 | 0% |
| Total cholesterol/HDL ratio normal | 4 | 0% |
| Total complement activity increased | 4 | 0% |
| Total lung capacity | 4 | 0% |
| Toxic shock syndrome | 4 | 0% |
| Tracheobronchitis | 4 | 0% |
| Transcranial electrical motor evoked potential monitoring | 4 | 0% |
| Transferrin decreased | 4 | 0% |
| Transferrin normal | 4 | 0% |
| Trigeminal nerve paresis | 4 | 0% |
| Trigeminal palsy | 4 | 0% |
| Triple negative breast cancer | 4 | 0% |
| Trisomy 18 | 4 | 0% |
| Troponin I decreased | 4 | 0% |
| Truncus coeliacus thrombosis | 4 | 0% |
| Tryptase increased | 4 | 0% |
| Tumour marker increased | 4 | 0% |
| Tympanic membrane hyperaemia | 4 | 0% |
| Type II hypersensitivity | 4 | 0% |
| Tyrosine kinase mutation assay | 4 | 0% |
| Ultrasonic angiogram | 4 | 0% |
| Ultrasound penis | 4 | 0% |
| Undifferentiated connective tissue disease | 4 | 0% |
| Urethritis noninfective | 4 | 0% |
| Urge incontinence | 4 | 0% |
| Urinary casts absent | 4 | 0% |
| Urinary tract infection enterococcal | 4 | 0% |
| Urinary tract obstruction | 4 | 0% |
| Urine amphetamine negative | 4 | 0% |
| Urine protein/creatinine ratio normal | 4 | 0% |
| Vaccination site dryness | 4 | 0% |
| Vaccination site eczema | 4 | 0% |
| Vaccination site macule | 4 | 0% |
| Vaccination site pallor | 4 | 0% |
| Valsalva maneuver | 4 | 0% |
| Varices oesophageal | 4 | 0% |
| Vascular cauterisation | 4 | 0% |
| Vascular compression | 4 | 0% |
| Vascular graft occlusion | 4 | 0% |
| Vascular stenosis | 4 | 0% |
| Vasoplegia syndrome | 4 | 0% |
| Vein collapse | 4 | 0% |
| Venous angioma of brain | 4 | 0% |
| Ventricular dyskinesia | 4 | 0% |
| Vertebral lesion | 4 | 0% |
| Vertebrobasilar insufficiency | 4 | 0% |
| Vertigo CNS origin | 4 | 0% |
| Vestibulitis | 4 | 0% |
| VIIIth nerve injury | 4 | 0% |
| Viral cardiomyopathy | 4 | 0% |
| Viral sepsis | 4 | 0% |
| Viral titre increased | 4 | 0% |
| Vocal cord paresis | 4 | 0% |
| Von Willebrand's disease | 4 | 0% |
| Vulvovaginal erythema | 4 | 0% |
| Vulvovaginal inflammation | 4 | 0% |
| Vulvovaginal injury | 4 | 0% |
| Winged scapula | 4 | 0% |
| Withdrawal hypertension | 4 | 0% |
| Wolff-Parkinson-White syndrome | 4 | 0% |
| Writer's cramp | 4 | 0% |
| Wrong dosage formulation | 4 | 0% |
| Wrong dose | 4 | 0% |
| X-ray gastrointestinal tract normal | 4 | 0% |
| X-ray with contrast | 4 | 0% |
| Yersinia test | 4 | 0% |
| Abdominal cavity drainage | 3 | 0% |
| Abdominal operation | 3 | 0% |
| Abdominal wall haemorrhage | 3 | 0% |
| Abortion early | 3 | 0% |
| Abscess intestinal | 3 | 0% |
| Abscess of eyelid | 3 | 0% |
| Abstains from alcohol | 3 | 0% |
| Acetabulum fracture | 3 | 0% |
| Acetonaemia | 3 | 0% |
| Acoustic neuritis | 3 | 0% |
| Acrochordon | 3 | 0% |
| Actinic keratosis | 3 | 0% |
| Acute chest syndrome | 3 | 0% |
| Acute haemorrhagic ulcerative colitis | 3 | 0% |
| Acute monocytic leukaemia | 3 | 0% |
| Acute promyelocytic leukaemia | 3 | 0% |
| ADAMTS13 activity normal | 3 | 0% |
| Adenocarcinoma of colon | 3 | 0% |
| Adenoma benign | 3 | 0% |
| Administration site joint movement impairment | 3 | 0% |
| Administration site rash | 3 | 0% |
| Administration site warmth | 3 | 0% |
| Aerococcus urinae infection | 3 | 0% |
| Agitated depression | 3 | 0% |
| Airway patency device insertion | 3 | 0% |
| Alcohol interaction | 3 | 0% |
| Alice in wonderland syndrome | 3 | 0% |
| Allen's test | 3 | 0% |
| Allergic respiratory disease | 3 | 0% |
| Allergy to metals | 3 | 0% |
| Alpha-1 anti-trypsin | 3 | 0% |
| Alpha 2 globulin normal | 3 | 0% |
| Alveolitis | 3 | 0% |
| Amino acid level increased | 3 | 0% |
| Amphetamines positive | 3 | 0% |
| Anal hypoaesthesia | 3 | 0% |
| Anaphylactoid shock | 3 | 0% |
| Anencephaly | 3 | 0% |
| Angina bullosa haemorrhagica | 3 | 0% |
| Angiogram peripheral | 3 | 0% |
| Anhidrosis | 3 | 0% |
| Ankle operation | 3 | 0% |
| Ankyloglossia congenital | 3 | 0% |
| Anosognosia | 3 | 0% |
| Anoxia | 3 | 0% |
| Anti-ganglioside antibody positive | 3 | 0% |
| Anti-HLA antibody test | 3 | 0% |
| Anti-islet cell antibody | 3 | 0% |
| Anti-NMDA antibody | 3 | 0% |
| Anti-platelet antibody positive | 3 | 0% |
| Anticonvulsant drug level decreased | 3 | 0% |
| Anti factor V antibody | 3 | 0% |
| Antipsychotic drug level below therapeutic | 3 | 0% |
| Antiribosomal P antibody | 3 | 0% |
| Aortic bruit | 3 | 0% |
| Aortic valve thickening | 3 | 0% |
| Aplasia pure red cell | 3 | 0% |
| Application site coldness | 3 | 0% |
| Application site rash | 3 | 0% |
| Application site reaction | 3 | 0% |
| Application site warmth | 3 | 0% |
| Arrested labour | 3 | 0% |
| Arterial catheterisation abnormal | 3 | 0% |
| Arthritis viral | 3 | 0% |
| Aspiration bursa | 3 | 0% |
| Aspiration joint abnormal | 3 | 0% |
| Autoimmune anaemia | 3 | 0% |
| Autoimmune hypothyroidism | 3 | 0% |
| Autonomic seizure | 3 | 0% |
| Aversion | 3 | 0% |
| Axillary web syndrome | 3 | 0% |
| Balanoposthitis | 3 | 0% |
| Ballismus | 3 | 0% |
| Barbiturates negative | 3 | 0% |
| Bartholin's cyst | 3 | 0% |
| Belligerence | 3 | 0% |
| Benign hydatidiform mole | 3 | 0% |
| Benign neoplasm | 3 | 0% |
| Benign neoplasm of thyroid gland | 3 | 0% |
| Beta-2 glycoprotein antibody positive | 3 | 0% |
| Bicuspid aortic valve | 3 | 0% |
| Bile acid malabsorption | 3 | 0% |
| Biliary catheter insertion | 3 | 0% |
| Biliary sepsis | 3 | 0% |
| Bilirubinuria | 3 | 0% |
| Binge eating | 3 | 0% |
| Biochemical pregnancy | 3 | 0% |
| Biopsy bone abnormal | 3 | 0% |
| Biopsy kidney normal | 3 | 0% |
| Biopsy prostate | 3 | 0% |
| Biopsy small intestine | 3 | 0% |
| Biopsy stomach | 3 | 0% |
| Bladder neck operation | 3 | 0% |
| Bladder neoplasm | 3 | 0% |
| Bleeding varicose vein | 3 | 0% |
| Blindness cortical | 3 | 0% |
| Blood acid phosphatase | 3 | 0% |
| Blood bilirubin unconjugated normal | 3 | 0% |
| Blood calcium abnormal | 3 | 0% |
| Blood catecholamines normal | 3 | 0% |
| Blood chromogranin A | 3 | 0% |
| Blood creatine decreased | 3 | 0% |
| Blood donor | 3 | 0% |
| Blood fibrinogen abnormal | 3 | 0% |
| Blood immunoglobulin A decreased | 3 | 0% |
| Blood lactic acid abnormal | 3 | 0% |
| Blood oestrogen decreased | 3 | 0% |
| Blood parathyroid hormone decreased | 3 | 0% |
| Blood pH abnormal | 3 | 0% |
| Blood pressure ambulatory increased | 3 | 0% |
| Blood pressure orthostatic decreased | 3 | 0% |
| Blood pressure orthostatic increased | 3 | 0% |
| Blood pressure orthostatic normal | 3 | 0% |
| Blood pressure systolic normal | 3 | 0% |
| Blood triglycerides abnormal | 3 | 0% |
| Blood viscosity increased | 3 | 0% |
| Body mass index increased | 3 | 0% |
| Bordetella test | 3 | 0% |
| Brain natriuretic peptide abnormal | 3 | 0% |
| Brain stem auditory evoked response normal | 3 | 0% |
| Breast cancer metastatic | 3 | 0% |
| Breast prosthesis user | 3 | 0% |
| Breast scan | 3 | 0% |
| Bronchoalveolar lavage abnormal | 3 | 0% |
| Bronchoalveolar lavage normal | 3 | 0% |
| Brucella test | 3 | 0% |
| Brudzinski's sign | 3 | 0% |
| Burn oesophageal | 3 | 0% |
| Bursal haematoma | 3 | 0% |
| Caffeine allergy | 3 | 0% |
| Calculus urinary | 3 | 0% |
| Cancer surgery | 3 | 0% |
| Candida test | 3 | 0% |
| Candida test positive | 3 | 0% |
| Carbohydrate antigen 19-9 increased | 3 | 0% |
| Carbohydrate antigen 125 increased | 3 | 0% |
| Cardiac function test abnormal | 3 | 0% |
| Cardiac pacemaker replacement | 3 | 0% |
| Cardiac ventriculogram left abnormal | 3 | 0% |
| Cardiac ventriculogram left normal | 3 | 0% |
| Cardiopulmonary bypass | 3 | 0% |
| Cardiopulmonary exercise test normal | 3 | 0% |
| Cardiovascular autonomic function test | 3 | 0% |
| Carotid artery stent insertion | 3 | 0% |
| Carotid bruit | 3 | 0% |
| Carotidynia | 3 | 0% |
| Castleman's disease | 3 | 0% |
| Cataract operation | 3 | 0% |
| Catheterisation venous | 3 | 0% |
| CD8 lymphocytes | 3 | 0% |
| Cellulitis staphylococcal | 3 | 0% |
| Cerebellar artery occlusion | 3 | 0% |
| Cerebral cyst | 3 | 0% |
| Cerebral endovascular aneurysm repair | 3 | 0% |
| Cerebral hypoperfusion | 3 | 0% |
| Cerebral vasoconstriction | 3 | 0% |
| Cervical cord compression | 3 | 0% |
| Change in seizure presentation | 3 | 0% |
| Chemical burn of skin | 3 | 0% |
| Chlamydia test positive | 3 | 0% |
| Chloasma | 3 | 0% |
| Chloropsia | 3 | 0% |
| Cholangiocarcinoma | 3 | 0% |
| Cholangitis acute | 3 | 0% |
| Chondritis | 3 | 0% |
| Chordae tendinae rupture | 3 | 0% |
| Chronic active Epstein-Barr virus infection | 3 | 0% |
| Chronic lymphocytic leukaemia recurrent | 3 | 0% |
| Chronic myeloid leukaemia | 3 | 0% |
| Cirrhosis alcoholic | 3 | 0% |
| Citrobacter infection | 3 | 0% |
| Clinomania | 3 | 0% |
| Coagulation factor inhibitor assay | 3 | 0% |
| Coagulation factor VII level | 3 | 0% |
| Coagulation factor XI level | 3 | 0% |
| Coagulation factor X level normal | 3 | 0% |
| Cognitive linguistic deficit | 3 | 0% |
| Coital bleeding | 3 | 0% |
| Cold agglutinins | 3 | 0% |
| Colon cancer metastatic | 3 | 0% |
| Combined immunodeficiency | 3 | 0% |
| Complement factor decreased | 3 | 0% |
| Confusional arousal | 3 | 0% |
| Congenital cystic kidney disease | 3 | 0% |
| Constricted affect | 3 | 0% |
| Contact lens intolerance | 3 | 0% |
| Coombs indirect test | 3 | 0% |
| Coombs test negative | 3 | 0% |
| Corneal bleeding | 3 | 0% |
| Coronary artery aneurysm | 3 | 0% |
| Coronary artery dilatation | 3 | 0% |
| Cramp-fasciculation syndrome | 3 | 0% |
| Cranial nerve infection | 3 | 0% |
| Cranial nerve injury | 3 | 0% |
| Craniosynostosis | 3 | 0% |
| Creatinine renal clearance normal | 3 | 0% |
| Crystal urine | 3 | 0% |
| Crystal urine absent | 3 | 0% |
| CSF mononuclear cell count increased | 3 | 0% |
| CSF pressure normal | 3 | 0% |
| CSF white blood cell count decreased | 3 | 0% |
| Cutaneous T-cell lymphoma | 3 | 0% |
| Cyanosis central | 3 | 0% |
| Cystitis bacterial | 3 | 0% |
| Cystitis escherichia | 3 | 0% |
| Cyst removal | 3 | 0% |
| Cytokine abnormal | 3 | 0% |
| Cytomegalovirus viraemia | 3 | 0% |
| Dactylitis | 3 | 0% |
| Dandruff | 3 | 0% |
| Decreased insulin requirement | 3 | 0% |
| Deformity thorax | 3 | 0% |
| Dehydroepiandrosterone decreased | 3 | 0% |
| Delusional disorder, unspecified type | 3 | 0% |
| Dementia with Lewy bodies | 3 | 0% |
| Dengue fever | 3 | 0% |
| Dermoid cyst | 3 | 0% |
| Developmental delay | 3 | 0% |
| Device expulsion | 3 | 0% |
| Device failure | 3 | 0% |
| Device issue | 3 | 0% |
| Device use error | 3 | 0% |
| Diabetic hyperosmolar coma | 3 | 0% |
| Diabetic nephropathy | 3 | 0% |
| Diaphragmatic hernia | 3 | 0% |
| Diarrhoea neonatal | 3 | 0% |
| Diffusion-weighted brain MRI | 3 | 0% |
| Disease complication | 3 | 0% |
| Diverticular perforation | 3 | 0% |
| Drain of cerebral subdural space | 3 | 0% |
| Dressler's syndrome | 3 | 0% |
| Drug administered in wrong device | 3 | 0% |
| Drug effect less than expected | 3 | 0% |
| Drug exposure before pregnancy | 3 | 0% |
| Drug level decreased | 3 | 0% |
| Drug specific antibody absent | 3 | 0% |
| Dyspareunia | 3 | 0% |
| Ear canal erythema | 3 | 0% |
| Ear infection fungal | 3 | 0% |
| Early satiety | 3 | 0% |
| Eczema asteatotic | 3 | 0% |
| Ejaculation failure | 3 | 0% |
| Electrocardiogram P wave abnormal | 3 | 0% |
| Electrocardiogram QT interval abnormal | 3 | 0% |
| Electrocardiogram QT interval normal | 3 | 0% |
| Electrocardiogram RR interval | 3 | 0% |
| Electrocardiogram T wave amplitude decreased | 3 | 0% |
| Electrocardiogram T wave normal | 3 | 0% |
| Electrocorticogram | 3 | 0% |
| Electrophoresis normal | 3 | 0% |
| Endocarditis bacterial | 3 | 0% |
| Endometrial hyperplasia | 3 | 0% |
| Enterococcus test positive | 3 | 0% |
| Enterovesical fistula | 3 | 0% |
| Enzyme abnormality | 3 | 0% |
| Enzyme activity normal | 3 | 0% |
| Enzyme level abnormal | 3 | 0% |
| Eosinophil count abnormal | 3 | 0% |
| Eosinophilic granulomatosis with polyangiitis | 3 | 0% |
| Eosinophilic pneumonia | 3 | 0% |
| Epidermal necrosis | 3 | 0% |
| Epidural haemorrhage | 3 | 0% |
| Epinephrine increased | 3 | 0% |
| Epstein-Barr viraemia | 3 | 0% |
| Erythema migrans | 3 | 0% |
| Erythrodermic psoriasis | 3 | 0% |
| Escherichia pyelonephritis | 3 | 0% |
| Ex-tobacco user | 3 | 0% |
| Exercise test normal | 3 | 0% |
| Expanded disability status scale | 3 | 0% |
| Exploding head syndrome | 3 | 0% |
| Exploratory operation | 3 | 0% |
| External ear disorder | 3 | 0% |
| External vagal nerve stimulation | 3 | 0% |
| Extranodal marginal zone B-cell lymphoma (MALT type) | 3 | 0% |
| Facetectomy | 3 | 0% |
| Factitious disorder | 3 | 0% |
| Factor V deficiency | 3 | 0% |
| Fallopian tube operation | 3 | 0% |
| False positive investigation result | 3 | 0% |
| Familial risk factor | 3 | 0% |
| Family stress | 3 | 0% |
| Fat necrosis | 3 | 0% |
| Fear-related avoidance of activities | 3 | 0% |
| Female reproductive tract disorder | 3 | 0% |
| Female sex hormone level | 3 | 0% |
| Floppy eyelid syndrome | 3 | 0% |
| Fluorescence angiogram normal | 3 | 0% |
| Foetal biophysical profile score abnormal | 3 | 0% |
| Foetal heart rate normal | 3 | 0% |
| Foot operation | 3 | 0% |
| Forced expiratory volume decreased | 3 | 0% |
| Forced vital capacity | 3 | 0% |
| Full blood count increased | 3 | 0% |
| Gallbladder hypofunction | 3 | 0% |
| Gastrointestinal bacterial overgrowth | 3 | 0% |
| Gastrointestinal obstruction | 3 | 0% |
| Gastrointestinal stoma complication | 3 | 0% |
| Gastrointestinal ulcer | 3 | 0% |
| Gastrointestinal viral infection | 3 | 0% |
| Gene mutation identification test positive | 3 | 0% |
| General physical condition normal | 3 | 0% |
| Giardiasis | 3 | 0% |
| Giardia test | 3 | 0% |
| Gingival recession | 3 | 0% |
| Gliosis | 3 | 0% |
| Glomerulonephritis acute | 3 | 0% |
| Glossopharyngeal neuralgia | 3 | 0% |
| Gouty arthritis | 3 | 0% |
| Granulocyte count decreased | 3 | 0% |
| Granulocytes abnormal | 3 | 0% |
| Granulocytopenia | 3 | 0% |
| Gravitational oedema | 3 | 0% |
| Growing pains | 3 | 0% |
| Growth disorder | 3 | 0% |
| Gun shot wound | 3 | 0% |
| Haematotympanum | 3 | 0% |
| Haemochromatosis | 3 | 0% |
| Haemolytic uraemic syndrome | 3 | 0% |
| Haemophobia | 3 | 0% |
| Haemorrhagic pneumonia | 3 | 0% |
| Heart transplant | 3 | 0% |
| Heart valve replacement | 3 | 0% |
| Heat cramps | 3 | 0% |
| Hemiapraxia | 3 | 0% |
| Hepatic infection | 3 | 0% |
| Hepatitis A antigen negative | 3 | 0% |
| Hepatitis A virus test positive | 3 | 0% |
| Hepatitis B surface antibody positive | 3 | 0% |
| Hepatitis C antibody positive | 3 | 0% |
| Hepatitis C virus test positive | 3 | 0% |
| Hepatitis fulminant | 3 | 0% |
| Hepatitis infectious mononucleosis | 3 | 0% |
| Hepatobiliary scan abnormal | 3 | 0% |
| Hepatocellular carcinoma | 3 | 0% |
| Hepatojugular reflux | 3 | 0% |
| Hereditary ataxia | 3 | 0% |
| Hernia pain | 3 | 0% |
| Herpes zoster meningoradiculitis | 3 | 0% |
| Heterophoria | 3 | 0% |
| Hippocampal atrophy | 3 | 0% |
| Histamine abnormal | 3 | 0% |
| Histology abnormal | 3 | 0% |
| Hoffmann's sign | 3 | 0% |
| Homans' sign positive | 3 | 0% |
| Homeless | 3 | 0% |
| HTLV-1 test | 3 | 0% |
| HTLV-2 test | 3 | 0% |
| HTLV test | 3 | 0% |
| Human papilloma virus test negative | 3 | 0% |
| Hydrogen breath test normal | 3 | 0% |
| Hydrosalpinx | 3 | 0% |
| Hyperbaric oxygen therapy | 3 | 0% |
| Hypercreatininaemia | 3 | 0% |
| Hyperexplexia | 3 | 0% |
| Hypergammaglobulinaemia benign monoclonal | 3 | 0% |
| Hyperphosphataemia | 3 | 0% |
| Hyperproteinaemia | 3 | 0% |
| Hypersexuality | 3 | 0% |
| Hyphaema | 3 | 0% |
| Hypocapnia | 3 | 0% |
| Hypohidrosis | 3 | 0% |
| Hyponatraemic syndrome | 3 | 0% |
| Hypoproteinaemia | 3 | 0% |
| Hyposomnia | 3 | 0% |
| Idiopathic orbital inflammation | 3 | 0% |
| IL-2 receptor assay | 3 | 0% |
| Iliac artery embolism | 3 | 0% |
| Illogical thinking | 3 | 0% |
| Immobilisation syndrome | 3 | 0% |
| Immune-mediated hepatitis | 3 | 0% |
| Immune reconstitution inflammatory syndrome | 3 | 0% |
| Immunosuppressant drug level | 3 | 0% |
| Impulse-control disorder | 3 | 0% |
| Inadequate analgesia | 3 | 0% |
| Incentive spirometry | 3 | 0% |
| Infected bite | 3 | 0% |
| Infection in an immunocompromised host | 3 | 0% |
| Infection susceptibility increased | 3 | 0% |
| Infertility | 3 | 0% |
| Infertility tests | 3 | 0% |
| Inflammation of wound | 3 | 0% |
| Inflammatory carcinoma of the breast | 3 | 0% |
| Inflammatory marker decreased | 3 | 0% |
| Infusion site extravasation | 3 | 0% |
| Inguinal hernia repair | 3 | 0% |
| Injection site eczema | 3 | 0% |
| Injection site granuloma | 3 | 0% |
| Instillation site paraesthesia | 3 | 0% |
| Intensive care unit acquired weakness | 3 | 0% |
| Intercepted product dispensing error | 3 | 0% |
| Interstitial granulomatous dermatitis | 3 | 0% |
| Interventional procedure | 3 | 0% |
| Intervertebral disc annular tear | 3 | 0% |
| Intervertebral discitis | 3 | 0% |
| Intestinal mass | 3 | 0% |
| Intestinal mucosal tear | 3 | 0% |
| Intra-abdominal pressure increased | 3 | 0% |
| Intracardiac mass | 3 | 0% |
| Intraductal proliferative breast lesion | 3 | 0% |
| Intraocular pressure decreased | 3 | 0% |
| Intraosseous access placement | 3 | 0% |
| Iodine uptake | 3 | 0% |
| Iron binding capacity total increased | 3 | 0% |
| Ischaemic skin ulcer | 3 | 0% |
| IVth nerve paresis | 3 | 0% |
| Joint dislocation reduction | 3 | 0% |
| Joint laxity | 3 | 0% |
| Joint stabilisation | 3 | 0% |
| Juvenile idiopathic arthritis | 3 | 0% |
| Keratomileusis | 3 | 0% |
| Kidney fibrosis | 3 | 0% |
| KL-6 | 3 | 0% |
| Large intestinal haemorrhage | 3 | 0% |
| Large intestinal obstruction | 3 | 0% |
| Large intestinal stenosis | 3 | 0% |
| Laryngeal inflammation | 3 | 0% |
| Laryngitis viral | 3 | 0% |
| Laryngomalacia | 3 | 0% |
| Laryngoscopy abnormal | 3 | 0% |
| Lateropulsion | 3 | 0% |
| Learning disability | 3 | 0% |
| Leukoplakia | 3 | 0% |
| Ligament injury | 3 | 0% |
| Light chain analysis normal | 3 | 0% |
| Limb crushing injury | 3 | 0% |
| Linear IgA disease | 3 | 0% |
| Listeriosis | 3 | 0% |
| Liver scan normal | 3 | 0% |
| Liver transplant rejection | 3 | 0% |
| Long QT syndrome | 3 | 0% |
| Lordosis | 3 | 0% |
| Low birth weight baby | 3 | 0% |
| Low cardiac output syndrome | 3 | 0% |
| Lung carcinoma cell type unspecified stage IV | 3 | 0% |
| Lung cyst | 3 | 0% |
| Lung operation | 3 | 0% |
| Lung transplant rejection | 3 | 0% |
| Lymphangioma | 3 | 0% |
| Lymph node rupture | 3 | 0% |
| Lymphoblast count | 3 | 0% |
| Lymphocele | 3 | 0% |
| Lymphocyte morphology | 3 | 0% |
| Lymphoid tissue hyperplasia | 3 | 0% |
| Macrocephaly | 3 | 0% |
| Macular rupture | 3 | 0% |
| Magnetic resonance imaging whole body | 3 | 0% |
| Magnetic therapy | 3 | 0% |
| Malaria antigen test | 3 | 0% |
| Malignant ascites | 3 | 0% |
| Mandibular mass | 3 | 0% |
| Manic symptom | 3 | 0% |
| Mantle cell lymphoma | 3 | 0% |
| Manual lymphatic drainage | 3 | 0% |
| Mastoid effusion | 3 | 0% |
| Matrix metalloproteinase-3 | 3 | 0% |
| Medical device removal | 3 | 0% |
| Menstrual cycle management | 3 | 0% |
| Mental disability | 3 | 0% |
| Mesenteric artery embolism | 3 | 0% |
| Metanephrine urine | 3 | 0% |
| Metastases to spine | 3 | 0% |
| Microbiology test normal | 3 | 0% |
| Milk allergy | 3 | 0% |
| Mineral deficiency | 3 | 0% |
| Misophonia | 3 | 0% |
| Mitral valve disease | 3 | 0% |
| Mole excision | 3 | 0% |
| Monoclonal B-cell lymphocytosis | 3 | 0% |
| Monocyte count abnormal | 3 | 0% |
| Monofilament pressure perception test | 3 | 0% |
| Morbid thoughts | 3 | 0% |
| Morganella infection | 3 | 0% |
| Morton's neuralgia | 3 | 0% |
| Moyamoya disease | 3 | 0% |
| Muscle abscess | 3 | 0% |
| Muscle necrosis | 3 | 0% |
| Muscular dystrophy | 3 | 0% |
| Myelocyte count increased | 3 | 0% |
| Myelocyte percentage | 3 | 0% |
| Myelofibrosis | 3 | 0% |
| Myoglobinuria | 3 | 0% |
| Nail bed bleeding | 3 | 0% |
| Nail bed disorder | 3 | 0% |
| Nasal mucosal disorder | 3 | 0% |
| Natural killer T cell count | 3 | 0% |
| Necrotising colitis | 3 | 0% |
| Necrotising retinitis | 3 | 0% |
| Neonatal asphyxia | 3 | 0% |
| Neonatal insufficient breast milk syndrome | 3 | 0% |
| Neonatal respiratory distress | 3 | 0% |
| Nephritic syndrome | 3 | 0% |
| Nephrosclerosis | 3 | 0% |
| Neuroborreliosis | 3 | 0% |
| Neurodegenerative disorder | 3 | 0% |
| Neurodermatitis | 3 | 0% |
| Neuropathic arthropathy | 3 | 0% |
| Neurosarcoidosis | 3 | 0% |
| Neurotoxicity | 3 | 0% |
| Nikolsky's sign | 3 | 0% |
| Non-high-density lipoprotein cholesterol increased | 3 | 0% |
| Norepinephrine increased | 3 | 0% |
| Normal pressure hydrocephalus | 3 | 0% |
| Normochromic anaemia | 3 | 0% |
| Nutritional assessment | 3 | 0% |
| Obsessive thoughts | 3 | 0% |
| Ocular rosacea | 3 | 0% |
| Oedema genital | 3 | 0% |
| Oesophageal cancer metastatic | 3 | 0% |
| Oesophageal dilatation | 3 | 0% |
| Oesophageal irritation | 3 | 0% |
| Oesophageal oedema | 3 | 0% |
| Oestradiol increased | 3 | 0% |
| Oligohydramnios | 3 | 0% |
| Optic nerve sheath haemorrhage | 3 | 0% |
| Optic perineuritis | 3 | 0% |
| Oral administration complication | 3 | 0% |
| Oral allergy syndrome | 3 | 0% |
| Oral discharge | 3 | 0% |
| Oral lichenoid reaction | 3 | 0% |
| Oral mucosa haematoma | 3 | 0% |
| Oral soft tissue biopsy | 3 | 0% |
| Organic brain syndrome | 3 | 0% |
| Oromandibular dystonia | 3 | 0% |
| Oropharyngeal candidiasis | 3 | 0% |
| Orthostatic heart rate response increased | 3 | 0% |
| Osteomyelitis acute | 3 | 0% |
| Osteonecrosis | 3 | 0% |
| Osteonecrosis of jaw | 3 | 0% |
| Ovarian mass | 3 | 0% |
| Oxygen consumption increased | 3 | 0% |
| Pacemaker generated rhythm | 3 | 0% |
| Painful ejaculation | 3 | 0% |
| Pain management | 3 | 0% |
| Palatal ulcer | 3 | 0% |
| Palate injury | 3 | 0% |
| Palmoplantar pustulosis | 3 | 0% |
| Palpatory finding abnormal | 3 | 0% |
| Pancreatic carcinoma metastatic | 3 | 0% |
| Pancreatic enlargement | 3 | 0% |
| Pancreatic pseudocyst | 3 | 0% |
| Pancreatitis relapsing | 3 | 0% |
| Panophthalmitis | 3 | 0% |
| Paramnesia | 3 | 0% |
| Paratracheal lymphadenopathy | 3 | 0% |
| Paresis cranial nerve | 3 | 0% |
| Parvovirus B19 test positive | 3 | 0% |
| Patellofemoral pain syndrome | 3 | 0% |
| Pectus excavatum | 3 | 0% |
| Pelvic congestion | 3 | 0% |
| Pelvic fluid collection | 3 | 0% |
| Penile erythema | 3 | 0% |
| Perforation | 3 | 0% |
| Periodic acid Schiff stain | 3 | 0% |
| Peripheral artery bypass | 3 | 0% |
| Peripheral nerve decompression | 3 | 0% |
| Peripheral vein stenosis | 3 | 0% |
| Pernio-like erythema | 3 | 0% |
| Peroneal nerve injury | 3 | 0% |
| Phlebitis deep | 3 | 0% |
| Phlebotomy | 3 | 0% |
| Pityriasis lichenoides et varioliformis acuta | 3 | 0% |
| Plasma cell count | 3 | 0% |
| Platelet function test normal | 3 | 0% |
| Pleurodesis | 3 | 0% |
| Pneumatosis intestinalis | 3 | 0% |
| Pneumobilia | 3 | 0% |
| Pneumococcal sepsis | 3 | 0% |
| Pneumoconiosis | 3 | 0% |
| Pneumocystis test | 3 | 0% |
| Pneumoperitoneum | 3 | 0% |
| Poliomyelitis | 3 | 0% |
| Polyarteritis nodosa | 3 | 0% |
| Polymorphic light eruption | 3 | 0% |
| Porphyria acute | 3 | 0% |
| Portal vein occlusion | 3 | 0% |
| Positive end-expiratory pressure | 3 | 0% |
| Positron emission tomography-magnetic resonance imaging | 3 | 0% |
| Post-tussive vomiting | 3 | 0% |
| Postoperative ileus | 3 | 0% |
| Postoperative wound complication | 3 | 0% |
| Post polio syndrome | 3 | 0% |
| Post procedural contusion | 3 | 0% |
| Postural tremor | 3 | 0% |
| Poverty of speech | 3 | 0% |
| Preauricular cyst | 3 | 0% |
| Precancerous skin lesion | 3 | 0% |
| Pregnancy on contraceptive | 3 | 0% |
| Primigravida | 3 | 0% |
| Procedural complication | 3 | 0% |
| Procedural haemorrhage | 3 | 0% |
| Procedure aborted | 3 | 0% |
| Proctoscopy | 3 | 0% |
| Product administered by wrong person | 3 | 0% |
| Product contamination | 3 | 0% |
| Product monitoring error | 3 | 0% |
| Product substitution issue | 3 | 0% |
| Product use complaint | 3 | 0% |
| Prolonged expiration | 3 | 0% |
| Prolonged pregnancy | 3 | 0% |
| Prophylaxis | 3 | 0% |
| Prophylaxis of nausea and vomiting | 3 | 0% |
| Prosopagnosia | 3 | 0% |
| Prostatic operation | 3 | 0% |
| Prostatic specific antigen decreased | 3 | 0% |
| Prothrombin time abnormal | 3 | 0% |
| Pseudomembranous colitis | 3 | 0% |
| Pseudomonas test | 3 | 0% |
| Psychological trauma | 3 | 0% |
| Pulmonary hilar enlargement | 3 | 0% |
| Pulmonary sensitisation | 3 | 0% |
| Pulmonary venous hypertension | 3 | 0% |
| Pulse pressure decreased | 3 | 0% |
| Purpura non-thrombocytopenic | 3 | 0% |
| Quantitative sudomotor axon reflex test | 3 | 0% |
| Radioallergosorbent test | 3 | 0% |
| Rapid eye movements sleep abnormal | 3 | 0% |
| Rash maculovesicular | 3 | 0% |
| Rash papulosquamous | 3 | 0% |
| Rash scarlatiniform | 3 | 0% |
| Reaction to food additive | 3 | 0% |
| Rectal abscess | 3 | 0% |
| Rectal examination abnormal | 3 | 0% |
| Rectal examination normal | 3 | 0% |
| Red blood cell anisocytes present | 3 | 0% |
| Red blood cell elliptocytes present | 3 | 0% |
| Reduction of increased intracranial pressure | 3 | 0% |
| Relapsing fever | 3 | 0% |
| Relapsing multiple sclerosis | 3 | 0% |
| Renal artery stent placement | 3 | 0% |
| Renal cancer metastatic | 3 | 0% |
| Renal cell carcinoma | 3 | 0% |
| Renal stone removal | 3 | 0% |
| Renal vascular thrombosis | 3 | 0% |
| Residual urine volume | 3 | 0% |
| Respiratory sinus arrhythmia magnitude abnormal | 3 | 0% |
| Respiratory tract infection bacterial | 3 | 0% |
| Restrictive pulmonary disease | 3 | 0% |
| Reticular cell count | 3 | 0% |
| Reticulocyte percentage | 3 | 0% |
| Retinal injury | 3 | 0% |
| Retinal toxicity | 3 | 0% |
| Retinopexy | 3 | 0% |
| Rhesus antibodies | 3 | 0% |
| Rhesus antibodies positive | 3 | 0% |
| Rheumatoid factor decreased | 3 | 0% |
| Rhinophyma | 3 | 0% |
| Rhinoscopy | 3 | 0% |
| Rhythm idioventricular | 3 | 0% |
| Right hemisphere deficit syndrome | 3 | 0% |
| Right ventricular diastolic collapse | 3 | 0% |
| Russell's viper venom time abnormal | 3 | 0% |
| Russell's viper venom time normal | 3 | 0% |
| Salivary gland mass | 3 | 0% |
| Salmonella test | 3 | 0% |
| Salmonella test positive | 3 | 0% |
| Salpingectomy | 3 | 0% |
| SARS-CoV-2 RNA fluctuation | 3 | 0% |
| SARS-CoV-2 test false negative | 3 | 0% |
| Satoyoshi syndrome | 3 | 0% |
| Scar inflammation | 3 | 0% |
| Sciatic nerve injury | 3 | 0% |
| Scrotal dermatitis | 3 | 0% |
| Scrotal oedema | 3 | 0% |
| Secondary transmission | 3 | 0% |
| Segmented hyalinising vasculitis | 3 | 0% |
| Self-medication | 3 | 0% |
| Semen volume decreased | 3 | 0% |
| Sensory integrative dysfunction | 3 | 0% |
| Sensory level | 3 | 0% |
| Serology positive | 3 | 0% |
| Seroma | 3 | 0% |
| Serum ferritin abnormal | 3 | 0% |
| Serum serotonin | 3 | 0% |
| Shoulder deformity | 3 | 0% |
| Shoulder operation | 3 | 0% |
| Sigmoidoscopy normal | 3 | 0% |
| Sinoatrial block | 3 | 0% |
| Skin graft | 3 | 0% |
| Sleep study abnormal | 3 | 0% |
| Sleep study normal | 3 | 0% |
| Smear buccal | 3 | 0% |
| Soft tissue haemorrhage | 3 | 0% |
| Soft tissue mass | 3 | 0% |
| Solar dermatitis | 3 | 0% |
| Somatotropin stimulation test | 3 | 0% |
| Specific gravity body fluid | 3 | 0% |
| Specific gravity urine abnormal | 3 | 0% |
| Spinal column injury | 3 | 0% |
| Spinal cord haemorrhage | 3 | 0% |
| Spinal cord injury thoracic | 3 | 0% |
| Spinal myelogram normal | 3 | 0% |
| Splenic lesion | 3 | 0% |
| Sternal fracture | 3 | 0% |
| Stiff person syndrome | 3 | 0% |
| Stoma site discharge | 3 | 0% |
| Stool DNA test | 3 | 0% |
| Strangury | 3 | 0% |
| Stroke in evolution | 3 | 0% |
| Stroke volume | 3 | 0% |
| Substance-induced psychotic disorder | 3 | 0% |
| Superficial injury of eye | 3 | 0% |
| Superior vena cava syndrome | 3 | 0% |
| Suspected counterfeit product | 3 | 0% |
| Suspiciousness | 3 | 0% |
| Synovial fluid crystal present | 3 | 0% |
| T-lymphocyte count decreased | 3 | 0% |
| Teeth brittle | 3 | 0% |
| Temperature perception test increased | 3 | 0% |
| Tenoplasty | 3 | 0% |
| Testicular mass | 3 | 0% |
| Testis cancer | 3 | 0% |
| Thalassaemia minor | 3 | 0% |
| Therapeutic product ineffective | 3 | 0% |
| Therapeutic response decreased | 3 | 0% |
| Therapeutic response delayed | 3 | 0% |
| Therapy interrupted | 3 | 0% |
| Thought blocking | 3 | 0% |
| Threatened labour | 3 | 0% |
| Thromboelastogram | 3 | 0% |
| Thrombophlebitis septic | 3 | 0% |
| Thyroglobulin increased | 3 | 0% |
| Thyroglossal cyst | 3 | 0% |
| Thyroid calcification | 3 | 0% |
| Thyroid hormones decreased | 3 | 0% |
| Tinea cruris | 3 | 0% |
| Tinea pedis | 3 | 0% |
| Tongue haematoma | 3 | 0% |
| Tonsillitis streptococcal | 3 | 0% |
| Tooth avulsion | 3 | 0% |
| Topography corneal | 3 | 0% |
| Tracheal disorder | 3 | 0% |
| Tracheomalacia | 3 | 0% |
| Trance | 3 | 0% |
| Transient lingual papillitis | 3 | 0% |
| Transitional cell carcinoma | 3 | 0% |
| Transplant failure | 3 | 0% |
| Transverse sinus stenosis | 3 | 0% |
| Tri-iodothyronine free decreased | 3 | 0% |
| Trichomoniasis | 3 | 0% |
| Troponin C | 3 | 0% |
| Tumefactive multiple sclerosis | 3 | 0% |
| Ulna fracture | 3 | 0% |
| Ultrasound biliary tract abnormal | 3 | 0% |
| Ultrasound pancreas normal | 3 | 0% |
| Ultrasound therapy | 3 | 0% |
| Umbilical cord abnormality | 3 | 0% |
| Upper respiratory tract inflammation | 3 | 0% |
| Urea urine | 3 | 0% |
| Ureteral stent insertion | 3 | 0% |
| Ureteric stenosis | 3 | 0% |
| Ureteroscopy | 3 | 0% |
| Urinary occult blood negative | 3 | 0% |
| Urinary straining | 3 | 0% |
| Urinary tract infection fungal | 3 | 0% |
| Urine cannabinoids increased | 3 | 0% |
| Urine chloride | 3 | 0% |
| Urine electrolytes | 3 | 0% |
| Urine electrophoresis | 3 | 0% |
| Urine osmolarity | 3 | 0% |
| Urine phosphorus normal | 3 | 0% |
| Urodynamics measurement | 3 | 0% |
| Urticaria thermal | 3 | 0% |
| Uterine cyst | 3 | 0% |
| Vaccination site abscess sterile | 3 | 0% |
| Vaccination site calcification | 3 | 0% |
| Vaccination site exfoliation | 3 | 0% |
| Vaccination site hypertrophy | 3 | 0% |
| Vaccination site joint discomfort | 3 | 0% |
| Vascular endothelial growth factor assay | 3 | 0% |
| Vascular insufficiency | 3 | 0% |
| Vascular procedure complication | 3 | 0% |
| Venous pressure | 3 | 0% |
| Venous stent insertion | 3 | 0% |
| Ventricular failure | 3 | 0% |
| Ventricular tachyarrhythmia | 3 | 0% |
| Vestibular ataxia | 3 | 0% |
| Viraemia | 3 | 0% |
| Viral sinusitis | 3 | 0% |
| Visual acuity reduced transiently | 3 | 0% |
| Visual field tests normal | 3 | 0% |
| Visual pathway disorder | 3 | 0% |
| Visual tracking test abnormal | 3 | 0% |
| Visuospatial deficit | 3 | 0% |
| Vitamin B2 | 3 | 0% |
| Vitamin B6 increased | 3 | 0% |
| Vitamin E | 3 | 0% |
| Vitreoretinal traction syndrome | 3 | 0% |
| Vitritis | 3 | 0% |
| Vocal cord atrophy | 3 | 0% |
| Vocal cord thickening | 3 | 0% |
| Vulval oedema | 3 | 0% |
| Vulvitis | 3 | 0% |
| Waist circumference increased | 3 | 0% |
| Walking distance test | 3 | 0% |
| Wall motion score index | 3 | 0% |
| Wisdom teeth removal | 3 | 0% |
| Wound dehiscence | 3 | 0% |
| X-ray dental abnormal | 3 | 0% |
| Abdominal neoplasm | 2 | 0% |
| Abdominal rebound tenderness | 2 | 0% |
| Abdominal sepsis | 2 | 0% |
| Abdominal wall oedema | 2 | 0% |
| Abscess of salivary gland | 2 | 0% |
| Abscess rupture | 2 | 0% |
| Acinetobacter test | 2 | 0% |
| Acne pustular | 2 | 0% |
| Acquired dysfibrinogenaemia | 2 | 0% |
| Acquired Von Willebrand's disease | 2 | 0% |
| Activated partial thromboplastin time ratio decreased | 2 | 0% |
| Activated protein C resistance test positive | 2 | 0% |
| Acute aortic syndrome | 2 | 0% |
| Acute hepatitis B | 2 | 0% |
| Acute interstitial pneumonitis | 2 | 0% |
| Acute lung injury | 2 | 0% |
| Acute megakaryocytic leukaemia | 2 | 0% |
| ADAMTS13 activity abnormal | 2 | 0% |
| ADAMTS13 inhibitor screen assay | 2 | 0% |
| Adenocarcinoma pancreas | 2 | 0% |
| Adenoidal hypertrophy | 2 | 0% |
| Adhesion | 2 | 0% |
| Adiposis dolorosa | 2 | 0% |
| Administration site haematoma | 2 | 0% |
| Administration site indentation | 2 | 0% |
| Administration site inflammation | 2 | 0% |
| Administration site movement impairment | 2 | 0% |
| Adnexa uteri mass | 2 | 0% |
| Adrenal neoplasm | 2 | 0% |
| Adrenocorticotropic hormone deficiency | 2 | 0% |
| African trypanosomiasis | 2 | 0% |
| Agraphia | 2 | 0% |
| Albumin CSF normal | 2 | 0% |
| Alcoholic hangover | 2 | 0% |
| Alcoholic seizure | 2 | 0% |
| Allergic bronchitis | 2 | 0% |
| Allergy to surgical sutures | 2 | 0% |
| Alpha-1 anti-trypsin increased | 2 | 0% |
| Alpha-1 anti-trypsin normal | 2 | 0% |
| Alpha 2 globulin decreased | 2 | 0% |
| Alpha tumour necrosis factor increased | 2 | 0% |
| Altered pitch perception | 2 | 0% |
| Alveolar-arterial oxygen gradient | 2 | 0% |
| Amegakaryocytic thrombocytopenia | 2 | 0% |
| Amniocentesis abnormal | 2 | 0% |
| Amniocentesis normal | 2 | 0% |
| Amniotic fluid index | 2 | 0% |
| Amniotic fluid index decreased | 2 | 0% |
| Amniotic fluid volume decreased | 2 | 0% |
| Amniotic membrane rupture test positive | 2 | 0% |
| Amputation | 2 | 0% |
| Amyotrophy | 2 | 0% |
| Anaemia megaloblastic | 2 | 0% |
| Anaesthetic complication | 2 | 0% |
| Anal erythema | 2 | 0% |
| Anal examination | 2 | 0% |
| Anaphylaxis treatment | 2 | 0% |
| Aneurysm repair | 2 | 0% |
| Angiomyolipoma | 2 | 0% |
| Anorectal swelling | 2 | 0% |
| Anorgasmia | 2 | 0% |
| Anti-aquaporin-4 antibody positive | 2 | 0% |
| Anti-glomerular basement membrane antibody positive | 2 | 0% |
| Anti-glycyl-tRNA synthetase antibody | 2 | 0% |
| Anti-Muellerian hormone level | 2 | 0% |
| Anti-muscle specific kinase antibody negative | 2 | 0% |
| Anti-NMDA antibody negative | 2 | 0% |
| Anti-NMDA antibody positive | 2 | 0% |
| Anti-prothrombin antibody positive | 2 | 0% |
| Anti-saccharomyces cerevisiae antibody | 2 | 0% |
| Anti-VGCC antibody negative | 2 | 0% |
| Anticonvulsant drug level increased | 2 | 0% |
| Anti factor VIII antibody increased | 2 | 0% |
| Anti factor X antibody | 2 | 0% |
| Antigliadin antibody | 2 | 0% |
| Antimitochondrial antibody positive | 2 | 0% |
| Antipsychotic drug level increased | 2 | 0% |
| Antisocial behaviour | 2 | 0% |
| Aortic elongation | 2 | 0% |
| Aortic valve disease | 2 | 0% |
| Aortogram | 2 | 0% |
| Apgar score | 2 | 0% |
| Apical granuloma | 2 | 0% |
| Application site acne | 2 | 0% |
| Application site discomfort | 2 | 0% |
| Application site haemorrhage | 2 | 0% |
| Application site nodule | 2 | 0% |
| Application site pruritus | 2 | 0% |
| Application site vesicles | 2 | 0% |
| Arachnoiditis | 2 | 0% |
| Arrhythmia neonatal | 2 | 0% |
| Arterial puncture | 2 | 0% |
| Arterial spasm | 2 | 0% |
| Arteriogram renal | 2 | 0% |
| Arteriosclerotic retinopathy | 2 | 0% |
| Arteriovenous fistula aneurysm | 2 | 0% |
| Arteriovenous fistula operation | 2 | 0% |
| Arteriovenous fistula site haemorrhage | 2 | 0% |
| Arthritis enteropathic | 2 | 0% |
| Artificial insemination | 2 | 0% |
| Aspiration bone marrow abnormal | 2 | 0% |
| Aspiration joint normal | 2 | 0% |
| Atherosclerotic plaque rupture | 2 | 0% |
| Atrial septal defect repair | 2 | 0% |
| Atrophic vulvovaginitis | 2 | 0% |
| Autoimmune dermatitis | 2 | 0% |
| Autoimmune inner ear disease | 2 | 0% |
| Autoimmune myocarditis | 2 | 0% |
| Autophony | 2 | 0% |
| Avulsion fracture | 2 | 0% |
| Axial spondyloarthritis | 2 | 0% |
| B-lymphocyte count | 2 | 0% |
| B-lymphocyte count decreased | 2 | 0% |
| B-lymphocyte count increased | 2 | 0% |
| Bacterial diarrhoea | 2 | 0% |
| Bacterial pyelonephritis | 2 | 0% |
| Bacteroides bacteraemia | 2 | 0% |
| Basal ganglia haematoma | 2 | 0% |
| Base excess negative | 2 | 0% |
| Basilar artery aneurysm | 2 | 0% |
| Basophil count abnormal | 2 | 0% |
| Benign ovarian tumour | 2 | 0% |
| Beta globulin decreased | 2 | 0% |
| Beta globulin increased | 2 | 0% |
| Beta globulin normal | 2 | 0% |
| Biernacki's sign | 2 | 0% |
| Bifascicular block | 2 | 0% |
| Bile duct cancer | 2 | 0% |
| Bile duct stent insertion | 2 | 0% |
| Biliary dyskinesia | 2 | 0% |
| Binge drinking | 2 | 0% |
| Biopsy bladder | 2 | 0% |
| Biopsy blood vessel | 2 | 0% |
| Biopsy blood vessel abnormal | 2 | 0% |
| Biopsy brain abnormal | 2 | 0% |
| Biopsy bronchus | 2 | 0% |
| Biopsy endometrium abnormal | 2 | 0% |
| Biopsy liver normal | 2 | 0% |
| Biopsy oesophagus normal | 2 | 0% |
| Biopsy peripheral nerve | 2 | 0% |
| Biopsy pharynx | 2 | 0% |
| Biopsy pleura | 2 | 0% |
| Biopsy prostate abnormal | 2 | 0% |
| Biopsy site unspecified abnormal | 2 | 0% |
| Biopsy small intestine normal | 2 | 0% |
| Biopsy stomach abnormal | 2 | 0% |
| Biopsy testes | 2 | 0% |
| Biopsy thyroid gland abnormal | 2 | 0% |
| Biopsy thyroid gland normal | 2 | 0% |
| Bladder hydrodistension | 2 | 0% |
| Bladder mass | 2 | 0% |
| Blastocystis infection | 2 | 0% |
| Blastomycosis | 2 | 0% |
| Bleeding time abnormal | 2 | 0% |
| Blepharochalasis | 2 | 0% |
| Blood 1,25-dihydroxycholecalciferol | 2 | 0% |
| Blood 1,25-dihydroxycholecalciferol decreased | 2 | 0% |
| Blood 25-hydroxycholecalciferol decreased | 2 | 0% |
| Blood albumin abnormal | 2 | 0% |
| Blood aldosterone normal | 2 | 0% |
| Blood bactericidal activity | 2 | 0% |
| Blood bicarbonate abnormal | 2 | 0% |
| Blood caffeine decreased | 2 | 0% |
| Blood cannabinoids normal | 2 | 0% |
| Blood carbon monoxide | 2 | 0% |
| Blood chromium increased | 2 | 0% |
| Blood copper decreased | 2 | 0% |
| Blood copper increased | 2 | 0% |
| Blood creatine phosphokinase MB abnormal | 2 | 0% |
| Blood erythropoietin | 2 | 0% |
| Blood folate abnormal | 2 | 0% |
| Blood follicle stimulating hormone abnormal | 2 | 0% |
| Blood gonadotrophin | 2 | 0% |
| Blood group A | 2 | 0% |
| Blood group B | 2 | 0% |
| Blood group O | 2 | 0% |
| Blood heavy metal abnormal | 2 | 0% |
| Blood insulin abnormal | 2 | 0% |
| Blood iron abnormal | 2 | 0% |
| Blood ketone body present | 2 | 0% |
| Blood lead normal | 2 | 0% |
| Blood luteinising hormone abnormal | 2 | 0% |
| Blood mercury abnormal | 2 | 0% |
| Blood oestrogen abnormal | 2 | 0% |
| Blood pressure ambulatory abnormal | 2 | 0% |
| Blood pressure diastolic abnormal | 2 | 0% |
| Blood testosterone free increased | 2 | 0% |
| Blood thromboplastin normal | 2 | 0% |
| Blood triglycerides decreased | 2 | 0% |
| Blood urea nitrogen/creatinine ratio decreased | 2 | 0% |
| Blood uric acid abnormal | 2 | 0% |
| Blood uric acid decreased | 2 | 0% |
| Blood zinc normal | 2 | 0% |
| Blunted affect | 2 | 0% |
| Bone cancer | 2 | 0% |
| Bone cyst | 2 | 0% |
| Bone density increased | 2 | 0% |
| Bone fragmentation | 2 | 0% |
| Bone marrow infiltration | 2 | 0% |
| Bone marrow myelogram | 2 | 0% |
| Bone marrow myelogram abnormal | 2 | 0% |
| Bone tuberculosis | 2 | 0% |
| Boredom | 2 | 0% |
| BRAF gene mutation | 2 | 0% |
| Brain abscess | 2 | 0% |
| Brain midline shift | 2 | 0% |
| Brain tumour operation | 2 | 0% |
| Breast calcifications | 2 | 0% |
| Breast cancer male | 2 | 0% |
| Breast neoplasm | 2 | 0% |
| Breast prosthesis removal | 2 | 0% |
| Breast reconstruction | 2 | 0% |
| Brief psychotic disorder with marked stressors | 2 | 0% |
| Bronchial neoplasm | 2 | 0% |
| Bronchitis viral | 2 | 0% |
| Bronchopulmonary aspergillosis | 2 | 0% |
| Brown-Sequard syndrome | 2 | 0% |
| Brow ptosis | 2 | 0% |
| Brugada syndrome | 2 | 0% |
| Bunion operation | 2 | 0% |
| Burkitt's lymphoma | 2 | 0% |
| C3 glomerulopathy | 2 | 0% |
| Calcium embolism | 2 | 0% |
| CALR gene mutation | 2 | 0% |
| Candida sepsis | 2 | 0% |
| Capillaritis | 2 | 0% |
| Capillary permeability increased | 2 | 0% |
| Capsular contracture associated with breast implant | 2 | 0% |
| Carcinoembryonic antigen normal | 2 | 0% |
| Cardiac device reprogramming | 2 | 0% |
| Cardiac pacemaker adjustment | 2 | 0% |
| Cardiac procedure complication | 2 | 0% |
| Cardiac septal defect | 2 | 0% |
| Cardiopulmonary exercise test abnormal | 2 | 0% |
| Cardiorenal syndrome | 2 | 0% |
| Cardiovascular deconditioning | 2 | 0% |
| Carnitine | 2 | 0% |
| Carotid angioplasty | 2 | 0% |
| Carotid revascularisation | 2 | 0% |
| Catheter management | 2 | 0% |
| Catheter site erythema | 2 | 0% |
| Catheter site haemorrhage | 2 | 0% |
| Catheter site thrombosis | 2 | 0% |
| Cat scratch disease | 2 | 0% |
| CD4 lymphocytes increased | 2 | 0% |
| Cell marker | 2 | 0% |
| Cellulitis orbital | 2 | 0% |
| Central cord syndrome | 2 | 0% |
| Central venous pressure | 2 | 0% |
| Central venous pressure increased | 2 | 0% |
| Cerebellar embolism | 2 | 0% |
| Cerebellar tonsillar ectopia | 2 | 0% |
| Cerebral artery stent insertion | 2 | 0% |
| Cerebral haemorrhage foetal | 2 | 0% |
| Cerebral microembolism | 2 | 0% |
| Cerebral microinfarction | 2 | 0% |
| Cerebral ventricle collapse | 2 | 0% |
| Cerebrovascular insufficiency | 2 | 0% |
| Ceruloplasmin decreased | 2 | 0% |
| Cervical dilatation | 2 | 0% |
| Cervical incompetence | 2 | 0% |
| Cervical neuritis | 2 | 0% |
| Cervix disorder | 2 | 0% |
| Chest wall abscess | 2 | 0% |
| Chlamydial infection | 2 | 0% |
| Cholestasis of pregnancy | 2 | 0% |
| Chondromalacia | 2 | 0% |
| Chromosomal analysis | 2 | 0% |
| Chromosome analysis abnormal | 2 | 0% |
| Chronic cutaneous lupus erythematosus | 2 | 0% |
| Chronic disease | 2 | 0% |
| Chronic hepatitis C | 2 | 0% |
| Clamping of blood vessel | 2 | 0% |
| Cleft palate | 2 | 0% |
| CNS ventriculitis | 2 | 0% |
| Coagulation factor VIII level increased | 2 | 0% |
| Coagulation factor XII level | 2 | 0% |
| Coagulation factor X level | 2 | 0% |
| Coagulation time normal | 2 | 0% |
| Coeliac artery compression syndrome | 2 | 0% |
| Cogwheel rigidity | 2 | 0% |
| Colonic abscess | 2 | 0% |
| Colonic fistula | 2 | 0% |
| Colon operation | 2 | 0% |
| Colorectal cancer | 2 | 0% |
| Complement fixation test positive | 2 | 0% |
| Compulsions | 2 | 0% |
| Computed tomographic abscessogram | 2 | 0% |
| Computerised tomogram kidney normal | 2 | 0% |
| Computerised tomogram liver abnormal | 2 | 0% |
| Computerised tomogram of gallbladder | 2 | 0% |
| Computerised tomogram pancreas | 2 | 0% |
| Confabulation | 2 | 0% |
| Congenital skin dimples | 2 | 0% |
| Conjoined twins | 2 | 0% |
| Conjunctival pallor | 2 | 0% |
| Contraceptive diaphragm | 2 | 0% |
| Contraceptive implant | 2 | 0% |
| Contraindication to medical treatment | 2 | 0% |
| Conus medullaris syndrome | 2 | 0% |
| Coombs positive haemolytic anaemia | 2 | 0% |
| Corneal degeneration | 2 | 0% |
| Corneal dystrophy | 2 | 0% |
| Corneal erosion | 2 | 0% |
| Corneal infection | 2 | 0% |
| Corneal infiltrates | 2 | 0% |
| Corneal transplant | 2 | 0% |
| Coronary artery reocclusion | 2 | 0% |
| Coronary ostial stenosis | 2 | 0% |
| Cortical laminar necrosis | 2 | 0% |
| Cortisol abnormal | 2 | 0% |
| Cortisol free urine | 2 | 0% |
| COVID-19 treatment | 2 | 0% |
| Coxsackie viral infection | 2 | 0% |
| Cranial nerve decompression | 2 | 0% |
| Creatine urine | 2 | 0% |
| Creatine urine increased | 2 | 0% |
| Creatinine urine decreased | 2 | 0% |
| CREST syndrome | 2 | 0% |
| Crossmatch | 2 | 0% |
| Cryoglobulins present | 2 | 0% |
| Crystal arthropathy | 2 | 0% |
| CSF cell count decreased | 2 | 0% |
| CSF monocyte count increased | 2 | 0% |
| CSF myelin basic protein increased | 2 | 0% |
| CSF neutrophil count positive | 2 | 0% |
| CSF polymorphonuclear cell count increased | 2 | 0% |
| CSF protein decreased | 2 | 0% |
| CT hypotension complex | 2 | 0% |
| Culture cervix negative | 2 | 0% |
| Culture throat positive | 2 | 0% |
| Culture tissue specimen negative | 2 | 0% |
| Cystatin C | 2 | 0% |
| Cystic fibrosis | 2 | 0% |
| Cystic lymphangioma | 2 | 0% |
| Cystitis-like symptom | 2 | 0% |
| Cytokine increased | 2 | 0% |
| Cytomegalovirus colitis | 2 | 0% |
| Cytomegalovirus syndrome | 2 | 0% |
| Decorticate posture | 2 | 0% |
| Decreased gait velocity | 2 | 0% |
| Deficiency of bile secretion | 2 | 0% |
| Degenerative mitral valve disease | 2 | 0% |
| Delayed recovery from anaesthesia | 2 | 0% |
| Dengue virus test negative | 2 | 0% |
| Dermatillomania | 2 | 0% |
| Detachment of macular retinal pigment epithelium | 2 | 0% |
| Detachment of retinal pigment epithelium | 2 | 0% |
| Device defective | 2 | 0% |
| Device dependence | 2 | 0% |
| Device embolisation | 2 | 0% |
| Device infusion issue | 2 | 0% |
| Device temperature issue | 2 | 0% |
| Dexamethasone suppression test | 2 | 0% |
| Diabetic diet | 2 | 0% |
| Diabetic retinopathy | 2 | 0% |
| Dialysis device insertion | 2 | 0% |
| Dialysis related complication | 2 | 0% |
| Diet failure | 2 | 0% |
| Diphtheria | 2 | 0% |
| Diplacusis | 2 | 0% |
| Directional Doppler flow tests | 2 | 0% |
| Directional Doppler flow tests normal | 2 | 0% |
| Disinhibition | 2 | 0% |
| Disseminated tuberculosis | 2 | 0% |
| Disturbance in social behaviour | 2 | 0% |
| Diverticulitis intestinal haemorrhagic | 2 | 0% |
| Diverticulitis intestinal perforated | 2 | 0% |
| Drain removal | 2 | 0% |
| Dropped head syndrome | 2 | 0% |
| Drug dependence | 2 | 0% |
| Drug tolerance | 2 | 0% |
| Drug trough level | 2 | 0% |
| Dry gangrene | 2 | 0% |
| Dry lung syndrome | 2 | 0% |
| Duodenal ulcer perforation | 2 | 0% |
| Dysaesthesia pharynx | 2 | 0% |
| Dysplasia | 2 | 0% |
| Early retirement | 2 | 0% |
| Ear tube insertion | 2 | 0% |
| ECG P wave inverted | 2 | 0% |
| ECG signs of myocardial infarction | 2 | 0% |
| Echovirus test negative | 2 | 0% |
| Ectopic pregnancy termination | 2 | 0% |
| Ectopic pregnancy with contraceptive device | 2 | 0% |
| Eczema infected | 2 | 0% |
| Eczema vesicular | 2 | 0% |
| EGFR gene mutation | 2 | 0% |
| Elderly | 2 | 0% |
| Elective procedure | 2 | 0% |
| Electrocardiogram delta waves abnormal | 2 | 0% |
| Electrocardiogram low voltage | 2 | 0% |
| Electrocochleogram | 2 | 0% |
| Electrolyte substitution therapy | 2 | 0% |
| Electronic cigarette user | 2 | 0% |
| Electrophoresis protein abnormal | 2 | 0% |
| Elliptocytosis hereditary | 2 | 0% |
| Embolic cerebellar infarction | 2 | 0% |
| Emphysematous cystitis | 2 | 0% |
| Encephalitis post immunisation | 2 | 0% |
| Encephalocele | 2 | 0% |
| End-tidal CO2 | 2 | 0% |
| Endarterectomy | 2 | 0% |
| Endobronchial ultrasound | 2 | 0% |
| Endocarditis noninfective | 2 | 0% |
| Endoscopic retrograde cholangiopancreatography abnormal | 2 | 0% |
| Endoscopic swallowing evaluation | 2 | 0% |
| Endoscopic ultrasound abnormal | 2 | 0% |
| Endoscopy gastrointestinal abnormal | 2 | 0% |
| Endoscopy gastrointestinal normal | 2 | 0% |
| Endothelial dysfunction | 2 | 0% |
| Enterobacter bacteraemia | 2 | 0% |
| Enterobacter test positive | 2 | 0% |
| Enterococcus test | 2 | 0% |
| Enzyme activity assay | 2 | 0% |
| Eosinophil cationic protein | 2 | 0% |
| Eosinophilic bronchitis | 2 | 0% |
| Eosinophilic pneumonia acute | 2 | 0% |
| Eosinophilic pneumonia chronic | 2 | 0% |
| Eosinophilic pustular folliculitis | 2 | 0% |
| Epidermolysis | 2 | 0% |
| Epidural lipomatosis | 2 | 0% |
| Epileptic encephalopathy | 2 | 0% |
| Erythema marginatum | 2 | 0% |
| Erythrocyte osmotic fragility test | 2 | 0% |
| Erythropenia | 2 | 0% |
| Essential thrombocythaemia | 2 | 0% |
| Excessive exercise | 2 | 0% |
| Excessive granulation tissue | 2 | 0% |
| Exercise adequate | 2 | 0% |
| Exposure to allergen | 2 | 0% |
| Exposure to contaminated device | 2 | 0% |
| Exposure to contaminated water | 2 | 0% |
| Exposure to noise | 2 | 0% |
| Exposure via eye contact | 2 | 0% |
| Exsanguination | 2 | 0% |
| External ear cellulitis | 2 | 0% |
| Extravasation blood | 2 | 0% |
| Eyeglasses therapy | 2 | 0% |
| Eye infection viral | 2 | 0% |
| Eyelash discolouration | 2 | 0% |
| Eyelid cyst removal | 2 | 0% |
| Eyelid myokymia | 2 | 0% |
| Eyelid thickening | 2 | 0% |
| Eye pH test | 2 | 0% |
| Face crushing | 2 | 0% |
| Factor VII deficiency | 2 | 0% |
| Factor Xa activity test | 2 | 0% |
| Faecal disimpaction | 2 | 0% |
| Faecal elastase concentration decreased | 2 | 0% |
| Faecal volume increased | 2 | 0% |
| False negative investigation result | 2 | 0% |
| Familial hemiplegic migraine | 2 | 0% |
| Febrile bone marrow aplasia | 2 | 0% |
| Female genital tract fistula | 2 | 0% |
| Female orgasmic disorder | 2 | 0% |
| Female sexual dysfunction | 2 | 0% |
| Female sterilisation | 2 | 0% |
| Feminisation acquired | 2 | 0% |
| Femoroacetabular impingement | 2 | 0% |
| Fertility increased | 2 | 0% |
| Fibrin degradation products increased | 2 | 0% |
| Fibronectin | 2 | 0% |
| Fibronectin decreased | 2 | 0% |
| Fibronectin normal | 2 | 0% |
| Finger amputation | 2 | 0% |
| Fistula | 2 | 0% |
| Flavivirus test | 2 | 0% |
| Fluctuance | 2 | 0% |
| Fluid wave test | 2 | 0% |
| Foetal anaemia | 2 | 0% |
| Foetal cardiac disorder | 2 | 0% |
| Foetal chromosome abnormality | 2 | 0% |
| Foetal non-stress test abnormal | 2 | 0% |
| Forced expiratory flow | 2 | 0% |
| Foreign body in ear | 2 | 0% |
| Foreign body in eye | 2 | 0% |
| Foreign body reaction | 2 | 0% |
| Foreign travel | 2 | 0% |
| Fowler's position | 2 | 0% |
| Fractional excretion of sodium | 2 | 0% |
| Fractured coccyx | 2 | 0% |
| Fracture pain | 2 | 0% |
| Fracture treatment | 2 | 0% |
| Fungal test positive | 2 | 0% |
| Gait spastic | 2 | 0% |
| Gallbladder polyp | 2 | 0% |
| Gallbladder rupture | 2 | 0% |
| Gardnerella test negative | 2 | 0% |
| Gas gangrene | 2 | 0% |
| Gastric lavage | 2 | 0% |
| Gastric polyps | 2 | 0% |
| Gastric varices | 2 | 0% |
| Gastric varices haemorrhage | 2 | 0% |
| Gastric volvulus | 2 | 0% |
| Gastroenteritis bacterial | 2 | 0% |
| Gastroenteritis norovirus | 2 | 0% |
| Gastrointestinal arteriovenous malformation | 2 | 0% |
| Gastrointestinal bacterial infection | 2 | 0% |
| Gastrointestinal fistula | 2 | 0% |
| Gastrointestinal malformation | 2 | 0% |
| Gastrointestinal polyp haemorrhage | 2 | 0% |
| Genital abscess | 2 | 0% |
| Genital cyst | 2 | 0% |
| Genital discharge | 2 | 0% |
| Genital disorder | 2 | 0% |
| Genital infection fungal | 2 | 0% |
| Genito-pelvic pain/penetration disorder | 2 | 0% |
| Geriatric assessment | 2 | 0% |
| Giant papillary conjunctivitis | 2 | 0% |
| Gilbert's syndrome | 2 | 0% |
| Gingival oedema | 2 | 0% |
| Glaucoma drainage device placement | 2 | 0% |
| Glioma | 2 | 0% |
| Glucose-6-phosphate dehydrogenase normal | 2 | 0% |
| Glycated albumin | 2 | 0% |
| Gomori methenamine silver stain | 2 | 0% |
| Goodpasture's syndrome | 2 | 0% |
| Good syndrome | 2 | 0% |
| Gouty tophus | 2 | 0% |
| Granuloma skin | 2 | 0% |
| Granulomatous dermatitis | 2 | 0% |
| Granulomatous liver disease | 2 | 0% |
| Haematinuria | 2 | 0% |
| Haematological malignancy | 2 | 0% |
| Haematosalpinx | 2 | 0% |
| Haemobilia | 2 | 0% |
| Haemoglobin C | 2 | 0% |
| Haemoglobin E | 2 | 0% |
| Haemoglobin electrophoresis | 2 | 0% |
| Haemoglobin urine absent | 2 | 0% |
| Haemophilus infection | 2 | 0% |
| Haemorrhage subepidermal | 2 | 0% |
| Haemorrhagic arteriovenous malformation | 2 | 0% |
| Haemorrhagic cyst | 2 | 0% |
| Haemorrhagic vasculitis | 2 | 0% |
| Hair injury | 2 | 0% |
| Hangnail | 2 | 0% |
| HCoV-OC43 infection | 2 | 0% |
| Heart rate variability increased | 2 | 0% |
| Heart valve stenosis | 2 | 0% |
| Helicobacter gastritis | 2 | 0% |
| Helminthic infection | 2 | 0% |
| Hemiasomatognosia | 2 | 0% |
| Hepatic embolisation | 2 | 0% |
| Hepatic haematoma | 2 | 0% |
| Hepatic neoplasm | 2 | 0% |
| Hepatic perfusion disorder | 2 | 0% |
| Hepatic vascular thrombosis | 2 | 0% |
| Hepatic vein dilatation | 2 | 0% |
| Hepatitis alcoholic | 2 | 0% |
| Hepatitis B DNA assay negative | 2 | 0% |
| Hepatitis B DNA increased | 2 | 0% |
| Hepatitis B surface antigen positive | 2 | 0% |
| Hepatitis C core antibody negative | 2 | 0% |
| Hepatitis C RNA negative | 2 | 0% |
| Hereditary spherocytosis | 2 | 0% |
| High-pitched crying | 2 | 0% |
| High foetal head | 2 | 0% |
| Hippocampal sclerosis | 2 | 0% |
| Histamine normal | 2 | 0% |
| Histamine release test | 2 | 0% |
| Histiocytosis | 2 | 0% |
| Histone antibody negative | 2 | 0% |
| Histoplasmosis | 2 | 0% |
| Holmes-Adie pupil | 2 | 0% |
| Hookworm infection | 2 | 0% |
| Human anaplasmosis | 2 | 0% |
| Human herpes virus 8 test | 2 | 0% |
| Human papilloma virus test | 2 | 0% |
| Hydrogen breath test | 2 | 0% |
| Hyperactive pharyngeal reflex | 2 | 0% |
| Hyperadrenalism | 2 | 0% |
| Hypercapnic coma | 2 | 0% |
| Hyperchromic anaemia | 2 | 0% |
| Hypermagnesaemia | 2 | 0% |
| Hyperosmolar state | 2 | 0% |
| Hyperoxia | 2 | 0% |
| Hyperresponsive to stimuli | 2 | 0% |
| Hypersomnia-bulimia syndrome | 2 | 0% |
| Hypertensive end-organ damage | 2 | 0% |
| Hyperviscosity syndrome | 2 | 0% |
| Hypocoagulable state | 2 | 0% |
| Hypofibrinogenaemia | 2 | 0% |
| Hypoglossal nerve disorder | 2 | 0% |
| Hypoglossal nerve paresis | 2 | 0% |
| Hypoglycaemic coma | 2 | 0% |
| Hypoglycaemic seizure | 2 | 0% |
| Hypoglycaemic unconsciousness | 2 | 0% |
| Hypothalamo-pituitary disorder | 2 | 0% |
| Hypotrichosis | 2 | 0% |
| Hysterosalpingogram | 2 | 0% |
| Hysteroscopy abnormal | 2 | 0% |
| Hysteroscopy normal | 2 | 0% |
| Ichthyosis | 2 | 0% |
| Ileocolostomy | 2 | 0% |
| Ileostomy | 2 | 0% |
| Iliac artery stenosis | 2 | 0% |
| Iliac vein occlusion | 2 | 0% |
| Imaging procedure artifact | 2 | 0% |
| Immobilisation prolonged | 2 | 0% |
| Immune agglutinins | 2 | 0% |
| Immunoglobulin G4 related disease | 2 | 0% |
| Immunoglobulins abnormal | 2 | 0% |
| Impaired fasting glucose | 2 | 0% |
| Implant site extravasation | 2 | 0% |
| Implant site warmth | 2 | 0% |
| Incarcerated umbilical hernia | 2 | 0% |
| Incision site abscess | 2 | 0% |
| Incision site erythema | 2 | 0% |
| Incision site impaired healing | 2 | 0% |
| Incision site swelling | 2 | 0% |
| Inclusion body myositis | 2 | 0% |
| Incorrect dose administered by product | 2 | 0% |
| Infantile spitting up | 2 | 0% |
| Infected seroma | 2 | 0% |
| Infectious disease carrier | 2 | 0% |
| Infective spondylitis | 2 | 0% |
| Infective tenosynovitis | 2 | 0% |
| Infusion related hypersensitivity reaction | 2 | 0% |
| Infusion site pain | 2 | 0% |
| Infusion site warmth | 2 | 0% |
| Injection site fibrosis | 2 | 0% |
| Injection site laceration | 2 | 0% |
| Instillation site exfoliation | 2 | 0% |
| Instillation site pain | 2 | 0% |
| Insulin C-peptide decreased | 2 | 0% |
| Insurance issue | 2 | 0% |
| Intentional underdose | 2 | 0% |
| Intercepted medication error | 2 | 0% |
| Intercepted product administration error | 2 | 0% |
| Interferon gamma release assay positive | 2 | 0% |
| Interleukin-2 receptor increased | 2 | 0% |
| Interleukin therapy | 2 | 0% |
| Internal carotid artery deformity | 2 | 0% |
| Internal fixation of fracture | 2 | 0% |
| International normalised ratio fluctuation | 2 | 0% |
| Intestinal angina | 2 | 0% |
| Intestinal atony | 2 | 0% |
| Intestinal congestion | 2 | 0% |
| Intra-cerebral aneurysm operation | 2 | 0% |
| Intra-uterine contraceptive device insertion | 2 | 0% |
| Intra-uterine contraceptive device removal | 2 | 0% |
| Intracerebral haematoma evacuation | 2 | 0% |
| Invasive breast carcinoma | 2 | 0% |
| Iodine uptake increased | 2 | 0% |
| Iris discolouration | 2 | 0% |
| Iris disorder | 2 | 0% |
| Iron binding capacity total abnormal | 2 | 0% |
| Isocitrate dehydrogenase gene mutation | 2 | 0% |
| IVth nerve disorder | 2 | 0% |
| Joint abscess | 2 | 0% |
| Joint microhaemorrhage | 2 | 0% |
| Joint range of motion measurement | 2 | 0% |
| Juvenile myoclonic epilepsy | 2 | 0% |
| Keratoconus | 2 | 0% |
| Kernig's sign | 2 | 0% |
| Kidney enlargement | 2 | 0% |
| Kidney small | 2 | 0% |
| Kidney transplant rejection | 2 | 0% |
| Kinesitherapy | 2 | 0% |
| Klebsiella sepsis | 2 | 0% |
| Labour complication | 2 | 0% |
| Labour pain | 2 | 0% |
| Lack of injection site rotation | 2 | 0% |
| Lack of vaccination site rotation | 2 | 0% |
| Lacrimal disorder | 2 | 0% |
| Lacrimal haemorrhage | 2 | 0% |
| Lacrimation disorder | 2 | 0% |
| Laryngeal erythema | 2 | 0% |
| Laryngitis allergic | 2 | 0% |
| Latent tuberculosis | 2 | 0% |
| LDL/HDL ratio decreased | 2 | 0% |
| Learning disorder | 2 | 0% |
| LE cells | 2 | 0% |
| Left-to-right cardiac shunt | 2 | 0% |
| Left atrial appendage closure implant | 2 | 0% |
| Legionella infection | 2 | 0% |
| Leiomyosarcoma | 2 | 0% |
| Leriche syndrome | 2 | 0% |
| Leucine aminopeptidase | 2 | 0% |
| Leukocyte alkaline phosphatase | 2 | 0% |
| Libido increased | 2 | 0% |
| Ligament operation | 2 | 0% |
| Limbal swelling | 2 | 0% |
| Lipase abnormal | 2 | 0% |
| Lip erosion | 2 | 0% |
| Lip haematoma | 2 | 0% |
| Lip neoplasm | 2 | 0% |
| Lipoedema | 2 | 0% |
| Liver scan abnormal | 2 | 0% |
| Liver transplant | 2 | 0% |
| Long thoracic nerve palsy | 2 | 0% |
| Low density lipoprotein abnormal | 2 | 0% |
| Lower motor neurone lesion | 2 | 0% |
| Lung carcinoma cell type unspecified recurrent | 2 | 0% |
| Lung diffusion test decreased | 2 | 0% |
| Lung hypoinflation | 2 | 0% |
| Lung transplant | 2 | 0% |
| Lymphadenitis viral | 2 | 0% |
| Lymphatic insufficiency | 2 | 0% |
| Lymphatic mapping | 2 | 0% |
| Lymphatic system neoplasm | 2 | 0% |
| Lymphocytic leukaemia | 2 | 0% |
| Lymphorrhoea | 2 | 0% |
| Macrophages increased | 2 | 0% |
| Macular detachment | 2 | 0% |
| Magnetic resonance imaging breast abnormal | 2 | 0% |
| Magnetic resonance imaging breast normal | 2 | 0% |
| Magnetic resonance imaging pancreas | 2 | 0% |
| Magnetic resonance imaging renal | 2 | 0% |
| Magnetic resonance neurography | 2 | 0% |
| Malaria antibody test negative | 2 | 0% |
| Malignant neoplasm progression | 2 | 0% |
| Malignant neoplasm removal | 2 | 0% |
| Malignant peritoneal neoplasm | 2 | 0% |
| Mammoplasty | 2 | 0% |
| Manipulation | 2 | 0% |
| Mantle cell lymphoma recurrent | 2 | 0% |
| Manufacturing issue | 2 | 0% |
| Manufacturing product shipping issue | 2 | 0% |
| Marrow hyperplasia | 2 | 0% |
| Mast cell degranulation present | 2 | 0% |
| Mast cell degranulation test | 2 | 0% |
| Masticatory pain | 2 | 0% |
| Maternal death during childbirth | 2 | 0% |
| Maximal voluntary ventilation | 2 | 0% |
| Mean arterial pressure decreased | 2 | 0% |
| Mean arterial pressure increased | 2 | 0% |
| Meconium aspiration syndrome | 2 | 0% |
| Mediastinal haemorrhage | 2 | 0% |
| Mediastinitis | 2 | 0% |
| Medical procedure | 2 | 0% |
| Megakaryocytes | 2 | 0% |
| Meige's syndrome | 2 | 0% |
| Melanoma recurrent | 2 | 0% |
| Meningioma benign | 2 | 0% |
| Mesenteric artery aneurysm | 2 | 0% |
| Mesenteric haematoma | 2 | 0% |
| Mesenteric panniculitis | 2 | 0% |
| Mesenteric vascular occlusion | 2 | 0% |
| Mesenteritis | 2 | 0% |
| Metabolic alkalosis | 2 | 0% |
| Metabolic syndrome | 2 | 0% |
| Metal poisoning | 2 | 0% |
| Metastatic carcinoid tumour | 2 | 0% |
| Metastatic lymphoma | 2 | 0% |
| Methaemoglobinaemia | 2 | 0% |
| Micropenis | 2 | 0% |
| Migraine prophylaxis | 2 | 0% |
| Milia | 2 | 0% |
| Mineral metabolism disorder | 2 | 0% |
| Mini-tracheostomy | 2 | 0% |
| Minimal residual disease | 2 | 0% |
| Mini mental status examination abnormal | 2 | 0% |
| Minimum inhibitory concentration | 2 | 0% |
| Mitral valve repair | 2 | 0% |
| Mixed incontinence | 2 | 0% |
| Molluscum contagiosum | 2 | 0% |
| Monoblast count | 2 | 0% |
| Monoclonal antibody immunoconjugate therapy | 2 | 0% |
| Monoclonal immunoglobulin present | 2 | 0% |
| Monocyte percentage abnormal | 2 | 0% |
| Mononucleosis syndrome | 2 | 0% |
| Mood disorder due to a general medical condition | 2 | 0% |
| Morose | 2 | 0% |
| MPL gene mutation | 2 | 0% |
| Mucosal erosion | 2 | 0% |
| Multifocal motor neuropathy | 2 | 0% |
| Multiple sclerosis relapse prophylaxis | 2 | 0% |
| Multiple system atrophy | 2 | 0% |
| Mycobacterium avium complex infection | 2 | 0% |
| Mycotic allergy | 2 | 0% |
| Myeloblast count | 2 | 0% |
| Myocardial bridging | 2 | 0% |
| Myocardial hypoxia | 2 | 0% |
| Myoclonic dystonia | 2 | 0% |
| Myofascitis | 2 | 0% |
| Myoglobin urine present | 2 | 0% |
| Myringotomy | 2 | 0% |
| Myxofibrosarcoma | 2 | 0% |
| Nail avulsion | 2 | 0% |
| Nail growth abnormal | 2 | 0% |
| Nail infection | 2 | 0% |
| Nail pigmentation | 2 | 0% |
| Nasal mucosal discolouration | 2 | 0% |
| Nasal vestibulitis | 2 | 0% |
| Natural killer cell count | 2 | 0% |
| Necrosis ischaemic | 2 | 0% |
| Necrotising myositis | 2 | 0% |
| Necrotising ulcerative gingivostomatitis | 2 | 0% |
| Needle track marks | 2 | 0% |
| Neglect of personal appearance | 2 | 0% |
| Neisseria test positive | 2 | 0% |
| Nephrocalcinosis | 2 | 0% |
| Nephrological examination | 2 | 0% |
| Nerve degeneration | 2 | 0% |
| Nerve root injury | 2 | 0% |
| Neuro-ophthalmological test | 2 | 0% |
| Neurodevelopment test | 2 | 0% |
| Neurofibromatosis | 2 | 0% |
| Neurogenic bowel | 2 | 0% |
| Neuroleptic malignant syndrome | 2 | 0% |
| Neurone-specific enolase | 2 | 0% |
| Neurosurgery | 2 | 0% |
| Neutrophil percentage abnormal | 2 | 0% |
| Neutrophil toxic granulation present | 2 | 0% |
| Nicotine dependence | 2 | 0% |
| NIH stroke scale score decreased | 2 | 0% |
| Nitrate compound therapy | 2 | 0% |
| Nodular rash | 2 | 0% |
| Non-alcoholic steatohepatitis | 2 | 0% |
| Noninfectious myelitis | 2 | 0% |
| Noninfective myringitis | 2 | 0% |
| Norepinephrine | 2 | 0% |
| Normal labour | 2 | 0% |
| Norovirus infection | 2 | 0% |
| Norovirus test positive | 2 | 0% |
| Obturator hernia | 2 | 0% |
| Oculomotor study | 2 | 0% |
| Oedema due to cardiac disease | 2 | 0% |
| Oesophageal carcinoma | 2 | 0% |
| Oesophageal food impaction | 2 | 0% |
| Oesophageal haemorrhage | 2 | 0% |
| Oesophageal motility disorder | 2 | 0% |
| Oesophageal perforation | 2 | 0% |
| Olfactory nerve disorder | 2 | 0% |
| Oligodipsia | 2 | 0% |
| Open angle glaucoma | 2 | 0% |
| Open globe injury | 2 | 0% |
| Ophthalmic fluid drainage | 2 | 0% |
| Ophthalmoplegic migraine | 2 | 0% |
| Opiates | 2 | 0% |
| Opiates positive | 2 | 0% |
| Opportunistic infection | 2 | 0% |
| Optic disc haemorrhage | 2 | 0% |
| Optic nerve cupping | 2 | 0% |
| Orbital myositis | 2 | 0% |
| Orbital space occupying lesion | 2 | 0% |
| Orchidectomy | 2 | 0% |
| Orchidopexy | 2 | 0% |
| Orchitis noninfective | 2 | 0% |
| Organ donor | 2 | 0% |
| Oropharyngeal cobble stone mucosa | 2 | 0% |
| Osteoma | 2 | 0% |
| Osteotomy | 2 | 0% |
| Otic examination normal | 2 | 0% |
| Otoscopy normal | 2 | 0% |
| Ototoxicity | 2 | 0% |
| Ovarian haemorrhage | 2 | 0% |
| Overgrowth fungal | 2 | 0% |
| Overwork | 2 | 0% |
| Pacemaker generated arrhythmia | 2 | 0% |
| Paediatric autoimmune neuropsychiatric disorders associated with streptococcal infection | 2 | 0% |
| Painful erection | 2 | 0% |
| Pain threshold decreased | 2 | 0% |
| Palliative care | 2 | 0% |
| Pancreatic atrophy | 2 | 0% |
| Pancreatic duct dilatation | 2 | 0% |
| Pancreatic injury | 2 | 0% |
| Pancreatic neoplasm | 2 | 0% |
| Pancreatic steatosis | 2 | 0% |
| Pancreatitis haemorrhagic | 2 | 0% |
| Papillary thyroid cancer | 2 | 0% |
| Papillitis | 2 | 0% |
| Paradoxical drug reaction | 2 | 0% |
| Paradoxical pressor response | 2 | 0% |
| Parakeratosis | 2 | 0% |
| Paraneoplastic syndrome | 2 | 0% |
| Paraproteinaemia | 2 | 0% |
| Parapsoriasis | 2 | 0% |
| Parasitic gastroenteritis | 2 | 0% |
| Parenteral nutrition | 2 | 0% |
| Parietal cell antibody normal | 2 | 0% |
| Parotid duct obstruction | 2 | 0% |
| Paroxysmal atrioventricular block | 2 | 0% |
| Paroxysmal sympathetic hyperactivity | 2 | 0% |
| Peak expiratory flow rate abnormal | 2 | 0% |
| Peak nasal inspiratory flow test | 2 | 0% |
| Pelvi-ureteric obstruction | 2 | 0% |
| Pelvic floor dysfunction | 2 | 0% |
| Penile blister | 2 | 0% |
| Penile burning sensation | 2 | 0% |
| Penile curvature | 2 | 0% |
| Perfume sensitivity | 2 | 0% |
| Pericardial disease | 2 | 0% |
| Pericardial mass | 2 | 0% |
| Pericardial rub | 2 | 0% |
| Pericarditis infective | 2 | 0% |
| Pericoronitis | 2 | 0% |
| Perinatal depression | 2 | 0% |
| Perineal rash | 2 | 0% |
| Periodic limb movement disorder | 2 | 0% |
| Periodontal disease | 2 | 0% |
| Periorbital inflammation | 2 | 0% |
| Peripheral artery stent insertion | 2 | 0% |
| Peritoneal disorder | 2 | 0% |
| Peritoneal fluid analysis abnormal | 2 | 0% |
| Perseveration | 2 | 0% |
| Phaeochromocytoma | 2 | 0% |
| Phalen's test positive | 2 | 0% |
| Phantom vibration syndrome | 2 | 0% |
| Pharyngeal cyst | 2 | 0% |
| Pharyngeal pustule | 2 | 0% |
| Pharyngoscopy | 2 | 0% |
| Phospholipase A2 activity increased | 2 | 0% |
| Phrenic nerve injury | 2 | 0% |
| pH urine increased | 2 | 0% |
| Physical capacity evaluation | 2 | 0% |
| Physical examination of joints | 2 | 0% |
| Pilonidal cyst | 2 | 0% |
| Pineal gland cyst | 2 | 0% |
| Pinguecula | 2 | 0% |
| Pituitary haemorrhage | 2 | 0% |
| Placenta praevia haemorrhage | 2 | 0% |
| Plague | 2 | 0% |
| Plasma cell myeloma recurrent | 2 | 0% |
| Plasma cells increased | 2 | 0% |
| Plasminogen | 2 | 0% |
| Plasminogen normal | 2 | 0% |
| Platelet anisocytosis | 2 | 0% |
| Platelet factor 4 increased | 2 | 0% |
| Platelet function test abnormal | 2 | 0% |
| Plateletpheresis | 2 | 0% |
| Pleomorphic adenoma | 2 | 0% |
| Pleural decortication | 2 | 0% |
| Pleurisy viral | 2 | 0% |
| Pneumatosis | 2 | 0% |
| Pneumococcal bacteraemia | 2 | 0% |
| Pneumonia chlamydial | 2 | 0% |
| Pneumonia necrotising | 2 | 0% |
| Pneumonia respiratory syncytial viral | 2 | 0% |
| PO2 abnormal | 2 | 0% |
| POEMS syndrome | 2 | 0% |
| Polymenorrhagia | 2 | 0% |
| Porphyria | 2 | 0% |
| Portal fibrosis | 2 | 0% |
| Portal vein embolism | 2 | 0% |
| Portal venous gas | 2 | 0% |
| Post-traumatic neuralgia | 2 | 0% |
| Posterior capsule opacification | 2 | 0% |
| Posthaemorrhagic hydrocephalus | 2 | 0% |
| Postictal headache | 2 | 0% |
| Post inflammatory pigmentation change | 2 | 0% |
| Post laminectomy syndrome | 2 | 0% |
| Postpartum venous thrombosis | 2 | 0% |
| Postprandial hypoglycaemia | 2 | 0% |
| Potassium chloride sensitivity test | 2 | 0% |
| Poverty of thought content | 2 | 0% |
| Pregnancy after post coital contraception | 2 | 0% |
| Pregnancy test false positive | 2 | 0% |
| Pregnancy with advanced maternal age | 2 | 0% |
| Prehypertension | 2 | 0% |
| Presbyopia | 2 | 0% |
| Primary familial brain calcification | 2 | 0% |
| Product intolerance | 2 | 0% |
| Product lot number issue | 2 | 0% |
| Product origin unknown | 2 | 0% |
| Product physical issue | 2 | 0% |
| Product taste abnormal | 2 | 0% |
| Progressive macular hypomelanosis | 2 | 0% |
| Progressive supranuclear palsy | 2 | 0% |
| Prolonged labour | 2 | 0% |
| Prostate cancer metastatic | 2 | 0% |
| Prostatic pain | 2 | 0% |
| Protein albumin ratio normal | 2 | 0% |
| Protein C deficiency | 2 | 0% |
| Protein S decreased | 2 | 0% |
| Protein S deficiency | 2 | 0% |
| Protein S increased | 2 | 0% |
| Pseudofolliculitis | 2 | 0% |
| Pseudohernia | 2 | 0% |
| Pseudomonas test positive | 2 | 0% |
| Pseudostroke | 2 | 0% |
| Psychiatric investigation | 2 | 0% |
| Psychotic behaviour | 2 | 0% |
| Pubic pain | 2 | 0% |
| Pudendal canal syndrome | 2 | 0% |
| Pulmonary air leakage | 2 | 0% |
| Pulmonary artery compression | 2 | 0% |
| Pulmonary artery wall hypertrophy | 2 | 0% |
| Pulmonary hilum mass | 2 | 0% |
| Pulmonary hypoperfusion | 2 | 0% |
| Pulmonary necrosis | 2 | 0% |
| Pulmonary vasculitis | 2 | 0% |
| Punctate keratitis | 2 | 0% |
| Puncture site haematoma | 2 | 0% |
| Puncture site haemorrhage | 2 | 0% |
| Pyelocaliectasis | 2 | 0% |
| Pyramidal tract syndrome | 2 | 0% |
| Radial pulse decreased | 2 | 0% |
| Radioactive iodine therapy | 2 | 0% |
| Rash rubelliform | 2 | 0% |
| Rebound effect | 2 | 0% |
| Rectal spasm | 2 | 0% |
| Red blood cell microcytes present | 2 | 0% |
| Reflex test abnormal | 2 | 0% |
| Refusal of examination | 2 | 0% |
| Rehabilitation therapy | 2 | 0% |
| Renal cyst haemorrhage | 2 | 0% |
| Renal necrosis | 2 | 0% |
| Renal scan normal | 2 | 0% |
| Renal transplant | 2 | 0% |
| Renal vasculitis | 2 | 0% |
| Renin normal | 2 | 0% |
| Respiratory depth decreased | 2 | 0% |
| Respiratory disorder neonatal | 2 | 0% |
| Respiratory therapy | 2 | 0% |
| Restrictive cardiomyopathy | 2 | 0% |
| Retained placenta operation | 2 | 0% |
| Retained placenta or membranes | 2 | 0% |
| Reticulocyte haemoglobin equivalent | 2 | 0% |
| Retinal degeneration | 2 | 0% |
| Retinal fovea disorder | 2 | 0% |
| Retinal function test normal | 2 | 0% |
| Retinal scar | 2 | 0% |
| Retinitis pigmentosa | 2 | 0% |
| Revascularisation procedure | 2 | 0% |
| Reversible airways obstruction | 2 | 0% |
| Right ventricular systolic pressure decreased | 2 | 0% |
| Rinne tuning fork test | 2 | 0% |
| Root canal infection | 2 | 0% |
| Roseola | 2 | 0% |
| Rotavirus test | 2 | 0% |
| Ruptured ectopic pregnancy | 2 | 0% |
| Saccadic eye movement | 2 | 0% |
| Salivary gland neoplasm | 2 | 0% |
| Salpingitis | 2 | 0% |
| SAPHO syndrome | 2 | 0% |
| Sarcoma | 2 | 0% |
| SARS-CoV-2 sepsis | 2 | 0% |
| Scan bone marrow | 2 | 0% |
| Scan spleen | 2 | 0% |
| Scleral oedema | 2 | 0% |
| Scrotal cellulitis | 2 | 0% |
| Secondary adrenocortical insufficiency | 2 | 0% |
| Secondary cerebellar degeneration | 2 | 0% |
| Secondary hypertension | 2 | 0% |
| Second primary malignancy | 2 | 0% |
| Seizure prophylaxis | 2 | 0% |
| Self-consciousness | 2 | 0% |
| Self esteem decreased | 2 | 0% |
| Semen discolouration | 2 | 0% |
| Sense of a foreshortened future | 2 | 0% |
| Sensory neuropathy hereditary | 2 | 0% |
| Septic embolus | 2 | 0% |
| Septic encephalopathy | 2 | 0% |
| Septic pulmonary embolism | 2 | 0% |
| Seroconversion test | 2 | 0% |
| Sex hormone binding globulin | 2 | 0% |
| Shoulder arthroplasty | 2 | 0% |
| Sickle cell disease | 2 | 0% |
| Silent myocardial infarction | 2 | 0% |
| Single umbilical artery | 2 | 0% |
| Skin candida | 2 | 0% |
| Skin cosmetic procedure | 2 | 0% |
| SLE arthritis | 2 | 0% |
| Small airways disease | 2 | 0% |
| Small intestine carcinoma | 2 | 0% |
| Smear site unspecified normal | 2 | 0% |
| Smear vaginal abnormal | 2 | 0% |
| Social problem | 2 | 0% |
| Soft tissue necrosis | 2 | 0% |
| Soluble fibrin monomer complex | 2 | 0% |
| Somatic dysfunction | 2 | 0% |
| Somatic symptom disorder of pregnancy | 2 | 0% |
| Spherocytic anaemia | 2 | 0% |
| Sphincter of Oddi dysfunction | 2 | 0% |
| Spinal cord drainage | 2 | 0% |
| Spinal cord haematoma | 2 | 0% |
| Spinal cord neoplasm | 2 | 0% |
| Spinal flattening | 2 | 0% |
| Spinal nerve stimulator implantation | 2 | 0% |
| Spinal stroke | 2 | 0% |
| Spine malformation | 2 | 0% |
| Spirometry abnormal | 2 | 0% |
| Splenic artery embolisation | 2 | 0% |
| Splenic cyst | 2 | 0% |
| Splenic granuloma | 2 | 0% |
| Splenic infection | 2 | 0% |
| Splenic injury | 2 | 0% |
| Splenic varices | 2 | 0% |
| Splenitis | 2 | 0% |
| Sports injury | 2 | 0% |
| Sputum normal | 2 | 0% |
| Squamous cell carcinoma of lung | 2 | 0% |
| Staphylococcal skin infection | 2 | 0% |
| Stem cell therapy | 2 | 0% |
| Stereotactic electroencephalography | 2 | 0% |
| Stomach mass | 2 | 0% |
| Stoma site pain | 2 | 0% |
| Stoma site rash | 2 | 0% |
| Stroke volume decreased | 2 | 0% |
| Subcapsular renal haematoma | 2 | 0% |
| Subclavian artery aneurysm | 2 | 0% |
| Subclavian artery embolism | 2 | 0% |
| Subclavian artery occlusion | 2 | 0% |
| Subclavian artery stenosis | 2 | 0% |
| Subclavian vein stenosis | 2 | 0% |
| Subretinal fluid | 2 | 0% |
| Surgical stapling | 2 | 0% |
| Susac's syndrome | 2 | 0% |
| Suspected product contamination | 2 | 0% |
| Sweat discolouration | 2 | 0% |
| Sweat gland disorder | 2 | 0% |
| Sweat gland infection | 2 | 0% |
| Swollen joint count | 2 | 0% |
| Sympathicotonia | 2 | 0% |
| Syndactyly | 2 | 0% |
| Synovial fluid cell count | 2 | 0% |
| Systemic candida | 2 | 0% |
| T-cell lymphoma | 2 | 0% |
| Tattoo | 2 | 0% |
| Temperature perception test abnormal | 2 | 0% |
| Temperature perception test normal | 2 | 0% |
| Temporary mechanical circulatory support | 2 | 0% |
| Tendon calcification | 2 | 0% |
| Tensor fasciae latae syndrome | 2 | 0% |
| Tetanus immunisation | 2 | 0% |
| Thalassaemia | 2 | 0% |
| Therapeutic aspiration | 2 | 0% |
| Therapeutic product effect delayed | 2 | 0% |
| Therapeutic response increased | 2 | 0% |
| Thiopurine methyltransferase | 2 | 0% |
| Thoracotomy | 2 | 0% |
| Thrombin-antithrombin III complex | 2 | 0% |
| Thrombin time prolonged | 2 | 0% |
| Thromboangiitis obliterans | 2 | 0% |
| Thyroid gland scan normal | 2 | 0% |
| Thyroid releasing hormone challenge test | 2 | 0% |
| Thyroxin binding globulin | 2 | 0% |
| Tidal volume decreased | 2 | 0% |
| Tinea capitis | 2 | 0% |
| Tissue infiltration | 2 | 0% |
| Tolosa-Hunt syndrome | 2 | 0% |
| Tongue abscess | 2 | 0% |
| Tongue fungal infection | 2 | 0% |
| Tongue induration | 2 | 0% |
| Tongue pigmentation | 2 | 0% |
| Tonsil cancer | 2 | 0% |
| Tonsillar cyst | 2 | 0% |
| Tooth development disorder | 2 | 0% |
| Tooth erosion | 2 | 0% |
| Total cholesterol/HDL ratio decreased | 2 | 0% |
| Tracheal compression | 2 | 0% |
| Tracheal haemorrhage | 2 | 0% |
| Tracheobronchitis bacterial | 2 | 0% |
| Tracheoscopy | 2 | 0% |
| Transaminases decreased | 2 | 0% |
| Transcription medication error | 2 | 0% |
| Transferrin increased | 2 | 0% |
| Transplant | 2 | 0% |
| Transvalvular pressure gradient | 2 | 0% |
| Traumatic fracture | 2 | 0% |
| Traumatic haemothorax | 2 | 0% |
| Treatment failure | 2 | 0% |
| Trematode infection | 2 | 0% |
| Tri-iodothyronine free abnormal | 2 | 0% |
| Trisomy 13 | 2 | 0% |
| Trousseau's sign | 2 | 0% |
| Tumour haemorrhage | 2 | 0% |
| Type IIa hyperlipidaemia | 2 | 0% |
| Type V hyperlipidaemia | 2 | 0% |
| Uhthoff's phenomenon | 2 | 0% |
| Ulcerative gastritis | 2 | 0% |
| Ultrasound testes normal | 2 | 0% |
| Umbilical cord prolapse | 2 | 0% |
| Unemployment | 2 | 0% |
| Upper respiratory tract endoscopy | 2 | 0% |
| Upper respiratory tract infection bacterial | 2 | 0% |
| Urea renal clearance | 2 | 0% |
| Ureteral disorder | 2 | 0% |
| Ureteric dilatation | 2 | 0% |
| Ureteric obstruction | 2 | 0% |
| Urethral disorder | 2 | 0% |
| Urethral spasm | 2 | 0% |
| Urethral stenosis | 2 | 0% |
| Urinary casts present | 2 | 0% |
| Urinary stone analysis | 2 | 0% |
| Urinary system x-ray abnormal | 2 | 0% |
| Urinary tract candidiasis | 2 | 0% |
| Urinary tract infection pseudomonal | 2 | 0% |
| Urinary tract toxicity | 2 | 0% |
| Urine albumin/creatinine ratio increased | 2 | 0% |
| Urine barbiturates | 2 | 0% |
| Urine bilirubin decreased | 2 | 0% |
| Urine calcium/creatinine ratio | 2 | 0% |
| Urine copper | 2 | 0% |
| Urine osmolarity normal | 2 | 0% |
| Urine porphobilinogen increased | 2 | 0% |
| Urine potassium decreased | 2 | 0% |
| Urine protein/creatinine ratio increased | 2 | 0% |
| Urine sodium normal | 2 | 0% |
| Urogenital haemorrhage | 2 | 0% |
| Urogram abnormal | 2 | 0% |
| Urogram normal | 2 | 0% |
| Urticarial dermatitis | 2 | 0% |
| Uterine cervical pain | 2 | 0% |
| Uterine disorder | 2 | 0% |
| Vaccination site phlebitis | 2 | 0% |
| Vaginal mucosal blistering | 2 | 0% |
| Varicella post vaccine | 2 | 0% |
| Varicose ulceration | 2 | 0% |
| Vascular access site bruising | 2 | 0% |
| Vascular access site thrombosis | 2 | 0% |
| Vascular catheterisation | 2 | 0% |
| Vascular device infection | 2 | 0% |
| Vascular malformation | 2 | 0% |
| Vascular stent insertion | 2 | 0% |
| Vascular stent occlusion | 2 | 0% |
| Vascular stent stenosis | 2 | 0% |
| Vasculitis gastrointestinal | 2 | 0% |
| Vena cava embolism | 2 | 0% |
| Venous oxygen partial pressure | 2 | 0% |
| Venous pressure jugular | 2 | 0% |
| Venous recanalisation | 2 | 0% |
| Ventricular cisternostomy | 2 | 0% |
| Ventricular dyssynchrony | 2 | 0% |
| Ventricular internal diameter abnormal | 2 | 0% |
| Vertebral artery arteriosclerosis | 2 | 0% |
| Vertebral artery hypoplasia | 2 | 0% |
| Vertebroplasty | 2 | 0% |
| Vessel harvesting | 2 | 0% |
| Viral diarrhoea | 2 | 0% |
| Viral titre decreased | 2 | 0% |
| Virologic failure | 2 | 0% |
| Visceral congestion | 2 | 0% |
| Visual agnosia | 2 | 0% |
| Vital capacity normal | 2 | 0% |
| Vitamin D increased | 2 | 0% |
| VIth nerve paresis | 2 | 0% |
| Vitreous haze | 2 | 0% |
| Vitreous opacities | 2 | 0% |
| Vogt-Koyanagi-Harada disease | 2 | 0% |
| Volvulus of small bowel | 2 | 0% |
| Von Willebrand's factor antibody | 2 | 0% |
| Von Willebrand's factor antigen increased | 2 | 0% |
| Vulvovaginitis | 2 | 0% |
| Walking distance test normal | 2 | 0% |
| Weaning failure | 2 | 0% |
| Weber tuning fork test | 2 | 0% |
| Weight abnormal | 2 | 0% |
| Weight gain poor | 2 | 0% |
| Weight loss poor | 2 | 0% |
| West Nile virus test positive | 2 | 0% |
| White blood cells stool positive | 2 | 0% |
| Wound infection staphylococcal | 2 | 0% |
| Wound necrosis | 2 | 0% |
| Wrist deformity | 2 | 0% |
| X-ray therapy to blood | 2 | 0% |
| X-ray with contrast lower gastrointestinal tract | 2 | 0% |
| Xanthochromia | 2 | 0% |
| Xerosis | 2 | 0% |
| 5'nucleotidase | 1 | 0% |
| 5-hydroxyindolacetic acid | 1 | 0% |
| 5-hydroxyindolacetic acid in urine | 1 | 0% |
| Abdomen crushing | 1 | 0% |
| Abdominal injury | 1 | 0% |
| Abdominal migraine | 1 | 0% |
| Abdominal wall abscess | 1 | 0% |
| Abdominal wall cyst | 1 | 0% |
| Abdominal wall mass | 1 | 0% |
| Abdominal wall operation | 1 | 0% |
| Abdominoplasty | 1 | 0% |
| Aberrant aortic arch | 1 | 0% |
| Ablepharon macrostomia syndrome | 1 | 0% |
| Abnormal labour | 1 | 0% |
| Abnormal palmar/plantar creases | 1 | 0% |
| Abnormal precordial movement | 1 | 0% |
| Abnormal withdrawal bleeding | 1 | 0% |
| Aborted pregnancy | 1 | 0% |
| Abortion incomplete | 1 | 0% |
| Abortion infected | 1 | 0% |
| Abortion of ectopic pregnancy | 1 | 0% |
| Abortion spontaneous incomplete | 1 | 0% |
| Acanthoma | 1 | 0% |
| Accelerated idioventricular rhythm | 1 | 0% |
| Accessory muscle | 1 | 0% |
| Accessory nerve disorder | 1 | 0% |
| Accessory spleen | 1 | 0% |
| Accident at work | 1 | 0% |
| Achenbach syndrome | 1 | 0% |
| Achlorhydria | 1 | 0% |
| Achromotrichia acquired | 1 | 0% |
| Acid fast bacilli infection | 1 | 0% |
| Acidosis hyperchloraemic | 1 | 0% |
| Acinetobacter test positive | 1 | 0% |
| Acoustic shock | 1 | 0% |
| Acquired epidermolysis bullosa | 1 | 0% |
| Acquired factor VIII deficiency | 1 | 0% |
| Acquired macroglossia | 1 | 0% |
| Acquired oesophageal web | 1 | 0% |
| ACTH stimulation test normal | 1 | 0% |
| Actinic elastosis | 1 | 0% |
| Actinomyces test positive | 1 | 0% |
| Activated partial thromboplastin time ratio fluctuation | 1 | 0% |
| Acute aseptic arthritis | 1 | 0% |
| Acute cutaneous lupus erythematosus | 1 | 0% |
| Acute endocarditis | 1 | 0% |
| Acute haemorrhagic conjunctivitis | 1 | 0% |
| Acute HIV infection | 1 | 0% |
| Acute myelomonocytic leukaemia | 1 | 0% |
| Acute right ventricular failure | 1 | 0% |
| Acute undifferentiated leukaemia | 1 | 0% |
| Adenocarcinoma metastatic | 1 | 0% |
| Adenocarcinoma of the cervix | 1 | 0% |
| Adenoidal disorder | 1 | 0% |
| Adenoidectomy | 1 | 0% |
| Adenoviral meningitis | 1 | 0% |
| Adenovirus test positive | 1 | 0% |
| Adjusted calcium decreased | 1 | 0% |
| Adjusted calcium increased | 1 | 0% |
| Adjustment disorder with anxiety | 1 | 0% |
| Adjustment disorder with mixed anxiety and depressed mood | 1 | 0% |
| Administration related reaction | 1 | 0% |
| Administration site discharge | 1 | 0% |
| Administration site discomfort | 1 | 0% |
| Administration site dysaesthesia | 1 | 0% |
| Administration site erythema | 1 | 0% |
| Administration site extravasation | 1 | 0% |
| Administration site hypoaesthesia | 1 | 0% |
| Administration site induration | 1 | 0% |
| Administration site irritation | 1 | 0% |
| Administration site nerve damage | 1 | 0% |
| Administration site papule | 1 | 0% |
| Administration site pruritus | 1 | 0% |
| Adnexa uteri cyst | 1 | 0% |
| Adrenal cyst | 1 | 0% |
| Adrenal gland cancer | 1 | 0% |
| Adrenergic syndrome | 1 | 0% |
| Advanced sleep phase | 1 | 0% |
| Afterbirth pain | 1 | 0% |
| Agonal death struggle | 1 | 0% |
| Agoraphobia | 1 | 0% |
| Air embolism | 1 | 0% |
| Airway complication of anaesthesia | 1 | 0% |
| Airway peak pressure | 1 | 0% |
| Akinaesthesia | 1 | 0% |
| Albumin CSF abnormal | 1 | 0% |
| Albumin CSF decreased | 1 | 0% |
| Albumin globulin ratio abnormal | 1 | 0% |
| Alcohol abuse | 1 | 0% |
| Alcoholic liver disease | 1 | 0% |
| Alcoholic psychosis | 1 | 0% |
| Alcohol problem | 1 | 0% |
| Alcohol test false positive | 1 | 0% |
| Aldolase abnormal | 1 | 0% |
| Aldolase decreased | 1 | 0% |
| Alkalosis | 1 | 0% |
| Allergic gastroenteritis | 1 | 0% |
| Allergic pharyngitis | 1 | 0% |
| Allergy alert test | 1 | 0% |
| Allergy to synthetic fabric | 1 | 0% |
| Allergy to venom | 1 | 0% |
| Alopecia totalis | 1 | 0% |
| Alpha-1 acid glycoprotein abnormal | 1 | 0% |
| Alpha-2 macroglobulin | 1 | 0% |
| Alpha 1 foetoprotein increased | 1 | 0% |
| Alpha 1 globulin decreased | 1 | 0% |
| Alpha 1 globulin increased | 1 | 0% |
| Alpha 2 globulin increased | 1 | 0% |
| Alpha globulin increased | 1 | 0% |
| Alveolar lung disease | 1 | 0% |
| Alveolar osteitis | 1 | 0% |
| Alveolar oxygen partial pressure | 1 | 0% |
| Alveolar proteinosis | 1 | 0% |
| Amblyopia strabismic | 1 | 0% |
| American Society of Anesthesiologists physical status classification | 1 | 0% |
| Amino acid level decreased | 1 | 0% |
| Amino acid level normal | 1 | 0% |
| Aminopyrine breathing test | 1 | 0% |
| Ammonia decreased | 1 | 0% |
| Amniorrhexis | 1 | 0% |
| Amniotic fluid index increased | 1 | 0% |
| Amniotic fluid volume increased | 1 | 0% |
| Amniotic membrane rupture test | 1 | 0% |
| Amniotic membrane rupture test negative | 1 | 0% |
| Amphetamines negative | 1 | 0% |
| Amputation stump pain | 1 | 0% |
| Amylase abnormal | 1 | 0% |
| Amyloidosis senile | 1 | 0% |
| Amyloid related imaging abnormality-microhaemorrhages and haemosiderin deposits | 1 | 0% |
| Amyloid related imaging abnormality-oedema/effusion | 1 | 0% |
| Anaemia folate deficiency | 1 | 0% |
| Anaemia of malignant disease | 1 | 0% |
| Anaemia postoperative | 1 | 0% |
| Anaemic hypoxia | 1 | 0% |
| Anaesthesia dolorosa | 1 | 0% |
| Anal candidiasis | 1 | 0% |
| Anal fistula | 1 | 0% |
| Anal fungal infection | 1 | 0% |
| Analgesic drug level above therapeutic | 1 | 0% |
| Analgesic drug level decreased | 1 | 0% |
| Analgesic intervention supportive therapy | 1 | 0% |
| Anal infection | 1 | 0% |
| Anal inflammation | 1 | 0% |
| Anal pap smear | 1 | 0% |
| Anal skin tags | 1 | 0% |
| Anal sphincter hypertonia | 1 | 0% |
| Anal ulcer | 1 | 0% |
| Anaphylactoid syndrome of pregnancy | 1 | 0% |
| Anaplastic thyroid cancer | 1 | 0% |
| Anastomotic ulcer | 1 | 0% |
| Aneurysmal bone cyst | 1 | 0% |
| Angelman's syndrome | 1 | 0% |
| Anginal equivalent | 1 | 0% |
| Angiocentric lymphoma | 1 | 0% |
| Angiodysplasia | 1 | 0% |
| Angioimmunoblastic T-cell lymphoma stage III | 1 | 0% |
| Angiokeratoma | 1 | 0% |
| Angiotensin converting enzyme increased | 1 | 0% |
| Angiotensin I | 1 | 0% |
| Anion gap abnormal | 1 | 0% |
| Anisometropia | 1 | 0% |
| Ankle brachial index normal | 1 | 0% |
| Anogenital warts | 1 | 0% |
| Anterior chamber inflammation | 1 | 0% |
| Anterior cord syndrome | 1 | 0% |
| Anterior spinal artery syndrome | 1 | 0% |
| Anti-actin antibody | 1 | 0% |
| Anti-actin antibody positive | 1 | 0% |
| Anti-erythropoietin antibody | 1 | 0% |
| Anti-erythropoietin antibody negative | 1 | 0% |
| Anti-erythropoietin antibody positive | 1 | 0% |
| Anti-GAD antibody negative | 1 | 0% |
| Anti-glomerular basement membrane antibody negative | 1 | 0% |
| Anti-HLA antibody test positive | 1 | 0% |
| Anti-IA2 antibody | 1 | 0% |
| Anti-insulin antibody | 1 | 0% |
| Anti-islet cell antibody negative | 1 | 0% |
| Anti-melanoma differentiation-associated protein 5 antibody positive | 1 | 0% |
| Anti-Muellerian hormone level decreased | 1 | 0% |
| Anti-Muellerian hormone level increased | 1 | 0% |
| Anti-Muellerian hormone level normal | 1 | 0% |
| Anti-muscle specific kinase antibody positive | 1 | 0% |
| Anti-myelin-associated glycoprotein associated polyneuropathy | 1 | 0% |
| Anti-platelet antibody negative | 1 | 0% |
| Anti-RNA polymerase III antibody positive | 1 | 0% |
| Anti-SRP antibody positive | 1 | 0% |
| Anti-thyroid antibody decreased | 1 | 0% |
| Anti-VGCC antibody | 1 | 0% |
| Anti-VGKC antibody negative | 1 | 0% |
| Anti-zinc transporter 8 antibody positive | 1 | 0% |
| Antiangiogenic therapy | 1 | 0% |
| Antibiotic level | 1 | 0% |
| Anticholinergic syndrome | 1 | 0% |
| Anticoagulation drug level increased | 1 | 0% |
| Anticoagulation drug level normal | 1 | 0% |
| Antiemetic supportive care | 1 | 0% |
| Antiendomysial antibody positive | 1 | 0% |
| Antiendomysial antibody test | 1 | 0% |
| Anti factor IX antibody | 1 | 0% |
| Anti factor Xa activity decreased | 1 | 0% |
| Anti factor X activity | 1 | 0% |
| Anti factor X activity increased | 1 | 0% |
| Anti factor XI antibody positive | 1 | 0% |
| Antiinflammatory therapy | 1 | 0% |
| Anti Kell antibody test positive | 1 | 0% |
| Antimicrobial susceptibility test sensitive | 1 | 0% |
| Antimyocardial antibody positive | 1 | 0% |
| Antioxidant capacity test | 1 | 0% |
| Antiretroviral therapy | 1 | 0% |
| Antiribosomal P antibody positive | 1 | 0% |
| Antisocial personality disorder | 1 | 0% |
| Antithrombin III increased | 1 | 0% |
| Antral follicle count | 1 | 0% |
| Anxiety disorder due to a general medical condition | 1 | 0% |
| Aortic dissection rupture | 1 | 0% |
| Aortic perforation | 1 | 0% |
| Aortic valve repair | 1 | 0% |
| APACHE II score | 1 | 0% |
| Apgar score normal | 1 | 0% |
| Aplasia | 1 | 0% |
| Apnoea test abnormal | 1 | 0% |
| Apolipoprotein | 1 | 0% |
| Apolipoprotein B | 1 | 0% |
| Apoptosis | 1 | 0% |
| Apparent death | 1 | 0% |
| Application site bruise | 1 | 0% |
| Application site burn | 1 | 0% |
| Application site haematoma | 1 | 0% |
| Application site induration | 1 | 0% |
| Application site inflammation | 1 | 0% |
| Application site joint erythema | 1 | 0% |
| Application site laceration | 1 | 0% |
| Application site necrosis | 1 | 0% |
| Application site paraesthesia | 1 | 0% |
| Application site plaque | 1 | 0% |
| Application site vasculitis | 1 | 0% |
| Arachnoid web | 1 | 0% |
| Argininosuccinate synthetase deficiency | 1 | 0% |
| Arrhythmogenic right ventricular dysplasia | 1 | 0% |
| Arterial angioplasty | 1 | 0% |
| Arterial bruit | 1 | 0% |
| Arterial catheterisation normal | 1 | 0% |
| Arterial repair | 1 | 0% |
| Arterial revascularisation | 1 | 0% |
| Arterial segmental pressure test | 1 | 0% |
| Arterial stiffness | 1 | 0% |
| Arterial therapeutic procedure | 1 | 0% |
| Arterial tortuosity syndrome | 1 | 0% |
| Arteriogram normal | 1 | 0% |
| Arteriosclerotic gangrene | 1 | 0% |
| Arteriovenous graft | 1 | 0% |
| Arteriovenous graft thrombosis | 1 | 0% |
| Arteritis coronary | 1 | 0% |
| Artificial blood vessel occlusion | 1 | 0% |
| Artificial crown procedure | 1 | 0% |
| Artificial heart device user | 1 | 0% |
| Artificial skin graft | 1 | 0% |
| Asbestosis | 1 | 0% |
| Aspergillus infection | 1 | 0% |
| Aspermia | 1 | 0% |
| Aspiration tracheal normal | 1 | 0% |
| Aspirin-exacerbated respiratory disease | 1 | 0% |
| Assisted reproductive technology | 1 | 0% |
| Asthma late onset | 1 | 0% |
| AST to platelet ratio index increased | 1 | 0% |
| ASXL1 gene mutation | 1 | 0% |
| Atheroembolism | 1 | 0% |
| Atonic urinary bladder | 1 | 0% |
| Atopic keratoconjunctivitis | 1 | 0% |
| Atrial pressure increased | 1 | 0% |
| Atrioventricular conduction time shortened | 1 | 0% |
| Atrophic glossitis | 1 | 0% |
| Atrophy of globe | 1 | 0% |
| Atypical femur fracture | 1 | 0% |
| Atypical haemolytic uraemic syndrome | 1 | 0% |
| Atypical mycobacterial infection | 1 | 0% |
| Atypical mycobacterial lower respiratory tract infection | 1 | 0% |
| Auricular chondritis | 1 | 0% |
| Autoimmune cholangitis | 1 | 0% |
| Autoimmune colitis | 1 | 0% |
| Autoimmune eye disorder | 1 | 0% |
| Autoimmune lung disease | 1 | 0% |
| Autoimmune myositis | 1 | 0% |
| Autoimmune nephritis | 1 | 0% |
| Autoimmune uveitis | 1 | 0% |
| Automatism | 1 | 0% |
| B-cell lymphoma stage II | 1 | 0% |
| B-cell small lymphocytic lymphoma | 1 | 0% |
| B-cell type acute leukaemia | 1 | 0% |
| Bacterial colitis | 1 | 0% |
| Bacterial rhinitis | 1 | 0% |
| Bacterial vulvovaginitis | 1 | 0% |
| Band neutrophil count decreased | 1 | 0% |
| Band neutrophil percentage decreased | 1 | 0% |
| Barbiturates | 1 | 0% |
| Barbiturates positive | 1 | 0% |
| Barium enema abnormal | 1 | 0% |
| Barium enema normal | 1 | 0% |
| Barotitis media | 1 | 0% |
| Barotrauma | 1 | 0% |
| Bartholinitis | 1 | 0% |
| Bartonella test positive | 1 | 0% |
| Bartonellosis | 1 | 0% |
| Base excess abnormal | 1 | 0% |
| Basilar artery stenosis | 1 | 0% |
| Basilar migraine | 1 | 0% |
| Basophilia | 1 | 0% |
| Behavioural therapy | 1 | 0% |
| Behaviour disorder due to a general medical condition | 1 | 0% |
| Bence Jones protein urine | 1 | 0% |
| Benign enlargement of the subarachnoid spaces | 1 | 0% |
| Benign familial haematuria | 1 | 0% |
| Benign hepatic neoplasm | 1 | 0% |
| Benign tumour excision | 1 | 0% |
| Beta 2 microglobulin increased | 1 | 0% |
| Beta 2 microglobulin normal | 1 | 0% |
| Beta 2 microglobulin urine increased | 1 | 0% |
| Beta ketothiolase deficiency | 1 | 0% |
| Bile culture negative | 1 | 0% |
| Bile output increased | 1 | 0% |
| Biliary ascites | 1 | 0% |
| Biliary tract infection | 1 | 0% |
| Biomedical photography | 1 | 0% |
| Biopsy abdominal wall | 1 | 0% |
| Biopsy abdominal wall normal | 1 | 0% |
| Biopsy bile duct abnormal | 1 | 0% |
| Biopsy bone normal | 1 | 0% |
| Biopsy brain normal | 1 | 0% |
| Biopsy cervix abnormal | 1 | 0% |
| Biopsy cervix normal | 1 | 0% |
| Biopsy chest wall | 1 | 0% |
| Biopsy chorionic villous | 1 | 0% |
| Biopsy chorionic villous abnormal | 1 | 0% |
| Biopsy colon normal | 1 | 0% |
| Biopsy eyelid normal | 1 | 0% |
| Biopsy foetal | 1 | 0% |
| Biopsy gingival | 1 | 0% |
| Biopsy heart normal | 1 | 0% |
| Biopsy intestine abnormal | 1 | 0% |
| Biopsy pancreas abnormal | 1 | 0% |
| Biopsy pericardium | 1 | 0% |
| Biopsy peritoneum | 1 | 0% |
| Biopsy placenta | 1 | 0% |
| Biopsy rectum abnormal | 1 | 0% |
| Biopsy small intestine abnormal | 1 | 0% |
| Biopsy spinal cord | 1 | 0% |
| Biopsy spleen | 1 | 0% |
| Biopsy tongue | 1 | 0% |
| Biopsy tongue abnormal | 1 | 0% |
| Biopsy uterus abnormal | 1 | 0% |
| Biopsy vocal cord abnormal | 1 | 0% |
| Biopsy vulva | 1 | 0% |
| Biopsy vulva abnormal | 1 | 0% |
| Birth mark | 1 | 0% |
| BK polyomavirus test | 1 | 0% |
| BK virus infection | 1 | 0% |
| Bladder cancer stage IV | 1 | 0% |
| Bladder catheter replacement | 1 | 0% |
| Bladder fibrosis | 1 | 0% |
| Bladder injury | 1 | 0% |
| Bladder neck obstruction | 1 | 0% |
| Bladder outlet obstruction | 1 | 0% |
| Bladder prolapse | 1 | 0% |
| Bladder stenosis | 1 | 0% |
| Bladder trabeculation | 1 | 0% |
| Bladder transitional cell carcinoma | 1 | 0% |
| Bladder tumour antigen | 1 | 0% |
| Blast cell count increased | 1 | 0% |
| Blast cell crisis | 1 | 0% |
| Blastic plasmacytoid dendritic cell neoplasia | 1 | 0% |
| Bleeding anovulatory | 1 | 0% |
| Blepharal papilloma | 1 | 0% |
| Block vertebra | 1 | 0% |
| Blood 25-hydroxycholecalciferol increased | 1 | 0% |
| Blood alcohol decreased | 1 | 0% |
| Blood aldosterone increased | 1 | 0% |
| Blood androstenedione increased | 1 | 0% |
| Blood antidiuretic hormone | 1 | 0% |
| Blood antidiuretic hormone increased | 1 | 0% |
| Blood arsenic normal | 1 | 0% |
| Blood beta-D-glucan normal | 1 | 0% |
| Blood beta-D-glucan positive | 1 | 0% |
| Blood bilirubin unconjugated decreased | 1 | 0% |
| Blood brain barrier defect | 1 | 0% |
| Blood bromide | 1 | 0% |
| Blood cadmium | 1 | 0% |
| Blood caffeine increased | 1 | 0% |
| Blood calcitonin | 1 | 0% |
| Blood cannabinoids decreased | 1 | 0% |
| Blood carbon monoxide increased | 1 | 0% |
| Blood chloride abnormal | 1 | 0% |
| Blood cholinesterase normal | 1 | 0% |
| Blood chromium normal | 1 | 0% |
| Blood corticotrophin abnormal | 1 | 0% |
| Blood corticotrophin decreased | 1 | 0% |
| Blood creatine phosphokinase MM | 1 | 0% |
| Blood creatine phosphokinase MM normal | 1 | 0% |
| Blood electrolytes increased | 1 | 0% |
| Blood ethanal increased | 1 | 0% |
| Blood follicle stimulating hormone decreased | 1 | 0% |
| Blood galactose | 1 | 0% |
| Blood gonadotrophin decreased | 1 | 0% |
| Blood gonadotrophin normal | 1 | 0% |
| Blood group AB | 1 | 0% |
| Blood immunoglobulin G abnormal | 1 | 0% |
| Blood insulin decreased | 1 | 0% |
| Blood insulin normal | 1 | 0% |
| Blood isotope clearance | 1 | 0% |
| Blood ketone body absent | 1 | 0% |
| Blood loss assessment | 1 | 0% |
| Blood luteinising hormone decreased | 1 | 0% |
| Blood mercury | 1 | 0% |
| Blood mercury normal | 1 | 0% |
| Blood methanol | 1 | 0% |
| Blood oestrogen normal | 1 | 0% |
| Blood phosphorus abnormal | 1 | 0% |
| Blood pressure ambulatory normal | 1 | 0% |
| Blood pressure difference of extremities | 1 | 0% |
| Blood pressure systolic inspiratory decreased | 1 | 0% |
| Blood product transfusion dependent | 1 | 0% |
| Blood prolactin abnormal | 1 | 0% |
| Blood prolactin decreased | 1 | 0% |
| Blood selenium | 1 | 0% |
| Blood testosterone free | 1 | 0% |
| Blood testosterone free normal | 1 | 0% |
| Blood trypsin | 1 | 0% |
| Blood viscosity decreased | 1 | 0% |
| Blood zinc decreased | 1 | 0% |
| Body dysmorphic disorder | 1 | 0% |
| Body fat disorder | 1 | 0% |
| Body mass index abnormal | 1 | 0% |
| Body surface area | 1 | 0% |
| Bone decalcification | 1 | 0% |
| Bone development abnormal | 1 | 0% |
| Bone erosion | 1 | 0% |
| Bone hypertrophy | 1 | 0% |
| Bone marrow reticulin fibrosis | 1 | 0% |
| Bone marrow transplant | 1 | 0% |
| Bone scan abnormal | 1 | 0% |
| Bone scan normal | 1 | 0% |
| Booster dose missed | 1 | 0% |
| Bordetella test positive | 1 | 0% |
| Bowel preparation | 1 | 0% |
| Bowen's disease | 1 | 0% |
| Brachiocephalic artery stenosis | 1 | 0% |
| Brain cancer metastatic | 1 | 0% |
| Brain neoplasm benign | 1 | 0% |
| Brain neoplasm malignant | 1 | 0% |
| Brain stem auditory evoked response abnormal | 1 | 0% |
| Brain stent insertion | 1 | 0% |
| Breast cancer stage I | 1 | 0% |
| Breast cancer stage III | 1 | 0% |
| Breast cyst drainage | 1 | 0% |
| Breast discharge infected | 1 | 0% |
| Breast fibrosis | 1 | 0% |
| Breast hyperplasia | 1 | 0% |
| Breast injury | 1 | 0% |
| Breast tumour excision | 1 | 0% |
| Breech delivery | 1 | 0% |
| Bromhidrosis | 1 | 0% |
| Bronchial carcinoma | 1 | 0% |
| Bronchial haemorrhage | 1 | 0% |
| Bronchiolitis obliterans syndrome | 1 | 0% |
| Bronchogenic cyst | 1 | 0% |
| Bronchogram | 1 | 0% |
| Bronchogram abnormal | 1 | 0% |
| Bronchopulmonary disease | 1 | 0% |
| Brucellosis | 1 | 0% |
| Budd-Chiari syndrome | 1 | 0% |
| Bulimia nervosa | 1 | 0% |
| Bullous impetigo | 1 | 0% |
| Burn dressing | 1 | 0% |
| Burns first degree | 1 | 0% |
| Bursa calcification | 1 | 0% |
| Bursa removal | 1 | 0% |
| Bursitis infective | 1 | 0% |
| Calcium ionised abnormal | 1 | 0% |
| Calcium ionised increased | 1 | 0% |
| Calculus urethral | 1 | 0% |
| Calyceal diverticulum | 1 | 0% |
| Camptocormia | 1 | 0% |
| Campylobacter colitis | 1 | 0% |
| Campylobacter gastroenteritis | 1 | 0% |
| Cancer in remission | 1 | 0% |
| Capillary fragility test | 1 | 0% |
| Capillary permeability | 1 | 0% |
| Capnogram | 1 | 0% |
| Capsular contracture associated with implant | 1 | 0% |
| Carbohydrate antigen 15-3 increased | 1 | 0% |
| Carbohydrate antigen 27.29 increased | 1 | 0% |
| Carbohydrate antigen 72-4 | 1 | 0% |
| Carbohydrate intolerance | 1 | 0% |
| Carbon monoxide poisoning | 1 | 0% |
| Carboxyhaemoglobin decreased | 1 | 0% |
| Carboxyhaemoglobin increased | 1 | 0% |
| Carboxyhaemoglobin normal | 1 | 0% |
| Carcinoid syndrome | 1 | 0% |
| Cardiac arrest neonatal | 1 | 0% |
| Cardiac complication associated with device | 1 | 0% |
| Cardiac electrophysiologic study abnormal | 1 | 0% |
| Cardiac electrophysiologic study normal | 1 | 0% |
| Cardiac index increased | 1 | 0% |
| Cardiac murmur functional | 1 | 0% |
| Cardiac output increased | 1 | 0% |
| Cardiac rehabilitation therapy | 1 | 0% |
| Cardiac septal defect repair | 1 | 0% |
| Cardiac steatosis | 1 | 0% |
| Cardiac valve discolouration | 1 | 0% |
| Cardiac valve fibroelastoma | 1 | 0% |
| Cardiac valve rupture | 1 | 0% |
| Cardiac vein dissection | 1 | 0% |
| Cardiomyopathy acute | 1 | 0% |
| Cardiovascular autonomic function test abnormal | 1 | 0% |
| Cardiovascular function test abnormal | 1 | 0% |
| Cardiovascular function test normal | 1 | 0% |
| Carney complex | 1 | 0% |
| Carnitine normal | 1 | 0% |
| Carotid pulse decreased | 1 | 0% |
| Carpal tunnel decompression | 1 | 0% |
| Cartilage atrophy | 1 | 0% |
| Cataract nuclear | 1 | 0% |
| Catastrophic reaction | 1 | 0% |
| Catecholamine crisis | 1 | 0% |
| Catheter culture | 1 | 0% |
| Catheter site haematoma | 1 | 0% |
| Catheter site infection | 1 | 0% |
| Catheter site pain | 1 | 0% |
| Catheter site swelling | 1 | 0% |
| Catheter site warmth | 1 | 0% |
| CD4 lymphocyte percentage decreased | 1 | 0% |
| CD4 lymphocytes abnormal | 1 | 0% |
| CD4/CD8 ratio decreased | 1 | 0% |
| CD4/CD8 ratio increased | 1 | 0% |
| CD8 lymphocytes abnormal | 1 | 0% |
| CD25 antigen positive | 1 | 0% |
| Cell-mediated cytotoxicity | 1 | 0% |
| Cell-mediated immune deficiency | 1 | 0% |
| Cell marker decreased | 1 | 0% |
| Cell marker increased | 1 | 0% |
| Cellulitis gangrenous | 1 | 0% |
| Central nervous system function test | 1 | 0% |
| Central nervous system function test abnormal | 1 | 0% |
| Central nervous system function test normal | 1 | 0% |
| Central nervous system immune reconstitution inflammatory response | 1 | 0% |
| Central nervous system injury | 1 | 0% |
| Central nervous system lupus | 1 | 0% |
| Central nervous system lymphoma | 1 | 0% |
| Central nervous system viral infection | 1 | 0% |
| Central venous catheter removal | 1 | 0% |
| Central venous pressure normal | 1 | 0% |
| Cephalhaematoma | 1 | 0% |
| Cerebellar artery thrombosis | 1 | 0% |
| Cerebellar hypoplasia | 1 | 0% |
| Cerebral arteriovenous malformation haemorrhagic | 1 | 0% |
| Cerebral ataxia | 1 | 0% |
| Cerebral circulatory failure | 1 | 0% |
| Cerebral hyperperfusion syndrome | 1 | 0% |
| Cerebral infarction foetal | 1 | 0% |
| Cerebral reperfusion injury | 1 | 0% |
| Cerebral revascularisation | 1 | 0% |
| Cerebral vascular occlusion | 1 | 0% |
| Cerebrospinal fluid retention | 1 | 0% |
| Cerebrovascular operation | 1 | 0% |
| Cerebrovascular stenosis | 1 | 0% |
| Cervical conisation | 1 | 0% |
| Cervical cyst | 1 | 0% |
| Cervicitis | 1 | 0% |
| Cervicitis trichomonal | 1 | 0% |
| Cervicogenic vertigo | 1 | 0% |
| Cervix carcinoma | 1 | 0% |
| Cervix cerclage procedure | 1 | 0% |
| Cervix dystocia | 1 | 0% |
| Cervix erythema | 1 | 0% |
| Cervix haematoma uterine | 1 | 0% |
| Cervix inflammation | 1 | 0% |
| Cervix oedema | 1 | 0% |
| Cervix operation | 1 | 0% |
| CHA2DS2-VASc annual stroke risk high | 1 | 0% |
| Charles Bonnet syndrome | 1 | 0% |
| Chemical burn of oral cavity | 1 | 0% |
| Chemocauterisation | 1 | 0% |
| Chemokine increased | 1 | 0% |
| Chest expansion decreased | 1 | 0% |
| Chikungunya virus infection | 1 | 0% |
| Chimerism | 1 | 0% |
| Cholangitis infective | 1 | 0% |
| Cholecystitis chronic | 1 | 0% |
| Cholelithotripsy | 1 | 0% |
| Cholera | 1 | 0% |
| Cholesteatoma | 1 | 0% |
| Chondrodystrophy | 1 | 0% |
| Chondromatosis | 1 | 0% |
| Chorioamniotic separation | 1 | 0% |
| Choroidal detachment | 1 | 0% |
| Choroidal effusion | 1 | 0% |
| Choroidal rupture | 1 | 0% |
| Choroiditis | 1 | 0% |
| Chronic allograft nephropathy | 1 | 0% |
| Chronic eosinophilic leukaemia | 1 | 0% |
| Chronic graft versus host disease in skin | 1 | 0% |
| Chronic graft versus host disease oral | 1 | 0% |
| Chronic leukaemia | 1 | 0% |
| Chronic lymphocytic inflammation with pontine perivascular enhancement responsive to steroids | 1 | 0% |
| Chronic lymphocytic leukaemia stage 0 | 1 | 0% |
| Chronic myeloid leukaemia (in remission) | 1 | 0% |
| Chronic myeloid leukaemia recurrent | 1 | 0% |
| Chronic paroxysmal hemicrania | 1 | 0% |
| Chronic respiratory disease | 1 | 0% |
| Chronic rhinosinusitis with nasal polyps | 1 | 0% |
| Chronic rhinosinusitis without nasal polyps | 1 | 0% |
| Chvostek's sign | 1 | 0% |
| Circumstance or information capable of leading to device use error | 1 | 0% |
| Circumstantiality | 1 | 0% |
| Cisternogram | 1 | 0% |
| Clang associations | 1 | 0% |
| Cleft lip | 1 | 0% |
| Cleft lip and palate | 1 | 0% |
| Cleft uvula | 1 | 0% |
| Clinical death | 1 | 0% |
| Clinical dementia rating scale | 1 | 0% |
| Clinical trial participant | 1 | 0% |
| Clitoral engorgement | 1 | 0% |
| Clostridial infection | 1 | 0% |
| Clot retraction | 1 | 0% |
| Clubbing | 1 | 0% |
| Coagulation factor IX level normal | 1 | 0% |
| Coagulation factor level normal | 1 | 0% |
| Coagulation factor VIII level decreased | 1 | 0% |
| Coagulation factor VIII level normal | 1 | 0% |
| Coagulation factor VII level decreased | 1 | 0% |
| Coagulation factor V level decreased | 1 | 0% |
| Coagulation factor XI level normal | 1 | 0% |
| Coagulation time abnormal | 1 | 0% |
| Cochlea implant | 1 | 0% |
| Coeliac artery stenosis | 1 | 0% |
| Cold agglutinins negative | 1 | 0% |
| Cold agglutinins positive | 1 | 0% |
| Cold burn | 1 | 0% |
| Cold type haemolytic anaemia | 1 | 0% |
| Collagen-vascular disease | 1 | 0% |
| Collateral circulation | 1 | 0% |
| Colloid brain cyst | 1 | 0% |
| Colon gangrene | 1 | 0% |
| Colonic lavage | 1 | 0% |
| Colon injury | 1 | 0% |
| Colon neoplasm | 1 | 0% |
| Colorectal adenocarcinoma | 1 | 0% |
| Colorectostomy | 1 | 0% |
| Colostomy infection | 1 | 0% |
| Colour vision tests abnormal | 1 | 0% |
| Colposcopy | 1 | 0% |
| Coma acidotic | 1 | 0% |
| Combined pulmonary fibrosis and emphysema | 1 | 0% |
| Comminuted fracture | 1 | 0% |
| Complement factor C2 | 1 | 0% |
| Complications of transplanted kidney | 1 | 0% |
| Complications of transplanted lung | 1 | 0% |
| Compulsive cheek biting | 1 | 0% |
| Computed tomographic gastrography | 1 | 0% |
| Concentric sclerosis | 1 | 0% |
| Confirmed e-cigarette or vaping product use associated lung injury | 1 | 0% |
| Congenital abdominal hernia | 1 | 0% |
| Congenital absence of bile ducts | 1 | 0% |
| Congenital absence of cranial vault | 1 | 0% |
| Congenital central nervous system anomaly | 1 | 0% |
| Congenital coronary artery malformation | 1 | 0% |
| Congenital cystic lung | 1 | 0% |
| Congenital hypercoagulation | 1 | 0% |
| Congenital methaemoglobinaemia | 1 | 0% |
| Congenital myopathy | 1 | 0% |
| Congenital uterine anomaly | 1 | 0% |
| Conjunctival bleb | 1 | 0% |
| Conjunctival cyst | 1 | 0% |
| Conjunctival discolouration | 1 | 0% |
| Conjunctival scar | 1 | 0% |
| Conjunctivochalasis | 1 | 0% |
| Connective tissue inflammation | 1 | 0% |
| Contact lens therapy | 1 | 0% |
| Continuous haemodiafiltration | 1 | 0% |
| Convalescent | 1 | 0% |
| COPD assessment test | 1 | 0% |
| Coprolalia | 1 | 0% |
| Corneal cross linking | 1 | 0% |
| Corneal endotheliitis | 1 | 0% |
| Corneal epithelium defect | 1 | 0% |
| Corneal irritation | 1 | 0% |
| Corneal lesion | 1 | 0% |
| Corneal pachymetry | 1 | 0% |
| Coronary artery stent removal | 1 | 0% |
| Corticotropin-releasing hormone stimulation test | 1 | 0% |
| COVID-19 prophylaxis | 1 | 0% |
| Cranial nerve neoplasm benign | 1 | 0% |
| Craniofacial fracture | 1 | 0% |
| Craniofacial injury | 1 | 0% |
| Cranioplasty | 1 | 0% |
| Creatinine renal clearance abnormal | 1 | 0% |
| Creatinine urine increased | 1 | 0% |
| Cryptitis | 1 | 0% |
| Crystal nephropathy | 1 | 0% |
| CSF cell count abnormal | 1 | 0% |
| CSF electrophoresis normal | 1 | 0% |
| CSF immunoglobulin decreased | 1 | 0% |
| CSF lactate dehydrogenase | 1 | 0% |
| CSF lactate dehydrogenase normal | 1 | 0% |
| CSF lactate increased | 1 | 0% |
| CSF leukocyte/erythrocyte ratio | 1 | 0% |
| CSF monocyte count negative | 1 | 0% |
| CSF myelin basic protein | 1 | 0% |
| Cullen's sign | 1 | 0% |
| Culture cervix | 1 | 0% |
| Cushing's syndrome | 1 | 0% |
| Cushingoid | 1 | 0% |
| Cutaneous mucormycosis | 1 | 0% |
| Cutis verticis gyrata | 1 | 0% |
| Cyclic AMP normal | 1 | 0% |
| Cyclothymic disorder | 1 | 0% |
| CYP2C19 gene status assay | 1 | 0% |
| CYP2C19 polymorphism | 1 | 0% |
| Cyst aspiration | 1 | 0% |
| Cystatin C increased | 1 | 0% |
| Cystitis klebsiella | 1 | 0% |
| Cystitis viral | 1 | 0% |
| Cystocele | 1 | 0% |
| Cystogram | 1 | 0% |
| Cystogram normal | 1 | 0% |
| Cystometrogram | 1 | 0% |
| Cytogenetic analysis abnormal | 1 | 0% |
| Cytomegalovirus chorioretinitis | 1 | 0% |
| Cytoreductive surgery | 1 | 0% |
| Death of pet | 1 | 0% |
| Decreased bronchial secretion | 1 | 0% |
| Defiant behaviour | 1 | 0% |
| Deficiency anaemia | 1 | 0% |
| Degenerative bone disease | 1 | 0% |
| Dehiscence | 1 | 0% |
| Dehydroepiandrosterone increased | 1 | 0% |
| Delayed delivery | 1 | 0% |
| Delayed ischaemic neurological deficit | 1 | 0% |
| Delayed menarche | 1 | 0% |
| Delusional disorder, persecutory type | 1 | 0% |
| Delusion of grandeur | 1 | 0% |
| Delusion of parasitosis | 1 | 0% |
| Delusion of replacement | 1 | 0% |
| Dementia of the Alzheimer's type, with delirium | 1 | 0% |
| Dental cyst | 1 | 0% |
| Dental dysaesthesia | 1 | 0% |
| Dental implant removal | 1 | 0% |
| Dental impression procedure | 1 | 0% |
| Dental leakage | 1 | 0% |
| Dentofacial functional disorder | 1 | 0% |
| Dependent rubor | 1 | 0% |
| Deposit eye | 1 | 0% |
| Depression rating scale score | 1 | 0% |
| Derailment | 1 | 0% |
| Dermabrasion | 1 | 0% |
| Dermatophagia | 1 | 0% |
| Detoxification | 1 | 0% |
| Developmental hip dysplasia | 1 | 0% |
| Device difficult to use | 1 | 0% |
| Device dispensing error | 1 | 0% |
| Device electrical impedance issue | 1 | 0% |
| Device extrusion | 1 | 0% |
| Device ineffective shock delivery | 1 | 0% |
| Device loosening | 1 | 0% |
| Device material issue | 1 | 0% |
| Device pacing issue | 1 | 0% |
| Device physical property issue | 1 | 0% |
| Device related bacteraemia | 1 | 0% |
| Dextrocardia | 1 | 0% |
| Diabetic gangrene | 1 | 0% |
| Diabetic gastroparesis | 1 | 0% |
| Diabetic retinal oedema | 1 | 0% |
| Diabetic wound | 1 | 0% |
| Dialysis disequilibrium syndrome | 1 | 0% |
| Diastematomyelia | 1 | 0% |
| Diastolic hypotension | 1 | 0% |
| Diffuse idiopathic skeletal hyperostosis | 1 | 0% |
| Diffuse mesangial sclerosis | 1 | 0% |
| Diffuse panbronchiolitis | 1 | 0% |
| Diffusion-weighted brain MRI normal | 1 | 0% |
| DiGeorge's syndrome | 1 | 0% |
| Digestive enzyme abnormal | 1 | 0% |
| Digestive enzyme test | 1 | 0% |
| Digital pulpitis | 1 | 0% |
| Dihydrotestosterone level | 1 | 0% |
| Dilatation intrahepatic duct acquired | 1 | 0% |
| Disability assessment scale | 1 | 0% |
| Disease prodromal stage | 1 | 0% |
| Disease risk factor | 1 | 0% |
| Disease susceptibility | 1 | 0% |
| Disorder of orbit | 1 | 0% |
| Disseminated varicella zoster vaccine virus infection | 1 | 0% |
| Distal intestinal obstruction syndrome | 1 | 0% |
| DNA antibody positive | 1 | 0% |
| DNA test for fragile X | 1 | 0% |
| Documented hypersensitivity to administered product | 1 | 0% |
| Dolichocolon acquired | 1 | 0% |
| Dorsal ramus syndrome | 1 | 0% |
| Double hit lymphoma | 1 | 0% |
| Drain site complication | 1 | 0% |
| Drooping shoulder syndrome | 1 | 0% |
| Drug abuser | 1 | 0% |
| Drug delivery system malfunction | 1 | 0% |
| Drug detoxification | 1 | 0% |
| Drug dose omission by device | 1 | 0% |
| Drug effective for unapproved indication | 1 | 0% |
| Drug ineffective for unapproved indication | 1 | 0% |
| Drug level fluctuating | 1 | 0% |
| Drug level increased | 1 | 0% |
| Drug level therapeutic | 1 | 0% |
| Drug monitoring procedure incorrectly performed | 1 | 0% |
| Drug provocation test | 1 | 0% |
| Drug therapy | 1 | 0% |
| Drug withdrawal headache | 1 | 0% |
| Dry age-related macular degeneration | 1 | 0% |
| Dry skin prophylaxis | 1 | 0% |
| Ductus arteriosus premature closure | 1 | 0% |
| Dumping syndrome | 1 | 0% |
| Duplicate therapy error | 1 | 0% |
| Dust allergy | 1 | 0% |
| Dysprosody | 1 | 0% |
| Dystonic tremor | 1 | 0% |
| Ear and hearing disorder prophylaxis | 1 | 0% |
| Ear lobe infection | 1 | 0% |
| Ear neoplasm | 1 | 0% |
| Eastern Cooperative Oncology Group performance status worsened | 1 | 0% |
| Ebola disease | 1 | 0% |
| ECG electrically inactive area | 1 | 0% |
| ECG signs of myocardial ischaemia | 1 | 0% |
| Echolalia | 1 | 0% |
| Eclampsia | 1 | 0% |
| Ectropion of cervix | 1 | 0% |
| Eczema impetiginous | 1 | 0% |
| Eczema infantile | 1 | 0% |
| Egobronchophony | 1 | 0% |
| Ejaculation delayed | 1 | 0% |
| Electrocardiogram P wave | 1 | 0% |
| Electrocardiogram P wave biphasic | 1 | 0% |
| Electrocardiogram S1-S2-S3 pattern | 1 | 0% |
| Electrocardiogram ST-T segment depression | 1 | 0% |
| Electrocardiogram T wave amplitude increased | 1 | 0% |
| Electrocardiogram U wave inversion | 1 | 0% |
| Electrocardiogram U wave present | 1 | 0% |
| Electrocochleogram abnormal | 1 | 0% |
| Electrocution | 1 | 0% |
| Electrogastrogram | 1 | 0% |
| Electrophoresis abnormal | 1 | 0% |
| Elephantiasis | 1 | 0% |
| Embedded device | 1 | 0% |
| Emergency care examination normal | 1 | 0% |
| Empty sella syndrome | 1 | 0% |
| Enamel anomaly | 1 | 0% |
| Encephalitis allergic | 1 | 0% |
| Encephalitis meningococcal | 1 | 0% |
| End-tidal CO2 decreased | 1 | 0% |
| Endometrial disorder | 1 | 0% |
| Endophthalmitis | 1 | 0% |
| Endoscopic retrograde cholangiopancreatography normal | 1 | 0% |
| Endoscopic ultrasound normal | 1 | 0% |
| Endoscopy biliary tract | 1 | 0% |
| Endoscopy small intestine abnormal | 1 | 0% |
| Enlarged clitoris | 1 | 0% |
| Enteric neuropathy | 1 | 0% |
| Enterobacter sepsis | 1 | 0% |
| Enterobiasis | 1 | 0% |
| Enterococcal bacteraemia | 1 | 0% |
| Enterocolitis infectious | 1 | 0% |
| Enterocolitis viral | 1 | 0% |
| Enterorrhaphy | 1 | 0% |
| Entropion | 1 | 0% |
| Environmental exposure | 1 | 0% |
| Eosinopenia | 1 | 0% |
| Eosinophilia myalgia syndrome | 1 | 0% |
| Eosinophilic cellulitis | 1 | 0% |
| Eosinophilic colitis | 1 | 0% |
| Eosinophilic fasciitis | 1 | 0% |
| Eosinophilic pleural effusion | 1 | 0% |
| Eosinophils urine | 1 | 0% |
| Eosinophils urine absent | 1 | |