Health Impact News Editor
KS95 radio in Minneapolis Minnesota talked to a woman calling into their show recently who admitted that she took her 18 month old nephew into a doctor to have him vaccinated because her sister and brother-in-law did not believe in vaccines. She admitted that her sister did not know she had done this. Listen to her explanation for doing so in the audio below:
The woman explained that she was watching her nephew for a few days while the parents were traveling, and decided to take him to a doctor and get him vaccinated.
KS95 took call-ins and text messages from people, and some people said she did the right thing, and that they would do the same thing. Most agreed, however, that she should tell the parents, if for no other reason than that the parents might decide to get some vaccines at some point, and the child could end up with multiple doses.
So fair warning to all parents in the United States who choose not to vaccinate your children: if you have relatives who disagree with you, and they have control of your children for a given length of time, apparently they can find a doctor to vaccinate your children without your consent.
Dr. Andrew Moulden: Every Vaccine Produces Harm
Canadian physician Dr. Andrew Moulden provided clear scientific evidence to prove that every dose of vaccine given to a child or an adult produces harm. The truth that he uncovered was rejected by the conventional medical system and the pharmaceutical industry. Nevertheless, his warning and his message to America remains as a solid legacy of the man who stood up against big pharma and their program to vaccinate every person on the Earth.
Dr. Moulden died unexpectedly in November of 2013 at age 49.
Because of the strong opposition from big pharma concerning Dr. Moulden's research, we became concerned that the name of this brilliant researcher and his life's work had nearly been deleted from the internet. His reputation was being disparaged, and his message of warning and hope was being distorted and buried without a tombstone. This book summarizes his teaching and is a must-read for everyone who wants to learn the "other-side" of the vaccine debate that the mainstream media routinely censors.
Read Dr. Andrew Moulden: Every Vaccine Produces Harm on your mobile device or computer by ordering the eBook!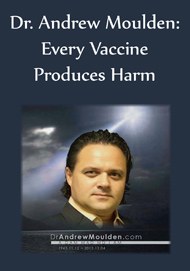 Retail: $13.99
Now: $9.99
Order Here.
Say NO to Mandatory Vaccines T-Shirt
100% Pre-shrunk Cotton!
Make a Statement for Health Freedom!
Big Pharma and government health authorities are trying to pass laws mandating vaccines for all children, and even adults.
Show your opposition to forced vaccinations and support the cause of Vaccine Impact, part of the Health Impact News network.
Published on May 4, 2015