By Javier Cardenal Taján
Buenos Aires Herald
Excerpts:
GlaxoSmithKline Argentina Laboratories Company was fined 400,000 pesos by Judge Marcelo Aguinsky following a report issued by the National Administration of Medicine, Food and Technology (ANMAT in Spanish) for irregularities during lab vaccine trials conducted between 2007 and 2008 that allegedly killed 14 babies.
Likewise, two doctors -Héctor Abate, and Miguel Tregnaghi- were fined 300,000 pesos each for irregularities during the studies.
The charges included experimenting with human beings as well falsifying parental authorizations so babies could participate in the vaccine-trials conducted by the laboratory from 2007 to 2008.
Pediatrician Ana Marchese, who reported the case to the Argentine Federation of Health Professionals (FESPROSA in Spanish), and was working at the Eva Perón children's public hospital in Santiago del Estero by the time the studies were being conducted, said this morning in conversations with Continental AM radio that "GSK Argentina set a protocol at the hospital, and recruited several doctors working there."
"These doctors took advantage of the many illiterate parents whom take their children for treatment by pressuring and forcing them into signing these 28-page consent forms and getting them involved in the trials."
"Laboratories can't experiment in Europe or the United States, so they come to do it in third-world countries."
Colombia and Panama were also chosen by GSK as staging grounds for trials of the vaccine against the pneumococcal bacteria.
Read the full article here.
Dr. Andrew Moulden: Every Vaccine Produces Harm
Canadian physician Dr. Andrew Moulden provided clear scientific evidence to prove that every dose of vaccine given to a child or an adult produces harm. The truth that he uncovered was rejected by the conventional medical system and the pharmaceutical industry. Nevertheless, his warning and his message to America remains as a solid legacy of the man who stood up against big pharma and their program to vaccinate every person on the Earth.
Dr. Moulden died unexpectedly in November of 2013 at age 49.
Because of the strong opposition from big pharma concerning Dr. Moulden's research, we became concerned that the name of this brilliant researcher and his life's work had nearly been deleted from the internet. His reputation was being disparaged, and his message of warning and hope was being distorted and buried without a tombstone. This book summarizes his teaching and is a must-read for everyone who wants to learn the "other-side" of the vaccine debate that the mainstream media routinely censors.
Read Dr. Andrew Moulden: Every Vaccine Produces Harm on your mobile device or computer by ordering the eBook!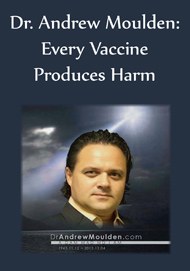 Retail: $13.99
Now: $9.99
Purchase Here.
Say NO to Mandatory Vaccines T-Shirt
100% Pre-shrunk Cotton!
Make a Statement for Health Freedom!
Big Pharma and government health authorities are trying to pass laws mandating vaccines for all children, and even adults.
Show your opposition to forced vaccinations and support the cause of Vaccine Impact, part of the Health Impact News network.
Published on May 14, 2015