Health Impact News Editor Comments
Jessica Boehm of Cronkite News has written another article about a family's struggle with vaccine injury justice. This family lost their son, who died after receiving the Measles, Mumps, Rubella vaccines.
Cronkite News is a digital media outlet that offers professional experiences to advanced students at Arizona State University's Walter Cronkite School of Journalism and Mass Communication. When you visit the Cronkite News website, you will notice the lack of corporate advertising on the site.
The United States is currently the only country where its citizens cannot sue pharmaceutical companies for damages due to vaccines. These companies have been granted legal immunity, and one has to sue the federal government in a special "Vaccine Court" to try and get a piece of the Vaccine Injury Compensation Trust Fund, which is funded by taxpayer's taxes paid on the purchase of vaccines.
In this story, one family tried to sue Merck for the death of their child after the MMR vaccine. The special vaccine court, funded via taxpayers, had already awarded a settlement of $250,000.00, conceding that the vaccine caused the death.
Parent fights unsuccessfully for more than 'blood money' in child's death
By JESSICA BOEHM
Cronkite News
WASHINGTON – Erin Holmes got $250,000 she didn't want, "blood money" her husband didn't want to spend.
The money came from the Vaccine Injury Compensation Program for her son, Jacob, who died in 2002 from a brain condition after receiving his measles-mumps-rubella and varicella vaccines. Holmes filed a claim and was quickly awarded the "worst money" she'd ever received.
"It's just kind of like, they hand you this check and it's done," said Holmes, whose son went through six months of seizures and hospital visits before he died.
"I can't even describe the feeling. They're like, 'Oh, well, we're sorry we killed your kid. Here's some money.'"
Holmes didn't want the money – but as an "angry parent" she wanted to do something more. So she reached out to a lawyer in Las Vegas who told her that the money she collected from the compensation program was "Jacob's money" – and she could still sue for her own suffering.
"You can sue for yourself and so that was the loophole that he found," said Holmes, a resident of Pahrump, Nevada.
She filed a wrongful death lawsuit against Merck and Co. – a manufacturer of MMR, varicella and other vaccines – alleging "negligence, strict product liability, negligent design, failure to warn, misrepresentation, express warranty, implied warranty of merchantability, implied warranty of fitness for a particular purpose, and punitive damages," according to court documents.
Her attorney, Marty Keach, said their argument was that "there's nothing in that statute (the National Childhood Vaccine Injury Act) that takes away the parent's claims."
According to court documents, two other U.S. circuit courts have ruled "that a vaccine-related injury or death, to come under the purview of the Vaccine Act, can only be associated with the individual who received the vaccine."
But the 9th U.S. Circuit Court of Appeals ruled that Holmes could not sue for negligent design or failure to warn, because the National Childhood Vaccine Injury Act pre-empted Holmes' strict product liability, negligent design and failure to warn claims.
"If we were to conclude that the parents of those suffering a vaccine-related injury could bring design defect and failure to warn claims … we would be acting contrary to the statute's central purpose of managing vaccine manufacturers' liability because our construction would do little to protect the vaccine manufacturers from suit," the court said in its opinion.
The court did say the other six claims are "unaffected" by the National Childhood Vaccine Injury Act, "and each of these provide a possible remedy to the injuries that they suffered as a result of Jacob's illness and death."
But Keach said the remaining claims would require proof that a specific batch of vaccines was manufactured incorrectly or that the vaccines were produced in a certain way that was not approved by the Food and Drug Administration, which were not viable in Holmes' case.
In a statement, Merck said "nothing is more important … than the safety and effectiveness of our vaccines and medicines and the people who use them."
"We remain confident that MMR II helps protect against measles, mumps and rubella as described in the labeling for the vaccine," its statement said.
It went on to say that while "no vaccine or medicine or completely without risk … MMR II also continues to be recommended for routing administration to children by public health authorities around the world, including the CDC and the FDA."
It did not comment specifically on the Holmes' case.
But Keach called the court's ruling a "policy decision, not a legal decision."
He said that instead of addressing the legal question of whether parents have been stripped of their rights to file a wrongful death claim – which is guaranteed under Nevada state law – the court focused on the politics behind the vaccine compensation program, knowing that allowing parents to file would again open up the vaccine manufacturers to lawsuits.
"They didn't want to address the issue because we're dead-right," Keach said.
Read the full article here.
See Also: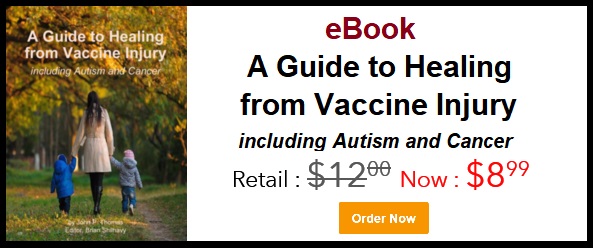 Say NO to Mandatory Vaccines T-Shirt
100% Pre-shrunk Cotton!
Make a Statement for Health Freedom!
Big Pharma and government health authorities are trying to pass laws mandating vaccines for all children, and even adults.
Show your opposition to forced vaccinations and support the cause of Vaccine Impact, part of the Health Impact News network.
Published on May 12, 2015