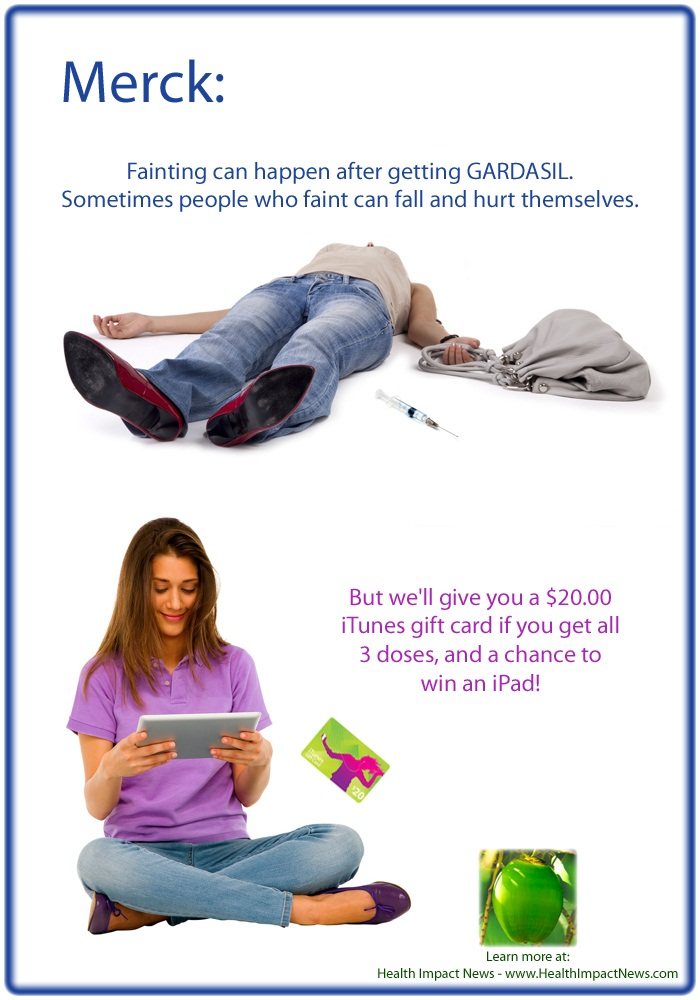 Health Impact News
Merck's Gardasil vaccine is perhaps the most controversial vaccine currently in the market. Their own website states this warning on its side effects:
Fainting can happen after getting GARDASIL. Sometimes people who faint can fall and hurt themselves. For this reason, your health care professional may ask you to sit or lie down for 15 minutes after you get GARDASIL. Some people who faint might shake or become stiff. This may require evaluation or treatment by your health care professional.

Tell your health care professional if any of the following problems occur because these may be signs of an allergic reaction:

difficulty breathing
wheezing (bronchospasm)
hives
rash

Tell your health care professional about:

swollen glands (neck, armpit, or groin)
joint pain
unusual tiredness, weakness, or confusion
chills
generally feeling unwell
leg pain
shortness of breath
chest pain
aching muscles
muscle weakness
seizure
bad stomach ache
bleeding or bruising more easily than normal

Contact your health care professional right away if any of these symptoms concern you, even several months after getting the vaccine.

Source: Gardasil.com
Gardasil requires 3 shots to be fully vaccinated. Apparently there is a huge drop off of girls getting the vaccine after the first dose, so Merck has reportedly started a program at colleges and universities to deal with their inventory of the second and third doses:
East Carolina University's student health services center recently began offering compensation to students who complete the Genital Human Papilloma Virus vaccination cycle.

The HPV vaccination is now available to all students through the health center. HPV is one of the most common sexually transmitted diseases in the world, especially among college students.

The new program, called Knock Out HPV, provides the vaccination to voluntary participants who are of good health. In return, students are given a $20 iTunes gift card and are entered into a drawing to win an iPad2. The entire three-dose cycle must be completed before the compensation is awarded.

Source: Vaccinenewsdaily.com
This article from Vaccinenewsdaily.com does not specify who was funding the free iTunes gift cards, so someone called them up and inquired. Here is the response from East Carolina University:
East Carolina University called us back. We asked for some explanations about the free HPV vaccines and iTunes gift cards. We were told that to get the free HPV vaccines, you have to be no older than 26, not a senior (because you have to finish all 3 vaccines before graduating) and you have to get all 3 before getting the $20 iTunes card. I asked if someone who has had 1 HPV vaccine already or 2 could just get the last one or two and qualify. I was told no. You have to get all three. The vaccine manufacturer is funding this and has said you have to get all 3 "from the same batch" to qualify and after receiving the last shot, you get the iTunes card. I then asked, "So, the manufacturer is funding this and the iTunes cards?" "Yes" was the man's reply. He told me it was a "grant" from the manufacturer to do all of this.
Here are some more facts regarding Gardasil that one is unlikely to find on the manufacturer's website or the U.S. Government websites:
118 deaths because of Gardasil vaccination have been reported to the VAERS (the Government Vaccine Adverse Event Reporting System) as of August 2012
Since 2006, over 26,000 adverse reactions reported to VAERS
894 reports of disability according to VAERS
517 life-threatening adverse events recorded in VAERS
9,889 emergency room visits recorded in VAERS
2,781 hospitalizations recorded in VAERS
HPV vaccines have never been shown to prevent cervical cancer
There are at least 15 pre malignant strains of HPV, and the HPV vaccine only inoculates for 2 of them (strains 16 and 18)
HPV vaccinations actually increase HPV high-risk infections
Abortion Stillbirth Events from Gardasil Far Exceed All Other Vaccines
For more information and references for the above see:
Findings in Girl Who Died After Receiving Gardasil Vaccine Now Released
Researchers Speak Out About Corruption in Science with Regard to HPV Vaccine
New Evidence Demolishes Claims of Safety and Effectiveness of HPV Vaccine
HPV vaccination found to increase HPV high-risk infections
Gardasil Vaccine Claim for Preventing Cervical Cancer Not Backed by Science
Abortion Stillbirth Events from Gardasil Far Exceed All Other Vaccines
Vaccine Epidemic
by Louise Kuo Habakus and Mary Holland J.D.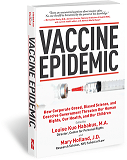 FREE Shipping Available!
Published on February 28, 2013