Moulden – A Search for Life and Truth
by John P. Thomas
Health Impact News
Canadian physician Dr. Andrew Moulden provided clear scientific evidence to prove that every dose of vaccine given to a child or an adult produces harm. The truth that he uncovered was rejected by the conventional medical system and the pharmaceutical industry. Nevertheless, his warning and his message to America remains as a solid legacy of the man who stood up against big pharma and their program to vaccinate every person on the Earth.
Dr Moulden died unexpectedly in November of 2013 at age 49.
Because of the strong opposition from big pharma concerning Dr. Moulden's research, I became concerned that the name of this brilliant researcher and his life's work had nearly been deleted from the internet. His reputation was being disparaged, and his message of warning and hope was being distorted and buried without a tombstone.
I prepared a series of articles as a tribute to a great physician and as a memorial to a courageous individual who was not afraid to speak the truth about medical corruption and a flawed healthcare system that does more to harm health than it does to cure disease.
This is the first in a series of four articles about Dr. Moulden — the man, the physician, and the powerful advocate for ending all vaccine use. In future articles, I will summarize his detailed scientific evidence, which shows how vaccine damage occurs. I will explain the common mechanisms behind vaccine damage and how vaccines harm the health of everyone who receives them regardless of whether or not they notice any adverse reactions at the time they take the shots.
Dr. Moulden stated:
What we have done to each other [with vaccines] has produced the most profound damage to humankind by humankind in the history of humanity. And the reason why we got here is partly because of:

Our arrogance in thinking that we know everything. In physiology and medicine we do not know everything!
[Our greed] to advance our own self-interest to make money, to sell products and to advance corporate alliances. Commercialization has overtaken the fundamental human value of "do unto others as you would have others do unto you." When society turns toward this human value, then we would all be working together for the greater good of each other. [However, other values have become more important] I don't care whose feet I step on or how I get there as long as my American dream is realized. I don't care who has to pay for it on the way of getting there. [1]
To read more about Dr. Andrew Moulden's work, purchase the eBook:
Dr. Andrew Moulden: Every Vaccine Produces Harm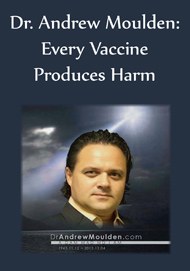 Retail: $13.99
Now: $9.99
Purchase Here.
Published on December 29, 2014