by Brian Shilhavy
Health Impact News Editor
Last year (2014) it was revealed that one of the highest rates of parents exercising their rights to refuse vaccines for their children due to personal beliefs was among parents in the wealthy California Hollywood schools, from Malibu to Beverly Hills.
The Hollywood Reporter noted:
The region stretching from Malibu south to Marina del Rey and inland as far as La Cienega Boulevard (and including Santa Monica, Pacific Palisades, Brentwood, West Hollywood and Beverly Hills) averaged a 9.1 percent PBE (personal belief exemption) level among preschoolers for the 2013-14 school year — a 26 percent jump from two years earlier. By comparison, L.A. County at large measured 2.2 percent in that period. Many preschools in this area spiked far higher, including Kabbalah Children's Academy in Beverly Hills (57 percent) and the Waldorf Early Childhood Center in Santa Monica (68 percent).

These two schools aren't outliers; dozens more — including Seven Arrows, Turning Point and Calvary Christian — report PBE levels that are five times the county average. And THR has found that administrators at many of these facilities are hardly alarmed.
The pro-pharma mainstream media was aghast at such statistics, of course, and tried to link recent epidemics of whooping cough in L.A. county to these wealthy, educated parents who chose not to receive certain vaccines for their children. Health officials in LA County (and many other places), however, have admitted that the pertussis vaccine is no longer very effective in preventing whooping cough, as most of the children suffering from whooping cough were found to have been fully vaccinated.
Why is the Entertainment Industry not Speaking out Against Medical Tyranny and Calforina SB277?
Since so many parents in the entertainment industry in southern California are practicing their legal right to choose medical procedures like vaccines, why are more of them not speaking out against California SB277 which would allow politicians to take that right away from them?
One of the few entertainers who has spoken publicly against medical tyranny and forced vaccinations is actor and comedian Rob Schneider. Mr. Schneider even helped produce a public service announcement to educate parents on how the federal vaccine court works:
Last year (2014) State Farm Insurance stopped using Rob Schneider in their commercials due to his position on vaccine choice and vaccine safety. (See: State Farm to Families of Vaccine-Damaged Children: We Don't Need Your Business.) I announced then that I was dropping my State Farm policies after years of being a State Farm customer, and today I do not hold any policies with State Farm.
Is this the reason the entertainment industry will not speak out, because of fear? Are they willing to lose their right to refuse medical procedures for their children in exchange for their silence on this issue?
The only two states in the U.S. that currently have no parental exemptions for childhood vaccines are Mississippi and West Virginia. Has anybody checked the rankings of these two states in terms of children health categories? Do California parents really want to mimic health policies in these two states?!
You have one more chance to speak out and try to defeat this bill next week at a hearing in Sacramento.
SB277 ANNOUNCEMENT – June 9, 2015
West Steps 10 a.m. to11 a.m.- Assemblyman Devon Mathis Legislative Press Conference. Many KEY Speakers!
North Steps – RALLY all day!
Assembly Health Committee Hearing -1:30 p.m.to 5 p.m.PST State Capitol, Room 4202

Committee Web Site: http://ahea.assembly.ca.gov/committeehome
Hearing Details: http://ahea.assembly.ca.gov/hearings
Live Stream Room 4202: http://assembly.ca.gov/listen/4202-audio
This bill has already been steamrolled through the California Senate, and is now attempting to be steamrolled through the House with no debate.
ALERT: California Assembly Fast Tracking Forced Vaccination Bill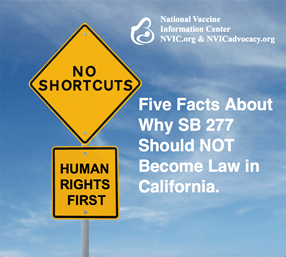 by National Vaccine Information Center
The California Assembly is fast tracking SB 277, a bill to eliminate all non-medical vaccine exemptions for religious and conscientious beliefs from the mandatory vaccination law governing school attendance. Although there were public hearings in the Health, Education and Judiciary committees in the state Senate, the bill has only been referred to the Health Committee and a hearing could be scheduled as early as the beginning of next week (June 8-12, 2015.)
With no scheduled public hearings in the Education or Appropriations committees, SB 277 will not be reviewed in the Assembly for civil rights violations and financial impact. It looks like the skids are being greased by pharmaceutical, medical trade and government lobbyists pressuring legislators to bring the bill to a fast floor vote and send it to Governor Brown for his signature.
California Parents – This May Be Your Last Chance to Act

If you live in California and are the parent of a child who attends daycare, public or private school, you may only have one more week left to contact your Assembly member and tell the person you elected to represent you what you think about SB 277.
Download a handout here that lists five good reasons why SB 277 should not become law. Give it to your Assembly member so he or she understands why:
SB 277 is not based on scientific evidence or compelling state interest;
SB 277 is a violation of parental and human rights;
SB 277 requires children to risk vaccine injury, while vaccine manufacturers and doctors administering vaccines are shielded from vaccine injury liability;
SB 277 discriminates against children to deny them a school-based education guaranteed by the California Constitution; and
SB 277 will be excessively expensive to administer and enforce.
You can track SB277 and immediately contact your Assembly member on your cell phone, tablet or computer by becoming a user of the free NVIC Advocacy Portal.
If the bill is voted out of the Assembly Health Committee and then quickly approved by the full Assembly and signed by the Governor, your only options will be to (1) find a doctor to write an almost impossible-to-get medical vaccine exemption for your child or (2) homeschool or enroll your child in an independent study program.
There is No Public Health Emergency in California
Unvaccinated school aged children with religious and conscientious belief exemptions are not causing measles and whooping cough outbreaks in California. Out of 136 measles cases reported in the state in 2015, only 18 percent were in school-aged children while 55% were in adults and 30 percent of all cases with vaccine records had been vaccinated. In 2014, out of 8,200 pediatric pertussis cases with vaccination records reported in California, 90 percent had been vaccinated.
The 2015 California measles outbreak associated with Disneyland only affected 0.00035% of the state's population and was successfully contained without eliminating non-medical vaccine exemptions.
Special Needs Children Being Discriminated Against
Many parents testified in California Senate public hearings that they have vaccine-injured children or have children with brain and immune system problems that could make them especially susceptible to vaccine harm but are unable to find a doctor willing to write a medical vaccine exemption. Those parents depend upon the personal belief vaccine exemption for their special needs children to be educated in public and private schools under the Individuals with Disabilities Education Act (IDEA) and Free Appropriate Public Education Act (FAPE).
If SB 277 becomes law, parents will be sanctioned for making informed medical decisions for their children. In addition, if the state refuses to provide costly home-based education to those with special needs when their parents are unable to educate them at home, then those children will be discriminated against and deprived of their civil right to an education.
Potential Criminal Prosecution and Prison Time for Non-Complying Parents
The bill's primary sponsors, pediatrician Richard Pan (D-Sacramento) and Ben Allen (D-Santa Monica) have not publicly explained what will happen if parents refuse to give their school aged child every federally recommended vaccine required by state health officials now or in the future under SB 277. However, if non-complying parents cannot provide their child with a home-based education for financial or other reasons and the children are barred from attending school, truancy laws in California and other states can and do subject parents to costly criminal prosecution and imprisonment.
Californians – participate in our democracy and ACT NOW to protect your vaccine informed consent rights. There is no substitute for one-on-one personal contact with your own Assembly member.
Has California Sold Out to Big Pharma to Lead the Nation in Medical Tyranny?
Dr. Richard Pan of California is the author of one of the most tyrannical bills currently being proposed in the U.S. to take away the right to informed consent for a medical procedure. SB277 would remove all personal belief exemptions to vaccines and prevent children from attending school unless they are fully vaccinated.
A hearing on SB277 was held at the State Capital on April 15, 2015. The support was overwhelmingly opposed to the bill, with only 53 people present supporting the bill, and 743 present opposing it:
The Senate Education committee did not take a vote on the bill that day, as several members of the committee had reservations about it. A vote was put off until April 22nd, one week later.
At the April 22 meeting, after 13 minutes of discussion, the committee passed the bill by a vote of 7 to 2.
What happened? How could the committee pass a bill with so much opposition from their constituents?
Dr. Robert Rowen wrote the following on his Facebook Page:
I will express my beliefs here. There is a money trail to most everyone on the committee to Pharma. Readers of this page have posted clear connections of most on the education committee to Pharma contributions. You need to realize that the vaccine industry is profitable to the tune of billions. Defeat of his bill would have been a huge thorn in their side for years to come, and in other states, which look at California as a bell weather state. I sincerely believe that Pharma called in their "chits" and told these senators in the last week that they needed to tow the line and return the "favor" of the generous donations (buy outs). And, not in the "light of day" as last week, when there were hundreds of opponents those who spoke out against the "draconian" measure, and religious freedom, you puppet rulers caved and bowed to their Pharma masters, not their constituents.
Dr. Rowen's concerns are echoed by others.
Jefferey Jaxen, an investigative reporter, recently explained how Dr. Richard Pan was answering questions in public by asking industry lobbyists what he should say:
After the historic outpouring of families to halt the passing of SB-277 last Wednesday in California, information has now been made public to further put into question the bill's credibility. After passing the Sacramento Health Committee vote, the bill was delayed as committee chair Senator Carol Liu wisely told the bill's author Richard Pan "If I were you, I would not take a vote today." At the conclusion of the vote, Liu asked Senator Pan point blank how he wanted to proceed. To this, Pan, appearing to have no power to make the decision, turned to lobbyist Jodi Hicks and Janus Norman for advice. It is telling that here, the authors Senator Pan and Ben Allen appear to be told what to do and how to do it. Pan is making his decisions based not on the thousands of families that showed up in protest, but from lobbyist. When Richard Pan turns to Hicks and Norman for his orders, it becomes clear that these individuals are the ones behind senate bill 277. (Full Story here.)
Tim Bolen of The Bolen Report also weighed in on the obvious ties to the pharmaceutical industry in his newsletter:
And, they went to Sacramento in droves, from all over the State, to nicely explain to their legislators, the ones they had just voted for, the problems associated with SB277.  They had a RALLY on the Capitol steps.

I think those citizens honestly believed that that tactic, polite confrontation of the issue, would win the day.They thought they'd be home in time to make dinner for the kids…

They hadn't done their homework.

They came up against Freshman Democratic Senator Richard Pan MD, who, without question, is Big Pharma's, bought and paid for top lobbyist in California – a lobbyist with a vote on the Senate floor, and the ability to directly introduce legislation.

Pan, a man with no particular skills, except for some training to flail around a pediatrician practice stabbing children with pus filled needles, has, in his first month AUTHORED thirty three (33) bills none of which I'm sure he wrote, never even read, and certainly did not understand.  You can view those bills here.  Go take a quick glance.  If you want more detail, click on each of the bill numbers.

See?

Of particular interest, besides, of course his stab-everyone-repeatedly-with-Merck-products legislation, is SB 435 called "Medical home: health care delivery model…"  What is really interesting about THAT is the built-in language:

"It is the intent of the Legislature to exempt from state antitrust laws and to provide immunity from federal antitrust laws, pursuant to the state action doctrine for, any activities undertaken pursuant to this act that otherwise might be constrained by those laws."

In other words, it looks to me, Pan is setting up his sponsor with a monopoly, and protecting that sponsor, using State law, from being sued in an anti-trust action filed by the US Justice Department, or by the bill's victims.

Wow!  I wonder how many small companies, now in the business Pan is creating a monopoly for friends, will be forced out of their own business with no legal recourse? (Read the full article here.)
Are California Silicon Valley Billionaires Hijacking Parental Rights?
One California resident who has publicly made his pro-vaccine views known is Facebook founder and CEO Mark Zuckerberg (who has no children to our knowledge), a resident of the elite billionaire club in Silicon Valley. Zuckerberg recently took a public position in the current California vaccine debate, in what many in the media reported to be a direct attack against those who believe in vaccine choice and vaccine safety:
Mark Zuckerberg just slammed the anti-vaccination movement – Business Insider
Mark Zuckerberg Is Sending a Message to the Anti-Vaccine Crowd – Yahoo Tech
Zuckerberg takes aim at vaccine deniers through his online book club – The Verge
Amar Toor of the Verge wrote:
Facebook CEO Mark Zuckerberg has selected a decidedly pro-vaccine book for the latest installment of his online book club, following a report last week that pointed to surprisingly low vaccination rates at Silicon Valley daycares affiliated with Google and other tech companies. The book, On Immunity by Eula Bliss, examines and disarms the fear underpinning the anti-vaccine movement, based on Bliss' personal experience with her young child.
Health Impact News recently published a book review of this same book endorsed by Zuckerburg, On Immunity, by journalist Jennifer Margulis, which was originally published by The Washington Independent Review of Books, but subsequently removed by what Margulis claims was an act of censorship, because they did not want to hear both sides of the vaccine debate. So for another view of this book Mr. Zuckerberg has chosen to endorse see:
Are Zuckerburg and other Silicon Valley elite behind some of the politics in opposing public opposition to mandatory vaccines? It would not be the first time they used their wealth to try and influence public policy.
Like technology billionaire and vaccine supporter Bill Gates, Mark Zuckerberg has enough money and influence to force people to adopt his position on vaccines. His tax revenue alone provides billions to the U.S. Government and State of California, and he can give away up to half of his income by U.S. law to charitable organizations to avoid paying even more taxes.
This "philanthropy" coming out of Silicon Valley is creating what some are calling a "Brave New Economic Order." Andrew Gumbel wrote:
The trend is national but only in Silicon Valley do companies like Google or Apple have more money than local governments and spend accordingly. Zuckerberg and fiber optic telecommunications entrepreneur David Welch have become players in the education debate — not only because they want to, but because they can. They can outspend school districts and – especially in Welch's case – outlawyer the teachers unions, which is a dramatic shift from standard democratic practice and perhaps more important than whether or not their cause is just. (Source.)
Zuckerberg is donating millions to schools and hospitals. With his pro-vaccine position, what role is he playing in current legislation to enforce medical tyranny in SB277?
See Also:
Medical Doctors Opposed to Forced Vaccinations – Should Their Views be Silenced?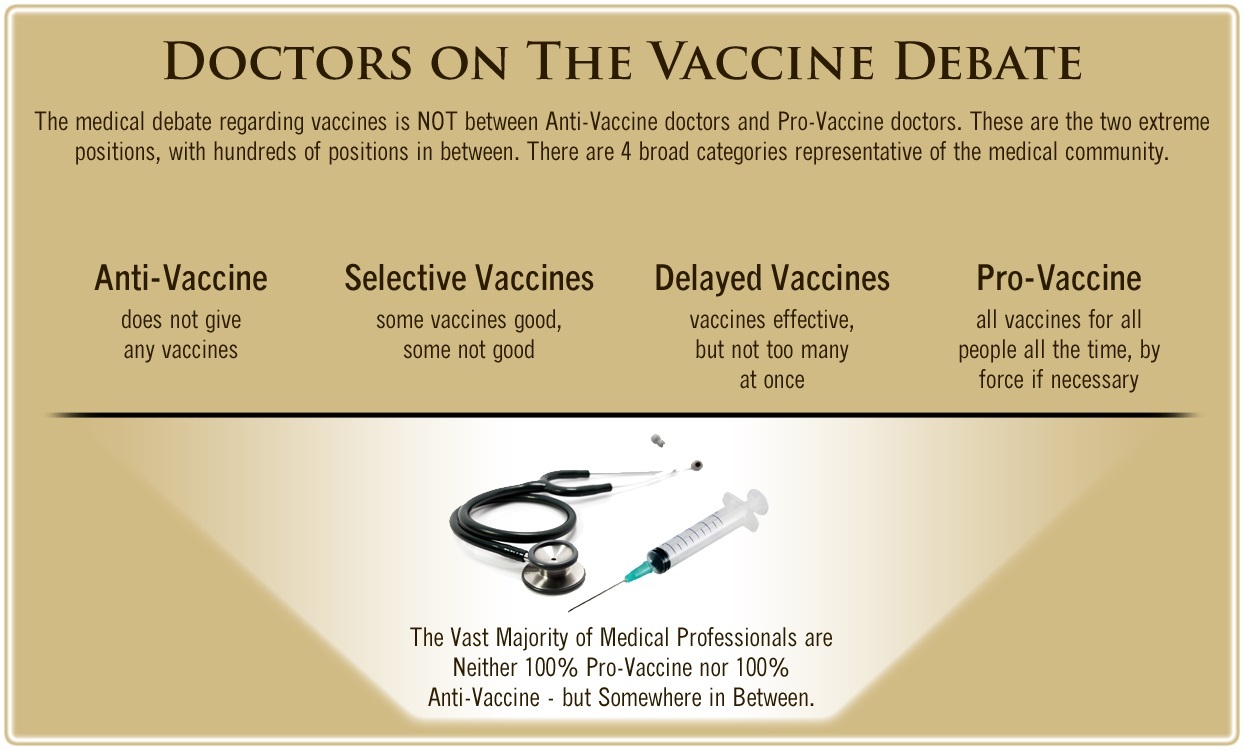 One of the biggest myths being propagated in the compliant mainstream media today is that doctors are either pro-vaccine or anti-vaccine, and that the anti-vaccine doctors are all "quacks."
However, nothing could be further from the truth in the vaccine debate. Doctors are not unified at all on their positions regarding "the science" of vaccines, nor are they unified in the position of removing informed consent to a medical procedure like vaccines.
The two most extreme positions are those doctors who are 100% against vaccines and do not administer them at all, and those doctors that believe that ALL vaccines are safe and effective for ALL people, ALL the time, by force if necessary.
Very few doctors fall into either of these two extremist positions, and yet it is the extreme pro-vaccine position that is presented by the U.S. Government and mainstream media as being the dominant position of the medical field.
In between these two extreme views, however, is where the vast majority of doctors practicing today would probably categorize their position. Many doctors who consider themselves "pro-vaccine," for example, do not believe that every single vaccine is appropriate for every single individual.
Many doctors recommend a "delayed" vaccine schedule for some patients, and not always the recommended one-size-fits-all CDC childhood schedule. Other doctors choose to recommend vaccines based on the actual science and merit of each vaccine, recommending some, while determining that others are not worth the risk for children, such as the suspect seasonal flu shot.
These doctors who do not hold extreme positions would be opposed to government-mandated vaccinations and the removal of all parental exemptions.
In this article, I am going to summarize the many doctors today who do not take the most extremist pro-vaccine position, which is probably not held by very many doctors at all, in spite of what the pharmaceutical industry, the federal government, and the mainstream media would like the public to believe.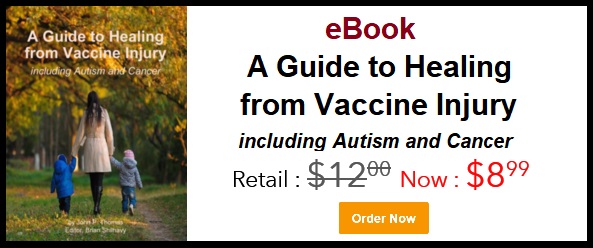 Published on June 5, 2015