CMSRI Funding Vaccine Research, Providing the Truth: A Discussion With Claire Dwoskin, The Founder
by Roger Landry
The Liberty Beacon
Excerpts:
Claire Dwoskin is the founder of Children's Medical Safety Research Institute (CMSRI) which was established to provide research funding to address the increasing incidence of chronic illness and disability, including autoimmunity, and age related neurological diseases such as Alzheimer's disease and autism.
Prominent peer-reviewed journals have published research and articles funded by CMSRI.
Claire is the co-founder of the Vaccine Safety Conference, co-chaired the 2nd & 3rd International Symposium on Vaccines and was awarded the AESKU Lifetime Achievement Award at the 9th International Autoimmunity Congress in 2014.
Click on the TLB Radio logo below to hear this excellent recorded discussion and read more about our guest and CMSRI below …
################
CMSRI was established by Claire Dwoskin, to provide funding for research to address eroding national health, particularly in very young and elderly populations. Concerns have been raised by the scientific community about the acknowledged significant increases in immune, inflammatory and cognitive disorders in children and adults ranging from asthma and neurodevelopmental disorders to the emergence of previously rare but serious autoimmune health conditions and age related disorders in the nervous system during the past three decades.
As health care costs for the treatment of infectious disease has declined, costs to treat chronic disease and disability have increased significantly and threaten the health and vibrancy of the U.S. economy. CMSRI is interested in discovering changes in human exposures which may be contributing to chronic health conditions, which are increasingly prevalent in pediatric populations. Since most childhood chronic illnesses persist beyond the age of 18, understanding the instigators for increases in these conditions is the key to preventing and treating them.
CMSRI Accomplishments (The short list)
Research:
CMSRI is directly responsible for funding and facilitating via the worlds top scientific minds,
Dozens of published research studies, review articles, and papers on the safety of aluminum adjuvants and vaccines that contain aluminum, particularly HPV vaccines.
Research conducted by leaders in the field of autoimmunity, neuroscience, biochemistry, genetics, computational science, physics, internal medicine, neuromuscular disease and public health.
Some Studies of note:
Biochemistry of aluminum adjuvant
Tracking the biodistribution of aluminum adjuvants
Generational mouse model study of pediatric relevant doses of aluminum adjuvants, including cognitive, motor, social and genetic changes after exposure
Aluminum and autoimmune disease
Adverse effects of Gardasil
Conferences Made possible by CMSRI:
Vaccine safety Conference in 2010
International Congress on Autoimmunity in 2012 and 2014
Keele Aluminum Conference 2013 and 2015
Autism One
Public hearings to discuss the safety research in France and Japan resulting in actions taken by both countries
Upcoming studies to be published soon in Frontiers of Neuroscience and Plos One
Documentaries:
The Greater Good – by Leslie Manookian (CMSRI provided seed funding).
The Age of Aluminum – the film covered some of the research funded by the foundation
Trace Amounts (I had no role in making this but if we have time to promote it I would like to) – by Eric Gladen and Shiloh Levine
################
TLB highly recommends you visit Claire at the CMSRI website for more pertinent information.
And if there ever was a more deserving organization to contribute to … we at TLB have not found it yet. Please donate to CMSRI to help fund the vital and indisputable research that may just tip the argument on the dangers of vaccine/vaccination in our favor by properly arming all of us who care … with the "FACTS!"
Read the Full Article Here.
Say NO to Mandatory Vaccines T-Shirt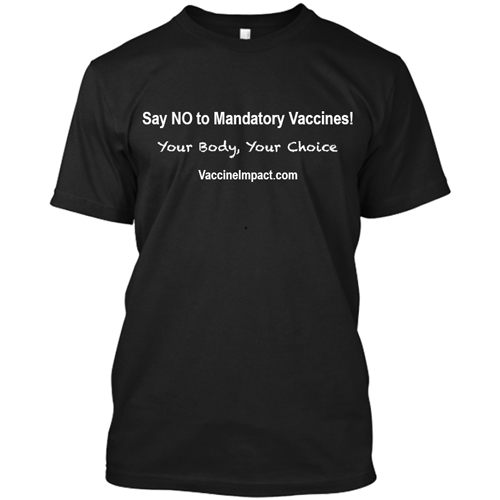 100% Pre-shrunk Cotton!
Make a Statement for Health Freedom!
Big Pharma and government health authorities are trying to pass laws mandating vaccines for all children, and even adults.
Show your opposition to forced vaccinations and support the cause of Vaccine Impact, part of the Health Impact News network.
Published on April 16, 2015