by John P. Thomas
Health Impact News
Dr. Andrew Moulden recognized that every dose of vaccine given to a person produced microvascular damage whether or not the person was aware of the damage or had debilitating symptoms at the time the vaccines were given. He courageously stepped out of the conventional box of medical diagnosis and treatment, and gave us a new way to look at modern neurodevelopmental illnesses and syndromes.
This series of articles is intended to preserve the work of Dr. Moulden, who unexpectedly died in November of 2013. I want to acknowledge the contribution of this forward-thinking pioneer who worked to explain the truth about vaccine damage. This is article two in a series of four articles about Dr. Moulden's life work.
As a physician and PhD researcher, he raised strong public objection to vaccine use, because he could literally see evidence of vaccine damage in the expressions of the human face. Each dose of a vaccine causes tiny strokes in the brain and in other organs of the body, which bring about a wide range of unexpected health conditions.
Dr. Moulden saw that the rapid rise in modern neurodevelopmental diseases such as autism, Alzheimer's, and numerous other syndromes were actually caused by the same process. He saw the current epidemic of these modern diseases as having a single origin. The notion of single diseases with single causes had to be put aside, because that model could not adequately explain what we are facing in the world today.
To read this article and all the other ones, purchase the eBook:
Dr. Andrew Moulden: Every Vaccine Produces Harm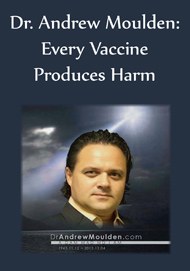 Retail: $13.99
Now: $9.99
Purchase Here.
Published on January 3, 2015