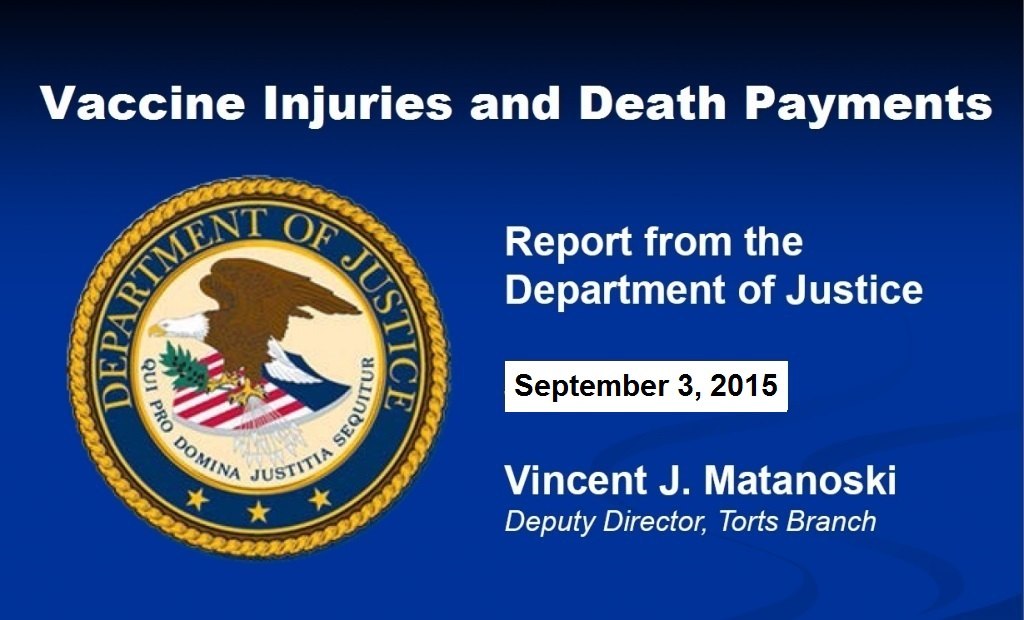 by Health Impact News
The Department of Justice issues a report on vaccine injuries and deaths every quarter to the Advisory Commission on Childhood Vaccines (Click on "Meeting Book – PDF – 10.8 MB" for September 3rd meeting). There are 211 cases for vaccine injuries and deaths for the period 5/16/2015 through 8/15/2015.
86 of the settlements were listed in this report, giving the name of the vaccines, the injury, and the amount of time the case was pending before settlement. Three of those settlements were for deaths linked to vaccines, with two deaths related to the flu shot, and one death for the HPV shot. 65 of the 86 settlements were for injuries and deaths due to the flu shot, and the majority of flu shot injuries were for Guillain-Barré Syndrome (GBS).
These quarterly reports on vaccine injuries and death settlements from the U.S. vaccine court are seldom, if ever, reported in the mainstream media. We report them here at Health Impact News. Here is the September 3rd, 2015 report: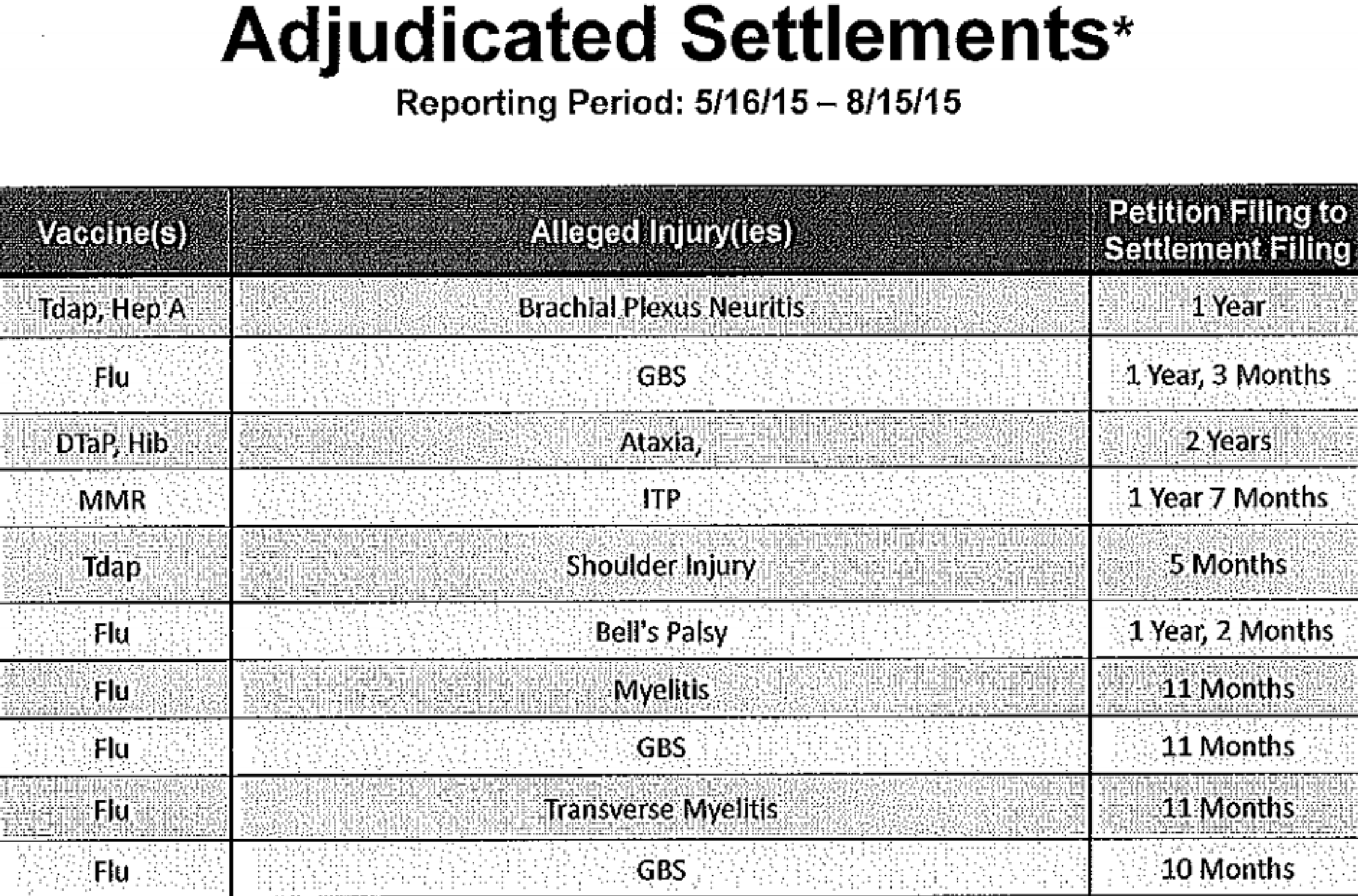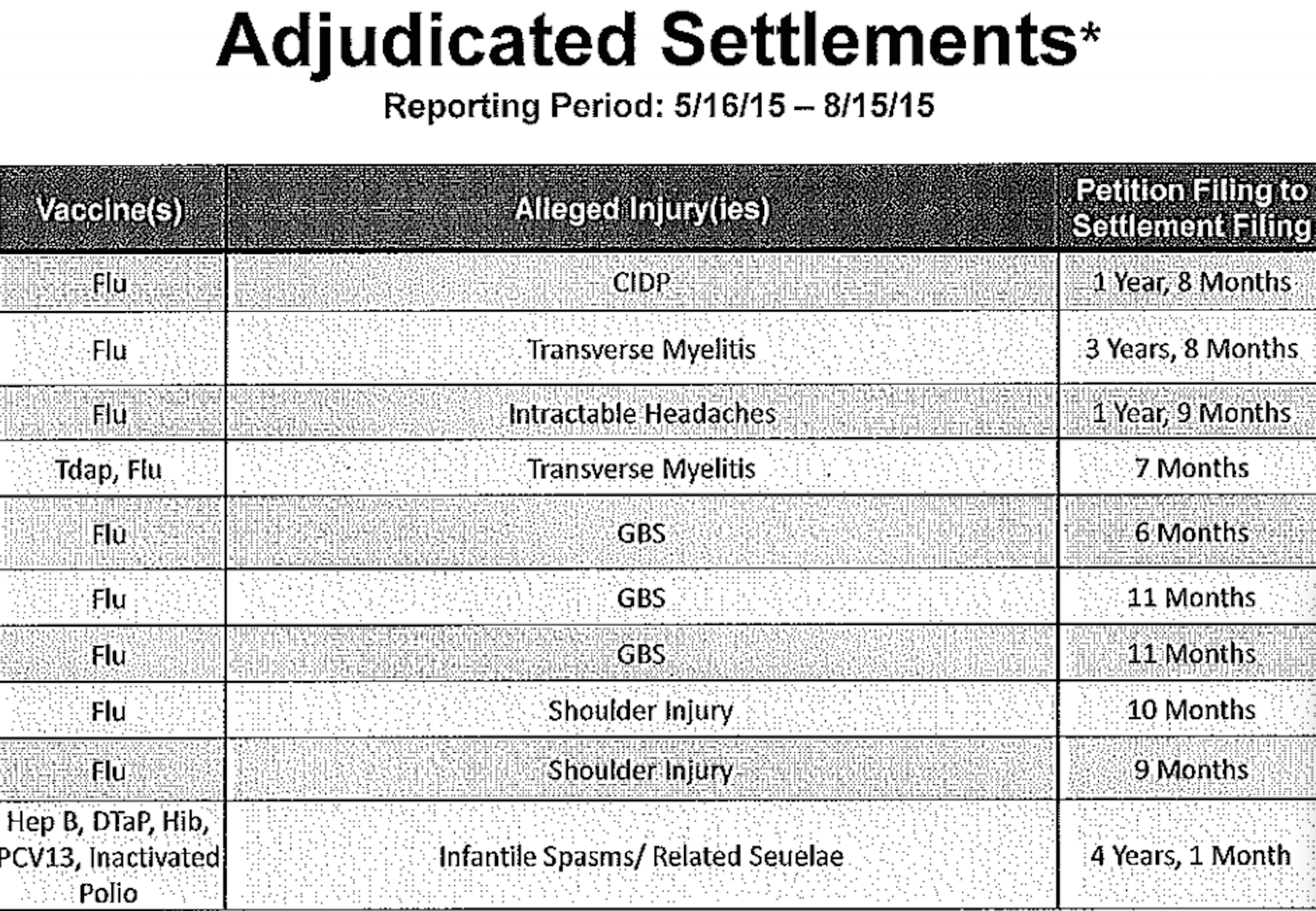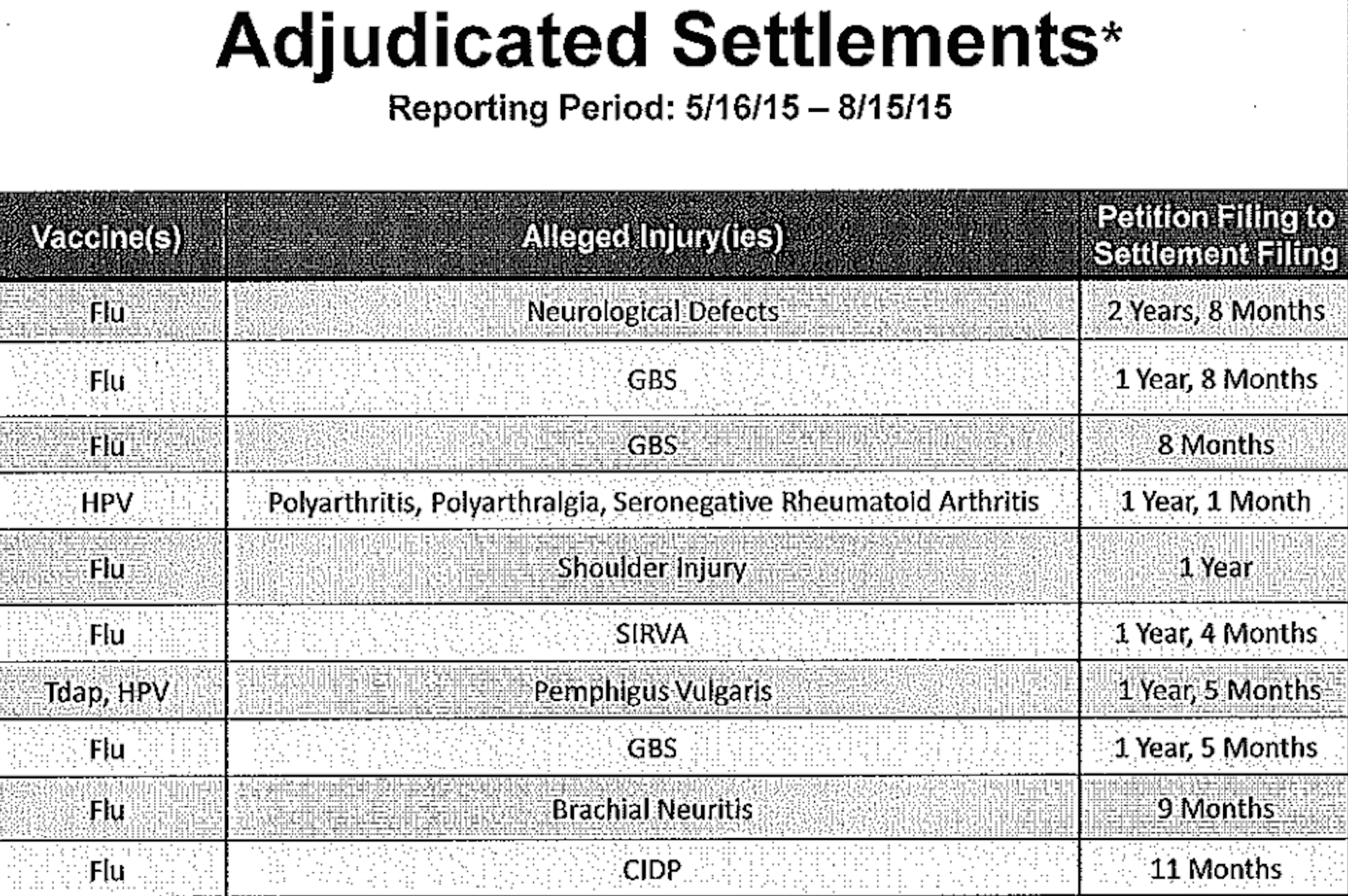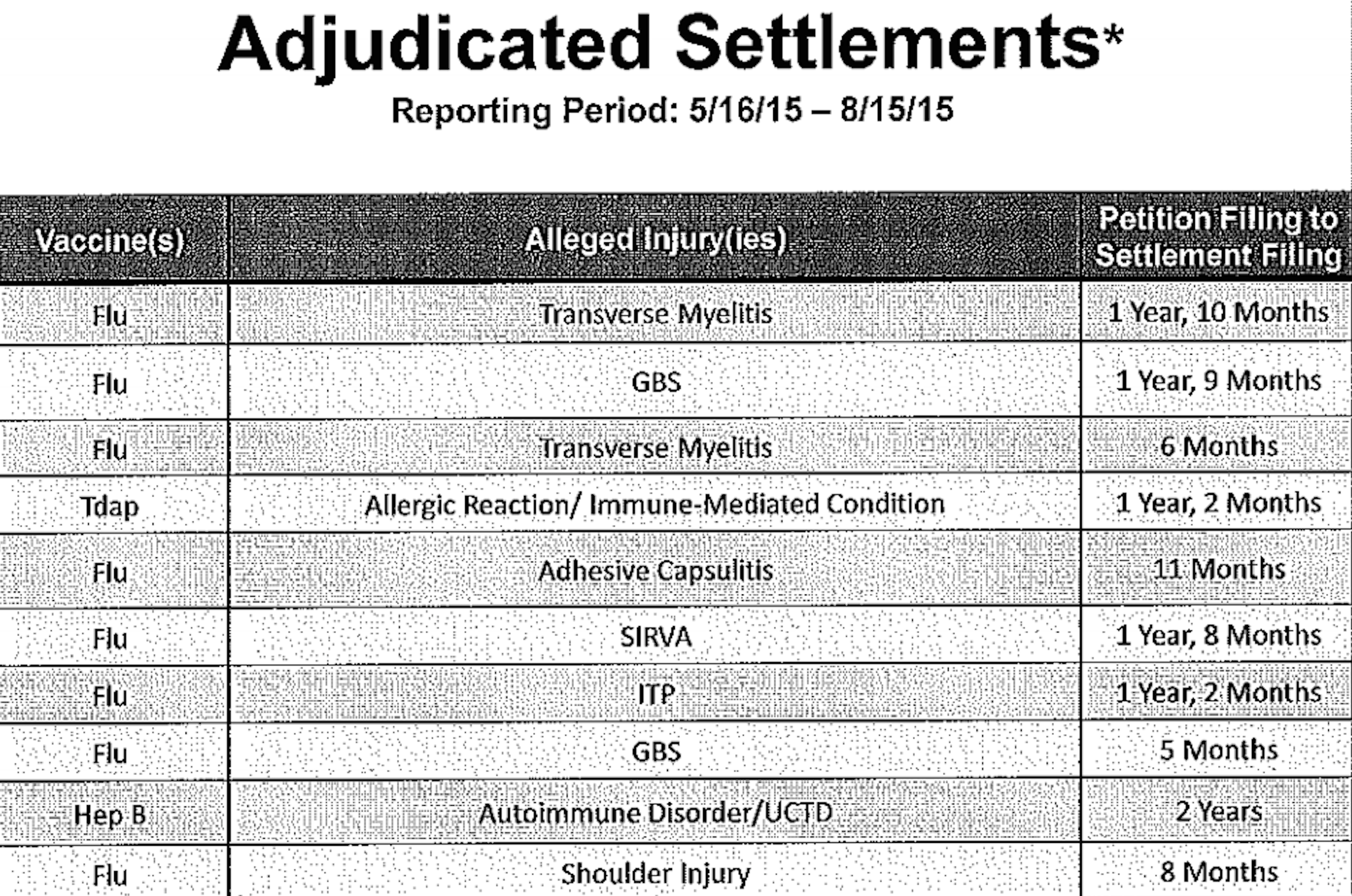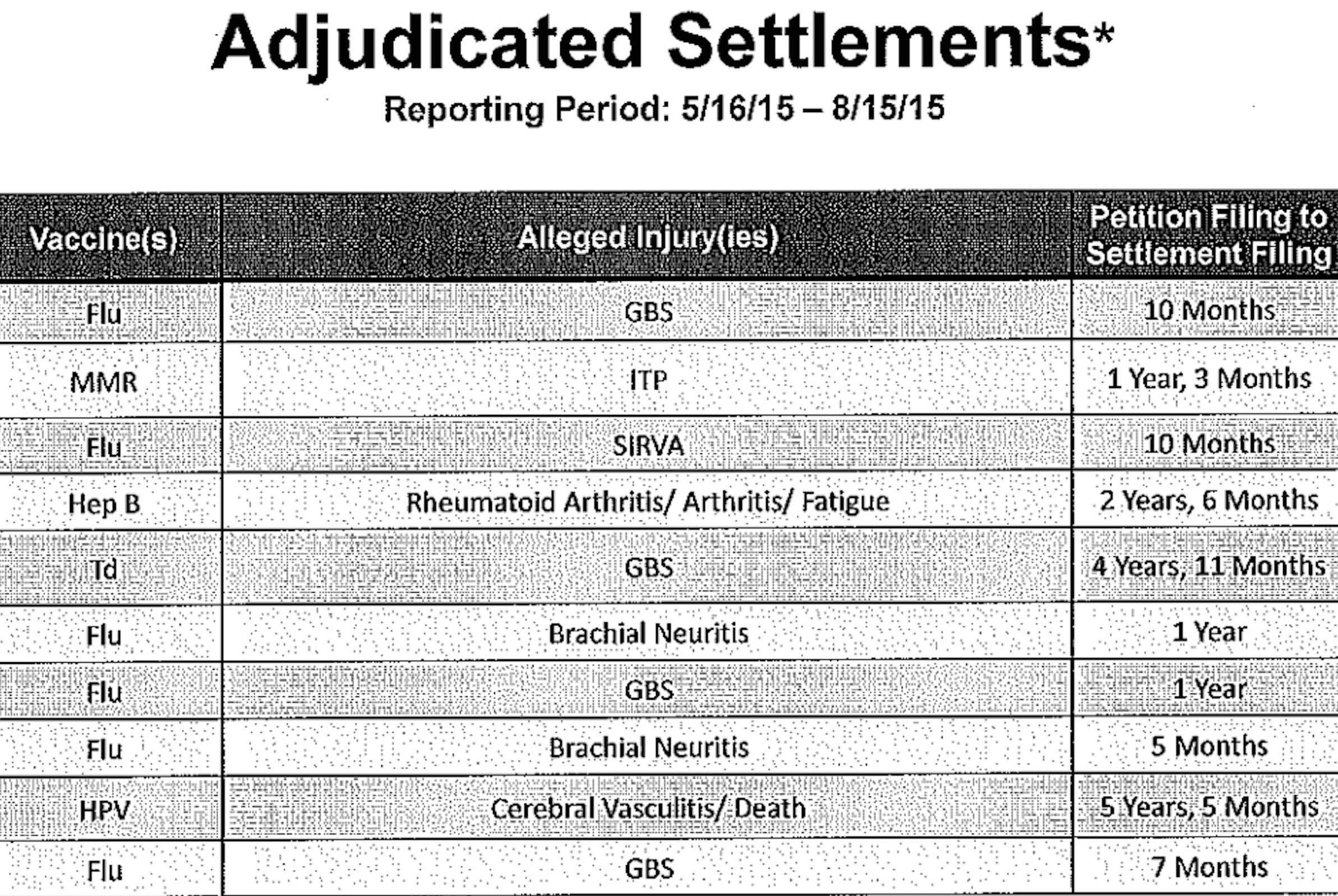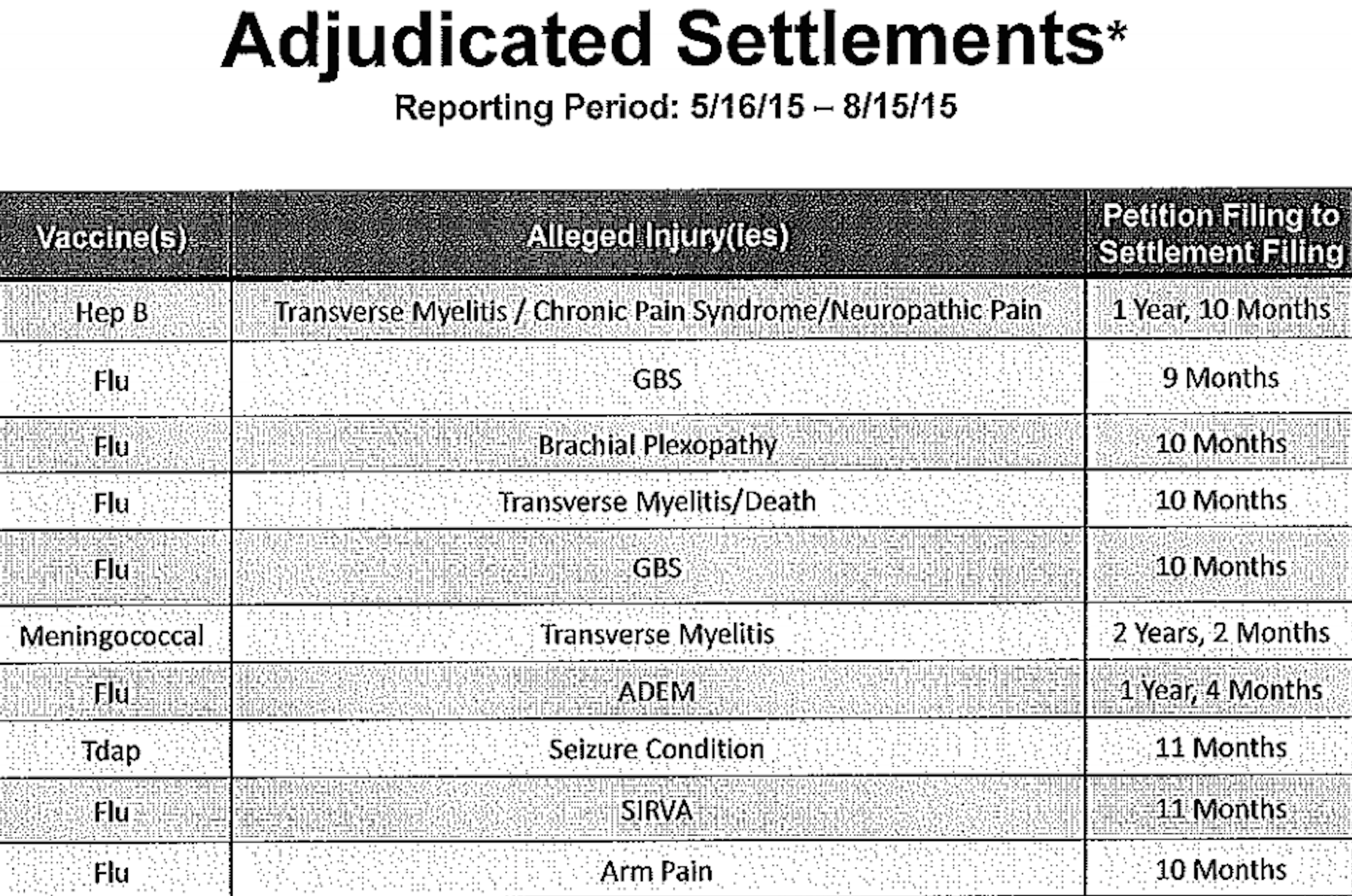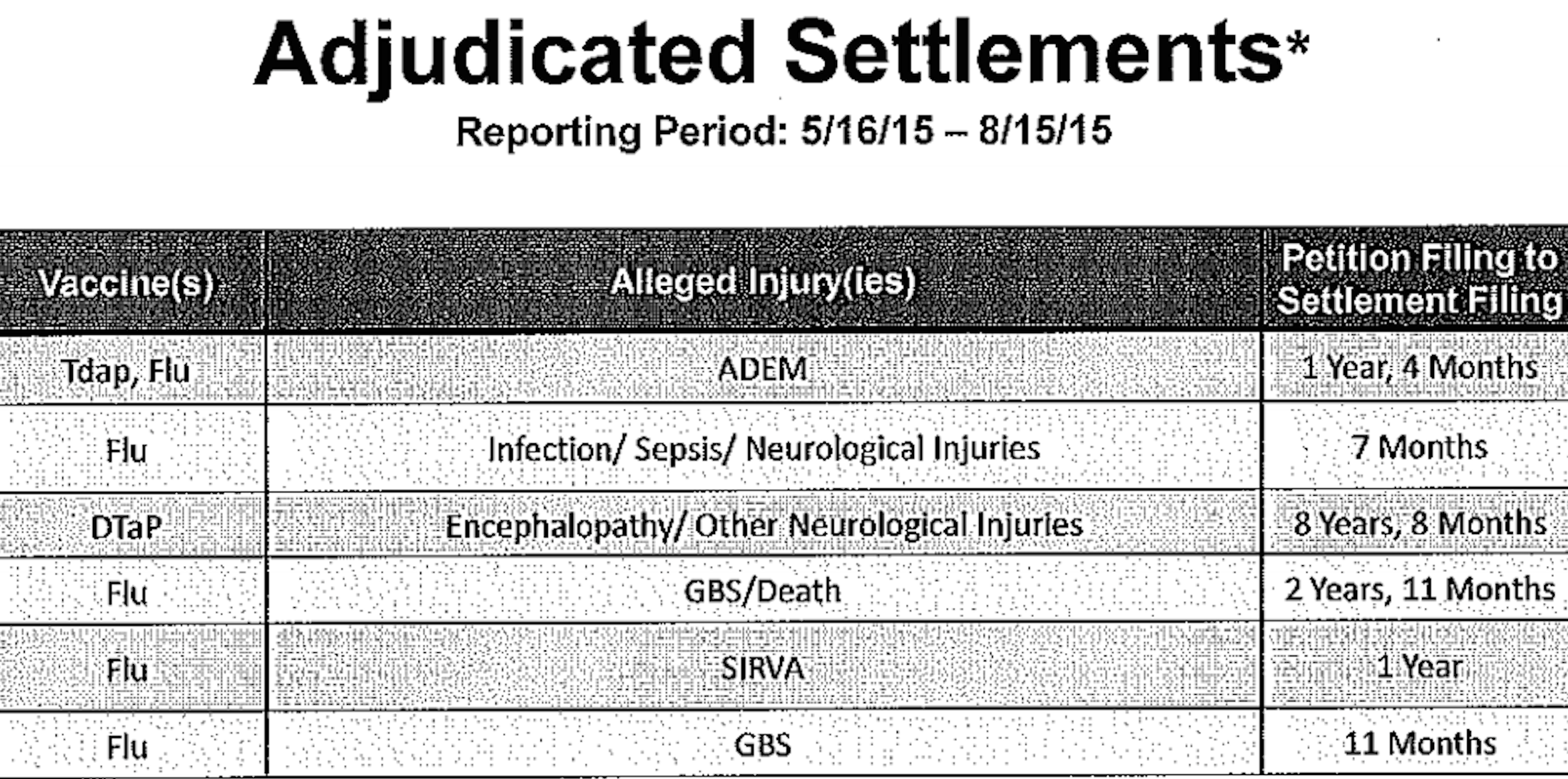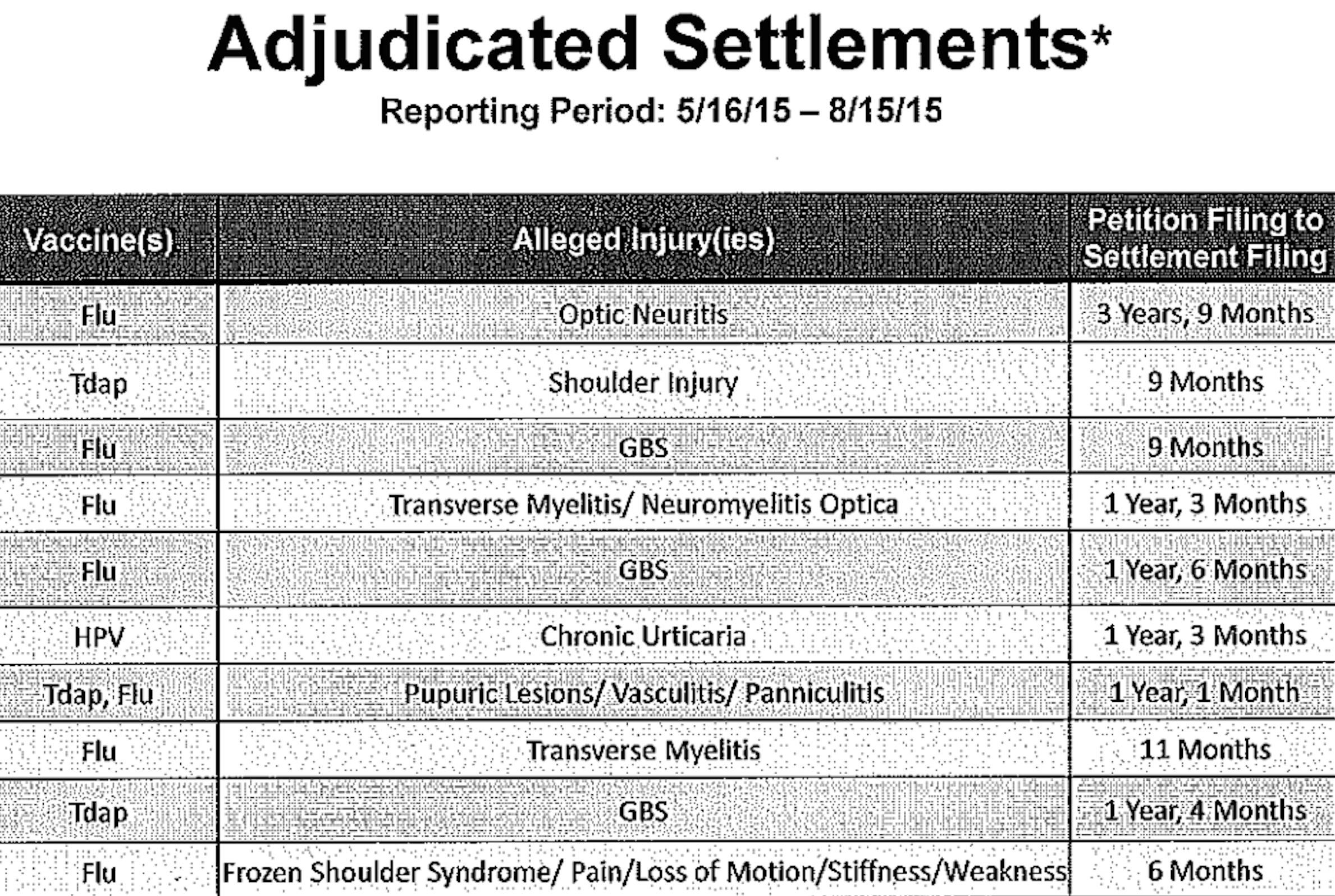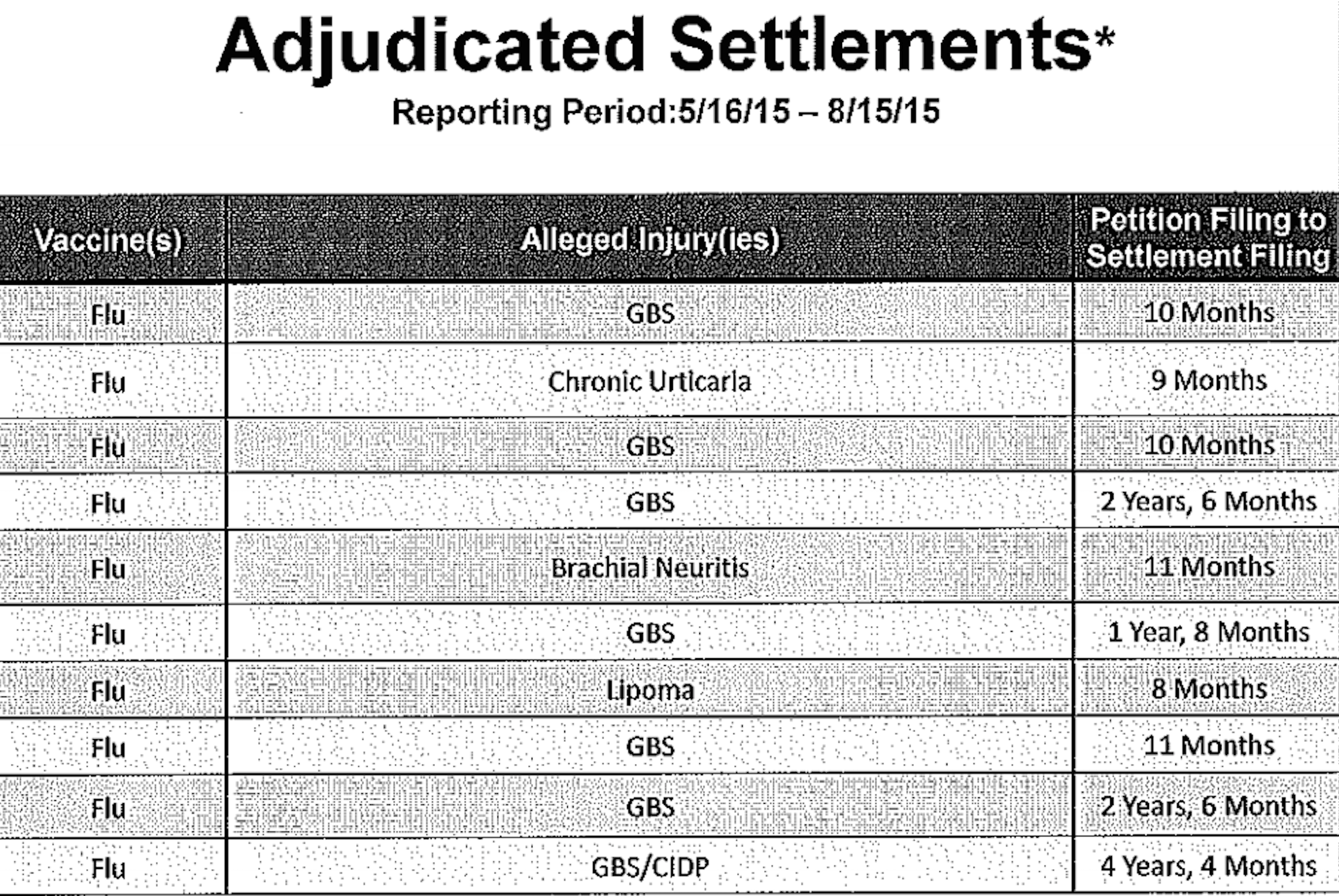 Most of the Public is Unaware that there is a Vaccine Court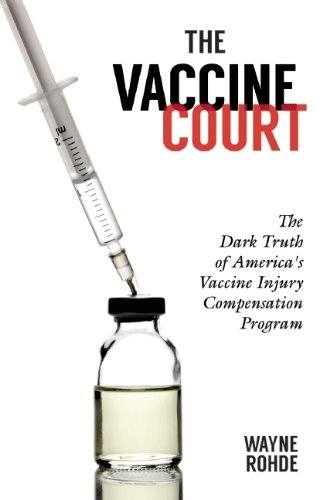 In November of 2014 the Government Accounting Office (GAO) issued the first report on America's "Vaccine Court," known as the National Vaccine Injury Compensation Program (NVICP), in almost 15 years. Most citizens of the United States are not even aware that there is something called the National Vaccine Injury Compensation Program, and that if you suffer harm or death due to a vaccine, that you cannot sue the manufacturer of the vaccine, but you must sue the Federal Government and try to obtain compensation from the Vaccine Injury Compensation Trust Fund, which is funded by taxes paid on vaccines.
This is because Congress gave the pharmaceutical companies immunity against lawsuits for injuries or deaths resulting in vaccines in 1986. Prior to this time, there were so many lawsuits pending against pharmaceutical companies for injuries and deaths due to vaccines, that the pharmaceutical industry basically blackmailed Congress and told them that if they did not grant them legal immunity against the liabilities of vaccines, that they would quit making them. These vaccine products cannot survive in a free market, they are so bad.
The November 2014 GAO report criticized the government for not making the public more aware that the National Vaccine Injury Compensation Program exists, and that there are funds available for vaccine injuries. Therefore, the settlements represented by vaccine injuries and deaths included in the DOJ report probably represent a small fraction of the actual vaccine injuries and deaths occurring in America today.
Is the Government Trying to Hide Stats Showing Increase in Vaccine Injuries and Deaths?
The September 3rd, 2015 report published here shows a definite increase in compensations for vaccine injuries from the last report issued on June 4th, 2015, and previous reports before then. You can review previous DOJ reports for vaccine injuries and deaths compensated by the U.S. Government here.
Investigative reporter Sharyl Attkisson, a former CBS Evening News correspondent, recently reported that the government has deleted some vaccine data from their websites.
She wrote:
In March, the federal government removed the latest vaccine injury court statistics—more than a year's worth of data—from one of its publicly reported charts. It was an abrupt departure from the normal practice of updating the figures monthly.

Wiping the latest data means the "adjudication" chart on a government website no longer reflects the recent, sharp rise in court victories for plaintiffs who claimed their children were seriously injured or killed by one or more vaccines.

Since January of 2014, twice as many victims have won court decisions than the previous eight years combined. In these court decisions, a judge ruled the evidence showed vaccines "more likely than not" caused the plaintiff's injuries.

Also on the rise is the number of vaccine injury cases the government has "conceded": up 55% in a little over one year.

As a result of the recent website changes, neither of these trends is reflected on the current "adjudication" chart.
Read her full report here:
Safety of Flu Shots Not Established
Currently, flu shots are made by multiple drug manufacturers including Flucelvax, FluLaval, Flublok, Fluarix, Afluria, Fluzone, and Fluvirin. Do you know what they all have in common? Each shot listed above states the following on their product insert:
"Safety and effectiveness have not been established in pregnant women or nursing mothers."
"…has not been evaluated for carcinogenic or mutagenic potential."
Regarding the safety and effectiveness of each vaccine in regards to children, each insert tells a different story. If you are deciding to give a flu shot to your child this year, it is important to understand the safety research, or lack of, for their specific shot.
Flubok: "Safety and effectiveness in children 3 years to less than 18 years of age have not been established."
Flucelvax: "Safety and effectiveness have not been established in children less than 18 years of age."
Fluzone: "Safety and effectiveness in children below the age of 6 months have not been established."
Fluvirin: "The safety and immunogenicity have not been established in children under 4 years of age."
FluLaval: "Safety and effectiveness in children younger than 3 years have not been established."
Afluria: "…not approved for use in children less than 5 years of age."
Fluarix: "…not approved for use in children younger than 3 years."
Fluvirin: "The safety and immunogenicity have not been established in children under 4 years of age."
Safety data and effectiveness for the flu shots and many others are currently unknown and still being tracked as described in each insert category listed above. Any medical professional that insists on injecting you without full disclosure of these facts could face a suspension or loss of their license to practice.
In the video below, Dr. Mark Geier explains the fraud behind the flu vaccine. Dr. Geier is NOT anti-vaccine. He is an M.D. and has a PhD in genetics. He spent 10 years working at the National Institute of Health, and was a professor at Johns Hopkins University as a geneticist. He is also the author of over 150 peer-reviewed publications.
He worked on vaccine safety and efficacy for more than 30 years. He was one of four scientists that worked to replace the DTP vaccine, a vaccine that caused every child to become sick with a high fever at the time of vaccination, with the DTaP vaccine, which is a more purified vaccine and causes illness due to fever in only 3% of those vaccinated.
In the video above, he explains that the flu shot causes Guillain-Barré Syndrome, and that the flu shot is not very effective in preventing the flu. He also explains that the CDC does not follow the law for vaccines in requiring long-term safety testing for the influenza vaccine like they do with other vaccines, as it is impossible to test a vaccine that changes every year. So the flu vaccine is basically an experimental vaccine that they want to give out to 300 million people every year. There are also no studies showing the safety of giving the flu vaccine to the same person every single year. However, Dr. Geier points out that the CDC is in the business of distributing flu vaccines, because they represent 300 million doses per year, whereas all the childhood vaccines together only number 20 million.
Dr. Geier goes on to explain that flu is "the wrong thing to vaccinate against" because you have to keep re-vaccinating against it every year, unlike childhood infectious diseases, such as smallpox, that are only vaccinated for once. Dr. Geier points out how ridiculous it is spend billions of dollars on a vaccine that might, at its best, save about 50 lives a year, when there are far more serious problems causing death that are more worthy of that kind of expenditure.
Be informed before you vaccinate, particularly the annual flu vaccine! In general, medical professionals and the federal government cannot be trusted, as they present the extremist position that all vaccines are safe, and they are not a credible source due to their conflicts of interest.
Medical Doctors Opposed to Forced Vaccinations – Should Their Views be Silenced?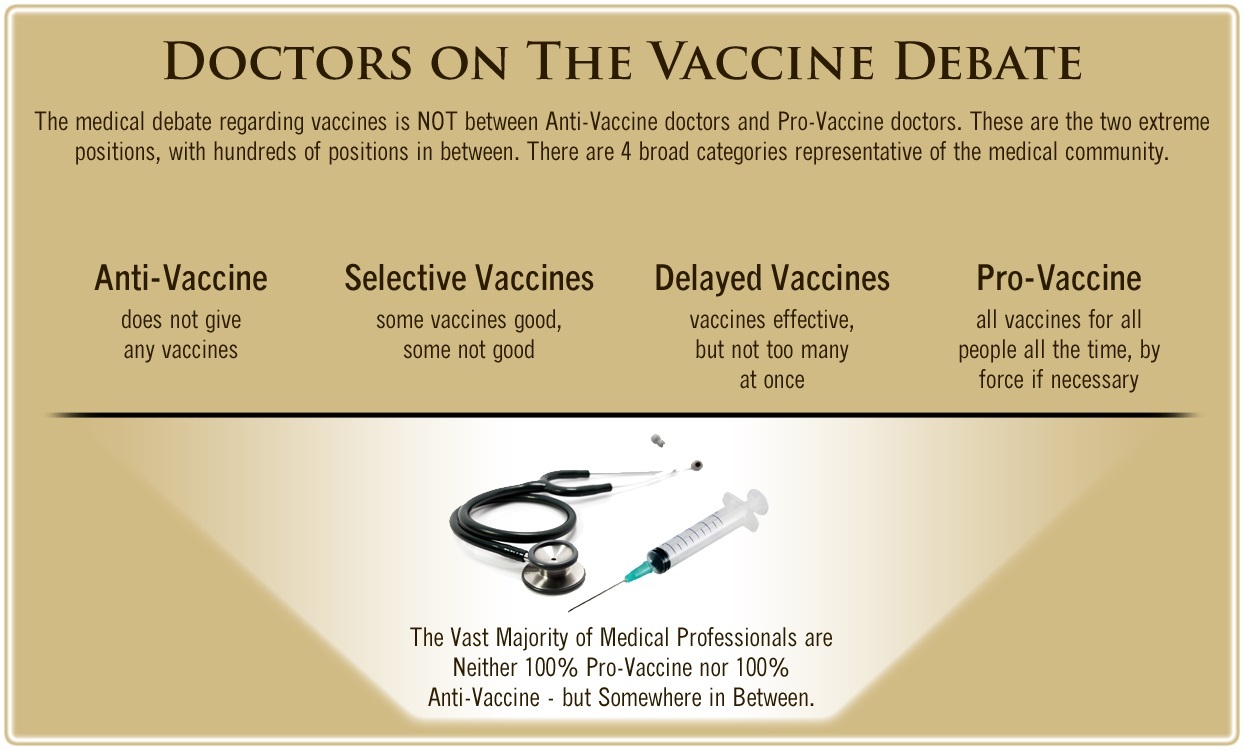 One of the biggest myths being propagated in the compliant mainstream media today is that doctors are either pro-vaccine or anti-vaccine, and that the anti-vaccine doctors are all "quacks."
However, nothing could be further from the truth in the vaccine debate. Doctors are not unified at all on their positions regarding "the science" of vaccines, nor are they unified in the position of removing informed consent to a medical procedure like vaccines.
The two most extreme positions are those doctors who are 100% against vaccines and do not administer them at all, and those doctors that believe that ALL vaccines are safe and effective for ALL people, ALL the time, by force if necessary.
Very few doctors fall into either of these two extremist positions, and yet it is the extreme pro-vaccine position that is presented by the U.S. Government and mainstream media as being the dominant position of the medical field.
In between these two extreme views, however, is where the vast majority of doctors practicing today would probably categorize their position. Many doctors who consider themselves "pro-vaccine," for example, do not believe that every single vaccine is appropriate for every single individual.
Many doctors recommend a "delayed" vaccine schedule for some patients, and not always the recommended one-size-fits-all CDC childhood schedule. Other doctors choose to recommend vaccines based on the actual science and merit of each vaccine, recommending some, while determining that others are not worth the risk for children, such as the suspect seasonal flu shot.
These doctors who do not hold extreme positions would be opposed to government-mandated vaccinations and the removal of all parental exemptions.
In this article, I am going to summarize the many doctors today who do not take the most extremist pro-vaccine position, which is probably not held by very many doctors at all, in spite of what the pharmaceutical industry, the federal government, and the mainstream media would like the public to believe.
Published on October 20, 2015