UPDATE 4/9/2015
Sen. Steiner Hayward is at it again. Hearing today!
SB 895 allows schools to track vaccine exempt students
Oregon State Senator Elizabeth Steiner Hayward is at it again. Now she wants to pass Senate Bill SB 895. SB 895 would require schools to publish vaccine exemption data on their websites and maintain a list in their offices of vaccine exempt vs. non-vaccine exempt students.
Senate Bill 895 is a "public shaming" bill for families that have chosen to exempt their child from even a single vaccine. The bills sponsor, Senator Elizabeth Steiner Hayward, is the same Senator who tried to make all vaccines in Oregon mandatory for all children. Please stop this abuse of privacy and please let the Senate Education Committee know how you feel:
Public Hearing this Thursday, April 9th at 1pm
State Capitol, Room HR C
900 Court St NE, Salem, OR 97301
And please call the following State Senators on the Education Committee and politely let them know that you oppose SB 895:
Chair
Sen. Arnie Roblan
Capitol Phone: 503-986-1705
Vice-chair
Sen. Tim Knopp
Capitol Phone: 503-986-1727
Members
Sen. Herman Baertschiger
Capitol Phone: 503-986-1702
Sen. Lee Beyer
Capitol Phone: 503-986-1706
Sen. Sara Gelser
Capitol Phone: 503-986-1708
Sen. Mark Hass
Capitol Phone: 503-986-1714
Sen. Jeff Kruse
Capitol Phone: 503-986-1701
Please share this message with friends and family and please post to social networks. And if you would like to receive news and Action Alerts from the Autism Action Network please signup at www.autismactionnetwork.org
UPDATE 3/11/2015
Oregon bill SB 442 has been withdrawn! The Statesman Journal reports:
Sen. Elizabeth Steiner Hayward, a family physician who led the charge for strengthening Oregon's school immunization law, will no longer pursue the legislation, a staffer said today.

Senate Bill 442, which has had one public hearing and attracted national attention, would have eliminated religious and philosophical exemptions from school shots. Oregon's nonmedical exemption rate for kindergartners is the nation's highest, at 7 percent. It's a number that has been steadily rising since 2000. While the bill had strong support from public health and medical leaders, including Oregon Health & Science University, Oregon Medical Association and Providence Health & Services, a vocal group of parents who either delay or avoid vaccines for their children has been active in opposing the bill.
The Statesman fails to mention that this "vocal group group of parents" included doctors, attorneys, journalists, and many others. There is a reason why that "7 percent" is the nation's highest, and that group effectively opposed the medical tyranny of Dr. Steiner Hayward and her desire to force her opinion on an entire state.
Medical Tyranny in Action in Oregon: Doctor and Senator wants Medical Freedom for herself, but Not Oregon Citizens
Health Impact News Editor Comments
As we have previously reported, the state of Oregon wants to take away the right to informed consent and vaccine choice and mandate vaccines for all children statewide. The bill was introduced by Elizabeth Steiner Hayward, a State Senator in Oregon who is also a medical doctor.
The public attended a hearing on the bill last week, and much of it was video-taped. In the clip above, attorney Robert Snee from Portland is shown addressing the Senate Committee on Health Care, which includes Hayward.
Attorney Snee begins in this clip by addressing the American Medical Association's published Code of Ethics which states physicians may claim a religious or philosophical reason not to be immunized. Snee makes the point that if physicians have the right to such exemptions, how is it legal to take that right away from citizens of the State?
Attorney Snee then quoted from an article published in the American Academy of Family Physicians featuring Oregon Senator Elizabeth Steiner Hayward, M.D. In the article, Hayward is addressing the issues she was facing with taking drugs during pregnancy. Dr. Hayward suffers from multiple sclerosis (MS), and according to the article abstained from taking her MS drugs during pregnancy because of her presumed concern over her unborn child.
After her second child was born, according to the article, she consulted with a neurologist about her options in breastfeeding her second child:
The subspecialist informed Steiner Hayward in no uncertain terms that she was going to start interferon therapy immediately and she would not be allowed to breastfeed.

But Steiner Hayward had other ideas.

"Breastfeeding protects against autoimmune disorders, and I have MS," she said, laughing and shaking her head. "So I did the research and told her I thought interferon was too big to get into breast milk and that I was going to go ahead and breastfeed.

"She, of course, thought I was crazy and told me I was not to do that. So I went out and found another neurologist who respected the fact that I was an FP and I knew what I was talking about, and he agreed that (breastfeeding) was OK." (Source.)
At this point in his testimony, Attorney Snee was stopped by Steiner Hayward who was sitting just across from him, in a very visibly upset tone, claiming that the attorney was "impugning her integrity" by relaying the story from the American Academy of Family Physicians article. 
She then went on to explain why she disagreed with her doctor's recommendation not to take her MS drugs and continue breastfeeding, based on her own research and what she felt was "best for my child." She states:
So I would be very grateful if you did not take my decision, my personal decision about my medical care out of context.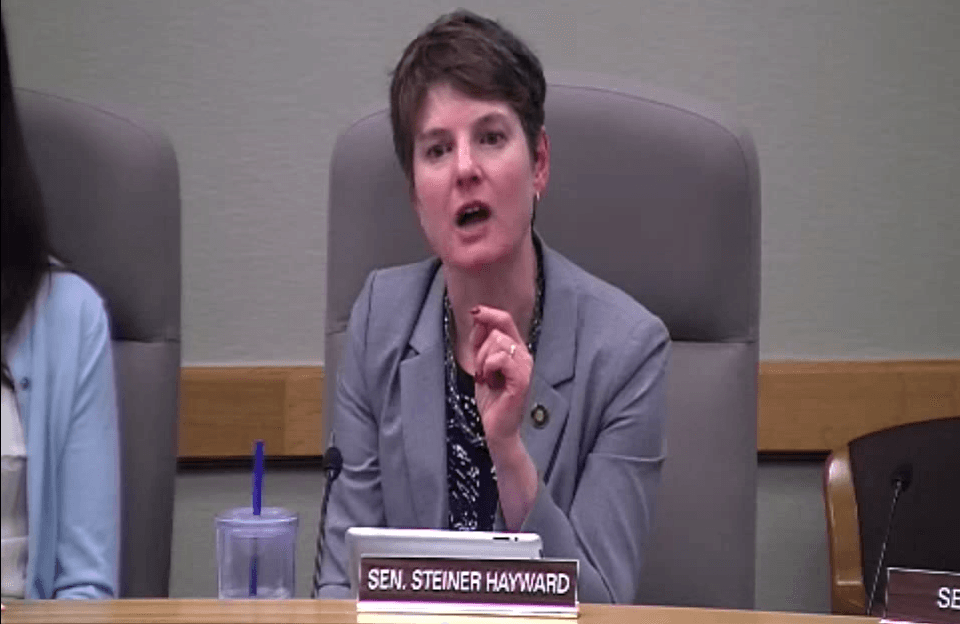 Attorney Snee responded that he had no intention of impugning anyone, but that he was simply pointing out that the sponsor of the bill in Oregon who wanted to take away the right to informed consent on medical procedures such as vaccines made a decision to disagree with a medical treatment that affected someone else, and that her right to do so was the same right citizens were seeking to retain for themselves.
Watch the video above. This is a perfect example of medical tyranny in action in the United States of America, happening right in the legislative branch of the Oregon State government.
Elizabeth Steiner Hayward wants the right to make her own personal medical decisions for her and her children, even if means disagreeing with a medical specialist who presumably had more knowledge than her in the matter of the pharmaceutical product she was considering.
However, this medical doctor, who is also a lawmaker, does not want anyone else in Oregon to have the same freedom of choice in regards to other medical products like vaccines. This would include other doctors and medical professionals who do not share the same views on vaccines and the science behind them as does Steiner Hayward, so she wants to use the power of government to force everyone else to believe like she does.
One of the doctors in Oregon who would be forced to give some vaccines to patients that he presently does not give vaccines to, would be Paul Thomas, M.D., FAAP. Dr. Thomas  is a board-certified fellow of the American Academy of Pediatrics. He also testified against SB 442 in front of the Senate Committee on Health Care in Oregon:
See: Dr. Paul Thomas, M.D. – Preserve Medical Freedom – Vaccines Linked to Autism 
Next Public Hearing on Oregon Bill SB 442
There is another public hearing scheduled on SB 442 for March 9, 2015.
If you would like to tell Senator Elizabeth Steiner Hayward how you feel about this bill, here is how to contact her:
Senator Elizabeth Steiner Hayward
Democrat – District 17 – NW Portland/Beaverton
Capitol Phone: 503-986-1717
Capitol Address: 900 Court St. NE, S-215, Salem, Oregon 97301
Email: Sen.ElizabethSteinerHayward@state.or.us
Website: http://www.oregonlegislature.gov/steinerhayward
Facebook: https://www.facebook.com/SenatorElizabethSteinerHayward
Other  members of the Senate Committee on Health Care:
Senator Chip Shields
Democrat – District 22 – Portland
Capitol Phone: 503-986-1722    District Phone: 503-231-2564
Capitol Address: 900 Court St. NE, S-421, Salem, Oregon 97301
District Address: 2104 NE 45th Ave., Portland, OR 97213
Email: Sen.ChipShields@state.or.us
Website: http://www.oregonlegislature.gov/shieldsc
Facebook: https://www.facebook.com/pages/State-Senator-Chip-Shields/898399056848666
Senator Laurie Monnes Anderson
Democrat – District 25 – Gresham
Capitol Phone: 503-986-1725
Capitol Address: 900 Court St. NE, S-413, Salem, Oregon 97301
Email: Sen.LaurieMonnesAnderson@state.or.us
Website: http://www.oregonlegislature.gov/monnesanderson
Facebook: https://www.facebook.com/SenatorLaurieMonnesAnderson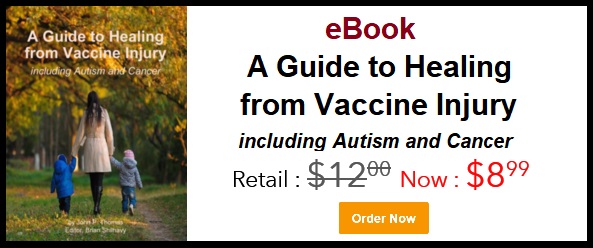 Leaving a lucrative career as a nephrologist (kidney doctor), Dr. Suzanne Humphries is now free to actually help cure people.
In this autobiography she explains why good doctors are constrained within the current corrupt medical system from practicing real, ethical medicine.
One of the sane voices when it comes to examining the science behind modern-day vaccines, no pro-vaccine extremist doctors have ever dared to debate her in public.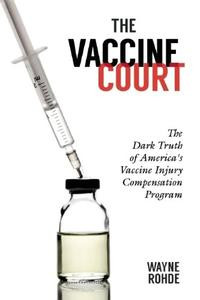 Book – The Vaccine Court, by Wayne Rohde – 240 pages

"The Dark Truth of America's Vaccine Injury Compensation Program"

FREE Shipping Available!
Published on February 23, 2015