The Oregon State Legislature is meeting on February 18, 2015 to remove vaccine exemptions and impose mandatory vaccines for children attending schools.
Here is the information you need to make your voice known on this matter.
From the National Vaccine Information Center:
URGENT UPDATE 2/17/2015
SB442 Is Going to be Amended Wednesday to REMOVE Philosophical and Religious Exemptions to Mandated Vaccination – ATTEND HEARING and CONTACT LEGISLATORS TO OPPOSE BILL
Dear Oregon NVIC Advocacy Team Members,
Recent media reports (posted below) have confirmed Senator Hayward's intentions to try to eliminate your philosophical and religious exemptions to vaccine mandates in Oregon through amending SB442.  If you want to have your voice heard, contact all the committee members, your own legislators, and get to the hearing on Wednesday, February 18th and be prepared to offer your testimony orally and submit written copies to oppose this bill.  (details in below action alert).
SB 442 is scheduled for a public hearing in the Senate Committee on Health Care on Feb. 18, 2015 at 3:00 PM in hearing room A at the Oregon State Legislature, 900 Court St. NE, Salem Oregon 97301.https://olis.leg.state.or.us/liz/2015R1/Committees/SHC/2015-02-18-15-00/Agenda
Earlier today, families from Washington state testified in a hearing against a bill to remove their philosophical exemption to mandatory vaccination. (HB2009)  They did a fabulous job. They were articulate, factual, and yet respectful.  If you would like to watch the testimony on this bill to give you some ideas what the other side may be saying in favor of the Oregon bill and options for testimony in your own hearing tomorrow in opposition to the bill, you can view the archive online. HB 2009 begins at the 40:58 timestamp and the opposition testimony begins at 59:09.
http://www.tvw.org/index.php?option=com_tvwplayer&eventID=2015020183
Additionally, one talking point that we wanted to bring to your attention to make sure to share with your legislators that did not make it into our original action alert below is:
·    Physicians, in the American Medical Association Code of Ethics, affirm philosophical and religious exemptions for themselves. See Opinion 9.133 Routine Universal Immunization of Physicians.  Parents should have that same right.
Media Confirming Intention to Remove Exemptions
Feb. 16, 2015 Statesman Journal – Senator seeks to toughen Oregon's vaccine exemption law
The Senate Health Care Committee on Wednesday is scheduled to hear testimony on a bill that would eliminate the option for parents to claim nonmedical exemptions from school shots. The sponsor of Senate Bill 442, Sen. Elizabeth Steiner Hayward, a Portland Democrat and family physician, said she has lost confidence that staunchly anti-vaccine parents will change their minds, making her bill necessary.
Steiner Hayward's original intent was to introduce a "technical fix" into how OHA enforces exemptions, but she plans to propose amendments that would get rid of nonmedical exemptions altogether. Based on anecdotes from school-based health centers and fellow physicians, she said, it's already clear the new policy isn't working.
http://www.statesmanjournal.com/story/news/health/2015/02/16/senator-seeks-toughen-oregons-vaccine-exemption-law/23526837/
Feb. 16, 2015 Oregon Live  – Nonmedical Vaccination Exemptions will be Targeted in Senate Health Committee Hearing
The state Senate Health Care Committee will hold a public hearing this week on proposed legislation that would remove parents' ability to exempt their children from vaccinations for nonmedical reasons.
Senate Bill 442, as currently written, directs the Oregon Health Authority to give parents deadlines for submitting the required documentation for nonmedical exemptions. But state Sen. Elizabeth Steiner Hayward, D-Beaverton, said that planned amendments to the bill, which she is sponsoring, would effectively limit exemptions to specific medical conditions.
Steiner Hayward, the Senate's majority whip, said the planned amendments would remove language in the current law – in Oregon Revised Statutes 433.267, Section 1, subsection c – that allows parents to forgo vaccinations for a child attending school or child care with a document "stating that the parent is declining one or more immunizations on behalf of the child … because of a religious or philosophical belief."
http://www.oregonlive.com/politics/index.ssf/2015/02/nonmedical_vaccination_exempti.html
Sincerely,
NVIC Advocacy Team
http://NVIC.org and http://NVICAdvocacy.org
https://nvicadvocacy.org/members/Members/ContactUs.aspx
---
Dear Oregon NVIC Advocacy Team Members,
Your action is urgently needed to protect your right to make informed vaccination decisions for your children in Oregon.  We heard from a credible source that the sponsor of SB 442, Senator Steiner Hayward, will offer an amendment to further restrict the current non-medical exemption or possibly eliminate it.
SB 442 is scheduled for a public hearing in the Senate Committee on Health Care on Feb. 18, 2015 at 3:00 PM in hearing room A at the Oregon State Legislature, 900 Court St. NE, Salem Oregon 97301.
ACTION NEEDED:  
1)      Plan on attending the hearing and testifying on Feb. 18th at 3:00 PM if possible.  If you have never testified in a committee hearing before, here are some good tips on how to testify. https://www.oregonlegislature.gov/citizen_engagement/Pages/How-to-Testify.aspx
2)      Contact members of the Senate Committee on Health Care (see contact information below) and tell them to vote NO on SB 442 or any amendments that would eliminate or further restrict the right of Oregonians to make informed decisions concerning vaccination.
3)      Contact your own Oregon State Senator and ask them to vote NO on SB 442 if it comes to the full senate for a vote. If you do not know who your Oregon State Senator is, you can login to the NVIC Advocacy Portal and your elected officials will be posted on the right hand side. http://NVICAdvocacy.org  You can also use this search engine –https://www.oregonlegislature.gov/FindYourLegislator/leg-districts.html
4)      Logon to the NVIC Advocacy Portal often to check for updates.  Bills can change many times over the legislative process.
Contact information for Senate Committee on Health Care
https://olis.leg.state.or.us/liz/2015R1/Committees/SHC/Overview – committee information
https://olis.leg.state.or.us/liz/2015R1/Committees/SHC/2015-02-18-15-00/Agenda – committee agenda
Talking Points:
Explain why it is important to your family to be able to delay or decline vaccination.  This is where you could BRIEFLY share your vaccine reaction, harassment, or vaccine failure story to personalize your communication.
Explain that there are some very important reasons why legally protecting the right to informed consent to vaccination without penalty by the state should be a priority:
·         Vaccines are pharmaceutical products that cause injury and death for some.  The United States Government has paid out more than $3 billion dollars to vaccine victims. Many more people have adverse reactions. Nobody can predict who will be harmed from vaccines.
·         Vaccines manufacturers and the doctors who administer vaccines are completely shielded from liability for vaccine injuries and deaths.
·         Vaccines fail sometimes where even fully vaccinated people become infected.  Nobody can predict who will or will not respond to vaccines.
·         Children today receive 69 doses of vaccines for 16 different viral and bacterial illnesses which more than doubles the government childhood schedule of 34 doses of 11 different vaccines in the year 2000.  A vaccine exemption is filed regardless of whether the exemption is filed for one dose or all doses. 35 doses and 5 more unique vaccines have been added to the schedule in the last 15 years. Those supporting forced vaccination are being dishonest by not acknowledging the exploding vaccine schedule while sounding alarms over small increases in overall non-medical exemptions.
·         There are hundreds of new vaccines in development including some of the following in clinical trials: HIV, herpes, E. coli, dengue fever, avian influenza, smallpox, tuberculosis, typhoid, norovirus, cholera, smoking cessation, syphilis, and gonorrhea. If vaccine manufactures and others who profit from forced vaccination convince legislators take away our right to delay or decline a vaccine now, what will our future look like?
·         In the past 5 years, drug makers have paid the U.S. Government $19.2 billion in criminal and civil FRAUD penalties. Skepticism of the pharmaceutical industry is well deserved, and it doesn't imply a skepticism of science.
Refer to NVIC's "Reforming Vaccine Policy and Law" guide for answers to questions your legislators may have.  The fully referenced version can be found on our site posted at: http://www.nvic.org/Vaccine-Laws/state-vaccine-requirements/Reforming-Vaccine-Policy—Law-Guide.aspx. You can include this link in your letters as well.
Refer to "Measles in Disneyland: Third MMR Shot and Vaccine Exemption Ban?"  by NVIC's President Barbara Loe Fisher for some illuminating insight into facts that need to be exposed about the California measles outbreak and other vaccine failures.
http://www.nvic.org/NVIC-Vaccine-News/January-2015/measles-in-disneyland-third-mmr-shot-and-vaccine.aspx
Background:
In 2013 SB 132 was passed by the legislature.  That bill removed the religious exemption from state law and replaced it with a non-medical exemption that requires parents either get the signature of a health care provider stating they were informed of the risks and benefits of vaccines or complete an online module.  Any students with existing exemptions were grandfathered and those parents were not required to comply with the new requirements unless their student fell in to one of these categories:
• Children entering a childcare, preschool or Head Start program –
• Children starting school for the first time, such as kindergarten
• Students who have never been in an Oregon school before
• Children whose exemptions change—for example, if a parent decides to exempt their child for an additional vaccine that was not previously on their record.
http://public.health.oregon.gov/PreventionWellness/VaccinesImmunization/GettingImmunized/Documents/SchNonmedExmptQAschool.pdf – see FAQs concerning SB 132
SB 442, as introduced, will force all parents to have either a signature by a healthcare provider or a certificate verifying the parent has completed the online module.  Amendments could eliminate the online module option or even the non-medical exemption all together.
https://olis.leg.state.or.us/liz/2015R1/Measures/Overview/SB442 – text, history and status for SB 442
https://olis.leg.state.or.us/liz/2015R1/Downloads/MeasureDocument/SB442/Introduced – text for SB 442
http://www.komonews.com/news/local/290867401.html – news article, Oregon legislator wants to eliminate 'philosophical' vaccine exemption
Saying NO To Vaccines
By Dr. Sherri Tenpenny
You have legal options!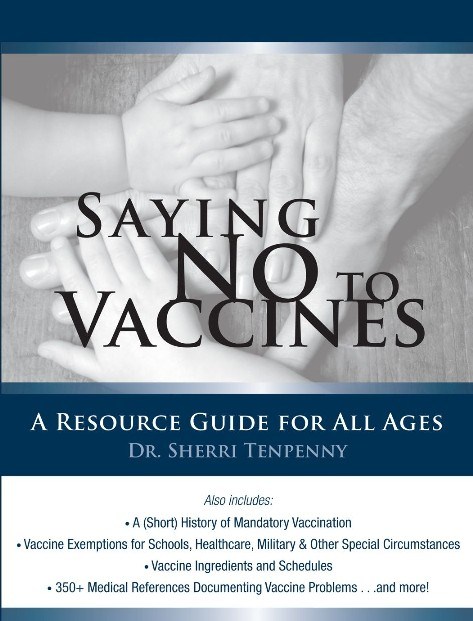 More Info
FREE Shipping Available!
Published on February 17, 2015