by Brian Shilhavy
Health Impact News
The recent measles and measles vaccine controversy has produced some interesting results that we have not seen for a very long time: mainstream media is interviewing doctors who do not worship the holy grail of vaccines.
Typically, in the past, only parents were allowed to give opposing views on vaccines in the mainstream media, often pitted against doctors and other "authority figures" to make them look uneducated, and misinformed.
But we are beginning to see some cracks in the recent rash of measles stories. Granted, it is a tiny fraction of the news out there, and any doctor who dares to say anything negative or contrary about vaccines faces tremendous opposition.
We have seen that this week with Dr. Jack Wolfson in Phoenix Arizona, who was interviewed by NBC Phoenix. He received thousands of angry comments as a result of that interview, and contacted Health Impact News this week to publish a response to his critics (See: Arizona Cardiologist Responds to Critics Regarding Measles and Vaccines.)
Dr. Jay Gordon's Resume
Dr. Jay Gordon is a pediatrician in Southern California. He has a quite impressive resume:
In the middle of his residency training, pediatrician Jay Gordon took an unusual step. Deciding that he needed greater knowledge about nutrition, vitamins, and alternative medicine in order to practice medicine the way he wanted to, Dr. Gordon took a Senior Fellowship in Pediatric Nutrition at Sloan-Kettering Institute in New York City. After his residency at Children's Hospital of Los Angeles, Dr. Gordon joined the teaching attending faculty at UCLA Medical Center and Cedars-Sinai Medical Center.

Intensely interested in infant nutrition and breastfeeding, Dr. Gordon is the first male physician to sit for and pass the International Board of Lactation Certification Exam and has served on the Professional Advisory Board of La Leche League for twenty-four years.

In addition to treating patients, he participates in the training of medical students and residents, lectures all over the world, writes books, and writes a monthly column for "Fit Pregnancy" magazine. He has contributed to "New York Parent," "Parenting" magazine and has been quoted in the L.A. Times, New York Times, and The London Times.

Dr. Gordon's first book, the well-received Good Food Today, Great Kids Tomorrow, offers a life-changing plan for families who want to make dramatic changes in health and fitness through nutrition. Brighter Baby, examines the positive effect that attachment parenting, combined with infant massage, has on children's health and intelligence. Other releases include: Good Night! The Parents' Guide to the Family Bed and Hug Your Baby, a gentle guide through the first year, which were released summer, 2002. He also published, Listening To Your Baby: A New Approach to Parenting Your Newborn, which still gets great reviews from parents. His most recent book is The ADD and ADHD Cure, the Natural Way to Treat Hyperactivity and Refocus Your Child.

When the American Academy of Pediatrics' Committee on Television and the Media named Dr. Gordon "the most influential doctor in America," they were referring, tongue-in-cheek, to Dr. Gordon's role, as the medical script consultant, in eliminating lollipops from the office of "Doctor Weston," lead character on the sitcom "Empty Nest." (Source.)
Dr. Jay Gordon: "No One Knows Your Child Better Than You Do"
Dr. Gordon is also a strong advocate for parental rights. When you visit the home page of his website, you are greeted with this quote at the top:
"No one knows your child better than you do"
Dr. Gordon is not anti-vaccine, but he is pro-parental choice. Rare among doctors today, he believes parents are in the best position to make vaccine choices for their children:
"First, vaccines are a really personal issue and one of my biggest problems is that 99% of pediatricians don't feel that parents should even participate in the decision about how or when, let alone if a baby should get all, some or none of the shots at any given office visit. The whole process is inherently flawed because we give immunizations pretending to know a lot more about the immune system than we really know.

We also have combined six different vaccines with more than 20 separate antigens to be given at the two-, four-, and six-month check ups. The science behind these combinations is lacking and the challenge 'You can't prove it's dangerous to give these shots at the same time,' completely reverses the real obligation of the manufacturers and vaccine researchers to prove that the vaccines and combinations are safe." (Story here.)
Dr. Jay Gordon: I don't Think Measles Poses Any Risk to a Healthy Child
CBS News interviewed Dr. Gordon this week and asked him about the recent measles outbreaks in California. He admitted that more than half his patients have either refused the measles vaccine (only available in a three-vaccine combo as MMR, measles, mumps, rubella), or delayed getting it. He stated that he did not believe that measles posed any risk for healthy children.
The interviewer then stated:
If somebody with measles walked into Dr. Gordon's office, 90 percent of the unvaccinated people who come in contact with them would get measles. I asked Dr. Gordon to explain how that type of contagion isn't a risk.
Dr. Gordon replied:
"You just said it, they'd get measles," Dr. Gordon replied. "Not meningitis, not the plague, not Ebola, they'd get measles. Measles is almost always a benign childhood illness."
Next, the interviewer asked a question based on an assumption that almost everyone in the mainstream media accepts as fact:
I asked him if it's still a personal choice to help bring back a disease that we had largely eradicated from the population.
To which Dr. Gordon replied:
"Individual parents making that decision are not the ones bringing back measles," answered Dr. Gordon. "Measles isn't coming back. We have 70 cases of measles right now and we have 30 million Californians."
We don't know if Dr. Gordon had more to say on this myth that unvaccinated children are causing a public epidemic, such as the fact that many who are vaccinated with the measles MMR vaccine are also coming down with the diseases they were vaccinated against, such as measles and mumps. These diseases, if contracted as a child, almost always give lifetime immunity. Not so with the vaccine, and most adults are at risk today because the antibodies developed by the vaccine are no longer effective.
While we may not agree with all of Dr. Gordon's views on vaccines, we agree with one major tenet that he apparently practices by: Parents are in the best position to make these decisions. Too many in the media are now calling for medical tyranny and forced vaccinations.
But the media will do well to tone down this kind of rhetoric, and allow the vaccine debate to occur under our Constitutional rights to freedom of speech, and freedom of the press. The public is much more educated on this issue than some would like to admit, and there are plenty of doctors who have done their homework and looked at the actual science. They will not be silenced.
See Also:
Saying NO To Vaccines
By Dr. Sherri Tenpenny
You have legal options!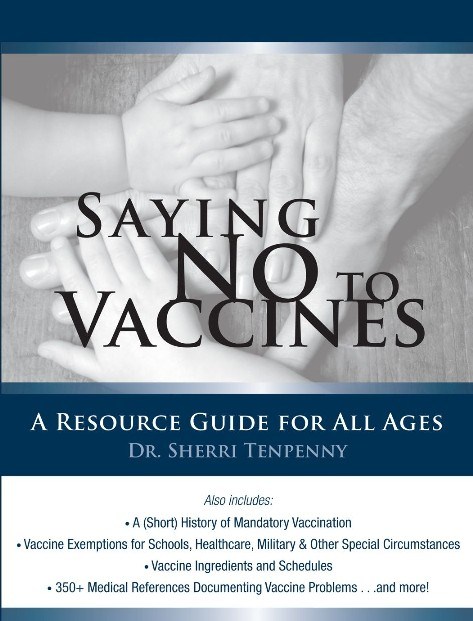 More Info
FREE Shipping Available!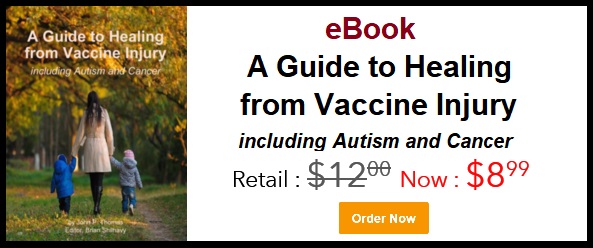 Published on January 29, 2015