by Christina England
Health Impact News
It has recently been reported that Merck Pharmaceutical Company's leading lady, Dr. Julie Gerberding, has won yet another impressive title, being named Woman of the Year 2018.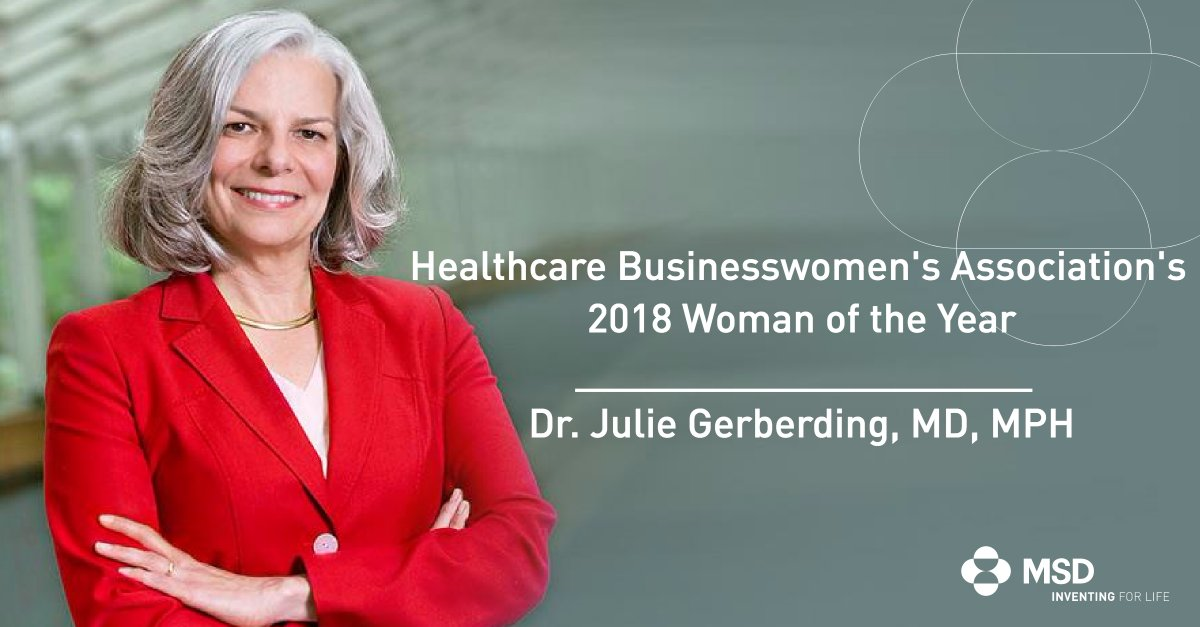 The Healthcare Businesswomen's Association, who gave her this award, wrote:
Dr. Julie Gerberding, MD, MPH, executive vice president for strategic communications, global public policy and population health and chief patient officer, of Merck & Co., Inc., has been selected as the 2018 Woman of the Year…
The HBA Woman of the Year (WOTY) award honors a senior executive female whose accomplishments have resulted in significant contributions to the healthcare industry.

Dr. Julie Gerberding has been at the forefront of the world's most pressing population health issues. Her leadership in modernizing the Centers for Disease Control and Prevention (CDC) earned her recognition as one of Time magazine's 2004 "100 Most Influential People in the World."
As a world-renowned infectious disease and public health expert, Dr. Gerberding is a leader well-versed in and passionate about acting with purpose and urgency to meet patient needs.

She joined Merck in January 2010 as president of Merck Vaccines and, during her leadership of that business, helped make the company's vaccines increasingly more available and affordable to people in emerging markets and some of the most resource-limited countries in the world….
Since the Gardasil vaccine was approved while Gerberding was head of the CDC, many young girls who have received the Gardasil shots have gone into pre-mature menopause, suffering from Primary Ovarian Failure.
See:
Some would ask the question: Since Gerberding is now in charge of "population health" at a pharmaceutical company and is being recognized as making "vaccines increasingly more available and affordable to people in emerging markets and some of the most resource-limited countries in the world," was this part of the plan all along with the Gardasil vaccine?
Others would ask, since the Gardasil vaccine is one of the most controversial vaccines in the world, with many lawsuits currently being litigated for injuries and deaths outside the U.S., and many countries outside the U.S. no longer recommending the vaccine, would it be more appropriate to name Dr. Julie Gerberding "one of the most evil people in medicine today," as did the website Medicine News in 2016?
Gerberding is an Example of the Revolving Door Between the CDC and Vaccine Manufacturers
In 2002, Gerberding became the first ever female Director for the Centers of Disease Control and Prevention (CDC).
Whilst at the CDC, she single-handily overhauled the agency's entire organizational structure, causing many of the CDC's senior scientists and leaders to leave, whilst replacing them all with individuals who had ties to the vaccine industry.
During her time at the CDC, the FDA approved the humanpapilloma virus vaccination, Gardasil, manufactured by Merck. This is important because, in 2009, Gerberding resigned from her position at the CDC and then took over the position of President at Merck's vaccine division.
In other words, after she had given the green light to potentially one of the most dangerous vaccinations in history, which, according to the Vaccine Adverse Event Reporting System (VAERS) database, has injured a total of 53,383 individuals and killed a further 383, she takes over the presidency at Merck and appears to be cashing in on the popularity of the vaccine approved by the CDC under her watch.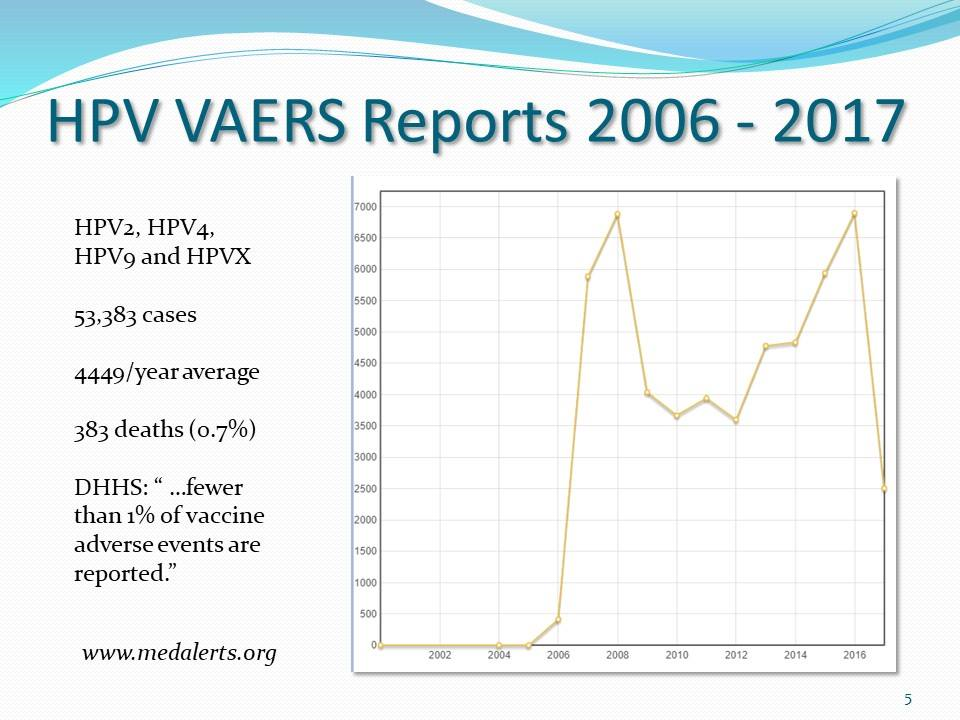 Her position at Merck apparently enabled her to push the sales of Gardasil even further and in 2012, Forbes stated in an article that the one person who had vowed to make sure HPV vaccines get to all the people who needed them was Gerberding, the former head of the CDC under George W. Bush and the head of Merck's vaccine division since 2010.
They reported that Gerberding had told them that she was committed to finding a way to get Gardasil—or the successor vaccine that Merck would soon submit to the FDA, that would protect against more strains of HPV (now known to be Gardasil 9)—to all the women and men who needed it.
Did Gerberding's Work at the CDC Lead to a Significant Pay Increase for Her?
In 2011 journalist Tim Bolen wrote:
Soon after her arrival at the CDC, Gerberding began an overhaul of the agency's organizational structure. On April 21, 2005 Gerberding formally announced the reorganization of CDC to 'confront the challenges of 21st-century health threats.' (Source)
This reorganization resulted in the following structure: 
Emergency Operations Center (EOC)
"…After the restructuring began, many of the CDC's senior scientists and leaders either left or announced plans to leave." (Source)
In 2015 Health Impact News reported that just two years later, Gerberding, now executive vice president of pharmaceutical giant Merck, had sold 38,368 of her shares in Merck stock for $2,340,064.32, leaving her with an impressive 31,985 shares of the company's stock, valued at about $2 million. (Source)
Around this time, Merck launched a new vaccine campaign, titled Lifetime of Vaccines, a campaign to raise awareness about the importance of vaccination throughout a lifetime.
The Refusers, one of the websites who had reported on the story, indicated to their readers that they believed the title of Lifetime of Vaccines was a particularly apt and fitting title for such a campaign.
They wrote:
A lifetime of vaccines equals a lifelong revenue stream for Merck vaccines which (after all) is their corporate strategy: Turn people into submissive pincushions for their toxic products and then deny responsibility when the adverse reactions inevitably arrive. Ka-ching. Ka-ching.
They reported:
This campaign has obviously been endorsed by Julie Gerberding, the former head of the CDC who is now head of Merck Vaccines.

Gerberding is also on the Scientific Board of Bill Gates' Grand Challenges in Public Health foundation.

Small world, isn't it?

Gerberding steps from recommending and enforcing vaccine mandates at the CDC to selling and touting vaccines at Merck and cashing in with Gates' global vaccine domination empire.
Dr. Gerberding's Role with the CDC Whistleblower Dr. Thompson and Suppression of Negative Data Related to Vaccines
In 2004, Gerberding reportedly chose to ignore a letter from Dr. William W. Thompson in which he raised his concerns about how the CDC had chosen to conceal data linking the measles MMR vaccine to autism. See: Obama Grants Immunity to CDC Whistleblower on Measles Vaccine Link to Autism.
A year after we wrote our article, in 2016, Dr. Gerberding was named as one of the "most evil people in medicine today," by the website Medicine News, which wrote the following under the subheading, Meet the CDC's former vaccine violence cover-up expert and toxic jab promoter: Dr. Julie Gerberding:
Prior to becoming executive vice president for Merck in 2014, and serving as president of Merck Vaccines from 2010, Julie Gerberding  served as director of the U.S. Centers for Disease Control and Prevention (CDC) from 2002–2009, where she was in charge of the greatest vaccine violence cover-up since the introduction of vaccines in the United States more than 60 years ago.

After resigning in shame from the CDC for reasons we're about to cover, Julie Gerberding, like most nefarious criminal insiders of the vaccine industry, was awarded a powerful position by an insidious vaccine manufacturer, Merck, where she could continue running the show, strategizing about how to con more Americans and hypochondriacs worldwide into believing vaccines are 'safe and effective.'
Author S.D. Wells continued:
In 2002, Dr. William Thompson first realizes, through data and statistics analyzed, that the MMR vaccine has a direct link to children under 3 years of age suffering autism, especially African American boys.

The statistics are unnerving and obvious, and Thompson wants his superior, one Julie Gerberding, to address the massive issue immediately and consider recourse.

After receiving an alarming letter about Thompson's concerns, Gerberding buries the whole issue, while other scientists involved agree to shred all evidence of the autism link before the FDA can come and investigate. Dr. William Thompson, head scientist at the CDC, announces he is hiring his own lawyer and implies a CDC cover-up of a DOJ investigation.

February 2004: Dr. Thompson sends a second letter to Dr. Julie Gerberding. In the second letter, Dr. Thompson writes about his DOJ request and his concerns regarding the '… decision to omit relevant findings in a particular study for a particular subgroup for a particular vaccine.'
Wells concluded:
 Long story short: Thousands of children today are being injected with toxic mercury and aluminum-loaded vaccines like the MMR and the flu shot that obviously cause neurological impairments, but thanks to Gerberding leading the great cover-up, the same vaccine violence continues today.

There was never any investigation of Gerberding's criminal negligence or any charges filed.
Interestingly, Gerberding herself admitted in 2007 that vaccines may trigger autism, in discussing the Hannah Poling case. See below.
Published on January 26, 2018