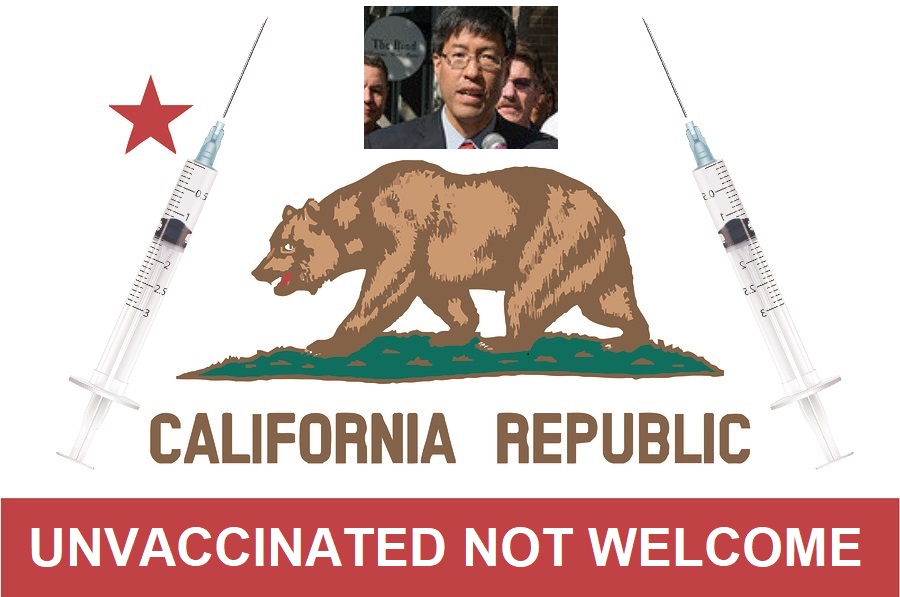 CA: OPPOSE SB 276: Reducing Accessibility to Lifesaving Medical Vaccine Exemptions
Call and Email Assembly Health Committee Members and Your Assembly Member Tell them to OPPOSE SB 276 & PROTECT PATIENT RIGHTS
by the National Vaccine Information Center
We need your action this week to stop SB 276 sponsored by Senator Richard Pan which is designed to greatly reduce your family's accessibility to lifesaving medical vaccine exemptions. The bill has passed the Senate and now has a hearing in the Assembly Health Committee Thursday, June 20th at the adjournment of the Assembly in room 4202 of the Capitol.
ACTION NEEDED:
Call and Email Members of the Assembly Health Committee to VOTE NO on SB 276. Hit the phones hard! See talking points below.
Committee Members, District, Contact Information: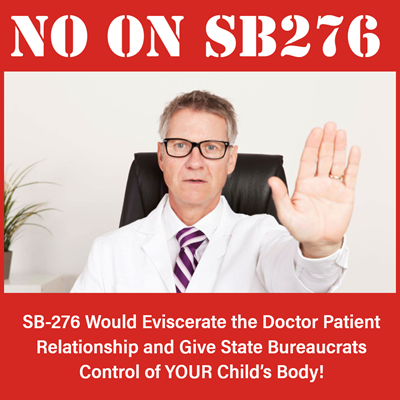 Visit or call and email your own California Assembly Member and ask them to OPPOSE SB 276. If you do not know who your California Assembly Member is or their contact information, you can login to the NVIC Advocacy Portal, click on the "State Teams" tab and then "My State," and your elected officials are automatically posted on the right hand side of the page http://NVICAdvocacy.org. See talking points below. You can also find your legislators here.
Attend the Assembly Health Committee hearing for SB 276 in Sacramento on Thursday June 20th after the adjournment of the Assembly in the state capitol Room 4202 which can be as early as 9:00 a.m., but we don't know. Be prepared to very quickly state your name, the organization you represent (if any), your Assembly District and Assembly Member's name and that you oppose SB 276. Please wear business attire and be polite and respectful. Signs are not allowed inside the Capitol. Clapping or verbal interruptions are not allowed during the hearing. California State Capitol Address, Directions and Parking Map
Login to the NVIC Advocacy Portal OFTEN to check for updates. We review bills and make updates daily. Bills can change many times over the legislative process and your timely visits, calls, and emails directed to the correct legislators are critical to this process.
Please forward this email to family and friends and ask them to register for the NVIC Advocacy Portal and share their concerns with their legislators as well. You can also forward this alert on Facebook by looking for the posting on the National Vaccine Information Center's Facebook Page.
TALKING POINTS [Please personalize your messages to your legislators by including your vaccine reaction, death or harassment experiences and how your child's health and safety would be endangered with passage of this bill by the state intercepting and rejecting legitimate medical exemptions based on your child's and family health history as determined by your child's doctor, not standard of care.]
OPPOSE SB 276!
Senate Bill 276 is designed to greatly reduce the number of families who can take a lifesaving medical vaccine exemption.
Do not be fooled by recent amendments! They do not address the fundamental problems with this bill.
SB 276 still betrays the promise made by legislators to the people in 2015 to protect the medical vaccine exemption. The removal of the personal belief vaccine exemption in 2015 (SB 277) was met with strong public opposition. The bill only passed after legislators assured parents that doctors would be allowed to exercise professional judgment and conscience when granting a medical vaccine exemption to children. The requirements that the exemption be certified under penalty of perjury and medical board scrutiny and review will deter doctors from writing medical exemptions.
The doctor-patient relationship is built on trust by the patient that the doctor will, first, do no harm. SB 276 still interferes in the private doctor-patient relationship and prevents a doctor from being free to exercise professional judgment and conscience in protecting the patient from harm when granting a medical vaccine exemption without bureaucratic arbitrary restrictions and limits.
State public health officials should not have power to override the judgment of private physicians. SB 276 inappropriately places the granting or withholding of medical vaccine exemptions for patients in the hands of state employees, rather than in the hands of private physicians who personally care for patients.
There is individual susceptibility to vaccine reactions and vaccine providers cannot reliably predict who will be harmed. SB 276 forces doctors and other vaccine providers to adhere to narrow vaccine contraindications and withhold medical vaccine exemptions from potentially susceptible children, who could die or be severely injured by vaccines mandated for daycare and school.
SB 276 is bad public health law. This bill compromises the doctor-patient relationship, creates fear and distrust of public health officials and legislators, violates parental and informed consent rights, violates privacy rights by forcing the recording of medical exemptions into the state vaccine tracking system, and endangers the lives of children more susceptible to vaccine reactions for genetic, biological and environmental reasons that have not been fully identified by the federal government. These vulnerable children should not be punished by the state and denied a school education.
Vote NO on SB 276!
Sincerely,
NVIC Advocacy Team
National Vaccine Information Center
http://NVIC.org and http://NVICAdvocacy.org
https://nvicadvocacy.org/members/Members/ContactUs.aspx
Read the full letter at the NVIC Advocacy Portal on Facebook.
The National Vaccine Information Center (NVIC) works diligently to prepare and disseminate our legislative advocacy action alerts and supporting materials. We request that organizations and members of the public forward our alerts in their original form to assure consistent and accurate messaging and effective action. Please acknowledge NVIC as originators of this work when forwarding to members of the public and like-minded organizations. To receive alerts immediately, register at http://NVICAdvocacy.org, a website dedicated to this sole purpose and provided as a free public service by NVIC.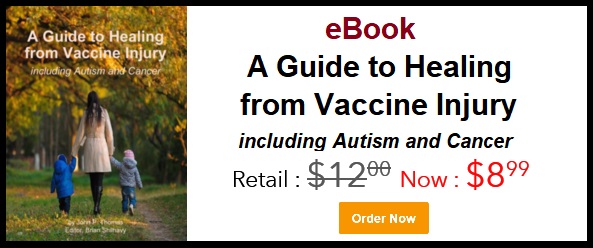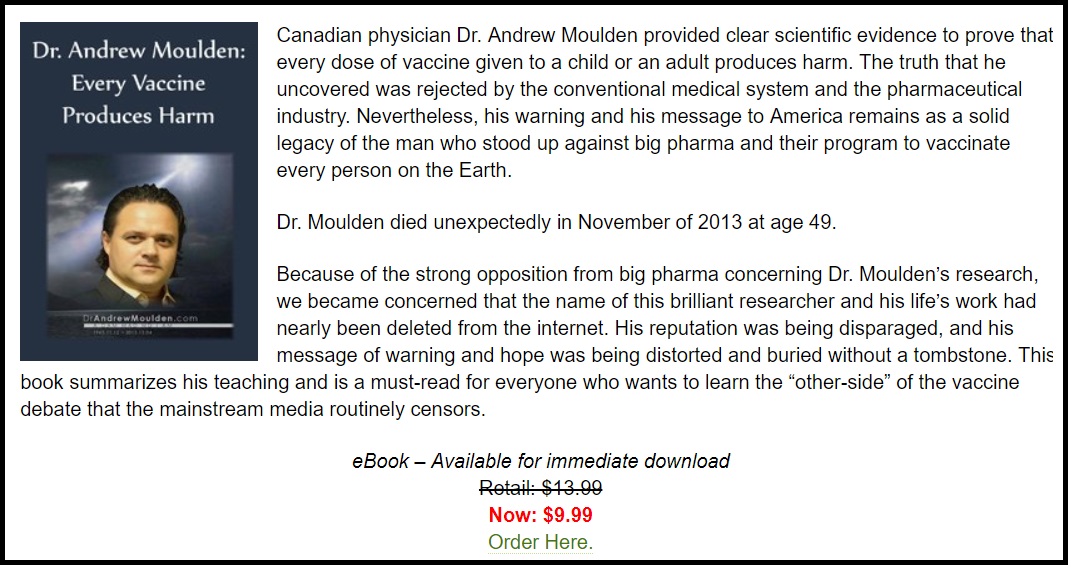 Leaving a lucrative career as a nephrologist (kidney doctor), Dr. Suzanne Humphries is now free to actually help cure people.
In this autobiography she explains why good doctors are constrained within the current corrupt medical system from practicing real, ethical medicine.
One of the sane voices when it comes to examining the science behind modern-day vaccines, no pro-vaccine extremist doctors have ever dared to debate her in public.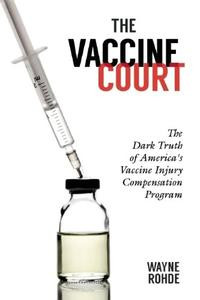 Book – The Vaccine Court, by Wayne Rohde – 240 pages

"The Dark Truth of America's Vaccine Injury Compensation Program"

FREE Shipping Available!
Published on June 19, 2019