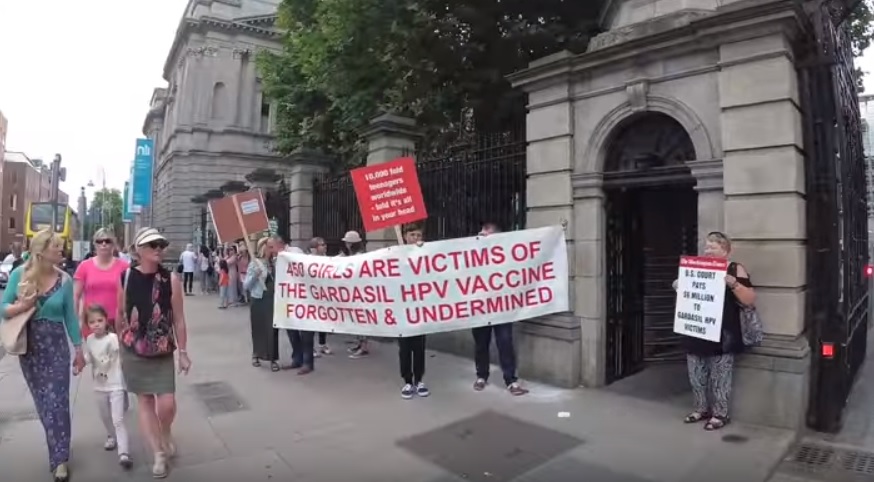 by Brian Shilhavy
Editor, Health Impact News
Hundreds of HPV vaccine-injured people took to the streets to protest at Leinster House, Dublin, on July 9th, 2018, while Professor Ian Frazier, one of the co-inventors of the vaccine, gave a speech next door at the Royal College of Physicians.
During the protest 3 Gardasil vaccine victims took ill, with 2 of them having seizures. Both of the girls suffering seizures had to be taken to the hospital.
The following video was taken of the protest, and towards the end of the video you can see one of the girls having a seizure.
This protest has been mostly censored in the "mainstream" corporate-sponsored media.
Irish Survivors of Gardasil Unite
The R.E.G.R.E.T. Support Group was launched in 2015 in Ireland by parents of chronically ill teenage girls.  These parents blame an injection the girls received at school as the cause of their daughters' illness. The drug in question is called Gardasil, and it is being marketed as an anti-cancer vaccine. R.E.G.R.E.T. is an acronym for "Reactions and Effects of Gardasil Resulting in Extreme Trauma".
See:
Fiona Kirby, a nurse from Kilbeggan, Co Westmeath, appeared in Dublin's High Court in 2016, taking her fight to the High Court, seeking the Health Products Regulatory Authority to withdraw the HPV vaccine in Ireland.
The mother of an HPV vaccine-injured daughter, Kirby, has vowed not to quit in her efforts. Ireland is one of the few countries in The European Union that does not have a compensation program for vaccine injury.
See:
Irish Political Controversy over Gardasil Vaccine: Risks of Shots Not Given to Parents
A major point of contention by Irish parents is the fact that proper informed consent has not been given since the HPV shot has been implemented in the country. In fact, Ireland's Health authority (HSE) specifically instructed local health care providers not to give the Patient Information Leaflet to parents.
Instead, a watered-down version of cherry-picked info, regarding Gardasil, was given to parents exaggerating the shot's claims and downplaying adverse reactions. The continued improper informed consent accompanying these vaccines in Ireland was criticized by Irish Senator Paschal Mooney.
Leaving a lucrative career as a nephrologist (kidney doctor), Dr. Suzanne Humphries is now free to actually help cure people.
In this autobiography she explains why good doctors are constrained within the current corrupt medical system from practicing real, ethical medicine.
One of the sane voices when it comes to examining the science behind modern-day vaccines, no pro-vaccine extremist doctors have ever dared to debate her in public.
Medical Doctors Opposed to Forced Vaccinations – Should Their Views be Silenced?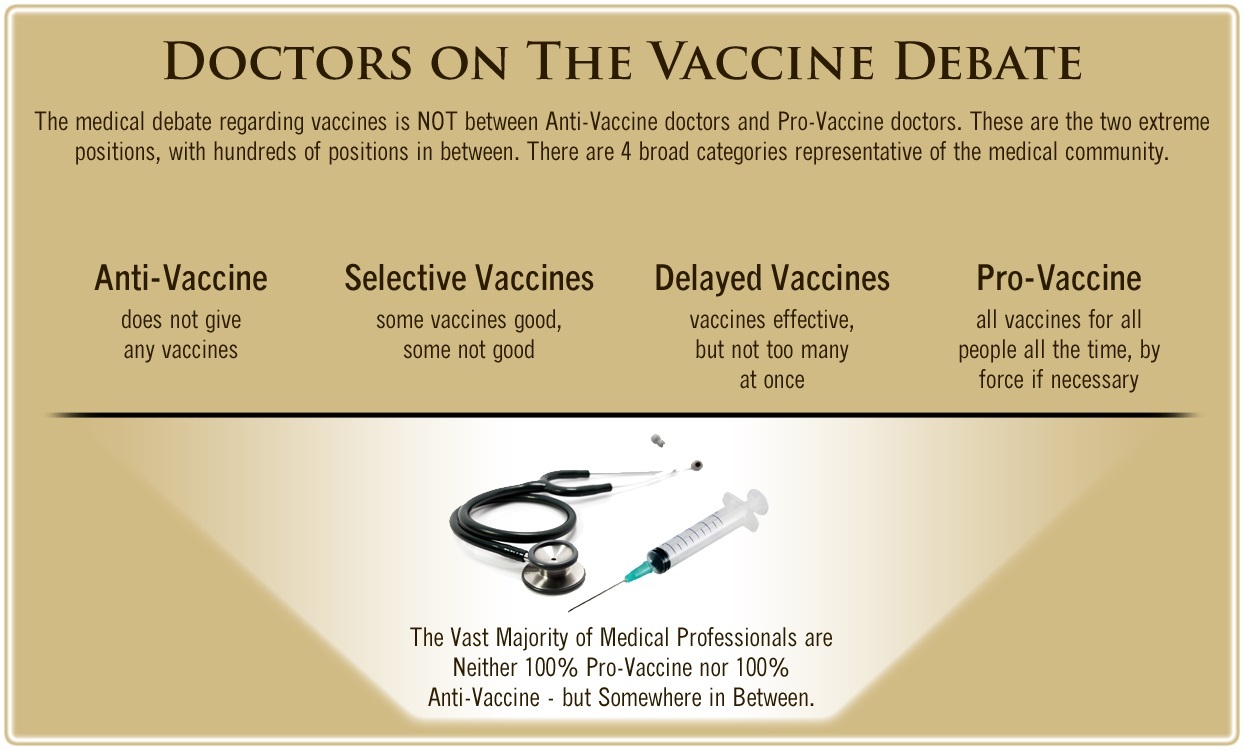 One of the biggest myths being propagated in the compliant mainstream media today is that doctors are either pro-vaccine or anti-vaccine, and that the anti-vaccine doctors are all "quacks."
However, nothing could be further from the truth in the vaccine debate. Doctors are not unified at all on their positions regarding "the science" of vaccines, nor are they unified in the position of removing informed consent to a medical procedure like vaccines.
The two most extreme positions are those doctors who are 100% against vaccines and do not administer them at all, and those doctors that believe that ALL vaccines are safe and effective for ALL people, ALL the time, by force if necessary.
Very few doctors fall into either of these two extremist positions, and yet it is the extreme pro-vaccine position that is presented by the U.S. Government and mainstream media as being the dominant position of the medical field.
In between these two extreme views, however, is where the vast majority of doctors practicing today would probably categorize their position. Many doctors who consider themselves "pro-vaccine," for example, do not believe that every single vaccine is appropriate for every single individual.
Many doctors recommend a "delayed" vaccine schedule for some patients, and not always the recommended one-size-fits-all CDC childhood schedule. Other doctors choose to recommend vaccines based on the actual science and merit of each vaccine, recommending some, while determining that others are not worth the risk for children, such as the suspect seasonal flu shot.
These doctors who do not hold extreme positions would be opposed to government-mandated vaccinations and the removal of all parental exemptions.
In this article, I am going to summarize the many doctors today who do not take the most extremist pro-vaccine position, which is probably not held by very many doctors at all, in spite of what the pharmaceutical industry, the federal government, and the mainstream media would like the public to believe.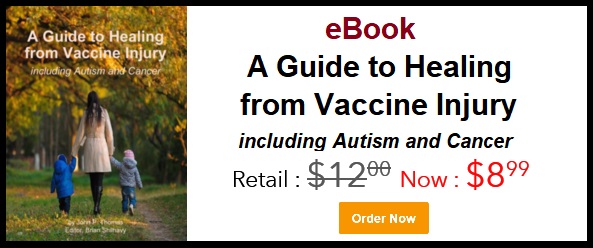 Published on July 12, 2018