by Brian Shilhavy
Editor, Health Impact News
"Vaccines are safe and effective." "The science on vaccines is settled."
These statements are the official dogma of Big Pharma and the U.S Government health agencies, and anyone in the corporate media who has ever tried to challenge these statements of belief has been quickly silenced.
Yet even to the casual reader with no invested interest in the topic, it would seem fairly obvious that these are statements of faith, and not scientific statements.
How can a pharmaceutical product always be "safe and effective"? And how can the science on anything, let alone vaccines, ever be "settled"?
And yet these beliefs are put forward as facts, and all dissenters, or even just those who dare to ask a question, are censored or labeled as "anti-vaxxers" or "quacks" if they happen to be a doctor or scientist.
The fact that vaccines can and do cause injury and death in some situations is not even a debatable subject, as the U.S. Vaccine Court has paid out $BILLIONS in damages since the passage of the National Vaccine Compensation program passed in the 1980s, giving legal immunity to pharmaceutical companies who make vaccines, and can no longer be sued if a vaccine causes an injury or death.
But even though this is public knowledge, and even though Health Impact News publishes the quarterly reports published by the Department of Justice listing settlements for vaccine injuries and deaths, we are censored and labeled as publishing "Fake News" by the Big Tech giants, like Facebook and Google.
This is clearly information they do not want the public to know.
But what about the second part of the belief that "vaccines are safe and effective?"
Since we know that vaccines are not totally safe, and that this information is censored, it is totally appropriate to then ask the question: Are vaccines actually effective? Or is this too just a doctrinal belief that must be propagated to justify mandatory vaccinations, without any real proof?
It is important to understand that the drug companies producing vaccines consider a vaccine "effective" if that vaccine produces the correct antibody for the specific disease that is being vaccinated to prevent.
It does not mean that studies were conducted to follow the person who received the vaccine to see if the vaccine actually prevented the disease that it was supposed to prevent.
And in fact, there is ample evidence to show that vaccinated people do end up getting the diseases the vaccine was supposed to prevent, usually because the vaccine manufacturers claim the vaccine's effectiveness declined over time, requiring "booster" shots or new vaccines.
What about overall health of children following the CDC vaccine schedule, as compared to children who do not receive all the vaccines in the CDC vaccine schedule?
This is the one study that would solve this issue once and for all, but the U.S. government refuses to conduct such a trial, claiming it would be "unethical" to withhold vaccines from children.
Those outside of the government who have tried to conduct such studies have been attacked and censored. See for example our coverage of a 2016 peer-reviewed study on vaccinated versus unvaccinated children that was published, and then suddenly withdrawn, probably due to pressure from the pharmaceutical industry:
Honest Doctors Who Care About Children More than Their Careers
As this article demonstrates, many medical doctors agree with the conclusion of this study based on what they have seen in their own practice, if they are a medical practice that treats unvaccinated children, as many medical practices today refuse to treat children if their parents refuse any of the vaccines recommended by the CDC.
We have featured many of these doctors on Health Impact News over the years, and these doctors take great courage to speak publicly, because they are labeled as "quacks" and often face losing their medical license to practice.
Dr. Bob Zajac, a board-certified pediatrician with additional expertise in asthma/allergy care, developmental/behavioral pediatric care, and natural/holistic care, is one such doctor.
During the first two years of his practice, Dr. Zajac explains he saw a "separation" among his patient population.
There were patients who were seeing the local chiropractor who were healthier than my other patients, and they were doing some other things for their health other than just taking medication for whatever condition they might have.

They also had a lower vaccine uptake, and they were healthy. And that was really hard for me to recognize.

My partially unvaccinated patients, and none of us liked them, quite honestly, back then they were going against their medical doctor's advice. And with the ego that I had, it was really hard to swallow.

It took me a couple of years to start learning about vaccines.

And the moment I started reading research about vaccines, it changed my life forever.
Dr. Zajac admits that he used to be a "vaccine bully," because his clinic needed to achieve certain vaccine rates.
But his attitude changed as he had to start making decisions about vaccines for his own children, and his own clinical practice had shown that the rates of vaccine injuries were not what the CDC and drug companies were claiming, such as "one in a million," but more like one out of 100 were being hospitalized from vaccine injuries.
Dr. Zajac discusses the range of children in his practice, their vaccine status, and their health:
Doing this for 15 years now, I will share with you that the vaccinated kids are the sickest, the partially vaccinated kids are not as sick, and the unvaccinated kids are the healthiest.
Watch the entire interview (this is from our Rumble channel):
Another doctor we have featured in the past here on Health Impact News is Dr. Paul Thomas.
Dr. Paul Thomas, M.D. was born in Portland, Oregon, and grew up in Southern Africa. He has a masters degree in biology, an M.D. from Dartmouth Medical School, and completed his pediatric residency at the University of California, San Diego. He is a board-certified fellow of the American Academy of Pediatrics, and also carries board certifications in Addiction Medicine and Integrative Holistic Medicine.
Dr. Paul gave testimony to the Oregon Legislature in 2015 to oppose a bill that would have removed religious and philosophical objections to vaccines. Dr. Paul is not anti-vaccine. He does vaccinate children, but he does not always follow the CDC schedule for vaccination.
Dr. Paul has stated publicly that we are giving too many vaccines to children which leads to higher rates of autism. In his testimony to the Oregon Legislature back in 2015, he stated that in his practice he had over 1000 kids at least 3 years old in his practice at that time, and there were no cases of autism within those children, while nationally, his peers in pediatric were are seeing 1 out of 50 children on the autism spectrum.
See:
Families with Vaccinated and Unvaccinated Children
Perhaps the most convincing evidence that unvaccinated children are healthier than vaccinated children, is from parents who observe both in their homes on a daily basis.
These are mostly former pro-vaccine parents who never doubted vaccinations until they saw the effects of vaccines in their own children, and then decided to not vaccinate other children born later based on their experience with vaccines.
These are actually very good "laboratories" because children in the same home experience much the same things in their environment, and any major differences in their health will be much more obvious.
VAXXED II film producer Polly Tommey has done the world a great favor by interviewing many of these families during their bus tour, and here are a few of them.
A common thread in all of these interviews is that even though they tell their stories to family and friends, they are ostracized by society, and no one wants to believe them.
Time for Hillary Simpson's #craymother video: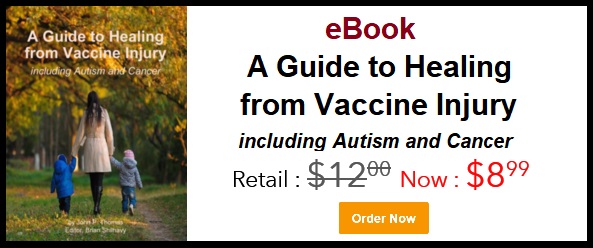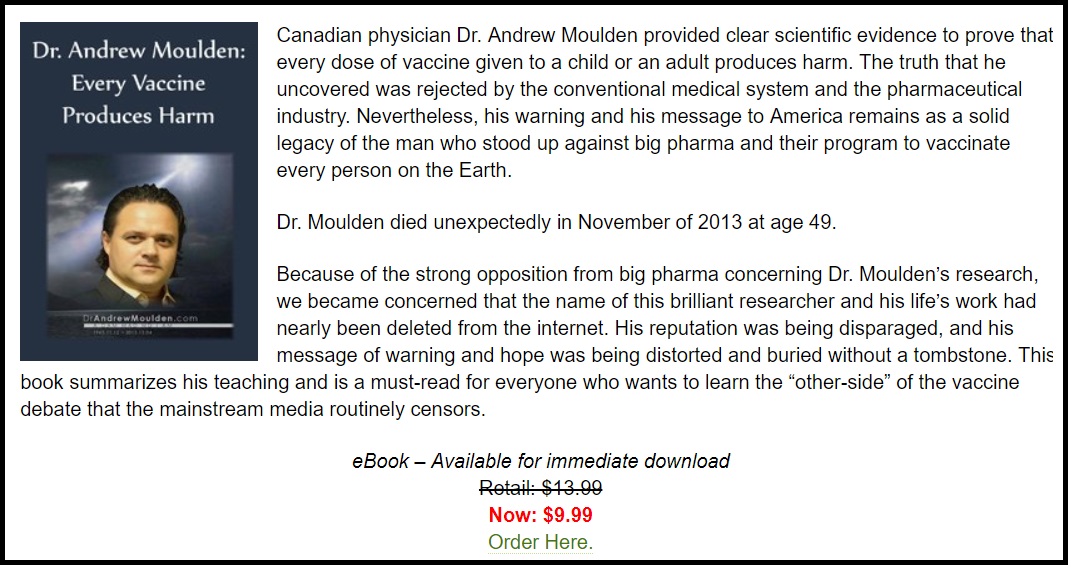 Leaving a lucrative career as a nephrologist (kidney doctor), Dr. Suzanne Humphries is now free to actually help cure people.
In this autobiography she explains why good doctors are constrained within the current corrupt medical system from practicing real, ethical medicine.
One of the sane voices when it comes to examining the science behind modern-day vaccines, no pro-vaccine extremist doctors have ever dared to debate her in public.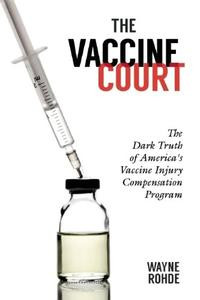 Book – The Vaccine Court, by Wayne Rohde – 240 pages

"The Dark Truth of America's Vaccine Injury Compensation Program"

FREE Shipping Available!
Published on May 24, 2020